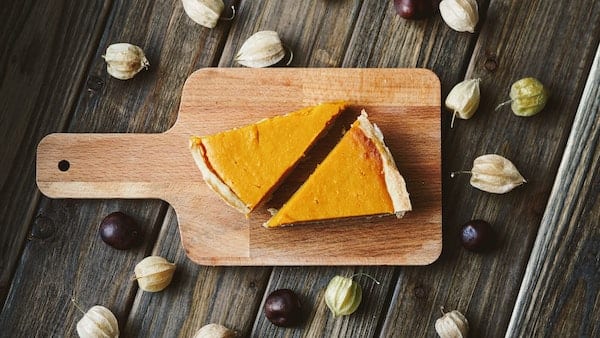 Swirled Pumpkin and Caramel Cheesecake Recipe
How To Make Swirled Pumpkin and Caramel Cheesecake
Ingredients
For Crust:
1 1/2

cup

ground gingersnap cookies

1 1/2

cup

pecans,

toasted

1/4

cup

firmly packed brown sugar

1/4

cup

unsalted butter,

melted
For Filling:
4

8 oz. pkg. cream cheese,

stored at room temperature

1 2/3

cup

sugar

1 1/2

cup

canned solid-pack pumpkin

9

tbsp

whipped cream

1

tsp

ground cinnamon

1

tsp

ground allspice

4

large eggs

4

tbsp

store-bought caramel sauce

1

cup

sour cream
Instructions
Start by preheating your oven to 350 degrees Fahrenheit. 

Finely grind the cookies, pecans, and sugar in a processor. After that, add the melted butter and blend the ingredients until they are well-combined.

Press the crust mixture onto the bottom and top sides of a 9-inch-diameter springform pan with 2 3/4-inch high sides.

Prepare the filling by beating the cream cheese and sugar in a large bowl with an electric mixer until a light mixture is formed.

Transfer 3/4 cup of the mixture to a small bowl, then cover the bowl tightly and refrigerate it for later use.

Add the pumpkin, 4 tbsp. of whipped cream, ground cinnamon, and ground allspice to the mixture and beat until the ingredients are well-combined.

Beat in the eggs one at a time until they are well blended with the other ingredients. Afterward, pour the filling into the crust.

Bake the crust in the oven for an hour and 15 minutes until it starts to puff, the top portion begins to brown, and the center portion moves slightly. After baking, transfer the cheesecake onto a rack and allow it to cool for 10 minutes.

Run a small sharp knife around the pan's sides to loosen the cheesecake. Afterward, allow it to cool then refrigerate it overnight covered.

Bring the remaining cream cheese mixture to room temperature. Once that's done, mix the remaining whipping cream with the mixture and stir to combine them well.

Press down firmly on the edges of cheesecake to ensure an even thickness. After that, pour the cream cheese mixture over the cheesecake, making sure to spread it evenly. Next, spoon the caramel sauce in lines over the cream cheese mixture.

Using the tip of a knife, swirl the caramel sauce into the cream cheese mixture (you can prepare this 1 day ahead). Cover and refrigerate afterward.

Lastly, spoon the sour cream into a pastry bag fitted with a small star tip (do not stir before using). Pipe the cream around the cheesecake to make it visually pleasing. Afterward, serve and enjoy!
Topics: