Want a taste of what's arguably the best cheesecake from Cheesecake Factory? If you're craving for soft, rich chocolate mousse cheesecake, then look no further. We have just the recipe for you!  
The Cheesecake Factory may be famous for their romano chicken and shrimp pasta but nothing beats their signature desserts. We'll show you how to make a cheesecake that's oozing with chocolatey goodness and made even better with a velvety layer of Belgian chocolate mousse. It's double the choco in this copycat chocolate mousse cheesecake recipe inspired by Cheesecake Factory!
Best of Both Worlds: Chocolate Mousse Cheesecake
Everyone knows the irresistible taste of sweet, delicious cheesecake. A perfectly contrasting texture of a soft, velvety cream cheese filling over a crumbly crust. And like cheesecakes, mousse is also a well-loved dish. It consists of beaten egg whites or whipped cream, cold milk, and a sugar base. So this soft dessert can be light and airy, or creamy and frothy, depending on the way it's made. 
Let's have a closer look into the layers of this dessert. It has a smooth chocolate cream cheese filling over a sweet and crumbly Oreo cookie crust. To complete, it's topped off with a soft and luscious chocolate mousse with chocolate shavings and whipped cream. It's simply a perfect combination of creamy cheesecake and silky chocolate mousse dessert. Just imagine how fancy and tempting each slice of it would be!
How To Make Chocolate Mousse Cheesecake Just Like The Cheesecake Factory's
If you're want to make a flourless chocolate cake with minimal ingredients, this chocolate cheesecake recipe is a must-try. With our recipe, you'll see just how simple it is to make cheesecakes like the ones sold at Cheesecake Factory. 
The secret to making a silky chocolate mousse cheesecake is making sure that the eggs and heavy cream are at room temperature before making your batter. This is because cold ingredients don't usually come together smoothly.  Also, make sure to soften your cream cheese for at least 2 hours before using, so it would blend smoothly into your batter. You can also mix your filling or batter using a food processor or blender in case you don't have an electric mixer with you. 
This chocolate cheesecake is the perfect dessert for heavy dinner meals with friends and family. Its rich chocolate cheesecake filling also tastes amazing paired with some hot cup of coffee. Besides whipped cream and shaved chocolate, you can also top it with fruits like blueberries, strawberries, and even cherries.
If you're craving something sweet or looking for the perfect dessert to serve, you have a lot of variety to choose from in our library of cheesecake recipes! On other days you can try making blueberry cheesecake or strawberry cheesecake for a refreshingly sweet and tangy treat. But you can never go wrong with this simple but yummy copycat chocolate mousse cheesecake recipe for your comfort food fix!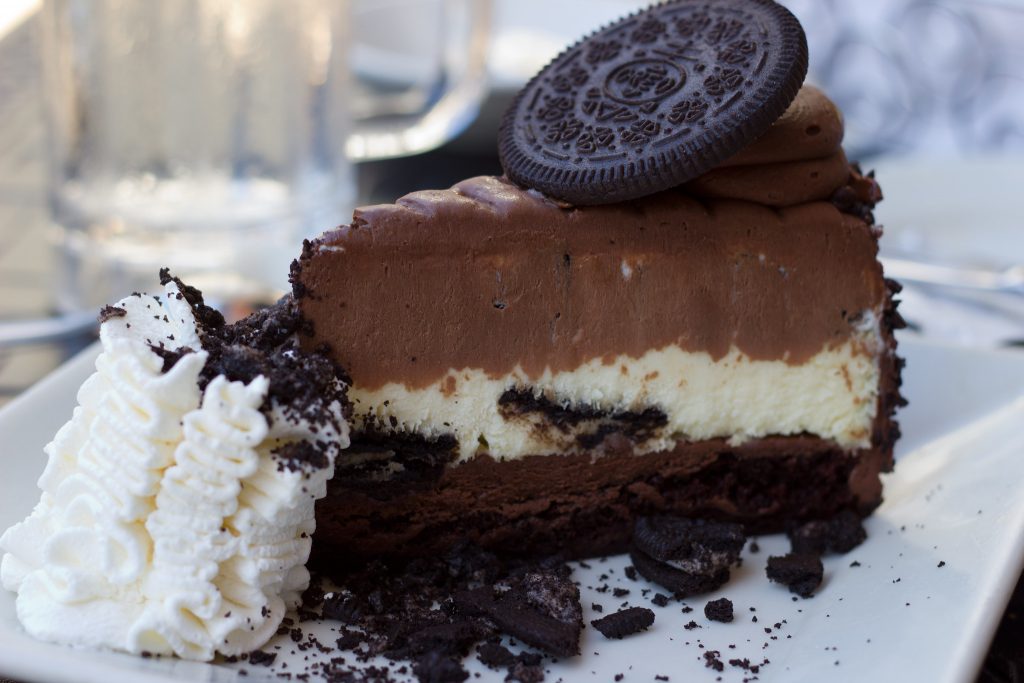 vagueonthehow | Flickr
How To Make Chocolate Mousse Cheesecake Recipe (Cheesecake Factory Copycat)
Soft, creamy chocolate cheesecake filling topped with velvety layers of chocolate mousse, this chocolate mousse cheesecake from the Cheesecake Factory is the perfect ending to your hearty meals!
Ingredients
For Crust:
1

cup

butter,

unsalted

4

cups

chocolate cookie crumbs
For Filling:
6

oz

semi sweet chocolate,

finely chopped

32

oz

cream cheese,

or four 8 oz packets, softened

½

cup

sour cream

1¼

cups

sugar

2

tsp

vanilla extract

5

large

eggs
For Chocolate Mousse:
1

tsp

gelatin

¼

cup

cold water

2

tbsp

boiling water

½

cup

sugar

⅓

cup

cocoa powder

1

cup

whipping cream

1

tbsp

vanilla
For Garnish:
Chocolate,

shaved

Whipped cream
Instructions
Crust:
Preheat the oven to 350 degrees F.

In a saucepan, melt the butter over medium heat. Then, remove the saucepan from heat.

In a bowl, mix the melted butter and cookie crumbs together.

Press the crumb mixture into a 10-inch round pan.

Bake the crust for 8 to 10 minutes.
Filling:
Melt the chocolate in a small saucepan.

Using an electric mixer, stir together the cream cheese, sour cream, sugar, and vanilla.

Whisk the eggs in a bowl and then add to the mixture. Blend until properly combined.

Pour the filling on the crust and then bake for 45 to 50 minutes, or until the top is golden brown.
Chocolate Mousse:
Mix the gelatin with cold water.

Add the boiling water until the gelatin dissolves, then let it cool.

Mix the sugar and cocoa in a medium-sized bowl.

Add whipping cream and vanilla. Blend with an electric mixer until the mixture becomes thick.

Let the chocolate mousse cool in the refrigerator.

Once the cheesecake has cooled, use a spatula to spread the chocolate mousse on top.

Sprinkle shaved chocolate on top of the mousse, then garnish with whipped cream.

Serve and enjoy a delicious dessert with loved ones!
Nutrition
Sugar:

73g

:

Calcium:

209mg

Calories:

1319kcal

Carbohydrates:

104g

Cholesterol:

292mg

Fat:

95g

Fiber:

5g

Iron:

5mg

Monounsaturated Fat:

31g

Polyunsaturated Fat:

11g

Potassium:

552mg

Protein:

18g

Saturated Fat:

43g

Sodium:

1090mg

Trans Fat:

1g

Vitamin A:

3251IU

Vitamin C:

1mg
Nutrition Disclaimer
Frequently Asked Questions
Is a cheesecake a pie?
Cheesecakes are considered tarts rather than pie or cake. Like cheesecake, tarts also have a crust base, with sweet or savory custard-like filling.
What is the difference between mousse cake and cheesecake?
First, mousse cake contains mousse which has a very light texture and is basically like chocolate-flavored whipped cream, while baked cheesecake contains cream cheese which gives it a more custardy texture. Mousse cake can either have a cake base or a crust made of crushed cookies and biscuits like cheesecake, while cheesecake is typically made with a crumbly crust. In this dessert, we get to taste the best of both with its sweet chocolate cream cheese filling and soft and fluffy chocolate mousse on top!
How to tell if cheesecake is done?
You can check if the center of the cheesecake has reached a temperature of 150 degrees F. If it has, then it's done! But if it hasn't, you can put it back in the oven for another 5 minutes of baking. However, keep in mind that this method may mar the smooth top of your cheesecake. You can also shake the cheesecake and check to see if the edges are firm and the center jiggles only slightly. If this happens, then it's ready for serving! However, if the center jiggles too much and the edges are not yet set, then you should pop it back in the oven for another 10 to 15 minutes of baking.
How to freeze cheesecake?
If you're wondering how long cheesecake lasts and you want to store leftovers, we have two suggestions. You can store it in a heavy-duty freezer bag or plastic container and keep it in the freezer for up to 1 month. Or, you can wrap it in plastic wrap or aluminum foil, place it inside an airtight container, and store it in the fridge for up to 5 days.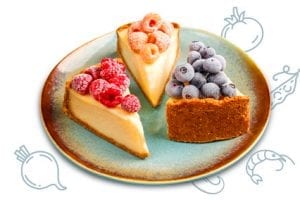 Conclusion
No need to visit the nearest Cheesecake Factory to get a taste of their delicious chocolate mousse cheesecake. Serve slices of this sweet, chocolatey, and luscious dessert with the best chocolate cheesecake recipe!
Topics: