Curating your Thanksgiving table can be a total nightmare when all you have in mind is Delicious Thanksgiving Turkey. Good thing we've got tons of Thanksgiving food ideas to help you survive the day, including this easy No Bake Pumpkin Cheesecake Recipe that will for sure steal the Thanksgiving spotlight!
You don't need an oven or jello to pull off this easy no bake pumpkin cheesecake with a gingersnap crust. With just a few ingredients and a bit of your time to make this pumpkin cheesecake! You can even make this a day before Thanksgiving, and you'll definitely be crossing off making an impressive Thanksgiving dessert on your to-do list!
Which Is Better: Baked Or No Bake Cheesecake?
When one asks for dessert ideas, one of the many sweet delights that pop into our minds is cheesecakes. But when making cheesecakes you might wonder if you should go for a no-bake recipe or a recipe that calls for baking your cheesecake. People might tell you that they're the same, but a true cheesecake lover knows the difference. Wondering what's the difference between the two? Don't worry we're here to give you answers!
The two building blocks of baked cheesecakes are eggs and flour. These two make a solid cheesecake foundation just like in our Strawberry Crumble Cheesecake Bars Recipe. When baked in the oven, these ingredients make a firm, dense, and velvety cheesecake. 
Meanwhile, no bake cheesecakes are made by refrigerating cream cheese or jello with folded whipped cream to make the body of the cheesecake. This produces a light and airy cheesecake just like this No Bake Pumpkin Cheesecake Recipe, which is the perfect way to end a feast just like Thanksgiving dinners.
No bake cheesecakes are great for layering and they also easily conform to various shapes of molds just like cups. They easily adjust to fun shapes and sizes like in our delightful No-Bake Strawberry Cheesecake Bites Recipe and our Eggnog Cheesecake Cups Recipe.
If you're looking for more cheesecake recipes for good Thanksgiving dessert ideas, check out our vast selection of cheesecakes! We've got tons of delectable cheesecake ideas such as our 5-Minute Microwave Cheesecake Recipe that's perfect for a convenient cheesecake fix and our Low-Carb Instant Pot Cheesecake Recipe.
How To Make No Bake Pumpkin Cheesecake
Our recipe for No Bake Pumpkin Cheesecake is a huge time saver! Our no bake pumpkin cheese is packed with extra spices, plus you can make this ahead of time! Everyone will be talking about your Thanksgiving desserts after you've served it with our fruity Moscato-based Berry Sangria Recipe to get everyone into the festive mood!
The crust is the last bite of your dessert which leaves the last impression on your cheesecake and it also adds a flavorful crunch to your creamy and light no bake pumpkin cheesecake. That's why we're using Gingersnap cookies for our crusts! 
Aside from the pumpkin puree, gingersnap cookies add a hint of fall to our No Bake Pumpkin Cheesecake. Be sure to use crunchy, hard, and dry cookies as moist gingersnaps won't make a solid crust. A tight-packed crust is less likely to fall apart when you slice your cheesecake so be sure to pack it into the bottom and up the sides of your pan! 
The trick to a light and airy no bake pumpkin cheesecake filling is gently folding the heavy cream into stiff peaks. Fold your heavy cream into the cream cheese filling gently so the air in the cream won't deflate easily. The air makes a fluffy mousse-like consistency and helps the filling set in the refrigerator faster. 

Tip:
Make sure you use room temperature cream cheese by taking it out of the fridge an hour before mixing. Also, remember to fold your filling mixture by hand. This is to prevent the cheesecake mixture from having lumps, making a smooth and creamy filling.
Wondered why some dishes taste better the next day? Chilling the pumpkin cheesecake in the fridge for a few hours not only helps solidify the filling but allows the flavor to blend. 
No Bake Pumpkin Cheesecake Variations And More Thanksgiving Desserts
A Thanksgiving table won't be complete without a pumpkin-filled dish. Our Thanksgiving dessert recipe of the Impossibly Easy Pumpkin Pie will help you tick-off traditional dishes on your list.  But if you're looking to spruce things up on your Thanksgiving desserts this Pumpkin Cheesecake is the perfect one for you!
If you love a good old chocolate cheesecake, like our Easy 3-Step No-Bake Chocolate Cheesecake Recipe, you're in luck since you can turn this no bake pumpkin cheesecake into one! Just simply use Oreos for your crust, and add melted chocolate chips into your filling and you now have an instant No Bake Chocolate Pumpkin Cheesecake! If you also love bite-size chocolate pumpkin cheesecake, you'll definitely love our superb Chocolate Pumpkin Cheesecake Muffins Recipe!
You can turn this easy no bake pumpkin cheesecake recipe into no bake pumpkin cheesecake cups by simply serving it in a cup, like our No Bake Chocolate Chip Cheesecake Cookie Dough Cups. Voila! Your guests can now enjoy individual cups of their own cheesecakes.
Looking for healthy Thanksgiving dessert recipes for your Thanksgiving dessert table? Our Sugarless Pumpkin Pie Recipe is perfect for your guests who are watching their sugar! Not only does it cut down on sugar but it's incredibly tasty as it highlights the flavors of different spices. 
For an easy baked pumpkin cheesecake recipe, check out our velvety Ginger Pumpkin Cheesecake Recipe. You can also make one of Cheesecake Factory's fall specialties with our Copycat Cheesecake Factory Pumpkin Cheesecake Recipe! This cheesecake recipe uses the classic graham cracker crumbs instead of gingersnap cookies.
Now, let's make our Thanksgiving dessert so you can treat yourself to a slice in the next few hours!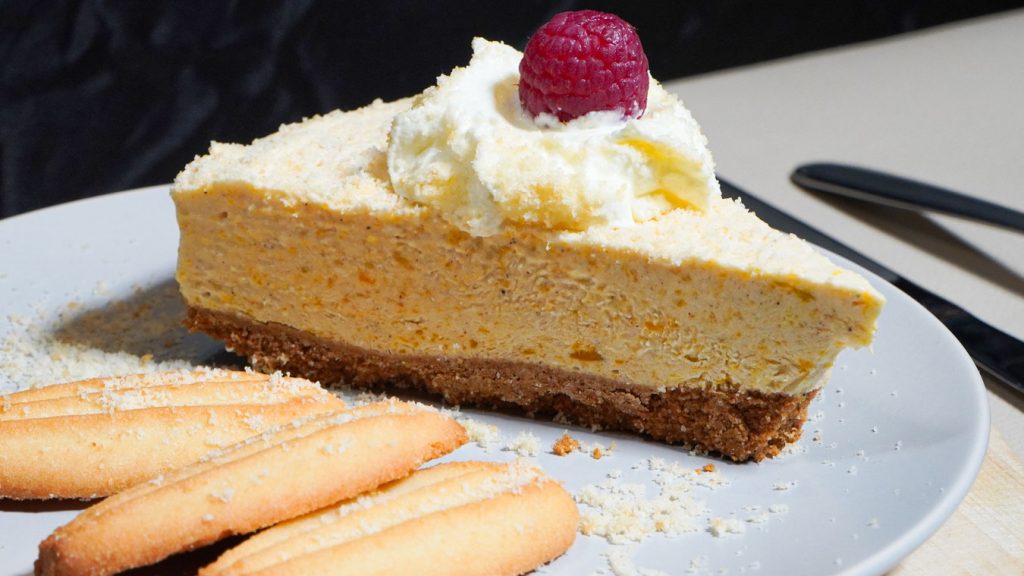 No-Bake Pumpkin Cheesecake Recipe
How To Make No-Bake Pumpkin Cheesecake
Enjoy a slice of this creamy and light No Bake Pumpkin Cheesecake Recipe on your Thanksgiving dinner. Making your favorite dessert has never been this easy and simple!
Ingredients
For Crust:
5

tbsp

butter,

melted

2

tbsp

granulated sugar

1½

cups

gingersnaps,

finely crushed
For Filling:
8

oz

cream cheese,

(2 blocks), softened

15

oz

pumpkin puree,

(1 can)

1

cup

powdered sugar

1

tsp

pure vanilla extract

¼

tsp

kosher salt

1

tsp

cinnamon

½

tsp

nutmeg,

ground

1

cup

heavy cream
For Topping:
whipped cream

gingersnaps,

roughly crushed
Instructions
Crust:
In a medium bowl, combine the crushed gingersnaps, sugar, and melted butter until the mixture resembles wet sand. Pour into an 8-inch springform pan and pat it into an even layer.
Filing:
In another medium bowl, beat the heavy cream to stiff peaks.

In a large bowl beat the cream cheese until light and fluffy. Add the pumpkin puree and beat the mixture until smooth and no lumps remain. Add the powdered sugar and beat again until no lumps remain.

Add the vanilla extract, cinnamon, nutmeg, and salt and beat until incorporated. Add the heavy cream and fold in until just combined.

Pour your batter over the crust and smooth top with an offset spatula.

Refrigerate until set for at least 4 hours and up to overnight.
Topping:
Serve with whipped cream and crushed gingersnaps.
Recipe Notes
For a more solid cheesecake filling, refrigerate your No Bake

Pumpkin Cheesecake

for 8 to 12 hours before serving it for dinner. Putting it longer gives your cake more time to set resulting in a firmer cheesecake.

 You can also refrigerate your crust for 5 to 10 minutes before pouring your filling in to make it solidify faster and for a colder base for your filling.

Be sure to use heavy cream which has higher fat content and allows our cream to be thicker. This also helps in holding our cheesecake filling better.
Nutrition
Sugar:

25g

:

Calcium:

83mg

Calories:

442kcal

Carbohydrates:

41g

Cholesterol:

72mg

Fat:

30g

Fiber:

2g

Iron:

2mg

Potassium:

244mg

Protein:

4g

Saturated Fat:

14g

Sodium:

367mg

Vitamin A:

9404IU

Vitamin C:

2mg
Nutrition Disclaimer
Commonly Asked Questions
How do I know if my no bake cheesecake has set?
Your no bake cheesecake is done once it's shiny and firm to the touch. You can also jiggle your cheesecake a bit. Gently shake your cheesecake and if only a small part in the center jiggles slightly, your cheesecake is perfectly done. Remove it from the fridge 30 minutes before serving so you can easily slice it when serving.
Why is my no bake cheesecake not firm?
Your no bake cheesecake might not set right because it's not properly chilled or you didn't use the right ingredients. Make sure to use heavy cream, room temperature cream cheese, and powdered sugar to help your cheesecake set better and achieve the right texture. We also don't recommend freezing your cheesecake to rush the chilling process. A minimum of 4 hours is needed to help your cheesecake solidify and get that creamy and velvety texture. But for a firmer crust and filling, you can let your cheesecake set in your fridge overnight.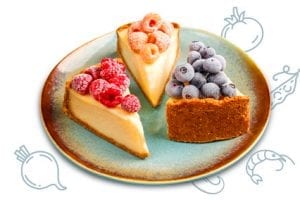 Conclusion
This easy and delectable No Bake Pumpkin Cheesecake recipe is the perfect Thanksgiving dessert if you don't have the time to make it on Thanksgiving day! Sweet, light and airy, this cheesecake recipe is the perfect way to end a feast.