Spring is finally here! What better way to celebrate the season of rebirth but to eat some healthy and filling produce. In this recipe, we are going to make risotto that will definitely give you a taste of spring. To make this absolutely delicious risotto recipe, you'll be needing four types of herbs that will give flavor your risotto.
If this is your first time hearing about risotto, you're in luck. Basically, risotto is a rice dish originating from Italy. The difference of the risotto to other rice dishes is that it's cooked in broth. Adding coriander for this risotto recipe will result in a rather citrusy flavor to go with lemon juice. Parsley and rosemary will contribute to a rich, earthy taste. We also recommend using a vegetable broth for this recipe to have a richer taste.
Enjoy this risotto with another spring favorite — the Spring Salad! What are you waiting for? Whip up this refreshing salad with some fresh fruits and vegetables plus your favorite fruit juice for the perfect picnic with friends and family.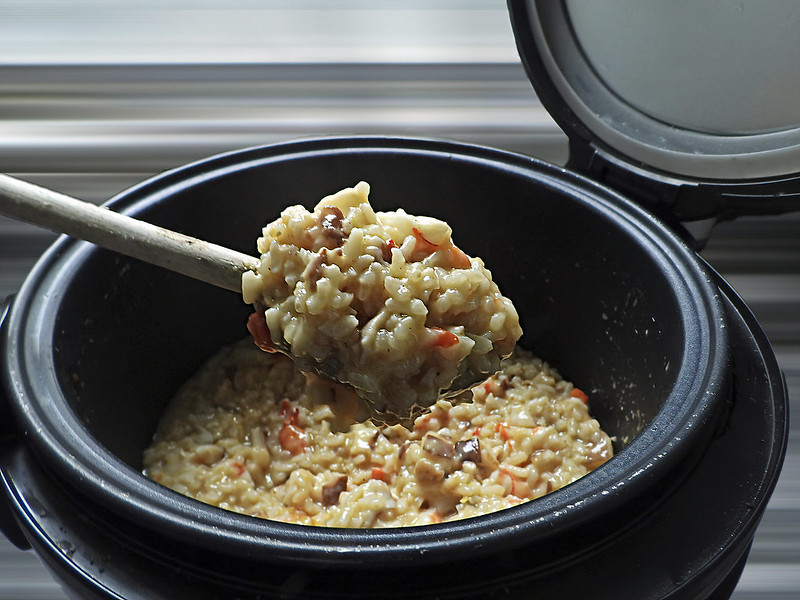 Spring Risotto Recipe
How To Make Spring Risotto
Have a delightfully refreshing meal with this risotto recipe made flavorful and savory with herbs.
Ingredients
3

tbsp

olive oil

3

tbsp

butter

1

bulb fennel,

diced

1

small red bell pepper,

diced

1

onion,

diced

3

garlic cloves,

minced

2

tsp

grated lemon zest

3

tbsp

fresh mint leaves,

chopped

3

tbsp

fresh parsley,

chopped

2

tbsp

fresh rosemary,

chopped

1

tsp

ground coriander

1 ½

cups

Arborio rice,

uncooked

½

cup

dry white wine

3 ½

cups

vegetable broth

2

tbsp

fresh lemon juice

⅓

cup

parmesan cheese,

grated

salt and pepper,

to taste
Instructions
Heat the oil and butter in a medium-sized heavy saucepan over medium heat. Stir in the fennel, red pepper, onion, and garlic.

In a small bowl, mix together the lemon zest, mint, parsley, and rosemary. Stir half of this herb mixture into the saucepan and set the rest aside.

Sauté the vegetables 3 to 4 minutes until they slightly soften. Then stir in the coriander and rice.

Continue to stir frequently until the rice grains are thoroughly coated with oil and butter. Then stir in the wine and reduce the heat to low temperature. Afterward, stir in about 1 cup of the vegetable broth.

Continue to stir while ladling in more broth as needed. The rice should have a thin veil of broth over it at all times.

Continue cooking for 20 to 25 minutes until all the broth is used and absorbed and the rice is tender. Afterward, remove the pan from heat and stir in the remaining herb mixture, lemon juice, and Parmesan cheese. 

Season the risotto with salt and pepper to add more flavor. Cover the pan loosely with waxed paper and allow it to stand 8 to 10 minutes before serving. Enjoy!
Nutrition
Sugar:

2g

:

Calcium:

78mg

Calories:

276kcal

Carbohydrates:

37g

Cholesterol:

3mg

Fat:

11g

Fiber:

3g

Iron:

2mg

Potassium:

224mg

Protein:

5g

Saturated Fat:

2g

Sodium:

547mg

Vitamin A:

1102IU

Vitamin C:

28mg
Nutrition Disclaimer
Frequently Asked Questions
Why is my risotto sticky?
If your risotto exhibits a glue-like consistency, it may have been because of too much stirring. Too much stirring enables air to enter the dish which causes stickiness. Give intervals to your stirring. A 5-minute interval when stirring will suffice. Remember, it's important to stir the risotto so that it will be creamy and not burnt, but too much stirring will ruin it.
What type of rice should I use for risotto?
Long grain rice like those used in making sushi is not suitable for risotto. Risotto recipes use short-grained rice because with an ample amount of starch to make the risotto creamy. There are usually three types of rice used for risotto, with the most common and accessible being the Arborio, which we used in this recipe. However, the Arborio needs attention because it can be easily overcooked. High-end restaurant chefs often use Carnaroli because it's better in making risotto compared to the Arborio. However, for a really creamy risotto, you might want to give the Vialone Nano a try. It has a high starch content and cooks easily.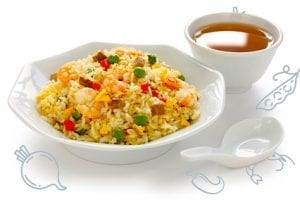 Conclusion
Pop that wine or champagne and celebrate rebirth, life, and the abundance of spring with this amazing dish. Feel free to be generous with that lemon juice if you want your risotto to have a more refreshingly citrus flavor. Enjoy!
Topics: