Imagine having a bite of savory ground beef in delicious gravy sauce. Beef gravy over rice is a very ideal meal, especially if you love dishes with a lot of sauce. This dish has a mouthwatering meaty aroma and a salty taste that works amazingly with rice or mashed potatoes.
We'll give you all the reasons to try this recipe, so sit back and read on, as we prove to you how easy it is to make this delicious dish. Make it in just 15 minutes and be ready to ask for seconds.
Beef and gravy are perfect with steamed white rice but you can also enjoy it with a side of Cauliflower Rice that's healthy and tasty or a rich and creamy bowl of Ranch Mashed Potatoes. Read on and discover how to make the classic ground beef and gravy over rice plus a couple of more side dishes that go well with it.
Making Ground Beef With Brown Gravy Sauce Over Rice
Ground beef goes perfectly well with a delicious thick brown gravy, and serving it over rice is just one of the yummiest ways to enjoy this meaty and saucy dish. Here are some tips you might want to write down to get that crispy and juicy brown meat and delicious gravy:
Brown your ground beef.

We mean brown as in brown, take your time

in cooking the beef

for it to gain the crispiness you want to achieve. Stir a pound of ground beef for

around 6 to 10 minutes or until cooked to perfectly brown it

. In this recipe, we sauteed the beef with the onions to give it some flavor, too.

Use a non-stick pan for cooking your ground beef

, but if you don't have one, simply pour an ample amount of cooking oil to keep it from sticking to the pan.

 

Drain the excess fat from your beef.

After cooking your ground beef, place them in a paper towel to absorb excess oil from cooking. Or, use some of the excess beef greases to combine with your gravy mix and add a kick of flavor, too.

Add vegetables and more gravy.

You can enjoy your gravy even more by tossing some mushrooms, roasted cauliflower, or chives. Using instant gravy mix saves your time in whipping up a delicious yet so much easier sauce to complete your plating. If you want to have more gravy, simply add water in little amounts and cornstarch and whisk until it smoothens. 
What To Serve With Beef And Gravy Over Rice
We encourage you to personalize this easy yet delicious beef and gravy recipe. This meal is already delicious as it is, but add some twist to it by serving it with another side dish.
Aside from mashed potatoes and rice, initially, what this recipe calls for, you can enjoy your ground beef with gravy with the following dishes too.
Biscuits –

Enjoy your beef with gravy together with

Buttermilk Biscuits

. Your meaty and saucy meal will complement well with the sweet and mild taste of butter.

Roasted Potatoes –

Try our

Garlic Roasted Potatoes

as a side dish for your beef gravy. The lightness and crunchiness of potatoes would be perfect for your gravy mix.
You can make beef patties out of your beef too, check our Homemade DIY Burger Patties Recipe and enjoy those tender and juicy slices. You can also make the classic beef mushroom gravy by tossing as many mushroom cuts as you want and pour it over your rice.
Try any of these beef with gravy over rice savory recipes at your own kitchen and you'll have a meal that would satisfy your whole family.
How To Make Beef And Gravy Over Rice
This hearty beef gravy over rice recipe will be a lifesaver if you're short on easy dinner ideas. A spoonful of savory ground beef and thick yummy brown gravy over rice or mashed potatoes will fill you up every scoop.
Ingredients
1

lb

ground beef

1

onion,

finely chopped

1

tbsp

garlic,

minced

1

tbsp

Worcestershire sauce

1.74

oz

brown gravy mix,

(2 packets)
To Serve:
hot cooked rice,

or mashed potatoes
Instructions
Brown the ground beef and onion in a large nonstick skillet and drain.

Meanwhile, mix the contents of the gravy packet with water as called for on the packet instructions.

Add the meat back to the skillet then add garlic and Worcestershire sauce.

Pour the gravy over the beef and heat to a low boil.

Let it simmer under low heat and stir until the mixture reaches your desired thickness.

Serve over hot cooked rice or mashed potatoes and enjoy!
Nutrition
Calcium:

35mg

Calories:

311kcal

Carbohydrates:

5g

Cholesterol:

81mg

Fat:

23g

Fiber:

1g

Iron:

2mg

Potassium:

380mg

Protein:

20g

Saturated Fat:

9g

Sodium:

188mg

Sugar:

2g

Vitamin C:

3mg
Nutrition Disclaimer
Commonly Asked Questions
How do I store and reheat ground beef with gravy after cooking?
Let your meat with gravy cool at room temperature. Put it in a freezer bag and you can store it for up to 3 months. When ready to cook, thaw it overnight, and cook it in a pan with butter, flour, and half and half.  Cook your ground beef with gravy until thickened and season according to preferred taste.

How do I store gravy mix after cooking?
Put your gravy inside the fridge and consume it within the next 2 days. If you're not going to use it, make sure to reheat it after two days, and then put it back in the fridge.

How do I reheat gravy mix?
Reheat your leftover gravy in a sauce pan by adding some water and with continuous stirring. Add some cornstarch to thicken its consistency. Let it boil for the next 2 minutes. Enjoy your gravy sauce by making another batch of this recipe or serving it with other dishes.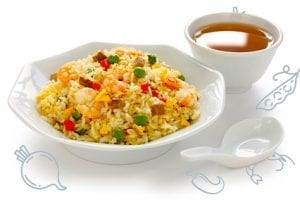 Conclusion
This beef and gravy over rice is a savory dish that will satisfy your appetite. Add in your favorite spices and serve it with healthy and delicious sides and you're all set for an impressive lunch or dinner.
Related Rice & Risotto Recipes