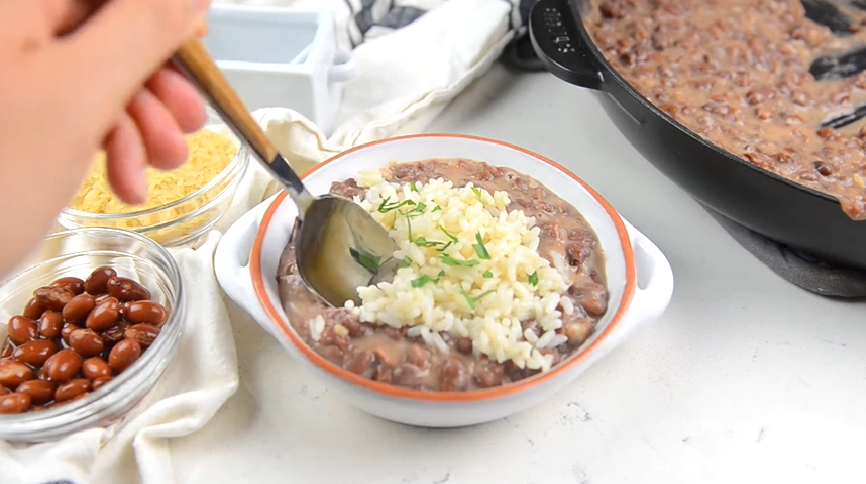 Popeyes Red Beans and Rice Recipe (Copycat)
Popeyes red beans and rice is one of those fast food side dishes that I love recreating at home. It's a simple dish that's satisfying and filling to eat. The dish is packed with beans, rice, and seasonings which makes for a savory and hearty warm meal. I personally love this iconic Popeyes rice and beans combination because their soft, cream-like red beans have a subtle smokiness to it which tastes wonderful with the fluffy white rice.
My red beans and rice Popeyes copycat recipe is actually a rendition of their original recipe. I included other ingredients like the smoked ham hock and lard which is not present in the original dish. As you should know, the original Popeyes red beans and rice recipe doesn't have meat, but it's not entirely vegetarian either. They use bacon grease or bacon fat to achieve that subtle meat flavor.
That's why, for my red beans recipe with rice, I added the smoked ham hock since it tasted more delicious with actual meat in it. It also helps mimic the delicious smokey, rich flavors of the original dish. But, if you prefer a vegetarian version of this red beans and rice dish, then I recommend substituting the smoked ham hock or bacon grease with olive oil or ¼ teaspoon of liquid smoke. It would give the dish that similar smokey flavor.
Aside from the added meat, the next two important ingredients are the red beans and rice. Popeyes doesn't use kidney beans; they use red beans which are smaller, more oblong in shape with a pinkish red color. You can easily find canned red beans in your local grocery store. Next is the rice. Make sure to use good quality rice. I use long grained white rice which has a low starch content. When it's cooked, this rice is perfectly dry and fluffy, and not mushy at all. It's the perfect rice to pair with the soft and cream-like red beans.
Once I had my ingredients, cooking and assembling it were really easy. I cooked the beans with the smoked ham hock with water then transferred it to a food processor, and added the seasonings. Other people would use a potato masher to crush the beans while it's cooking in the sauce pan. It's a good option, but it's much easier to use a food processor to achieve that semi-liquid thick consistency for your beans.
After that, I was done with my copycat Popeyes red beans and rice dish. Though it can be taken as a side, I actually had it as a main dish along with some .
How To Make How To Make Popeyes Red Beans and Rice (Copycat)
Recreate Popeyes red beans and rice recipe in your kitchen using smoked ham hock, canned red beans, and long-grain rice, for a filling and loaded bite!
Ingredients
3

cans

red beans

1

smoked ham hock,

(½ to ¾ lb) or ¼ tsp liquid smoke)

1¼

cups

water

½

tsp

onion powder

½

tsp

garlic salt

¼

tsp

red pepper flakes,

Creole seasoning, or ½ tbsp hot sauce

½

tsp

salt

3

tbsp

lard

¼

tsp

freshly ground pepper

4

cups

long grain rice,

cooked, for serving
Instructions
Pour 2 of the cans of beans into an 8-cup sauce pan and add the ham hock and water. Simmer on medium heat for 1 hour, until the meat starts to loosen from the bone.

Remove from the heat and cool until the hock is cool enough to remove the meat from the bone.

Place the meat, beans, and liquid from the pot in a food processor. Add the onion powder, garlic salt, red pepper, salt, and lard. Process for only 4 seconds. The beans should be chopped and the liquid thick.

Drain the remaining beans and add to the processor. Process for just 1 to 2 seconds.

Pour everything back into the pan and cook slowly on low heat, stirring often, until you're ready to serve.

Serve over premium long-grain rice. Enjoy!
Nutrition
Calories: 

485.04kcal

Protein: 

21.48g

Cholesterol: 

31.28mg