Missing Panda Express' steamed rice? Don't worry, making one on your own is more convenient than lining up on America's favorite Chinese fast-food chain. Rice is one of Panda Express' side dishes that make up their savory meals. It pairs up perfectly with their extensive menu selection that they have different variants of it— white steamed rice, steamed brown rice, and their famous Chinese restaurant-style fried rice that's so easy to make!
But today we're sharing our version of the famous Panda Express' white steamed rice recipe. You don't have to worry if the serving will be enough since you have a bigger batch all on your own!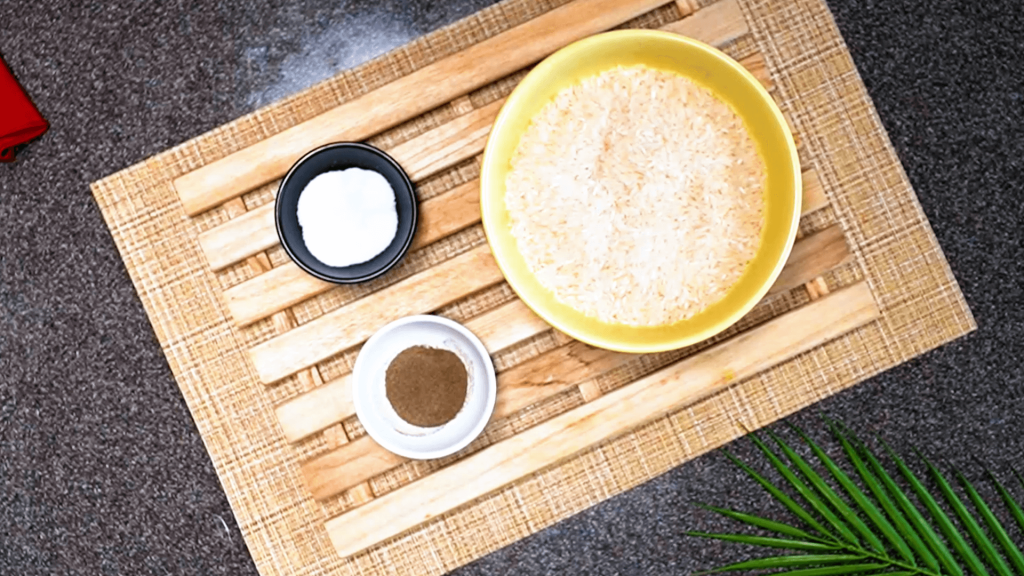 Rice Dishes In Different Cuisines
Rice is a staple to the table in different parts of the world. In some countries, rice is a symbol of their food, and use it as their base for their meals. Rice has different faces, shapes, and sizes across different countries.
Although rice looks simple, choosing the right type of rice for your dishes actually makes an impact on your rice meals. The short-grain rice is the stickiest out of all rice grains which is perfect for Japanese sushi making. If you've mastered the art of rice dishes and are curious if chocolates go well with sticky rice, our unique Chocolate Sushi Rice Recipe might help you with it.
Meanwhile, the medium-grain rice has a slightly rounder shape. This type of rice is ideal for Italian risottos as it has the perfect fluffiness and stickiness making it easier for it to absorb broths. Medium-grain rice is also perfect for the famous Spanish rice recipe, paella, as it absorbs all the savory flavors coming from the shrimp and juicy tomatoes like in our Tomato Paella Recipe inspired by Mark Bittman's.
For our steamed rice recipe, we are using the beginner-friendly long-grained instant rice. It is the most forgiving of all rice types as it doesn't clump up or fluff extremely when it cooks which is also perfect for our Mexican Rice Pilaf Recipe. In addition, instant rice is convenient for those quick last-minute meals as you can serve it in just about 25 minutes.
With all these rice recipes, you might be wondering if steamed rice is actually healthy for you. Head onto our CAQ section down below to find out!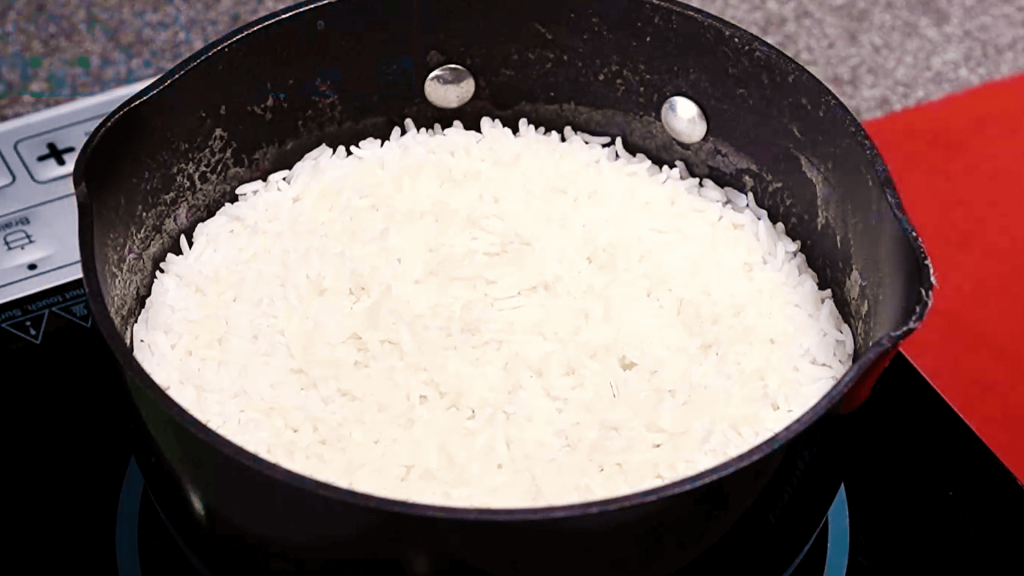 How To Make Panda Express' Copycat Steamed White Rice
Cooking our version of the Panda Express Steamed White Rice is fairly simple and convenient since you won't need a rice cooker or a rice pot if you don't have one. 
In making this steamed white rice recipe, remember to rinse your rice several times until your water is clear. This step is important to remove any surface starch from your rice grains preventing it from turning gummy as they cook. This also helps you eliminate debris from your rice.
Bring your rice to boil and don't forget to also stir the rice after five minutes of boiling. This will help us make sure that the rice is cooked evenly and the bottom won't be burnt. If you end up having leftover rice, check out our CAQ section down below to find out the best way on how to reheat steamed rice.
Aside from the fragrant steamed white rice, there are tons of Panda Express recipes you can try at the comfort of your home. Serve a cup of warm steamed rice with delicious and tender chicken in a sweet sauce with our Panda Express Orange Chicken Recipe. This sweet and savory protein fix is a perfect pair with our steamed rice. This fluffy and soft instant steamed rice recipe also goes well with the popular Panda Express' Black Pepper Chicken.
Did all these Panda-Express dishes make you crave even more? Now, let's start cooking!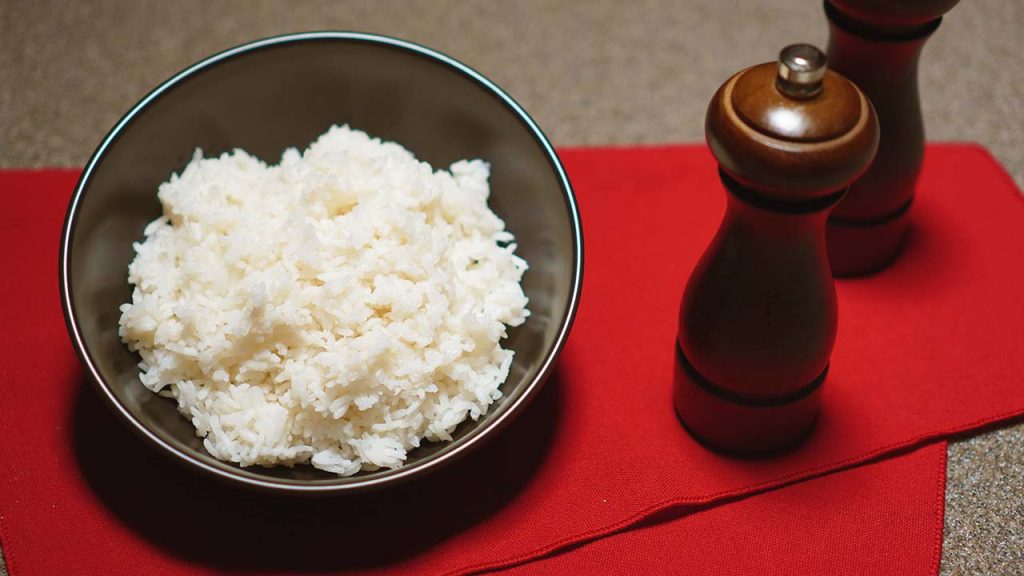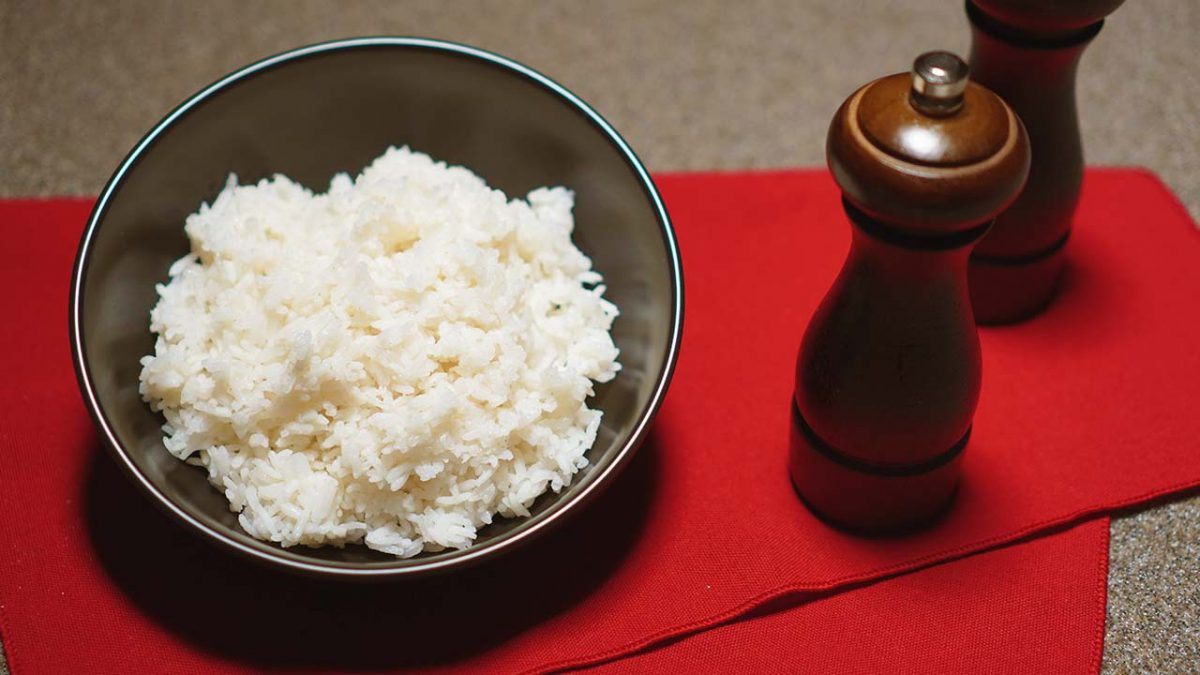 Copycat Panda Express Steamed Rice Recipe
How To Make Copycat Panda Express Steamed Rice
Serve this 30-minute Copycat Panda Express White Steamed Rice with your favorite main dishes to satisfy your Panda Express cravings!
Ingredients
2

cups

instant white rice,

long grain

Salt and pepper,

to taste

3 ⅓

cups

water
Instructions
In a medium pot, wash rice until the water is nearly clear.

Combine water and rice inside a saucepot.

Cook and boil for 5 minutes and stir to lift up and cook evenly.

Lower down the heat and simmer for another 10 minutes.

Remove the rice from the skillet.

Let it cool before serving. Serve a warm bowl of steamed rice with any of your favorite main dishes!
Nutrition
Sugar:

1g

:

Calcium:

8mg

Calories:

82kcal

Carbohydrates:

18g

Fat:

1g

Fiber:

1g

Iron:

1mg

Potassium:

6mg

Protein:

2g

Saturated Fat:

1g

Sodium:

7mg
Nutrition Disclaimer
Frequently Asked Questions
Is rice gluten-free?
Yes! All rice is gluten-free. The only time rice may not be gluten-free is if it's sold in a mix just like when it's packed in a risotto or when it's bought in the grocery store boiled in the same pot to boil pasta. Some rice dishes that are cooked or boiled in broth are also not gluten-free as most stocks have wheat in them. So remember to always double-check the label when buying rice from the grocery stores. 

Is it okay to reheat rice?
Yes, but just make sure to be careful to make sure it's safe. Contrary to some leftovers, rice may contain bacteria that stays even after cooking. When your rice has finished cooling down, store it in your refrigerator for no longer than 4 days. If you want to still achieve that fluffy Panda Express steamed rice with your leftovers, sprinkle a tablespoon of water when you reheat it on your stovetop. Cook it over low heat and make sure to stir it occasionally!
Is steamed rice healthy for you?
Steamed rice is healthy if eaten in moderation. Although some think that rice is not good for the body, many countries enhanced their white rice with added B Vitamins to balance the nutrients stripped off from processing it. Some of the nutrients added to it are iron, and B Vitamins such as folic acid, niacin, and thiamine. Steaming rice is also one of the healthier ways of cooking rice as this prevents the loss of water-soluble nutrients and does not need added fat to it.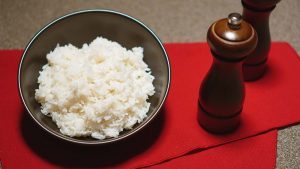 Conclusion
Panda Express meals are cooked to perfection, especially their steamed rice. But you don't have to dial the famous Chinese fast food when you're craving for one. With the help of our recipe, cooking your steamed rice is as quick and easy as ordering out. A bonus, you don't have to eat small portions when you have a whole batch of it!