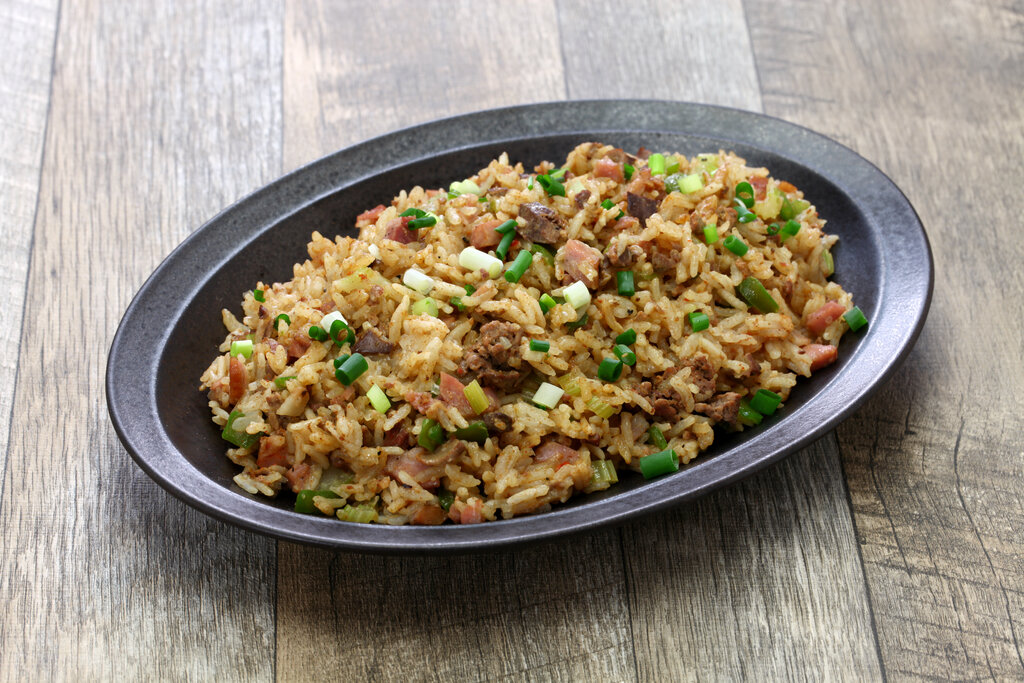 Cajun Rice Recipe (Popeyes Copycat)
Popeyes is one of my favorite fast food chains that make delicious crispy fried chicken. They have a wide variety of chicken meals that's perfect for sharing. I always go for their crispy chicken, but there was this one particular side dish that I also ordered quite a lot: their Cajun rice (or also known as Cajun dirty rice in Louisiana). Unfortunately, Popeyes Cajun Rice was discontinued from their Popeyes sides menu early this year.
Good thing I'm familiar with making Cajun flavored dishes so I know the basics for recreating this tasty Cajun rice dish. With my homemade Popeyes Cajun Rice recipe, I get to enjoy and savor the side dish much longer. And it only took me less than an hour to make this hearty meal which I served alongside their famous Popeye's .
The ingredients are similar to making a Cajun sauce, just minus the creamy ingredients. What you basically need are the spices such as the garlic powder, red pepper flakes, and ground black pepper. Aside from the spices, the Tony Chachere Creole seasoning makes use of herbs for added depth and flavor. This combination of herbs and spices elevates the savory taste of both the rice and meat bits.
Once you have the spices, the next main ingredients are the long grain rice, chicken gizzards, and ground beef. The rice and meat are another reason why I enjoy this Popeyes Cajun Rice. I love how the finely chopped chicken gizzards and ground beef delicately combine with the long grain rice as it's cooked on the frying pan. It adds flavor and texture to the rice side dish which makes it extra appetizing to eat.
It took me about 35 minutes to cook the whole side dish and it was definitely worth it. The smell alone while it was frying made me want to eat it already! I stirred the rice a bit more, and then it was ready to serve. It's one of those tasty rice dishes that you just have to eat once in a while.
How To Make How To Make Cajun Rice (Popeyes Copycat)
Recreate the popular Popeyes Cajun Rice with this delicious copycat recipe packed with gizzards, ground beef, and spices for a hearty meal!
Ingredients
1

lb

lean ground beef

4

cups

beef broth

½

cup

chicken gizzards

½

cup

green bell pepper,

finely diced

⅓

cup

green onions,

sliced

½

tsp

garlic powder

½

tsp

celery seed,

or celery flakes

1

tsp

Tony Chachere's Creole Seasoning,

or Cajun seasoning

¼

tsp

cayenne pepper

¼

tsp

red pepper flakes

4

cups

long grain rice,

cooked and drained

⅓

cup

water

¼

tsp

ground black pepper
Instructions
Cook the long grain rice according to package directions. Use beef broth instead of water for flavor. Let cook.

Finely chop or pulse the chicken gizzards in a food processor.

In a frying pan, stir in the ground beef, ground chicken gizzards, and bell pepper and cook on medium-high heat until the beef loses its pink color and the bell pepper is soft. Remove excess grease.

Turn the temperature down to medium or medium-low and add the remaining ingredients. Cook, stirring, for 25 to 35 minutes, until the ground beef is completely cooked and liquid is gone.

More Creole seasoning, cayenne pepper, and red pepper may be added for that Cajun at heart taste.

Serve warm and enjoy!
Recipe Notes
For leftovers, store the cajun rice properly inside an airtight container. Place in the refrigerator where it can last for up to 3 days. 

When ready to consume, remember to let the rice thaw or cool at room temperature before reheating.
Nutrition
Calories: 

406.06kcal

Protein: 

15.90g

Cholesterol: 

42.41mg