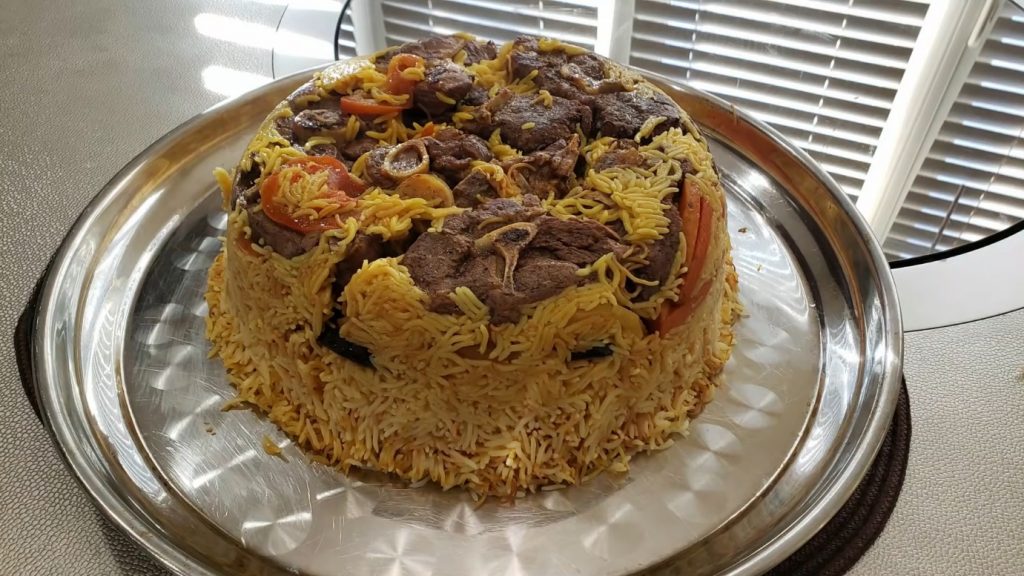 Maqluba Recipe
A hearty and filling Arabic dish, this 'upside down' or maqluba dish layers spiced lamb, veggies, and rice, for a flavor-packed dish.
Ingredients
7

cups

water

2

onions,

chopped

1

tbsp

garlic,

chopped

1

tsp

ground cinnamon

1

tsp

ground turmeric

2

tsp

garam masala

salt and ground black pepper,

to taste

2

cups

cooking oil

2

cups

lamb meat,

cut into small pieces

1

eggplant,

large, cut into ¾-inch slices

2

zucchini,

cut into¼-inch slices

1

cup

broccoli

1

cup

cauliflower

1½

cups

jasmine rice

16

oz

plain yogurt,

(1 container) for serving
Instructions
Bring to a boil the water, onion, garlic, cinnamon, turmeric, garam masala, salt, and pepper in a large pot. Add the lamb; reduce the heat to low and simmer 15 to 20 minutes.

Separate the lamb from the liquid and set it aside. Transfer the liquid to a bowl.

While the lamb mixture simmers, heat the oil in a large, deep skillet over medium heat. Fry the eggplant slices in the hot oil, assuring the pieces do not touch, until brown on both sides; remove to a plate lined with paper towels to drain.

Use the same procedure to fry the zucchini and the cauliflower. Cook the broccoli in the oil until hot and remove it to a paper towel-lined plate to drain.

Layer the lamb into the bottom of the large pot. Arrange the eggplant, zucchini, broccoli, and cauliflower on top of the lamb in layers. Pour the rice over the meat and vegetables, shaking the pot gently to allow the rice to settle into the dish.

Pour the reserved cooking liquid from the lamb over the mixture until it is completely covered. Add water if needed.

Cover the pot and simmer over low heat for 30 to 45 minutes until the rice is soft and the liquid is absorbed. Remove the lid from the pot. Place a large platter over the pot and flip the pot so the dish is "upside down" on the platter.

Serve with yogurt on the side. Enjoy!