Looking to level up your dessert game? Our Snickers cheesecake combines two of the world's most beloved sweet treats: creamy Snickers chocolate bars and cheesecake. Every bite of this dessert oozes with flavor, magnified by the creamy peanut butter in the filling and the extra caramel drizzle. You can expect this cake to tickle anybody's taste buds. Pair it with a mildly flavored jasmine tea to help quench your thirst after all that sweetness.
Tips on Making Snickers Cheesecake
You'll wonder why you spent all that money on the Cheesecake Factory snickers cheesecake all these years when you could've easily made it in the comfort of your own home. Follow these handy tips on how to make an easy snickers cheesecake:
Our recipe allows you to decide

if you want to use a classic graham cracker crust or an Oreo crust.

Choosing a graham crust will balance out the sweetness from the snickers and caramel. If you prefer a much sweeter cheesecake, we suggest going for an Oreo crust. 

Coat the crumbs in butter well and mix.

The butter helps your crumbs stick together and solidify so your crust doesn't break apart. This is why it's important that you combine them well.

Chill the Snickers candy bars.

We recommend you keep them refrigerated for several hours to make them easier to chop. Skipping this step and chopping the candy bars at room temperature will be messy and sticky.

Whip the filling until it's very thick.

This will take at least 4 minutes. The thicker the filling, the less chances for the chopped chocolate pieces to sink to the bottom of the filling.

Leave the baked cheesecake inside the oven for 1 hour

but keep the door open once the timer is up. If you take it out too quickly, the sudden temperature change may cause your cake crust to crack.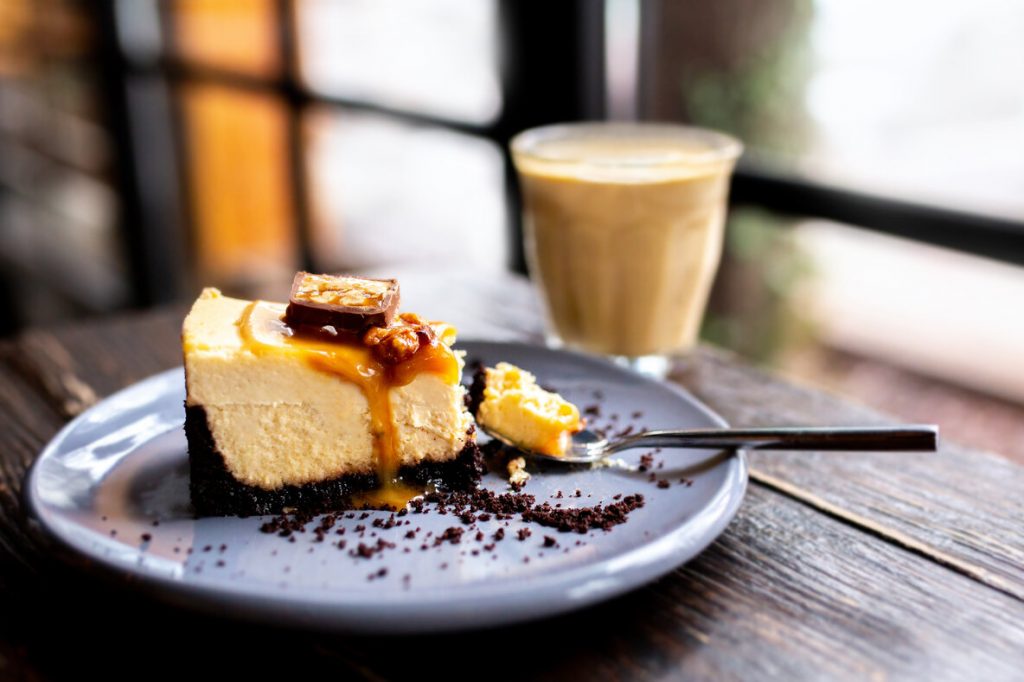 Snickers Cheesecake with Caramel Recipe
How To Make Snickers Cheesecake with Caramel
This rich Snickers cheesecake drizzled with thick caramel sauce has bold flavors that are perfect for satisfying your guests' sweet tooths. It's packed with flavor and is among the easiest recipes out there.
Ingredients
16

oz

cream cheese,

(2 packs)

½

cup

sugar

1

tsp

vanilla extract

2

tbsp

peanut butter,

optional

2

eggs ,

stored at room temperature

2

tbsp

sour cream

9

oz

cracker crust,

Oreo or plain

7.4

oz

Snickers bars,

(2 packs,) large, sliced

3

tbsp

caramel sauce
Instructions
Either by hand or stand mixer, beat the cream cheese, sugar, peanut butter, and vanilla extract together until a creamy consistency is achieved.

Add the eggs and beat them into the mixture one at a time.

Incorporate the sour cream into the batter. Then, stir in Snicker bar slices until evenly distributed.

Take the pie crust and swirl 1 tablespoon of caramel sauce onto the bottom. Carefully pour the batter into the pie shell.

Top the mixture with 2 tablespoons of caramel sauce and swirl it into the batter. After that, scatter the remaining Snicker bar slices on top.

Bake the batter in the oven for 40 minutes at a temperature of 350 degrees F. After baking, leave the oven door open and let the cheesecake sit for 40 minutes more.

Serve the cheesecake chilled. Enjoy!
Nutrition
Sugar:

23g

:

Calcium:

70mg

Calories:

398kcal

Carbohydrates:

38g

Cholesterol:

72mg

Fat:

25g

Fiber:

1g

Iron:

1mg

Potassium:

164mg

Protein:

6g

Saturated Fat:

11g

Sodium:

306mg

Vitamin A:

592IU

Vitamin C:

1mg
Nutrition Disclaimer
Commonly Asked Questions
How do I tell if the cheesecake is done?
Generally, you can perform a jiggle test on cheesecakes so you know they are done. This test is applicable on this Snickers cheesecake recipe. First, you have to take the cheesecake out of the oven. Then, gently hold and wiggle the pan. If it jiggles just slightly in the pan, then that's a good sign that it's ready. If it jiggles too much or still looks liquidy, then you'll have to bake it longer.
How long is Snickers cheesecake good for?
Your Snickers cheesecake is good for up to five days as long as it's been continuously refrigerated.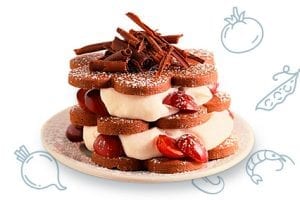 Conclusion
This Snickers cheesecake with caramel drizzle takes a modern twist on a classic favorite. Go ahead and satisfy your cravings with this chocolate peanut butter cheesecake that's oozing with rich flavor!