Pumpkins associate itself with holidays like Thanksgiving or Halloween. While the latter carries the tale, thanksgiving wouldn't be complete without the plump vegetable in some form of dessert. As times change, traditions expand and adjust to modern culture. Hence pumpkins are seen in desserts or caffeine—Pumpkin spiced latte, Pumpkin Cheesecake, or even a plain ol' Pumpkin juice.
In Ireland, they associate pumpkins with a mythical character called "Stingy Jack". By chiseling funny faces on turnips and potatoes, they use it to ward off his evil spirit. These are what we all know as Jack-o-lanterns. It's a tradition that originates from Scottish immigrants who found that pumpkins work better as lanterns.
A Caramel Swirl Pumpkin Cheesecake melts in your mouth with its nutty yet creamy texture that would put a smile on Jack's stingy face. It's a recipe that requires patience and arm-muscle. The perfect excuse to declare family bonding. Among other things, this Pumpkin Cheesecake recipe divides itself into a lengthy process but, in the end, the wait is always worth it. Banded together in a 9-inch springform dish, this holiday staple is a wondrous symphony of flavors.

The beauty of baking this delicious dessert is how it is able to present itself as a canvas. You can adjust this treat as per your design. If you want to test your abilities and take it one step further, we also have a recipe for a Diabetic-Friendly Pumpkin Bread. It's a healthier option you can enjoy. So, grab your apron, and let's head into the kitchen!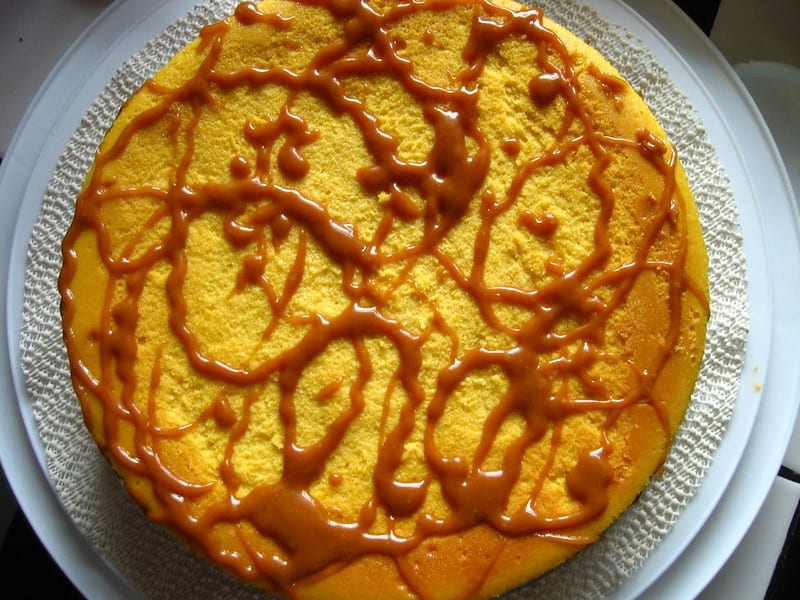 Caramel Swirl Pumpkin Cheesecake Recipe
jensteele | Flickr
How To Make Caramel Swirl Pumpkin Cheesecake
A unique pumpkin cheesecake recipe that makes you wish Thanksgiving was all year round!
Ingredients
For Crust:
½

cup

pecan halves

1

cup

gingersnap crumbs

1

tbsp

brown sugar

2

pinches

salt

4

tbsp

unsalted butter,

melted
For Filling:
1

cup

pumpkin puree

1

cup

brown sugar

2

cups

heavy cream

1

lb

cream cheese

2

eggs

2

egg yolks
For Caramel:
½

cup

brown sugar

½

tbsp

corn syrup

2

tbsp

water

¼

cup

heavy cream,

heated

1

tbsp

butter

½

tsp

vanilla extract
Instructions
For Crust:
Preheat your oven to 350 degrees F, then wrap a 9-inch spring-form pan in tin foil to prevent water leakage.

Line a separate baking pan with parchment paper and spread your pecan halves on top.

Toast the pecans in the oven for 7 to 10 minutes, constantly checking on them to make sure they have not burned.

Place the pecans in a food processor along with the gingersnap crumbs, sugar, and salt, and process them for about 20 seconds until they form a crumbly consistency.

Add in the melted butter and pulse until they are well-incorporated. Then press the crumbs onto the bottom of the pan and 1 ½inches cup the sides (it helps to use a measuring cup for this step).

Prebake the crust for about 8 to 10 minutes until it turns golden.
For Filling:
Stir together the pumpkin puree and sugar in a small pot constantly on medium heat until they sputter.

Reduce the heat to low and cook the ingredients for about 3 to 5 minutes until they turn thick and shiny.

Scrape the pumpkin puree and sugar mixture into a food processor and process them for 1 minute. 

Add in the heavy cream and cream cheese and process them for 30 seconds until they form a smooth mixture. 

Gradually add in the egg yolks and egg whites, preferably one at a time, and process them until all ingredients are well-incorporated.

Transfer the filling on top of the crust and evenly smooth out the top layer.

Place the spring-form pan in a larger roasting pan and fill it with 1 inch of hot water.

Bake the cake for 55 minutes. Once you're done, turn off the oven without opening and let the cake cool for about 1 hour until the middle portion is softly set.

Cool the cake on a wire rack then chill it overnight in the refrigerator.
For Caramel:
In a medium pot, preferably nonstick, stir together the sugar, corn syrup, and water. 

Continuously stir the mixture over medium heat until the sugar dissolves and the syrup begins to bubble.

Stop stirring completely and let the moisture boil until it forms a deep amber color. Lower the heat when it begins to change color. 

Remove the mixture from the heat and carefully add the heavy cream. Scrape the sides, especially the solid bits, and return it to low heat, gently stirring it for 1 minute.

Remove the mixture from heat once more and add in the butter. Pour the mixture into a heat-safe glass measuring cup and let it cool slightly. 

Mix in the vanilla extract and let the caramel sauce cool to room temperature. Scoop it into a piping bag and swirl it all over the cheesecake. Afterward, grab a fork and enjoy!
Recipe Notes
You may avoid adding pecan-halves, especially those with peanut allergies. Instead, you can opt for graham cracker crumbs to add more flavor. 
If you don't have a food processor on-hand, you may also use a hand mixer to make the filling. 
Nutrition
Sugar:

49g

:

Calcium:

170mg

Calories:

798kcal

Carbohydrates:

62g

Cholesterol:

259mg

Fat:

60g

Fiber:

2g

Iron:

2mg

Potassium:

341mg

Protein:

9g

Saturated Fat:

32g

Sodium:

425mg

Vitamin A:

6876IU

Vitamin C:

2mg
Nutrition Disclaimer
Frequently Asked Questions
What can I substitute with pecan halves?
While a variety of nuts like walnuts, peanuts, pistachios, or cashews can be a great substitute, it is preferred to have pecans on hand as it has a more delicate taste. 
Can I use store-bought caramel sauce?
Of course! A store-bought alternative is just as good as a homemade one. The difference between the two is the latter gives you the chance to adjust the taste to your liking.
Are there alternatives for pumpkin puree?
Frozen butternut squash, sweet potatoes, and roasted acorn squash are alternatives for pumpkin puree in case your local grocery store runs out. Unfortunately, the essence of this pumpkin cheesecake recipe would be lost.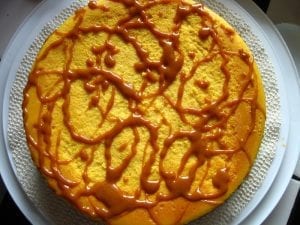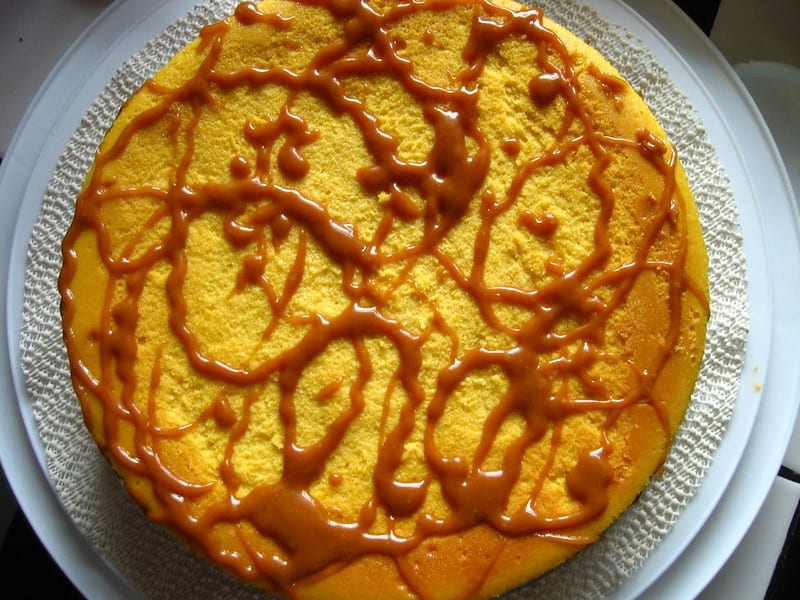 Conclusion
Despite being a pumpkin cheesecake recipe, the caramel touch and ginger-crusted filling balances out the tangy yet sweet taste of the entire treat. The need to chill the cake after baking is worth waiting for as it lets the flavor sit well to achieve the harmony between the various spices. A must-try for the holiday!