If you love pumpkin desserts, then try this easy homemade recipe. This pumpkin gooey butter cake has a chewy buttered crust with a creamy cake filling. It's made with pumpkin puree mixed with cream cheese and earthy spices. This appetizing combination of ingredients makes for a scrumptious pumpkin cake. It's the perfect seasonal cake to serve alongside a warm cup of creamy hot chocolate.
What Is an Ooey Gooey Pumpkin Cake? 
The gooey butter cake is an original recipe made famous in St. Louis, Missouri. Since its conception, there have been a lot of delicious variations to this versatile cake recipe. One of which is this decadent pumpkin gooey butter cake recipe that's different from your regular spongy cakes. A gooey butter cake has two layers: a buttery yellow crust and a creamy, cheesecake-like filling. It's definitely a cake that melts in your mouth with its sweet and velvety texture.
Tips on Making Pumpkin Gooey Butter Cake
Making this ooey gooey pumpkin cake is really easy. You only need to mix and layer out the ingredients onto the baking pan, and you're done. However, there are still some tips and fun variations that you need to know when making this delicious pumpkin dessert.
Avoid overbaking the cake.

The cake should have that soft "gooey" texture. Overbaking the cake will lead to a dry pumpkin filling with a slightly burnt crust. Overall, it will have a drastic effect on its texture and consistency. 
Substitute pumpkin pie spice for cinnamon and nutmeg.

If you don't have cinnamon or nutmeg, you can alternate it with pumpkin pie spice. Add about 1 to 2 teaspoons of pumpkin pie spice into the mix. You'll still get that similar earthy taste to blend with the pumpkin puree and cream cheese.
Finish it off with different toppings.

Add in a dollop of whipped cream on top with a sprinkle of cinnamon. You can also try adding in some chopped nuts or seeds for a subtle crunch. Or go simple with your adornment by lightly dusting powdered sugar on top. 
Make different gooey butter cake variations.

You can make a lot of different flavors with this gooey butter cake recipe. We listed some delicious fruity alternatives to this dessert like a banana gooey cake. You can also make a non-fruity version such as a peanut butter gooey cake.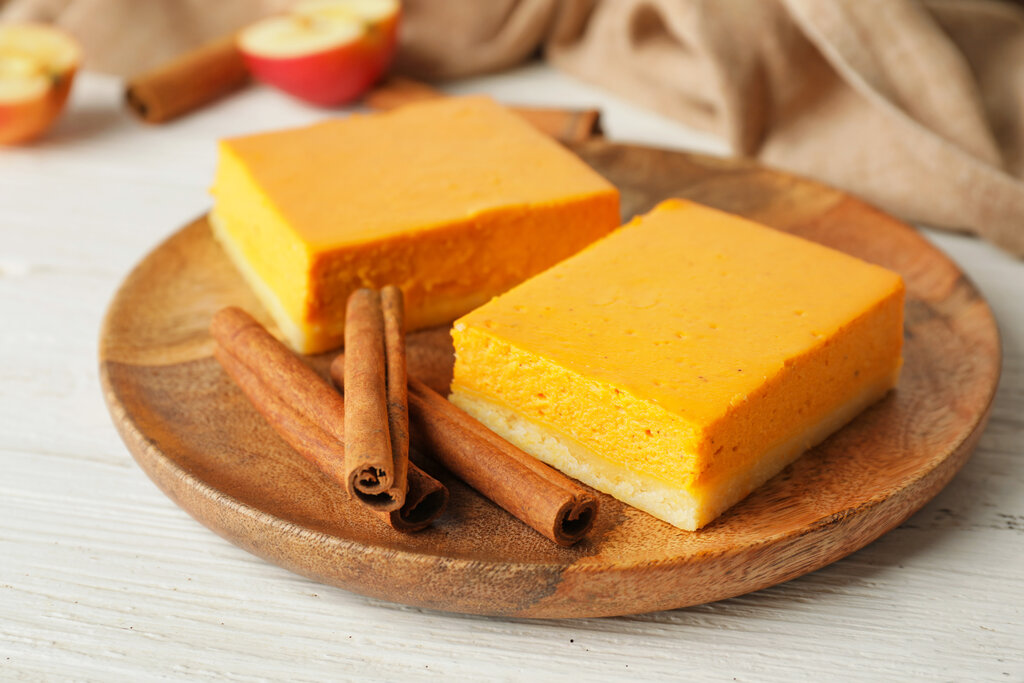 Pumpkin Gooey Butter Cake Recipe
How To Make Pumpkin Gooey Butter Cake Recipe
This pumpkin gooey butter cake is an incredibly tasty and moist butter cake that will surely be a hit among your family and friends. It's a pumpkin infused, cream cheese filled treat that is simply a taste of heaven.
Ingredients
For Cake:
18¼

oz

yellow cake mix,

(1 package)

1

egg

8

tbsp

butter,

melted
For Pumpkin Filling:
8

oz

cream cheese,

softened

15

oz

pumpkin,

(1 can)

3

eggs

1

tsp

vanilla

8

tbsp

butter,

melted

16

oz

powdered sugar,

(1 box)

1

tsp

cinnamon

1

tsp

nutmeg
Instructions
Preheat the oven to 350 degrees F.
Cake:
In a large mixing bowl, combine all of the ingredients. Mix well with an electric mixer.

Pat the mixture evenly into the bottom of a lightly greased 13x9-inch baking pan.

Prepare the filling.
Pumpkin Filling:
In a separate large bowl, beat the cream cheese and pumpkin until smooth.

Add the eggs, vanilla, and butter. Beat together until well combined.

Add the powdered sugar, cinnamon, and nutmeg. Mix well.

Spread pumpkin mixture over the cake batter. Bake for 40 to 50 minutes.

Serve with fresh whipped cream.
Other Gooey Butter Cake Variations:
Pineapple Gooey Cake:
Instead of the pumpkin, add a drained 20 oz can of crushed pineapple to the cream cheese filling.

Proceed as directed above.
Banana Gooey Cake:
Prepare cream cheese filling as directed, beating in 2 ripe bananas instead of the pumpkin.

Proceed as directed above.
Peanut Butter Gooey Cake:
Use a chocolate cake mix.

Add 1 cup of creamy peanut butter to the cream cheese filling instead of the pumpkin.

Proceed as directed above.
Nutrition
Sugar:

86g

:

Calcium:

200mg

Calories:

805kcal

Carbohydrates:

115g

Cholesterol:

113mg

Fat:

36g

Fiber:

1g

Iron:

2mg

Monounsaturated Fat:

15g

Polyunsaturated Fat:

7g

Potassium:

296mg

Protein:

8g

Saturated Fat:

12g

Sodium:

859mg

Trans Fat:

1g

Vitamin A:

6027IU

Vitamin C:

5mg
Nutrition Disclaimer
Frequently Asked Questions
How do you make butter cake moist?
Avoid overmixing the ingredients. Overmixing the batter will produce too much trapped air. This will cause the batter to expand then deflate while baking in the oven. Only mix until it's well combined. Use a rubber spatula or whisk to remove any remaining lumps in the batter. Lastly, make sure you use room temperature ingredients. The butter and cream cheese should be softened before use so that it can achieve the light and smooth consistency for the cake filling.

How long does gooey butter cake last?
When stored properly in an airtight container, this pumpkin gooey butter cake can last for up to 1 week in the refrigerator. That's why it's also a good make-ahead dessert option. You can also freeze this pumpkin dessert for up to 3 to 4 months. If you're freezing small cut bars, store them inside a freezer safe zipper bag or container.

How do you reheat gooey butter cake?
Make sure to thaw the gooey butter cake first at room temperature before reheating. Preheat the oven to 325 degrees F. Bake for 5 minutes or until the center is warmed through. Then, serve with whipped cream on top and enjoy.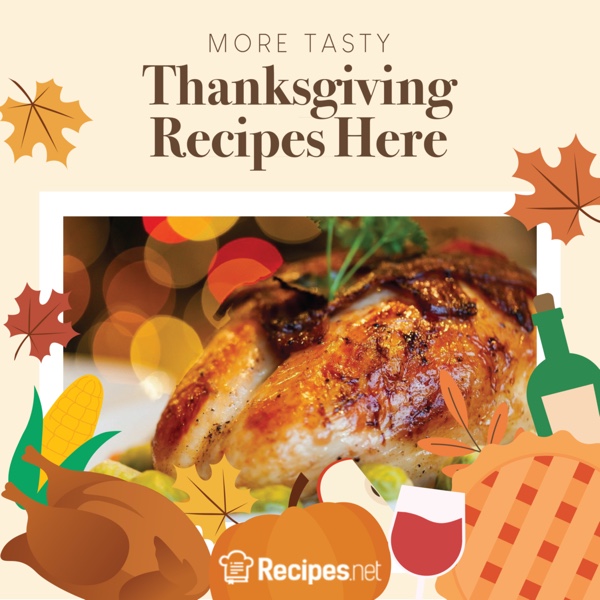 Conclusion
Make afternoon tea time fun with this pumpkin gooey butter cake recipe. Its chewy, buttery crust and creamy pumpkin filling have that delicious balance of sweet and tang. Enjoy this gooey dessert with a warm drink on the side.