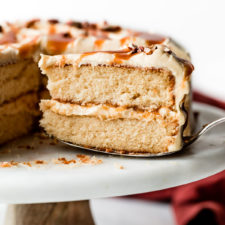 Burnt Sugar Caramel Cake Recipe
How To Make Burnt Sugar Caramel Cake
This wonderfully sweet caramel cake is made with buttery cake layers and burnt sugar frosting that resembles the taste of a creme brûlée.
Ingredients
For Burnt Sugar Syrup:
1

cup

granulated sugar

¾

cup

boiling water
For Cake:
2½

cups

cake flour,

sifted, spoon and leveled

2

tsp

baking powder

½

tsp

baking soda

1

tsp

salt

¾

cup

unsalted butter,

(1.5 sticks), softened to room temperature

1

cup

granulated sugar

½

cup

sugar syrup,

cooled, burnt

4

egg whites,

at room temperature

½

cup

sour cream,

at room temperature

2

tsp

pure vanilla extract

½

cup

whole milk,

at room temperature
For Burnt Sugar Frosting:
1

cup

unsalted butter,

(2 sticks), softened to room temperature

4

cups

confectioners' sugar

½

cup

sugar syrup,

cooled, burnt

1

tsp

pure vanilla extract

2

tbsp

whole milk or heavy cream

¼

tsp

salt
For the Salted Caramel:
1

cup

granulated sugar

6

tbsp

salted butter,

room temperature, cut up into 6 pieces

½

cup

heavy cream,

at room temperature

1

tsp

salt
For Assembly:
Homemade Salted Caramel,

cooled

½

cup

pecans,

chopped
Instructions
Burnt Sugar Syrup:
Make sure you have boiling water at the ready.

Place sugar in a medium saucepan over medium heat. Best to use a 3-quart heavy-bottomed quality saucepan. Stirring constantly with a wooden spoon, cook for about 8 to 10 minutes until the sugar has completely melted and is amber brown. If the sugar is clumpy, break up the lumps with your wooden spoon. A candy thermometer is not necessary, but if you're using one, the sugar temperature should reach about 300 degrees F when it's ready.

Turn the heat to low and very carefully and slowly drizzle in the boiling water, a little at a time. Stir after each addition and stand back, as the mixture will rapidly sizzle and bubble.

After all of the boiling water is stirred in, stir and cook the sugar syrup for about 3 minutes on low. Turn off the heat and let it cool completely, overnight preferred. It's imperative that the sugar syrup is completely cool.
Cake:
Preheat oven to 350 degrees F. Grease two 9-inch cake pans, line with parchment paper, then grease the parchment paper. Parchment paper helps the cakes seamlessly release from the pans.

Whisk the cake flour, baking powder, baking soda, and salt together. Set aside.

Using a handheld or stand mixer fitted with a whisk attachment, beat the butter and sugar together on high speed until creamed, about 2 minutes. Scrape down the sides and up the bottom of the bowl with a rubber spatula as needed.

With the mixer running on medium speed, pour in ½ cup of the cooled burnt sugar syrup. Beat until combined. Scrape down the sides and up the bottom of the bowl as needed. Beat in the egg whites, sour cream, and vanilla extract.

With the mixer on low speed, add the dry ingredients just until combined. Still running on low, slowly pour in the milk until combined; do not over-mix. The batter will be slightly thick.

Pour batter evenly into prepared cake pans. Bake for about 23 to 25 minutes or until the cakes are baked through. As a result of the burnt sugar syrup cooking inside the cake batter, the cakes brown nicely on top and on the sides. To test for doneness, insert a toothpick into the center of the cake. If it comes out clean, it is done. Allow cakes to cool completely in the pans set on a wire rack.
Salted Caramel:
As the cakes cool, make the salted caramel. The salted caramel adds the necessary flavor as a filling and garnish. When the cake is ready for assembling, make sure the salted caramel isn't too hot anymore — if it's too hot, it will melt the frosting; if it's too cool, it won't drizzle.

Heat granulated sugar in a medium heavy-duty saucepan over medium heat, stirring constantly with a high heat resistant rubber spatula or wooden spoon. Sugar will form clumps and eventually melt into a thick brown, amber-colored liquid as you continue to stir. Be careful not to burn.

Once sugar is completely melted, immediately stir in the butter until melted and combined. Be careful in this step because the caramel will bubble rapidly when the butter is added. If the butter starts separating or if the sugar clumps up, remove from heat and vigorously whisk to combine it again. Keep whisking for about 3 to 4 minutes until it comes back together, then return to heat when it's combined again.

After the butter has melted and combined with the caramelized sugar, cook for about 1 minute without stirring.

Very slowly stir in ½ cup of heavy cream. Since the heavy cream is colder than the hot caramel, the mixture will rapidly bubble when added. After all the heavy cream has been added, stop stirring and allow to boil for about 1 minute. It will rise in the pan as it boils.

Remove from heat and stir in the salt. Allow to slightly cool for about 30 minutes before using. If the salted caramel was prepared ahead of time and it became too cool or too thick, microwave it for about 5 to 10 seconds or JUST until it's drizzle-able again. (It won't be too hot at this point.)

Toast the pecans (see recipe note).
Frosting:
In a large bowl using a hand-held mixer or stand mixer fitted with a paddle attachment, beat the butter on medium speed for about 1 to 2 minutes until creamy.

Add confectioners' sugar, remaining ½ cup of cooled burnt sugar syrup, vanilla extract, milk/cream, and salt. Beat on low speed for 30 seconds, then increase to high speed and beat for about 2 minutes until completely combined.

Add more confectioners' sugar if frosting is too thin or more milk/cream if frosting is too thick. Taste. Add more salt if desired.
To Assemble and Frost:
First, using a large serrated knife or cake leveler, slice a thin layer off the tops of the cakes to create a flat surface. Discard (or crumble over ice cream!). If you have any leftover burnt sugar syrup, drizzle over leveled cakes.

Place 1 cake layer on your cake stand or serving plate. Using a large icing spatula, evenly cover the top with frosting. Drizzle ¼ cup of salted caramel on top of the frosting. Top with 2nd cake layer.

Refrigerate the cake for about 30 to 45 minutes before finishing the frosting and garnish. The caramel inside the cake must "set."

After chilling in the refrigerator, spread the remaining frosting all over the top and sides. Run a bench scraper around the cake to smooth out the sides, if desired. Garnish with toasted pecans and more salted caramel. Slice and serve. Cover leftover cake tightly and store in the refrigerator for up to 5 days.
Recipe Notes
Toasted Pecans: Toasting the pecans is optional, but adds incredible flavor to the garnish. To toast, preheat the oven to 300 degrees F. Spread chopped pecans onto a parchment paper or silicone baking mat lined baking sheet. Toast for about 5 to 7 minutes until slightly darkened. Cool before using as garnish.
Nutrition
Calories: 

921.62kcal

Fat: 

41.81g

Saturated Fat: 

24.57g

Trans Fat: 

1.32g

Monounsaturated Fat: 

11.80g

Polyunsaturated Fat: 

2.46g

Carbohydrates: 

136.40g

Fiber: 

0.88g

Sugar: 

90.69g

Protein: 

4.82g

Cholesterol: 

106.27mg

Sodium: 

574.37mg

Calcium: 

112.65mg

Potassium: 

128.60mg

Iron: 

2.57mg

Vitamin A: 

338.57µg

Vitamin C: 

0.19mg