Celebrate the coming of spring with a refreshing cake that will delight any crowd. Our lemon blueberry pound cake makes the perfect dessert after a hearty meal. It has bursting chunks of blueberries and freshly squeezed lemon juice, and it is gluten-free! Serve a slice of this blueberry lemon cake after dinner or with a cup of coffee for a fancy afternoon snack.
Tips on Making Lemon Blueberry Pound Cake
With this recipe, you can easily achieve an elegant-looking cafe-quality cake. Here are a few things to take note of when making lemon blueberry bundt cake at home:
Don't just scoop the dry ingredients; fluff them first using a fork.

Once fluffed up, make heaping scoops using your measuring spoons and cups. Use the straight edge of a knife to level them flat. This will ensure that you don't overpack the cup with your dry ingredients. Or better yet, use a kitchen scale if you have one.

You may use fresh or frozen blueberries

. If you use frozen ones, to avoid discoloration on the cake, refrain from thawing them.

Refrigerate the lemons before zesting and juicing them.

Also, zest the lemons first before juicing them. Doing this will give you the most zest and juice. 

Use a light-colored Bundt pan if you have it.

Darker pans absorb more heat and could u brown the surface of your cake, making your cake less attractive. To compensate for this, you can decrease the temperature setting of the oven by 25 degrees F. 

Use room temperature eggs.

Your batter will be easier to work with in the creaming stage.

Do not overmix.

Too much mixing can make your blueberry pound cake dry and rubbery.
Looking for more pound cake recipes? Try making this fruity pineapple pound cake or this rich cream cheese pound cake. 
How To Make Lemon Blueberry Pound Cake
Spring would not be complete without this lemon blueberry pound cake! Get a taste of real fruit with bursting blueberry pieces to match the tangy flavor from the lemon.
Advertisement
Continue Reading Below
Ingredients
For Blueberry Pound Cake:
2

cups

sugar

1

cup

butter,

softened

4

eggs

4

tsp

vanilla,

gluten-free

cooking spray

3

cups

gluten-free flour blend ,

optional recipe provided below

2

tsp

baking powder,

gluten-free

½

cup

milk

½

cup

sour cream

1

tbsp

lemon zest

¼

cup

lemon juice,

freshly squeezed

2

cups

blueberries
For Lemon Glaze:
½

cup

powdered sugar,

sifted

4

tsp

lemon juice
Instructions
Blueberry Pound Cake:
Heat your oven to 350 degrees F and grease a 12-cup bundt pan. Sprinkle all sides with a bit of gluten-free flour. Place them in the oven to heat.

Combine the sugar and softened butter in a large bowl. Beat the mixture at medium speed for five minutes or until it becomes creamy, scraping the bowl often to properly incorporate.

Add 1 egg at a time, beating well after each addition. Then add the vanilla and continue beating until they're well combined. Afterwards, add the sour cream, lemon zest, and lemon juice and then mix well.

In a bowl, combine 2 tablespoons of the gluten-free flour blend with the blueberries. Coat all the blueberries with flour.

Whisk together the gluten-free flour blend and baking powder in a small bowl. Then gradually add in the flour blend and milk into the butter mixture alternately, one-third part at a time, beating at low speed until they blend well together.

Fold in the blueberries.

Pour the overall batter into the heated pan. Bake for 50 to 60 minutes or until a toothpick inserted in the center comes out clean.

Allow the pound cake to cool for 20 minutes. Once cooled, remove it from the pan, glaze over the sugar and lemon mixture, and serve.
Lemon Glaze:
Combine the powdered sugar and lemon juice in a small bowl and whisk them until they produce a smooth and light mixture. Add more powdered sugar and lemon juice as needed to make the mixture thick but pourable similar to the consistency of honey.

Drizzle the glaze mixture over the cake and let it set for 10 to 15 minutes before serving.
Recipe Notes
To make a gluten-free flour blend, combine 2 cups of rice flour, 2/3 cup of potato starch, 1/3 cup of tapioca flour, and 1 teaspoon of Xanthan gum. Use an appropriate amount and store the remainder in a container with a tight-fitting lid. Stir well before using.
Advertisement
Continue Reading Below
Advertisement
Continue Reading Below
Frequently Asked Questions
How do you make pound cake moist?
The secret to a moist pound cake is to add an acidic ingredient such as buttermilk, greek yogurt, or sour cream. Their high fat content adds richness and moistness to the finished cake. The slight acidity tenderizes the gluten in the flour, making a soft and springy cake. Refrigerating pound cake for up to 5 days would extend its shelf life, but it could also dry it out. To prevent this from happening, make sure to wrap the lemon blueberry bread well with plastic wrap.
What is the best flour to use for pound cake?
If you opt not to use gluten-free flour for this recipe, the best flour to use for pound cakes is cake flour. It develops the least gluten, which means the cake will be as soft and tender as possible.
How do you keep blueberries from sinking in a cake?
This trick applies to making blueberry loaf and blueberry cake recipes. Simply coat the blueberries with a tablespoon or two of flour before folding them into the cake batter. The flour will absorb any excess moisture from the fruit and will lessen the chances of them sliding into the bottom. Alternatively, you can take ⅓ portion of the batter into the pan before tossing the blueberries in. Then, fold the blueberries into the remaining batter. The plain batter will act as a cushion at the bottom.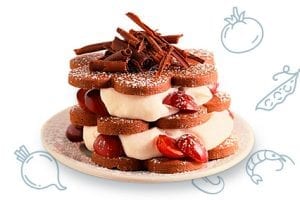 Conclusion
Enjoy a taste of spring with our delectable blueberry lemon pound cake. It's rich in flavor, thanks to the fresh ingredients, and is good as a snack or dessert after a meal. Share this sweet, buttery delight with your friends and family today!
Advertisement
Continue Reading Below
Topics:
Advertisement
Continue Reading Below
Advertisement
Continue Reading Below