Celebrate the coming of Spring with a refreshing cake that will delight any crowd. Our Blueberry Lemon Pound Cake Recipe makes the perfect dessert to serve after a hearty meal. This gluten free lemon pound cake has bursting chunks of blueberries and freshly squeezed lemon juice. It spells out the flavors of spring all in one cake. And we'll be showing you how to make pound cake in just under 2 hours!
What Is Pound Cake?
Pound cakes as the name suggests are pastries having a pound of each ingredient. It's made up of mainly flour, butter, eggs, and sugar. They're baked in bundt molds or loaf pans, then served with powdered sugar or icing.
However, pound cakes have evolved dramatically over the years as bakers add more to the dessert. The most popular additions are fruits and other sweet ingredients like chocolate. Our Bittersweet Chocolate Pound Cake is a great example of these popular flavors.
Compared to the regular cake, pound cakes are far more filling and denser. They make quite the popular tea time snack in Northern Europe, and in America, as a dessert after a big meal. But our moist lemon pound cake is sure to work on any occasion!
What's In Our Blueberry Lemon Pound Cake?
One of the many reasons why our lemon pound cake recipe from scratch is the best is because its gluten free! That's right, this recipe uses gluten-free flour and baking powder. So your friends with gluten allergies can easily enjoy this dessert with zero fuss. Even more, we have instructions on making your own gluten-free flour with just four ingredients. Learn how to make gluten free flour by checking out our Recipe Notes just after the instructions!
The great part about our easy lemon pound cake lies in the fruits we've added in. Our recipe calls for fresh blueberries and freshly squeezed lemon juice. The lemon blueberry fusion makes the pound cake more refreshing and great to have as an afternoon snack on a warm day. But don't let these two tasty ingredients stop you from doing your own thing! Feel free to toss in a few other ingredients like almonds and raisins to make it more unique.
What makes a great pound cake aside from the ingredients, you might ask? Well, creaming the batter properly for your homemade lemon pound cake is one thing. Creaming sugar and butter together for a specific amount of time is important in making a fine and silky pound cake, as it helps create air pockets that expand in baking.
In our case, a good five minutes of creaming the butter and sugar with an electric mixer on medium speed does the job. If you turn out to have a pale color that is almost white after creaming, that means you did it right.
More Pound Cakes Like This
We can't wait to see you try out our best lemon pound cake recipe! Serve this at your next Spring party, tea time gathering, or devour it as a snack. And if you're loving the flavor combo of blueberries and lemon, you can even check out our Blueberry Lemon Tart for a change.
Looking for more pound cake recipes like this? For another fruity flavor, give the Pineapple Pound Cake a try for the summertime.  For something simpler but extremely popular, the Cream Cheese Pound Cake is the way to go. Lastly, for any nut lovers out there, our Date Nut Pound Cake is sure to satiate your cravings.
How To Make Blueberry Lemon Pound Cake
Spring would not be complete without this blueberry lemon pound cake! Get a taste of real fruit with bursting blueberry pieces to match the tangy flavor from the lemon.
Ingredients
For Cake:
2

cups

sugar

1

cup

butter,

softened

4

eggs

4

tsp

vanilla,

gluten-free

3

cups

gluten-free flour blend ,

optional recipe provided below

2

tsp

baking powder,

gluten-free

1

cup

milk

1

tbsp

lemon zest

¼

cup

lemon juice,

freshly squeezed

2

cups

blueberries
For Glaze:
½

cup

powdered sugar,

sifted

4

tsp

lemon juice
Instructions
Cake:
Heat your oven to 350 degrees F and grease a 12 cup Bundt Pan. Sprinkle all sides with a bit of gluten-free flour. Place them in the oven to heat.

Combine the sugar and softened butter in a large bowl. Beat the mixture at medium speed for five minutes or until it becomes creamy, scraping the bowl often to properly incorporate.

Add 1 egg at a time, beating well after each addition. Then add the vanilla and continue beating until they're well combined. Afterwards, add in the lemon zest and lemon juice then mix well.

Whisk together the gluten-free flour blend and baking powder in a small bowl. Then gradually add in the flour blend and milk into the butter mixture alternately, beating at low speed until they blend well together.

Add in the blueberries.

Pour the overall batter into the heated pan. Bake for 50 to 60 minutes or until a toothpick inserted in the center comes out clean.

Allow the pound cake to cool for 10 minutes. Once cooled, remove it from the pan, glaze over the sugar and lemon mixture, and serve.
For Glaze:
Combine the powdered sugar and lemon juice in a small bowl and whisk them until they produce a smooth and light mixture. Add more powdered sugar and lemon juice as needed to make the mixture thick but pourable similar to the consistency of honey.

Drizzle the glaze mixture over the cake and let it set for 10 to 15 minutes before serving.
Recipe Notes
To make the gluten free flour blend, combine 2 cups of rice flour, 2/3 cup of potato starch, 1/3 cup of tapioca flour, and 1 teaspoon of Xanthan gum. Use an appropriate amount and store the remainder in a container with a tight-fitting lid. Stir well before using.
Nutrition
Calcium:

78mg

Calories:

329kcal

Carbohydrates:

49g

Cholesterol:

42mg

Fat:

14g

Fiber:

3g

Iron:

1mg

Potassium:

59mg

Protein:

4g

Saturated Fat:

3g

Sodium:

218mg

Sugar:

32g

Vitamin A:

602IU

Vitamin C:

4mg
Nutrition Disclaimer
Commonly Asked Questions
Should I use fresh or frozen blueberries for my pound cake?
Although many prefer frozen blueberries because of its availability and said health benefits due to cultivation, for this recipe, you may use either fresh or frozen blueberries, depending on your flavor preference! Frozen blueberries hold their shape well and are less likely to burst in your cake. If you want those tasty blueberry juices in each bite, fresh blueberries are the best way to go.
What kind of milk would work best for this lemon pound cake recipe?
Using whole milk is ideal for making the best baked goods. However, using skimmed or low-fat milk works just as well. You may also use buttermilk which can also make your pound cake extra moist and tender. When using buttermilk, however, you will need to switch up your gluten-free baking powder for ½ teaspoon gluten free baking soda. This is because buttermilk will have more acid than regular milk and failing to balance out the acidity might upset the leavening process.
How do I prevent having dense and tough pound cake?
The biggest cause of dense, tough cakes is due to overmixing. Make sure to gently fold the mixture during the stage of adding in the dry ingredients and milk into the creamed butter and sugar. Using a wide spatula instead of the mixer will give you better control of gently folding your ingredients together.
Can I freeze my lemon pound cake?
You definitely can! Make sure to cover your cooled pound cake with a layer of plastic wrap and then aluminum foil before placing it in the freezer. Your homemade lemon pound cake will keep for up to three months in the freezer. When you're ready to eat it again, simply let it thaw to room temperature on your counter.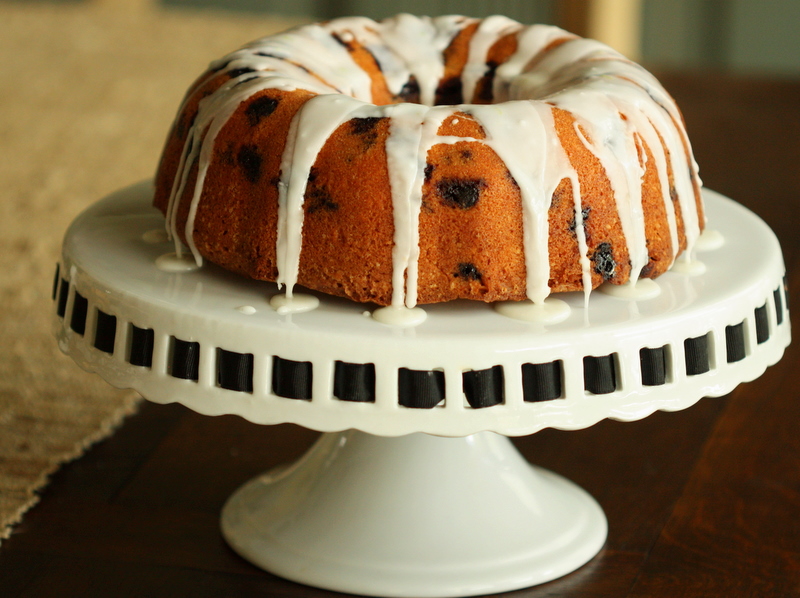 Conclusion
Enjoy a taste of Spring with our delectable blueberry lemon pound cake. It's rich in flavor thanks to the freshest ingredients, and works brilliantly as a snack or dessert after a meal. Share this sweet, buttery delight with your friends and family today!
Topics: