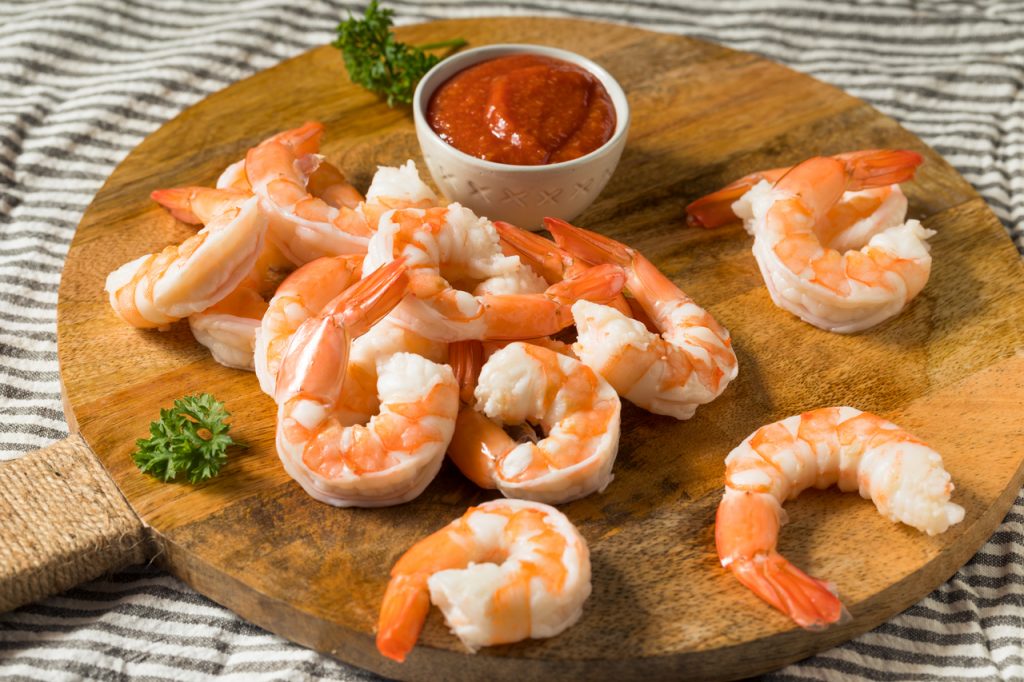 26 Shrimp Appetizers to Kick off Your Summer Party
Want some shrimp appetizer ideas to kick off your upcoming summer party? Whether you're hosting an outside barbecue or a pool party, serving enticing starters is essential to hold everyone over before the arrival of the main entrée. And if you want to avoid the stress of all the cooking plans, shrimp appetizers are the best options as these are one of the easiest seafood recipes to prepare. Besides, their mouthwatering goodness with the perfect blend of sweet and salty flavors is definitely hard to resist.
So if you're ready to heat things up in the kitchen, read on and check out the recipes we curated to help you start your summer with a bang!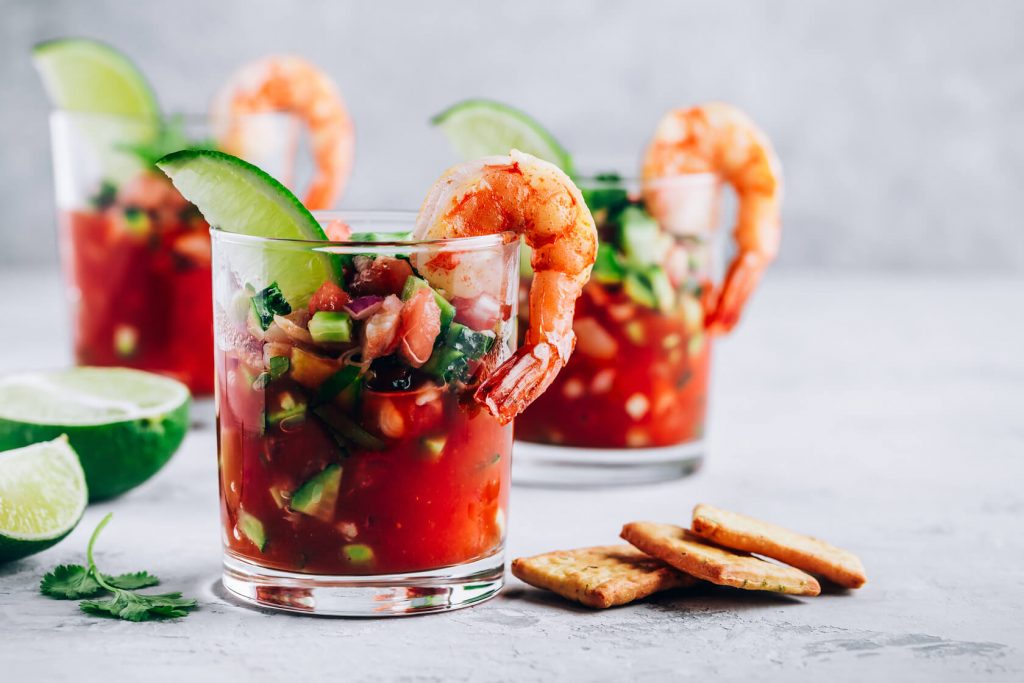 01 of 26
Mexican Shrimp Cocktail
One of the best Mexican food-inspired shrimp appetizers on our list is the Mexican shrimp cocktail. It has the crisp, bright taste of orange and lemon and the aromatic fragrance of cilantro herbs. This shrimp cocktail appetizer is so light and refreshing that it will definitely whet your guests' appetite. 

Try Recipe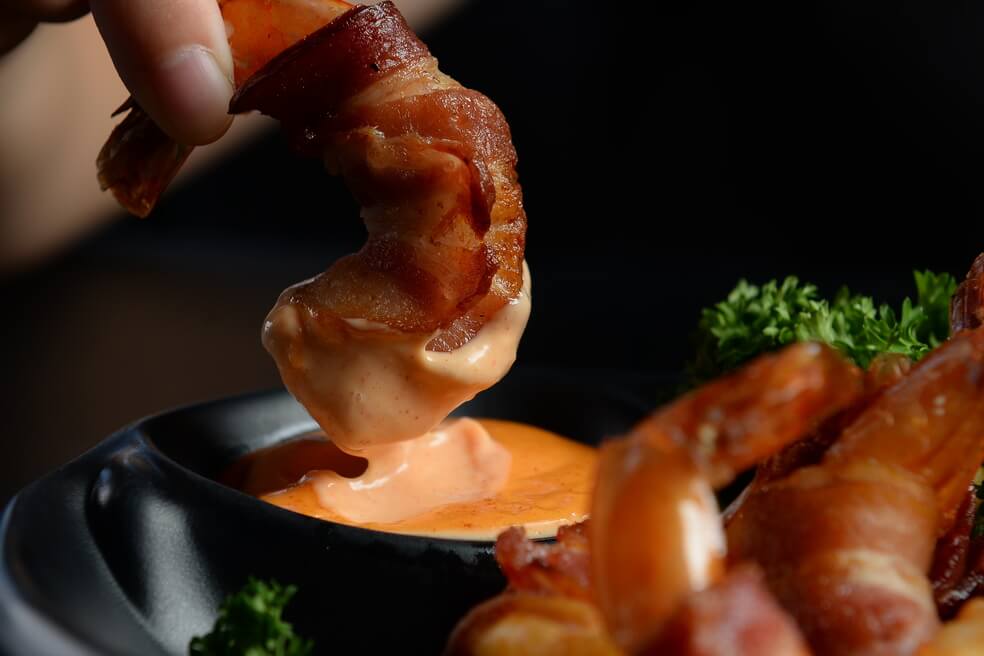 02 of 26
Bacon-Wrapped Shrimp
Looking for a shrimp appetizer that's on the meatier and fattier side? Well, wrap those bad boys with some bacon and make bacon-wrapped shrimp! Want to learn a secret? We recommend brining the shrimp first to make it more flavorful. You can also use different seasonings like chipotle powder and citrus zest. It will help add some tangy flavor! Aside from bacon, you can also use other cured meats like prosciutto and make prosciutto-wrapped shrimp.

Try Recipe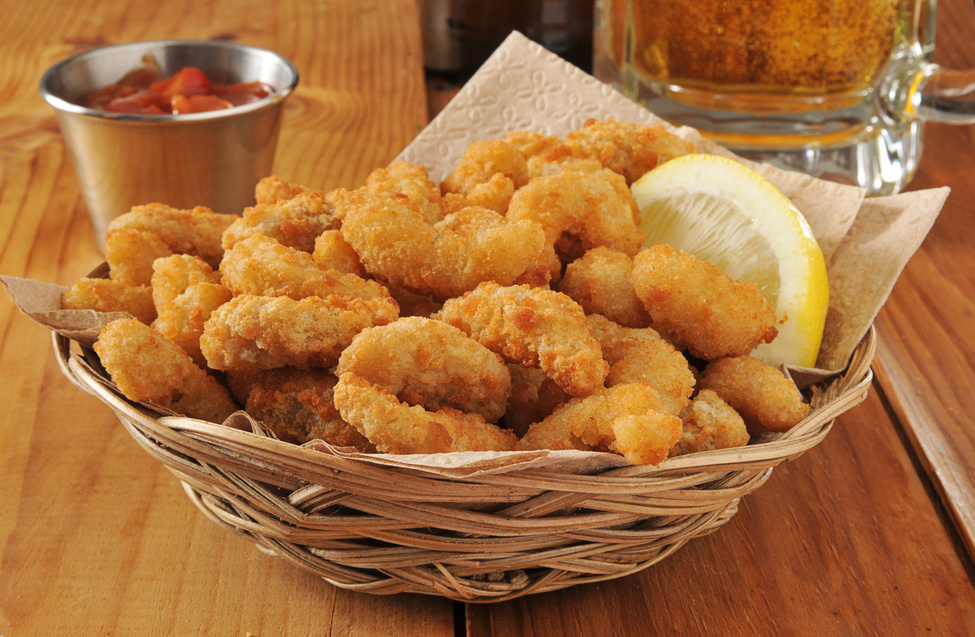 03 of 26
Air Fryer Popcorn Shrimp
This air-fried finger food is definitely healthy and delicious. So, bring out your good old air fryer and make some air-fried popcorn shrimp. This recipe uses panko breadcrumbs to make it crunchier. You can also tweak this by adding a healthy amount of your favorite seasonings to accommodate your personal and your guests' tastes, whether it's sweet, salty, or spicy! This dish uses less oil, making it a guilt-free appetizer you and your guests should try!

Try Recipe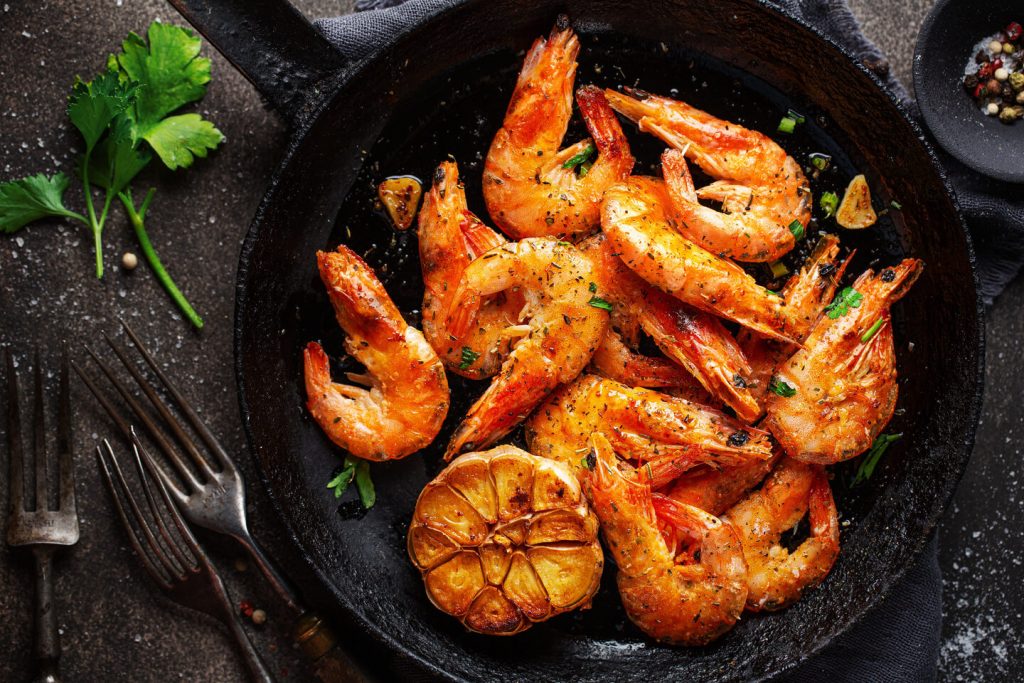 04 of 26
Honey-Orange Shrimp Firecrackers
Are you a fan of orange chicken? If your answer is yes, why not try these honey-orange shrimp firecrackers? It's sweet, tangy, and spicy — definitely a combination of tantalizing flavors that will burst in your mouth. The bonus? This firecracker shrimp will only take less than an hour to make.

Try Recipe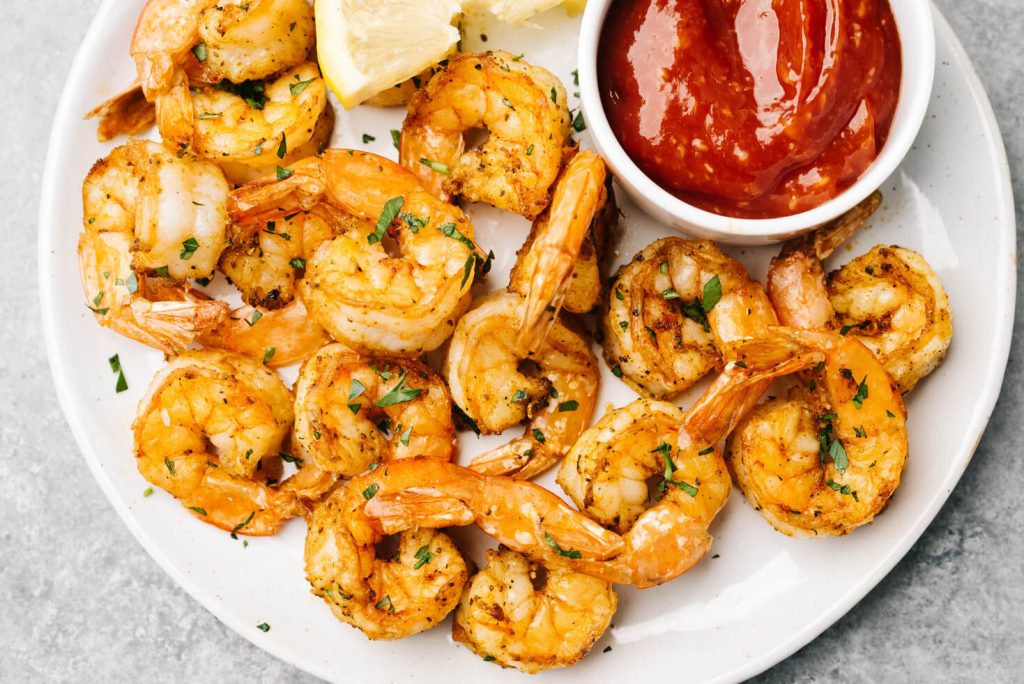 05 of 26
Air Fryer Frozen Shrimp
We all know how a freshly bought batch of shrimp can make a delicious crispy air fryer shrimp, but who says you can't make it using the frozen ones? It's time to use those frozen shrimp stock from your fridge and make this air fryer frozen shrimp! There's no need to thaw. Simply dump them in your air fryer and let them cook. In just a few minutes, you will have a plump and juicy shrimp appetizer! This dish is great to serve for spontaneous get-togethers, as it's quick and easy to make.

Try Recipe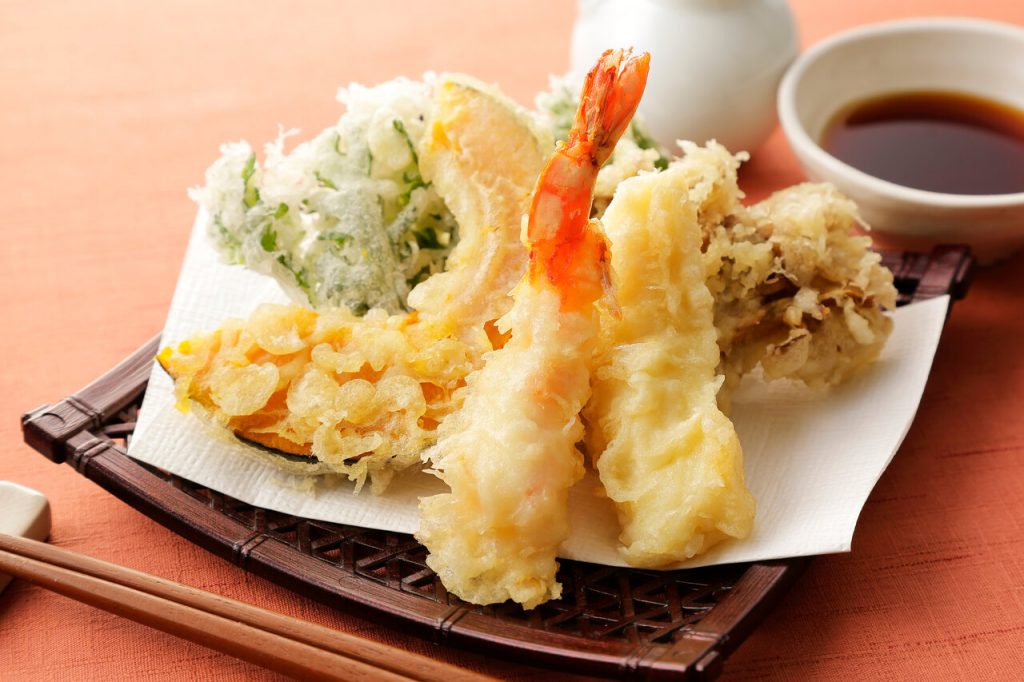 06 of 26
Crispy Shrimp Tempura
Shrimp tempura is one of the best and most popular Japanese appetizers that many are familiar with. Why not? It has that crispy outer texture with a soft and juicy inside. And if you are like us who can't get enough of this delicious shrimp fried to perfection, this is for you! We got you a foolproof recipe from the batter down to the cooking techniques you need. This way, you can enjoy restaurant-quality tempura in the comfort of your home.

Try Recipe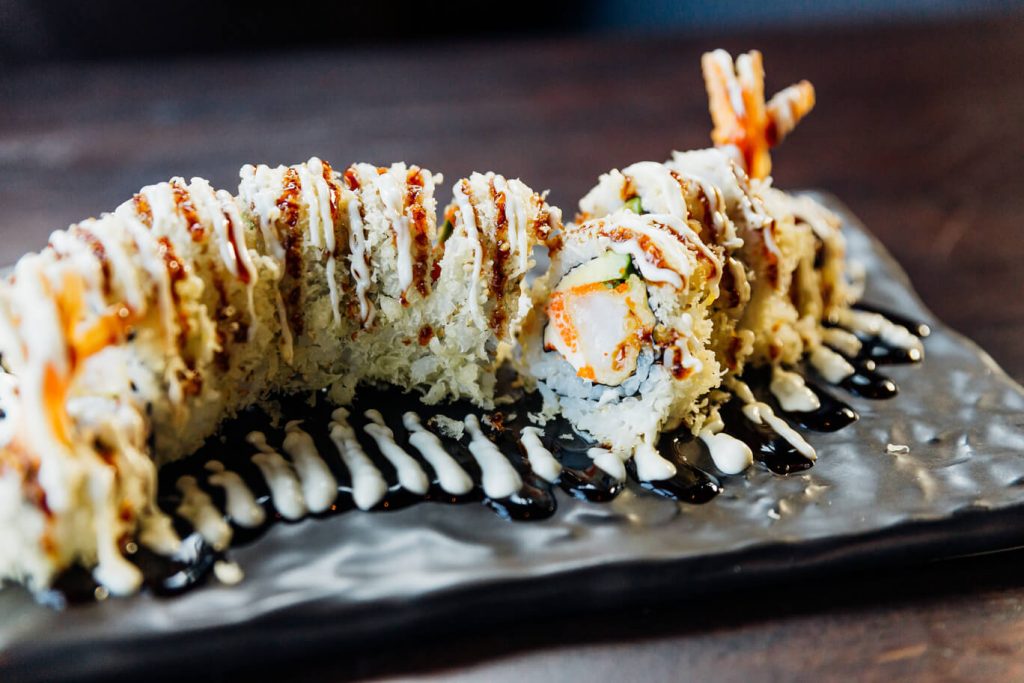 07 of 26
Shrimp Tempura Roll
Now, if you and your guests like tempura but are also craving some sushi, we suggest serving some shrimp tempura rolls. It has the crispiness of shrimp tempura with refreshing and creamy cucumber and avocado slices of sushi. The flavorful, perfectly-cooked rice is just a big bonus to this Asian roll.

Try Recipe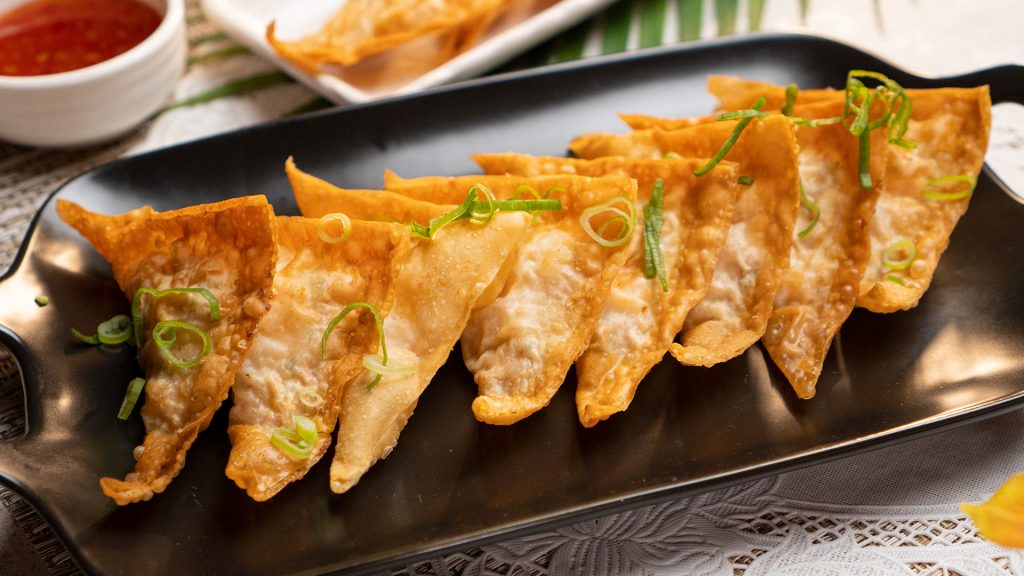 08 of 26
Wonton Cups
Crispy, juicy, and offering a taste of the sea, shrimp in wonton cups are a great party appetizer as they are light yet scrumptious to eat. We recommend adding some ground pork for a layer of meaty taste. You can serve this with your favorite dipping sauce, like sweet and spicy chili, Szechuan chili oil, or black vinegar with ginger slices. 

Try Recipe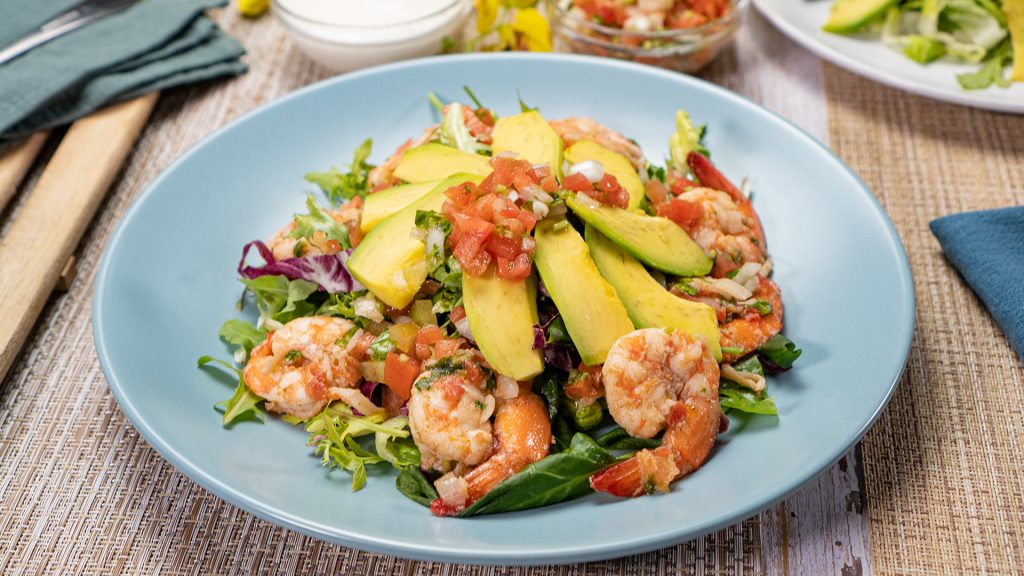 09 of 26
Shrimp Guacamole
Want some shrimp and avocado appetizer to achieve that soft and juicy seafood and creamy avocado-goodness combo? We recommend making this Pico de gallo and avocado salad. This Mexican-inspired meal starter is loaded with different textures and flavors. It has the bite from the veggies, softness from the shrimp meat, and varying tastes from slightly sweet to zesty. For a savory crunch, you can even serve this with some tortillas or nachos.

Try Recipe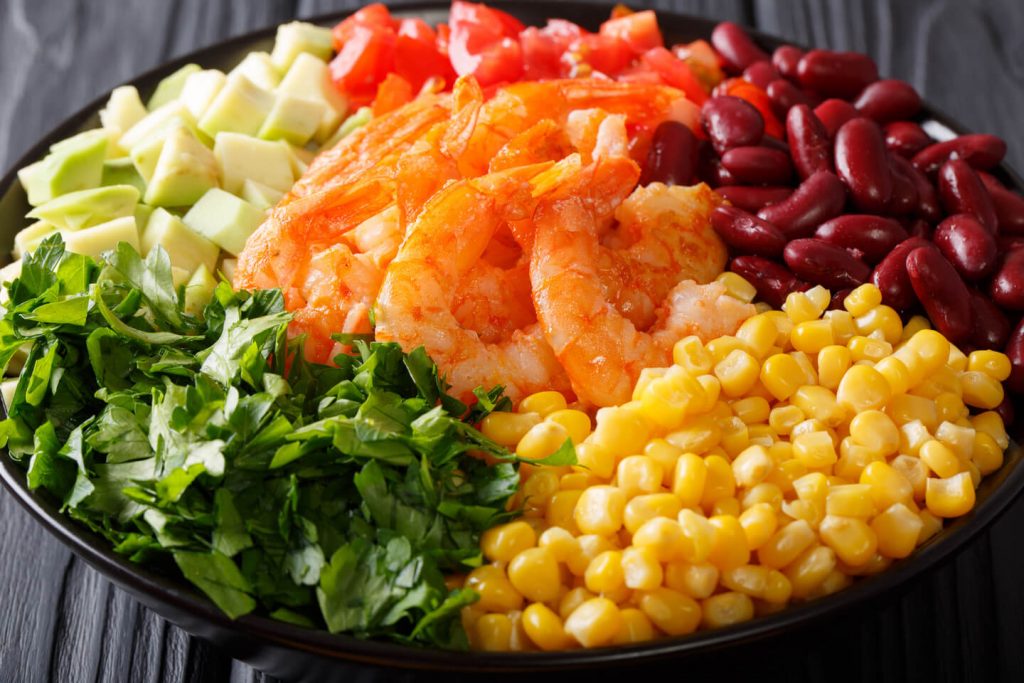 10 of 26
Shrimp Tacos
Healthy tacos, anyone? Why not make a taco bowl using grilled shrimp mixed with other taco toppings and cilantro dressing? This grilled shrimp taco bowl is a sure crowd-pleaser. It has a fantastic smoky flavor with an added zesty and citrusy taste that will make your mouth water. You can also make some taco bites by serving this with small corn tortillas.

Try Recipe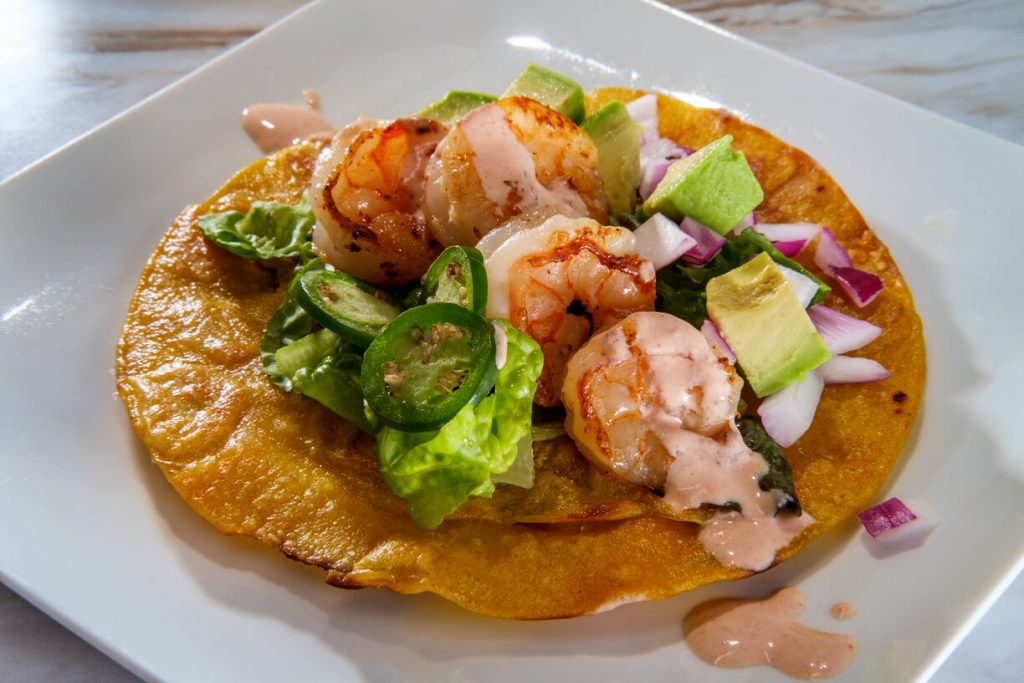 11 of 26
Shrimp Tostada
Let your guests snack on these grilled shrimp tostadas as they wait for the main course! They'll surely love the different textures present in this hors d'oeuvre. It has a crispy tostada base, some flavorful bite from the refried beans, soft avocado slices, and the grilled goodness of the shrimp. It's a snack you can easily make, and a snack your guests can easily finish!

Try Recipe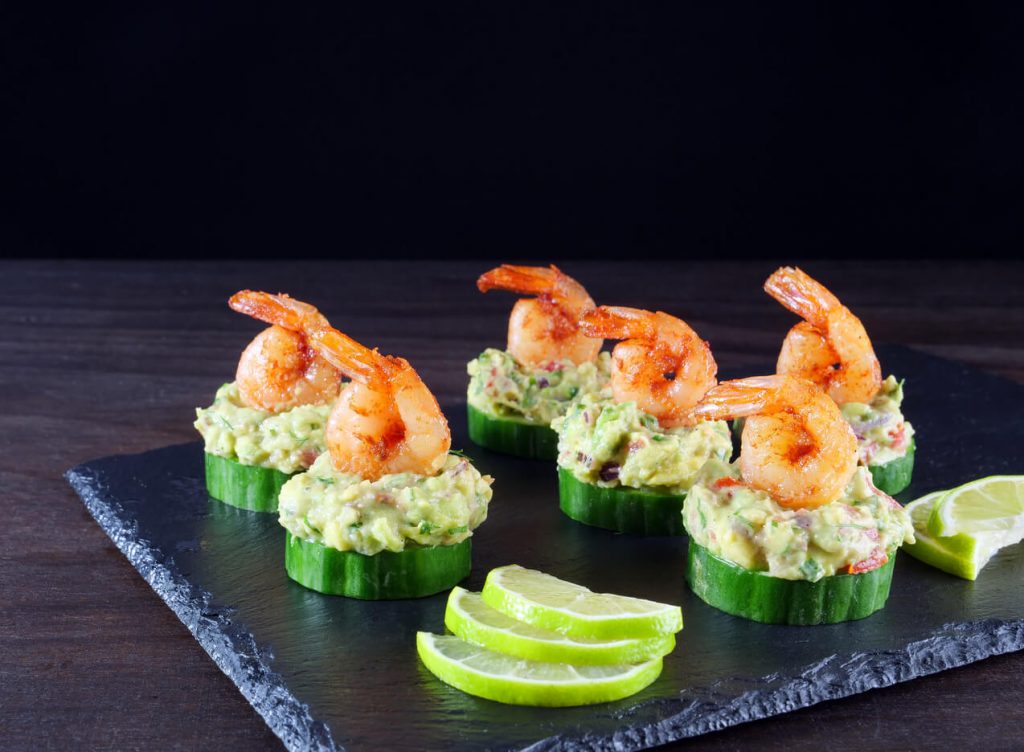 12 of 26
Avocado Cucumber Shrimp
Give your guests a healthy yet delectable snack to munch on with this avocado cucumber shrimp appetizer. It has the flavorful taste of Cajun shrimp with the slightly nutty and buttery taste of avocado salsa on top of a crisp cucumber slice. This combo is a refreshing and exquisite way of serving an appetizer. It is also good to note that it is visually appealing, aside from being flavorful!

Try Recipe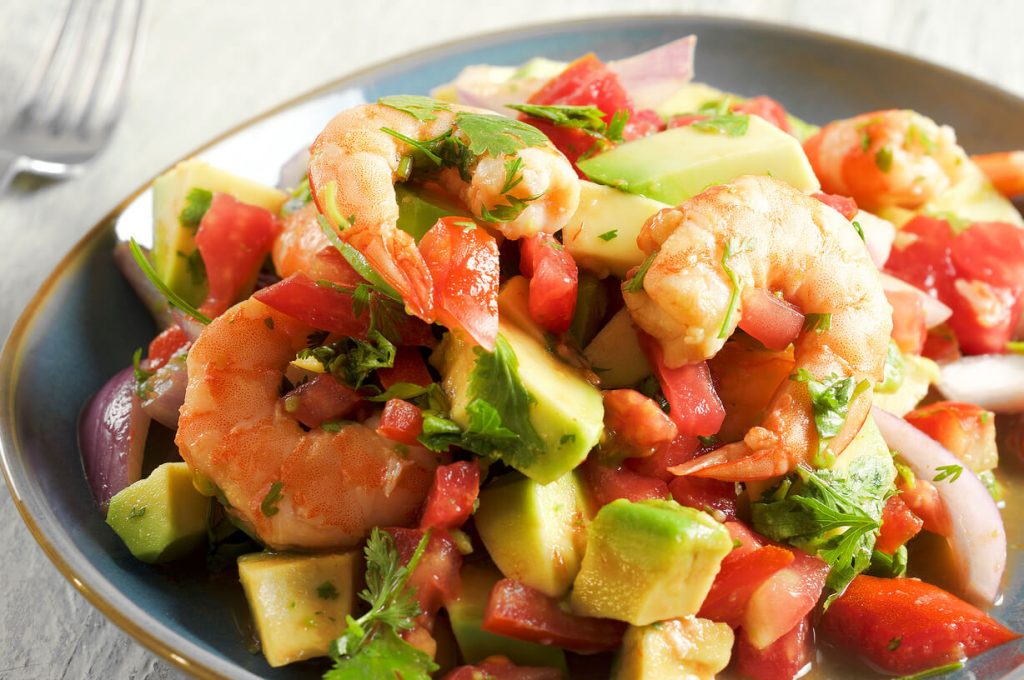 13 of 26
Shrimp Ceviche
Shrimp ceviche is a beautiful and fun way of cooking your raw shrimp using the acidity of lime juice. It has a zesty, refreshing flavor that's perfect for the summer season. It's loaded with cucumber, carrots, and onion slices with bright flavors of mango and lemon. 

But here's the thing, we recommend preparing this on the day you wish to serve it. Leaving the shrimp marinating in lemon juice and spice overnight might overcook it, making its texture rubbery. Prepare this an hour before the event and serve once the shrimp turned pink. Don't worry! It'll only take a few minutes to prepare and won't eat up much of your time.  

Try Recipe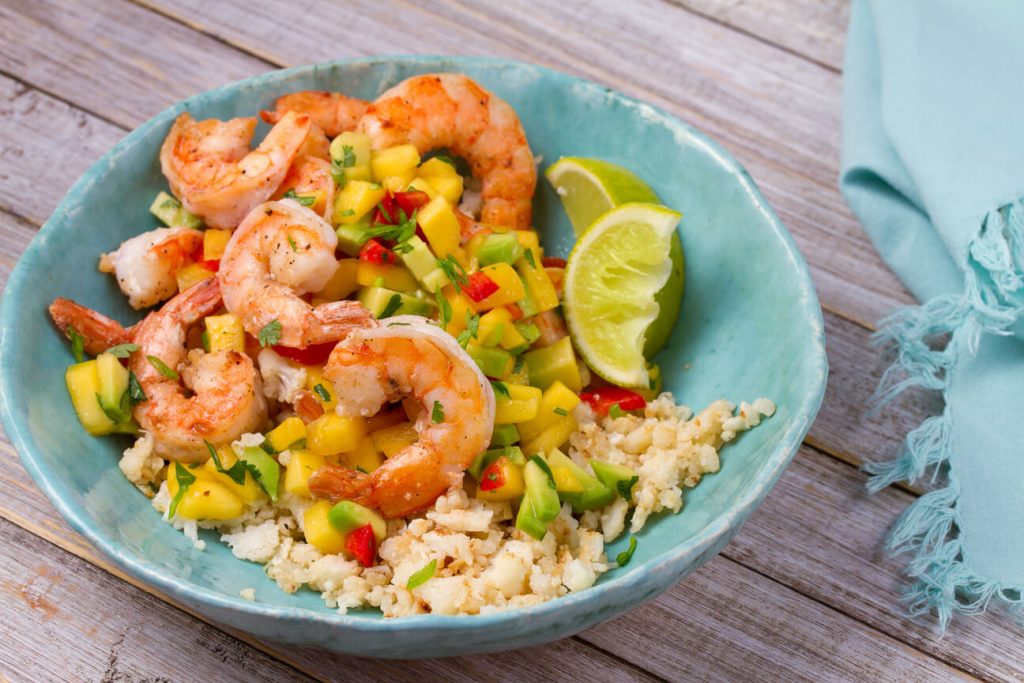 14 of 26
Shrimp with Mango Salsa
Shrimp with mango salsa is one of the best shrimp appetizers that will remind you and your guests of the summer season. Why? Well, it is because it has the floral flair of a mango! This season's fruit together with the sharpness of red onions and aroma of herbs, as well as fresh ginger and lime juice, make this a flavorful starter with a complex texture and flavor. It will definitely awaken your taste buds, so get ready to be blown away.

Try Recipe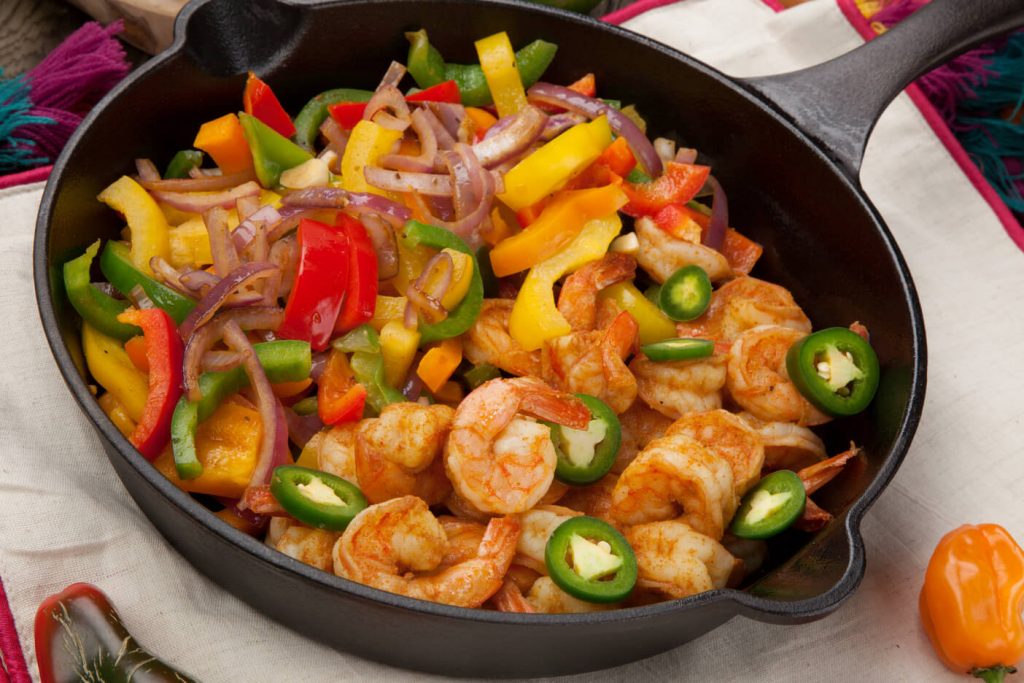 15 of 26
Margarita Shrimp Fajitas
Take your shrimp appetizer to the next level by adding some booze to your shrimp fajitas! This margarita grilled shrimp fajita dish is bursting with fresh, tangy, and fragrant flavors tossed together to make a heavenly dish. Aside from being flavorful, this is also very breezy to make, so why not give it a shot and serve it at your next party?

Try Recipe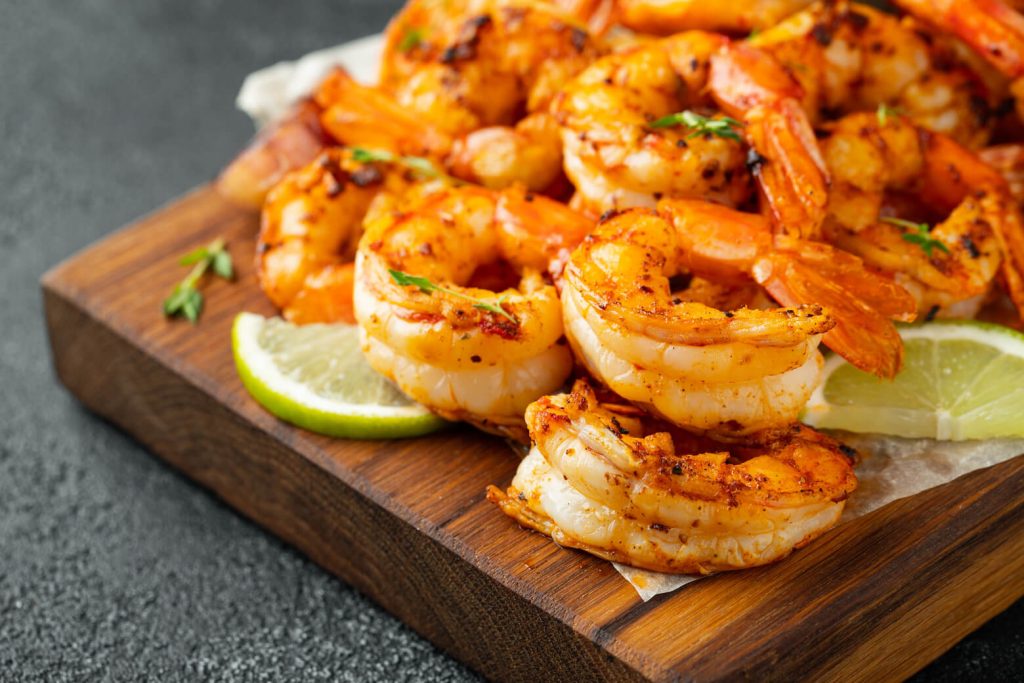 16 of 26
Garlic Lime Shrimp
Let's spice things up by searing fresh shrimp on a pan with a chili garlic sauce combined with the contrasting flavors of honey and lime. This chili garlic lime shrimp is definitely a party stunner, especially if you and your friends love spicy food. Also, you can make this delectable appetizer with just a few ingredients. Who can say no to that? We think no one!

Try Recipe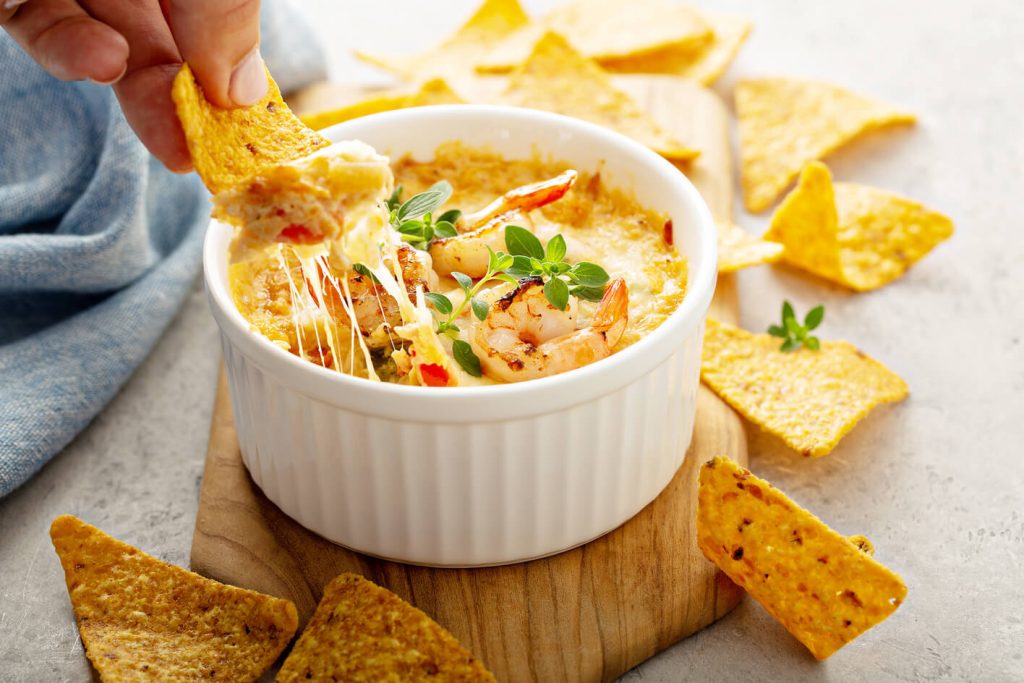 17 of 26
Shrimp Dip
Shrimp dips are appetizers that are great partners to finger foods like nachos, tortillas, mini tacos, or just plain chips. We recommend trying this Louisiana shrimp dip, especially if you love dips with a kick of spice. Creamy, cheesy, and packed with umami goodness, these layers of flavors make this hot shrimp appetizer irresistible. Want to add more seafood goodness? You can also mix some scampi to make this dip a shrimp and scampi combo.

Try Recipe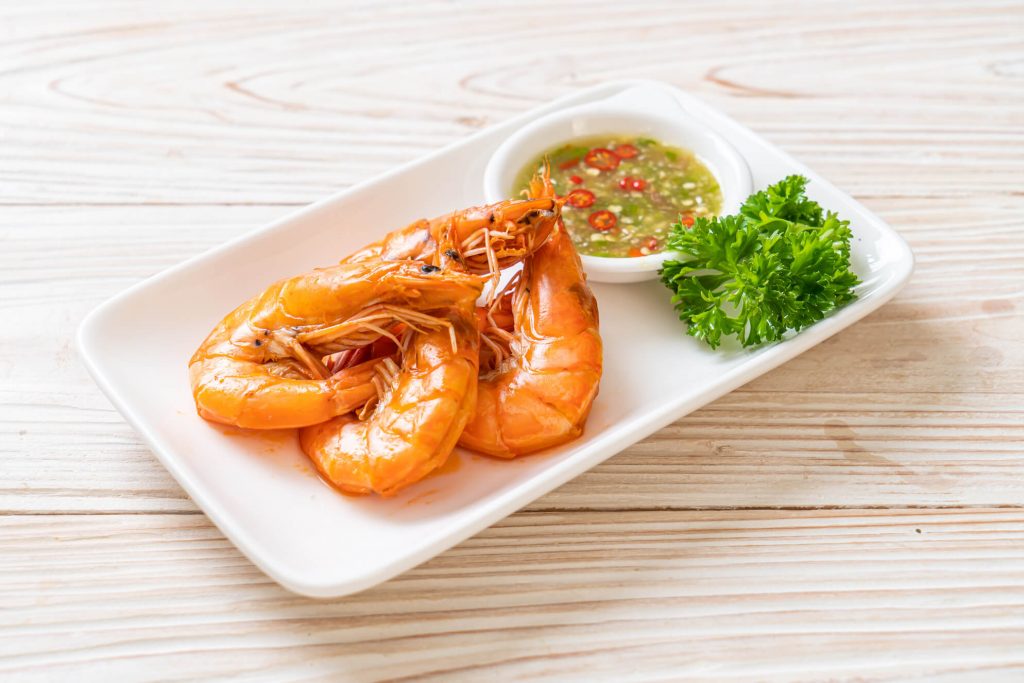 18 of 26
Baked Shrimp
The soft and juicy shrimp is the main event in this baked appetizer! It is flavorful on its own, but you can also play around by pairing it with your preferred dipping sauce. Aside from being healthy, this is also very easy to prepare! You can serve and enjoy this tasty baked seafood appetizer in less than 10 minutes.

Try Recipe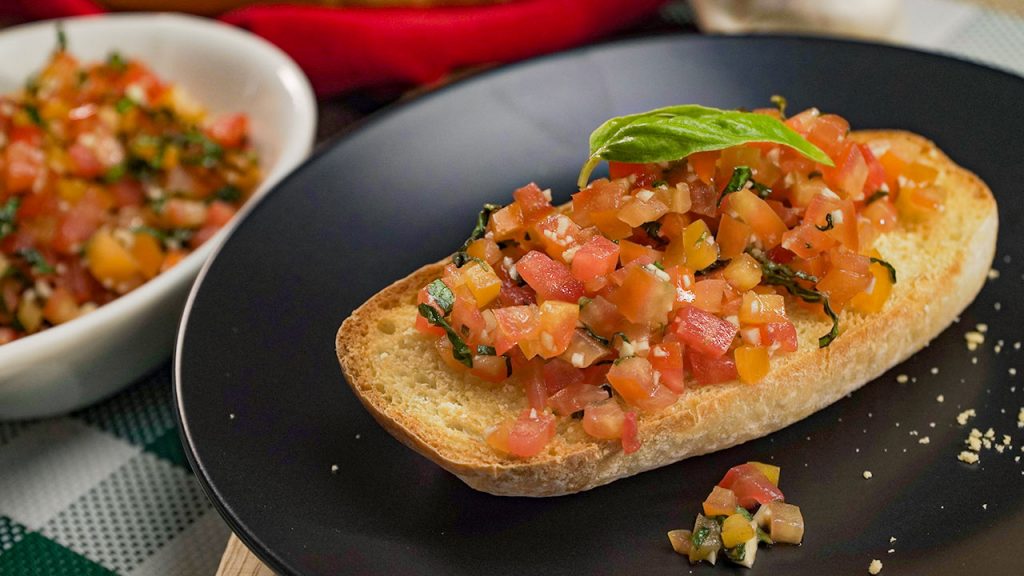 19 of 26
Shrimp Bruschetta
Party with your friends at home while you enjoy a restaurant-quality dish with this bruschetta à la Olive Garden. We suggest adding grilled shrimp on top of the thick crusty bread that has a bedding of delectable cheese and tomatoes. Aside from summer parties, you can serve this at other events, whether it's a girls' night or a fancy dinner party. This shrimp bruschetta appetizer is one of the best that you should try.

Try Recipe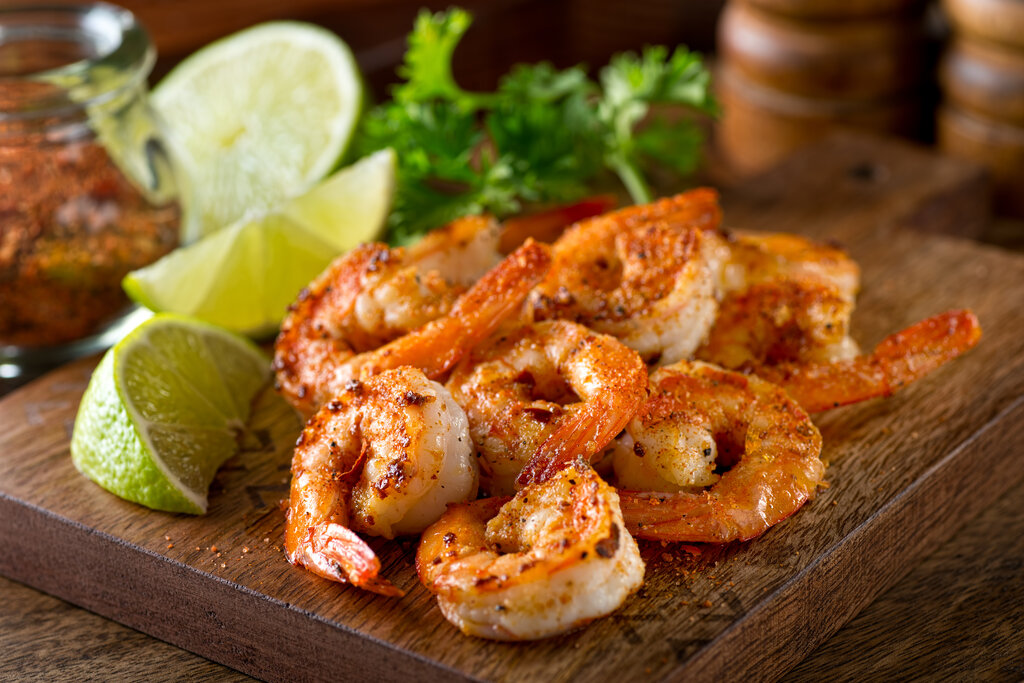 20 of 26
Cajun Shrimp
This Cajun shrimp dish is one of the popular Cajun appetizers we usually see at parties. It may look simple, but it's definitely flavor-packed, making it an unforgettable dish that impresses the crowd. Another good thing about Cajun shrimp is that you can easily mix and match it with other sides, like grilled asparagus or baked broccoli. But for us, nothing beats pairing it with corn and potato which will help balance the flavors of this delicious appetizer.

Try Recipe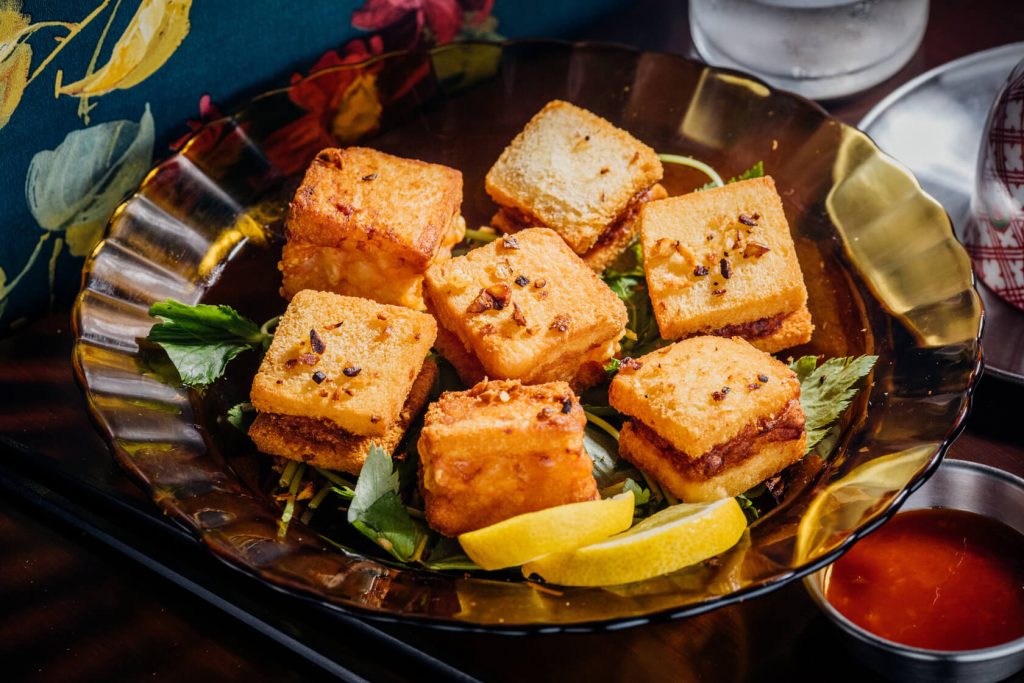 21 of 26
Shrimp Toast
Let's give the Chinese take-out classic dim sum our own take by making this shrimp toast recipe! This appetizer uses white bread slices toasted until golden brown. It has an umami-rich spread made of slightly sweet and salty shrimp, a flavorful selection of condiments, and grated ginger. This culinary fusion of East and West definitely brings gastronomic delights that you and your guests will surely love. We recommend munching these with some ice-cold beer or your favorite cocktail.

Try Recipe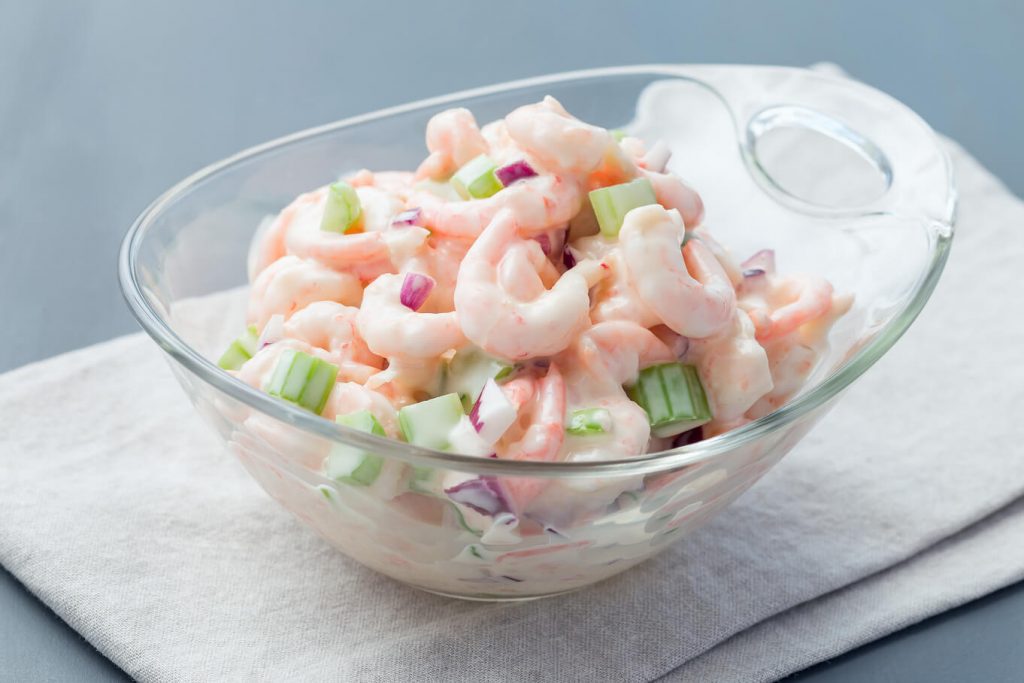 22 of 26
Old Bay Shrimp Salad
Old Bay seasoning is from a combination of paprika, mustard, celery salt, and other spices. It will bring your shrimp game to new heights because of its surprising and addictive flavor. For this dish, we recommend using Old Bay seasoning as an added twist to your creamy shrimp salad. Serve this chilled with some crackers, croissants, or lettuce. 

Try Recipe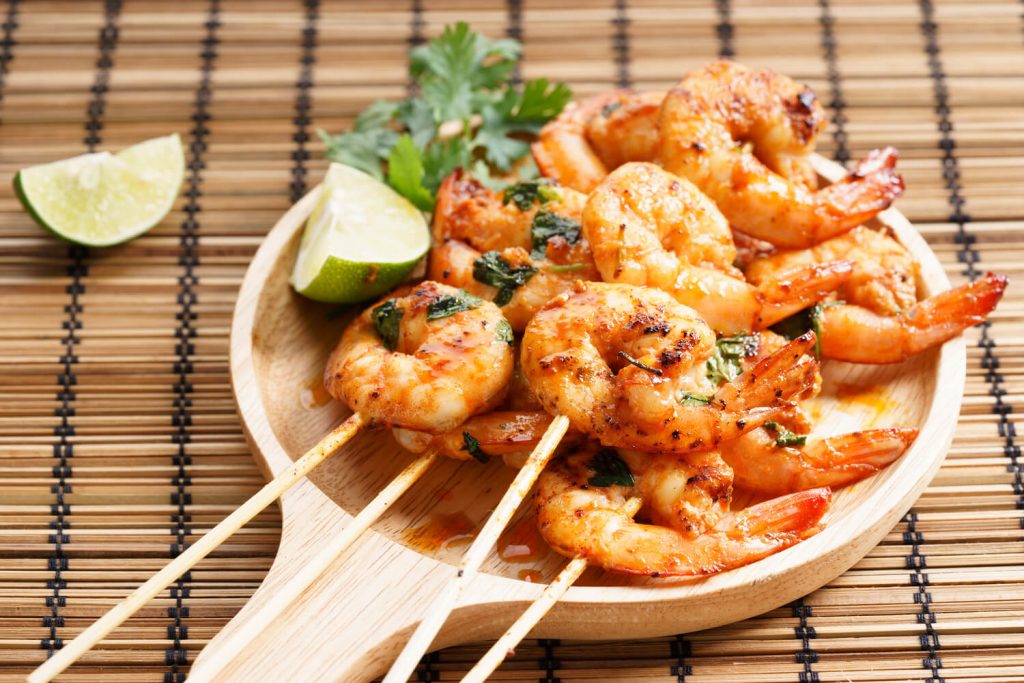 23 of 26
Cilantro Lime Shrimp Skewers
A summer barbecue party is not complete without some kebabs! That is why we got you some grilled shrimp skewers seasoned with cilantro and lime! These shrimp skewers are a little smoky but still have lime and cilantro's vibrant and aromatic flavors. Just remember that the acidity of lime may cook your shrimp, so only add a squeeze of this citrus as a finishing touch before serving it to your guests.

Try Recipe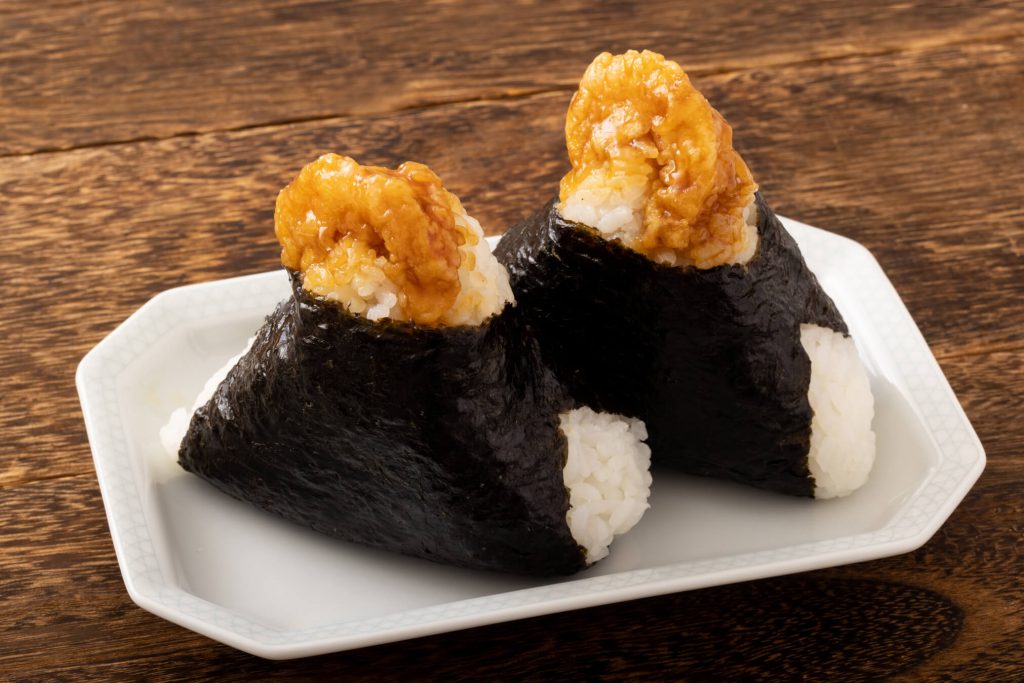 24 of 26
Japanese Shrimp Onigiri
A popular Japanese snack, onigiri can also be the star of your party! This recipe requires you to stuff your rice balls with deliciously breaded shrimp. You may do it on your own, but making it with some company will be more enjoyable as this Japanese shrimp onigiri is very fun and easy to make. It's almost a combination of tempura and rice ball! It has the flavorful umami-rich shrimp balanced by perfectly cooked Japanese rice wrapped in a nori wrapper.

Try Recipe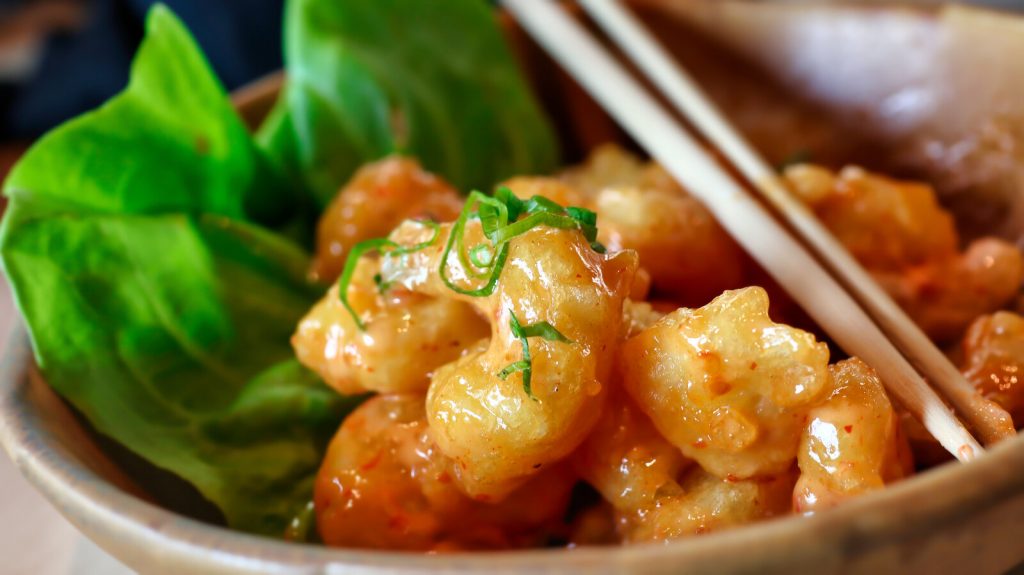 25 of 26
Dynamite Shrimp
Dynamite shrimp might be your go-to appetizer when you visit a Japanese restaurant, but you can also serve this at home on your next get-together with friends! This shrimp appetizer has a crunchy, airy coating glazed with the spicy and creamy Sriracha-mayo combo. It certainly pops with varying flavors, from sweet and umami to spicy, that will surely light up everyone's night!

Try Recipe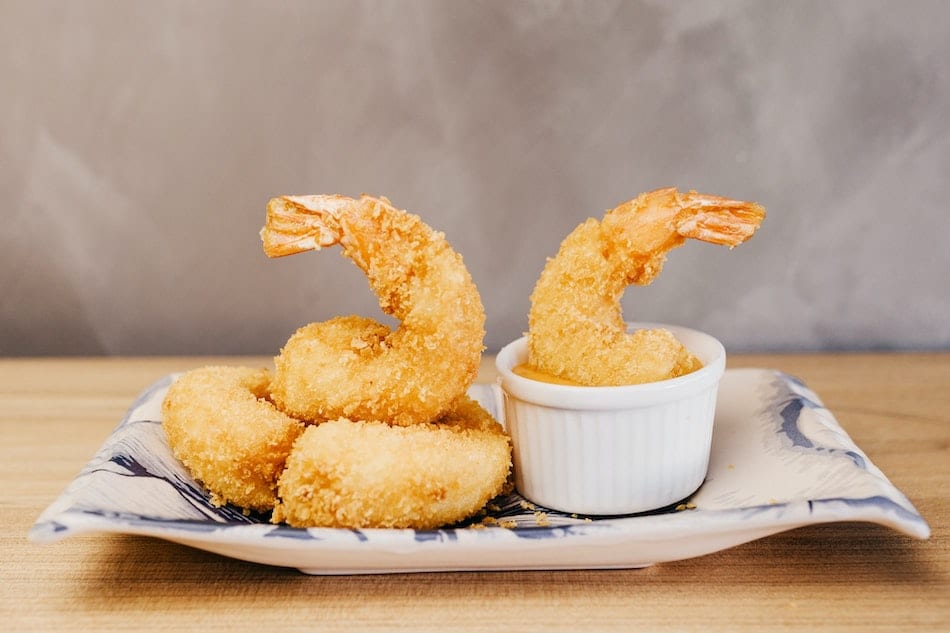 26 of 26
Coconut Beer Battered Shrimp
Crispy with a slightly sweet and nutty flavor, this coconut beer-battered shrimp is one of the best go-to seafood finger food. It is usually served at summer parties, at ball game finals, or as a casual snack while with friends. The secret to its airy crunch? Well, it's no other than the trusted beer batter. Serve this with some dipping sauce or fruit preserves. This appetizer is so good; everyone will definitely go back for more!

Try Recipe