Whenever you're in Burger King, make sure to get their Big Fish Sandwich on the menu. You'd love its crispy texture and fresh flavor of their sandwich with fried fish, fresh lettuce, and perfectly toasted buns, with the right amount of mayonnaise and pickles, there's no doubt it made the cut to the list of the best fish burger recipe out there.
Making this fish sandwich (or fish burger) is definitely light on the budget but will fill you up real good. After all, everyone loves comfort food that's so easy-to-make as well. You can enjoy it as is, or with homemade fries with fry sauce or crusted onion rings for a filling and tasty meal.
What's In Our BK Big Fish Sandwich?
Burger King uses Alaskan Pollock fillet for their fish sandwich, which is also used in several fast-food chains and restaurants. In this recipe, we used cod fillet which is the best substitute for Alaskan Pollock. Both are great with frying, baking, sauteing, and steaming. But you can totally use other fish of your choice in recreating this copycat recipe. Check out our CAQ section for other types of fish you can use.
If you're wondering what made our fish sandwich so close to BK's, let's talk about the delicious ingredients that made our sandwich epic.
Crunchy fish fillet – In this recipe, we aimed to get that

savory taste and

a crunchy texture on our fish burger. So we're coating our fish fillet through seasoned flour, then roll them into some lightly whisked egg with milk and cover the fillets through breadcrumbs.
Filling – We highly recommend that you use iceberg lettuce and cheese in addition to your fish meat. This salty-sweet and refreshing combination of leafy veggie and seafood meat will give you a juicy and fresh blast of flavor in every bite.
Tartar sauce – The tartar sauce on the other hand tastes mild, creamy, and tangy. It blends perfectly on the dry and salty taste of the fried fish. It's made with simple ingredients that you most likely have in your kitchen.

Tip:
Toast your hamburger buns to your own liking. You might want it a little burnt or soft, it's totally up to you.
All in all, we're sure you'll savor each and every bite of this fried fish sandwich once you make it. For a full-on Burger King meal, you might want to try serving this sandwich with BK Chicken Nuggets crunchy fries or onion rings and a bottle of soda.
The Big Fish Sandwich Sauce And Toppings You Can Try
The best fish burger is your choice of fish burger. That's why aside from following this copycat recipe, we also encourage all cook-at-hearts out there to recreate this fish burger in their own version.
Aside from lettuce, you can add slices of red onion and fresh tomatoes between your buns, too. If you want to try a different sauce aside from the tart and salty ones, you can use barbeque sauce instead. If you want something hot, a spicy drizzle of sriracha mayo won't hurt, too.
Add a slice of cheese between your hamburger buns as well, you can use cheddar, swiss, or blue cheese to make a cheeseburger meal. 
So, go ahead, recreate this enjoyable food in your own kitchen now. 
How To Make Big Fish Sandwich (Burger King Copycat)
Ladder up your sandwich game by making this fresh and savory fish sandwich just like Burger King's. Enjoy a mouthful of crunchy and sauce-dripping bites while eating this burger recipe.
Ingredients
2

tsp

whole milk

2

eggs

2

tsp

flour

2

tsp

salt

2

tbsp

breadcrumbs

2

cod fish fillets

2

slices

American cheese

1

cup

iceberg lettuce,

shredded

2

hamburger buns,

cut in half
For Tartar Sauce:
½

cup

mayonnaise

2½

tbsp

pickle juice

3

tsp

corn syrup
Instructions
Preheat the oven to 450 degrees F.

Combine the whole milk and eggs in a bowl. Mix until thoroughly combined.

In a separate bowl, combine the flour and salt. Mix well.

Dunk the fish fillets into the flour mixture, followed by the egg mixture and lastly the breadcrumbs. Make sure they are coated evenly.

Grease a cooking sheet with a non-stick cooking spray. Bake the fillets on the sheet for about 7 minutes.

Flip the fillets and bake for another 7 minutes.
For Tartar Sauce:
Combine the mayonnaise, pickle juice and corn syrup in a bowl and mix thoroughly.

Assemble the sandwiches with the lettuce, cheese, fillet, and tartar sauce on the hamburger buns. Serve.
Nutrition
Calcium:

493mg

Calories:

1482kcal

Carbohydrates:

46g

Cholesterol:

596mg

Fat:

61g

Fiber:

2g

Iron:

7mg

Potassium:

3930mg

Protein:

176g

Saturated Fat:

14g

Sodium:

4161mg

Sugar:

18g

Vitamin A:

1013IU

Vitamin C:

11mg
Nutrition Disclaimer
Commonly Asked Questions
Can I use fish fillet cuts from other types of fish besides cod?
Definitely! You can use fresh cuts of haddock, mahi, hake, tilapia, or halibut. These fish have milky and mild flavor in them. Cut it to your own liking but make sure it's boneless before cooking it.

How can I freeze my cooked cod fish?
Place your fish in an airtight container or aluminum foil and store it in the fridge for 3 to 4 days. Serve immediately after reheating in the microwave.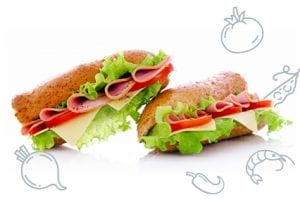 Conclusion
Pack this fish burger sandwich for your next road trip with your best friends, school picnics, or all-nighter study activities. It's going to be your next comfort food. Enjoy crunchy baked fish fillet with a savory dripping sauce all in one bite. Serve this with french fries or onion rings and it will surely solve your appetite.
Topics: