This grilled pollock recipe makes for an impressive but affordable dinner meal that's full of delicious flavors. To make it, fresh fish filets are marinated in a mixture  of Dijon mustard, lemon juice, and fresh dill prior to grilling. And the result? Tender and flavorful pieces of pollock that taste perfect with roasted vegetables, cream of mushroom rice, or any side dish of your choice! 
One of the quickest grilled fish recipes out there, this grilled pollock recipe only takes less than 30 minutes to make. Follow along for more tips on how to make this zesty fish dish.
What's in Our Grilled Lemon Pollock?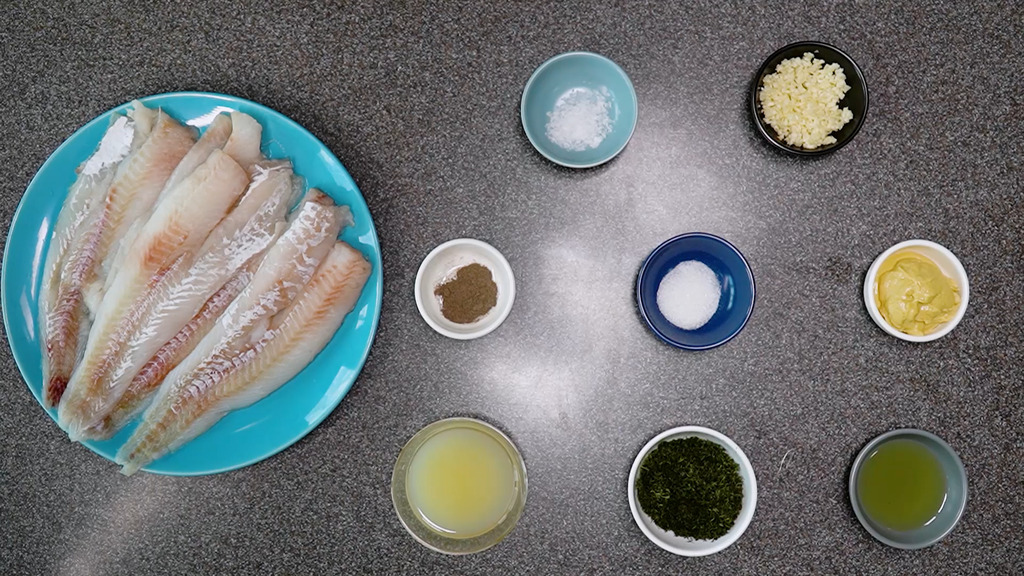 Let's break down the ingredients for this grilled pollock recipe! The pollock filets are served with fresh dill and lemon wedges. But of course, the fish pieces take much of the flavor from a simple lemon mix marinade made with the following:
Dijon mustard

– To provide a pungent taste to the grilled fish

Seasonings, herbs, and spices

– We used

fresh dill

,

ground black pepper

,

garlic clove

, and

sea salt
Olive oil

– To add moisture and flavor

Granulated sugar

– To tone down the acidity of lemon juice

Fresh lemon juice

– To help tenderize the fish
How To Grill Lemon Pollock Fish
Pollock is an economical flaky white fish that tastes just a tad milder than the delicate cod or haddock. It's great for baking and frying. But perhaps the best way to cook pollock fish is to grill it. In fact, it's one of the best fish to grill! Here's how to cook pollock fish on the grill:
1. Combine all the ingredients for the marinade in a bowl.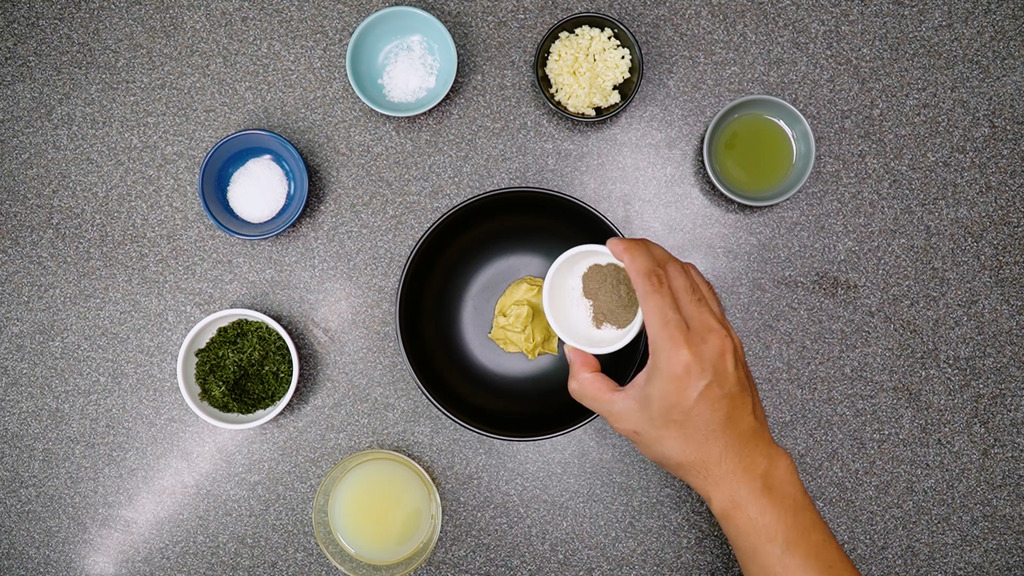 For this grilled fish recipe, feel free to use other flavorful elements for the marinade, like garlic, onion, and other spices.
2. Coat each pollock filet with the marinade.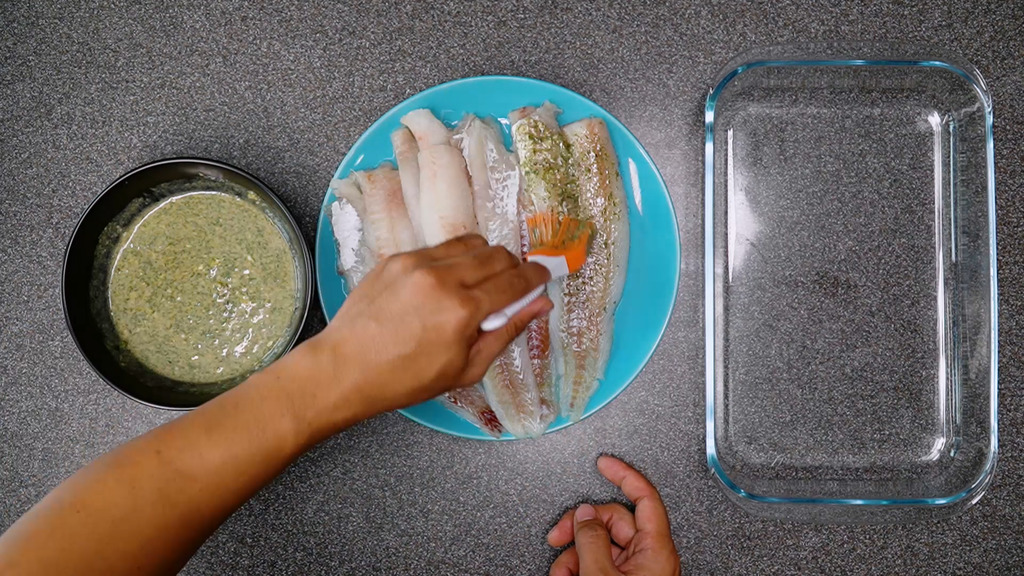 3. Place the pollock filets in a baking dish.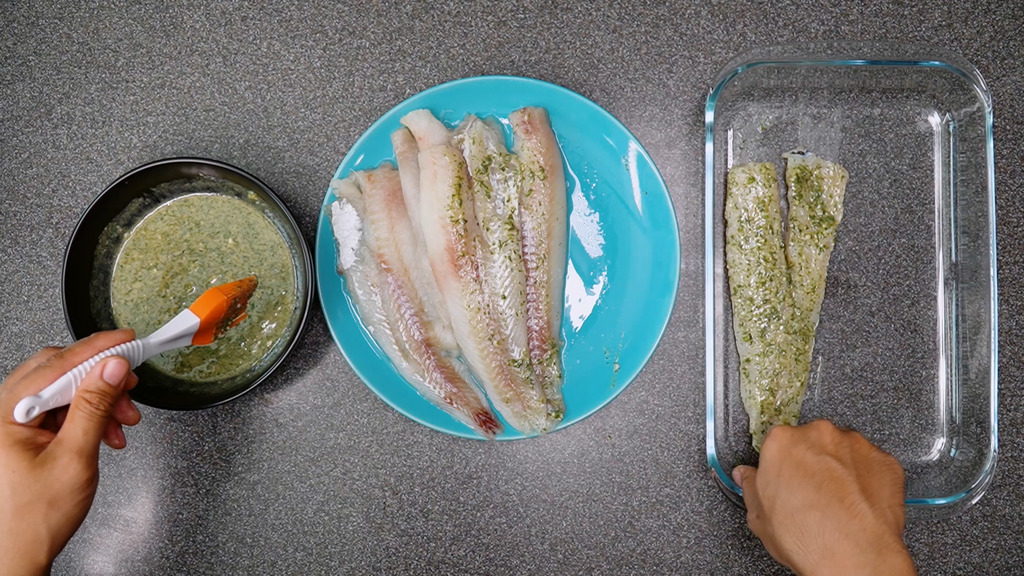 To secure the seasoned filets, wrap the dish with cling film.
4. Marinate the pollock filets in the fridge for 20 minutes and preheat the grill.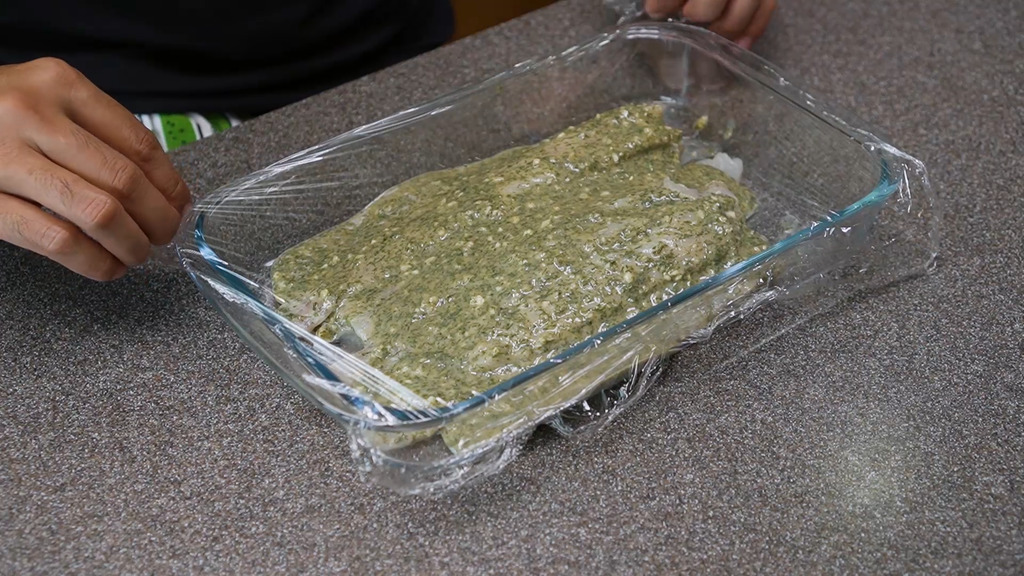 Aside from adding flavor, marinating also helps improve the texture of the fish. It tenderizes the fish meat and keeps the pieces from drying out so easily.
5. When ready to grill, drain the excess marinade.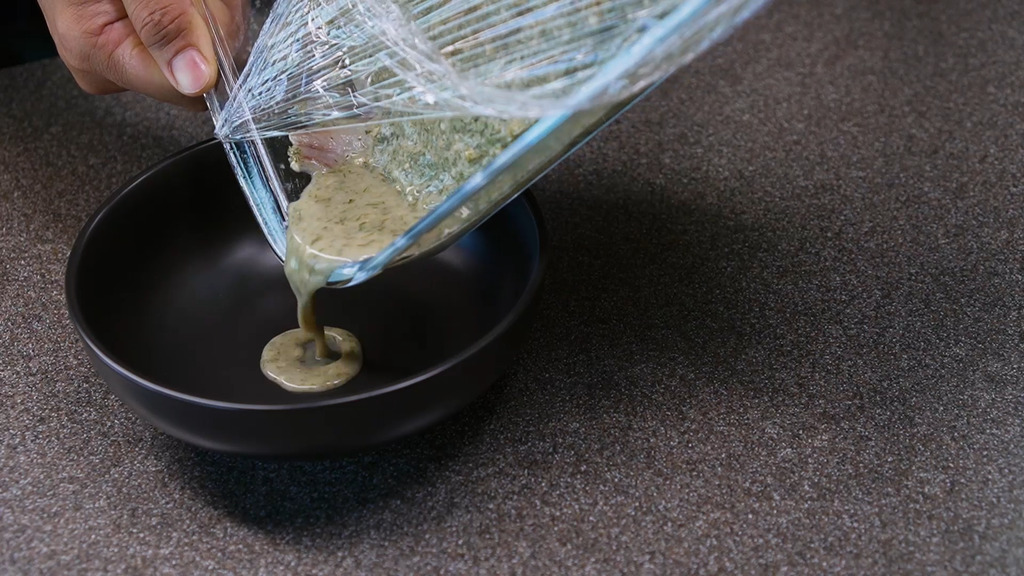 6. Spray the grill rack with cooking spray.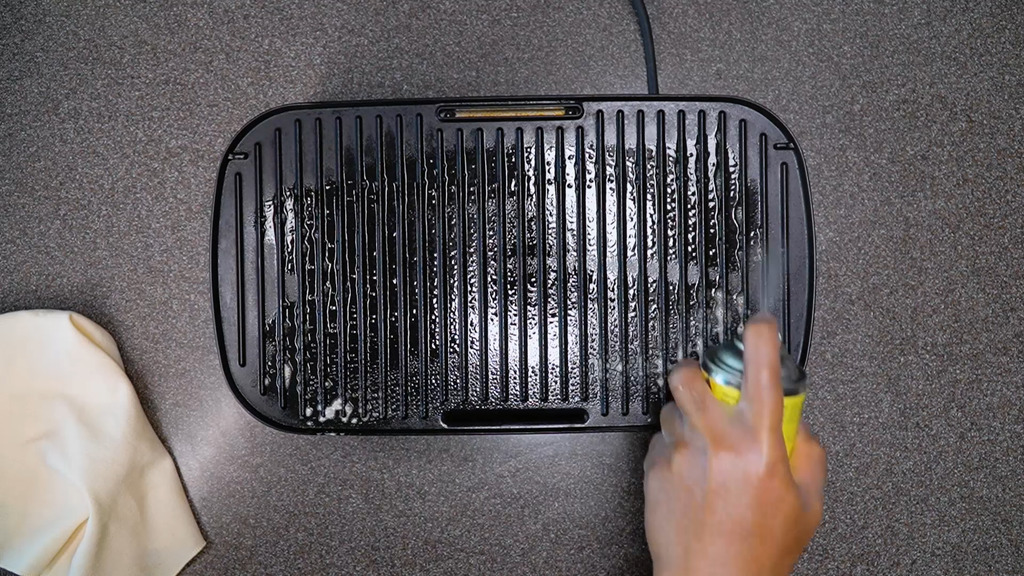 7. Grill the pollock fillets.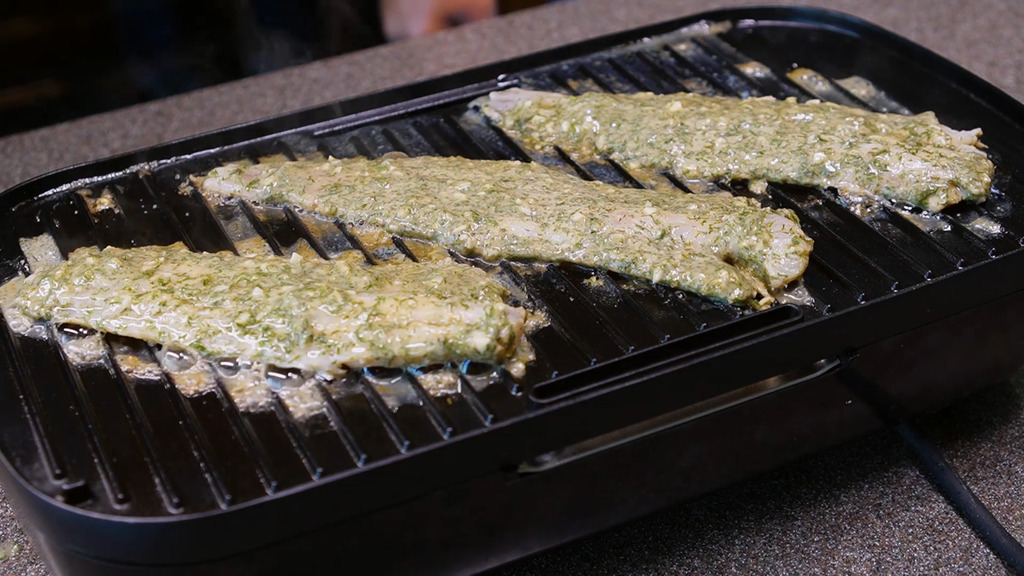 When grilling pollock fish, temperature and timing are crucial. Generally, fish should be grilled at medium to high heat, approximately 400 to 450 degrees F, depending on the recipe instructions.
Moreover, if the fish is 1-inch thick, the grill time should be 8 to 10 minutes. This means you should grill each side for only 3 to 4 minutes, or until the fish flakes fall off easily with a fork.
8. Serve your grilled pollock fish with fresh dill and lemon wedges. Enjoy!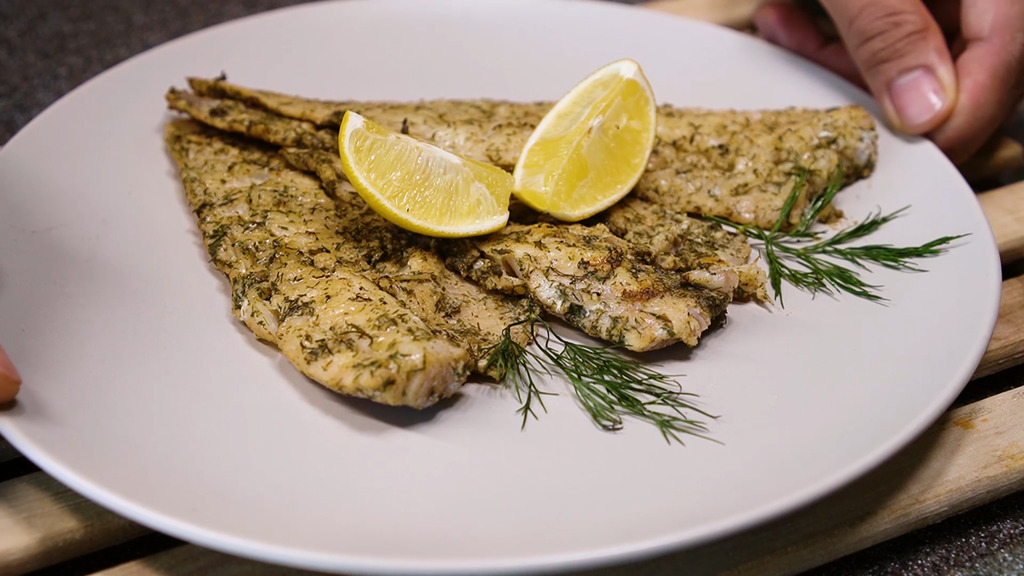 Tips for Making Grilled Pollock
Whichever cooking method you prefer, always make sure to season the pollock fish to enhance its flavor. Other pollock recipes might even ask you to rub herbs and spices on the fish. In this grilled pollock recipe, we're going for a lemon juice and Dijon mustard marinade to make the fish way more delicious. Here are a few more tips to make the best grilled pollock:
For best results, use fresh pollock.

It's always best to use

fresh fish for

pollock fish recipes

to achieve a better-tasting meal. Fresh fish, in general, should have a pleasant smell, firm flesh, shiny skin, and a moist appearance.

If you opt for frozen pollock, buy from a reputable brand.

The packages or wraps should be intact, and the frozen filets should not bend easily.

Clean and oil the grill grates to keep the  pollock filets from sticking.

Scrub the dirt and residue off the grates using a grill brush after every use. And make sure that the entire surface has been coated with oil, too. Otherwise, your

grilled white fish

will stick to the grates and might fall apart.

Don't forget to preheat the grill!

There's a reason why most

grilled fish recipes

ask you to preheat the grill before placing the fish on the grill. Preheating the grill reduces the grill time, keeping the fish from drying out. Moreover, having the grill preheated can also prevent the fish from sticking.

Set a timer for marinating the pollock filets.

The ideal marinating time for this flaky fish is 30 minutes. If marinated too long, the acidic ingredient will slowly cook the fish, affecting its texture. Simply put, pollock fish might become unpleasant and dry when over-marinated.

To make crispy pollock fish filets, cover them with breadcrumbs. Simply coat each marinated filet in flour, dip in beaten eggs, and coat with breadcrumbs. Now you can cook the fish filets on the grill or in your oven!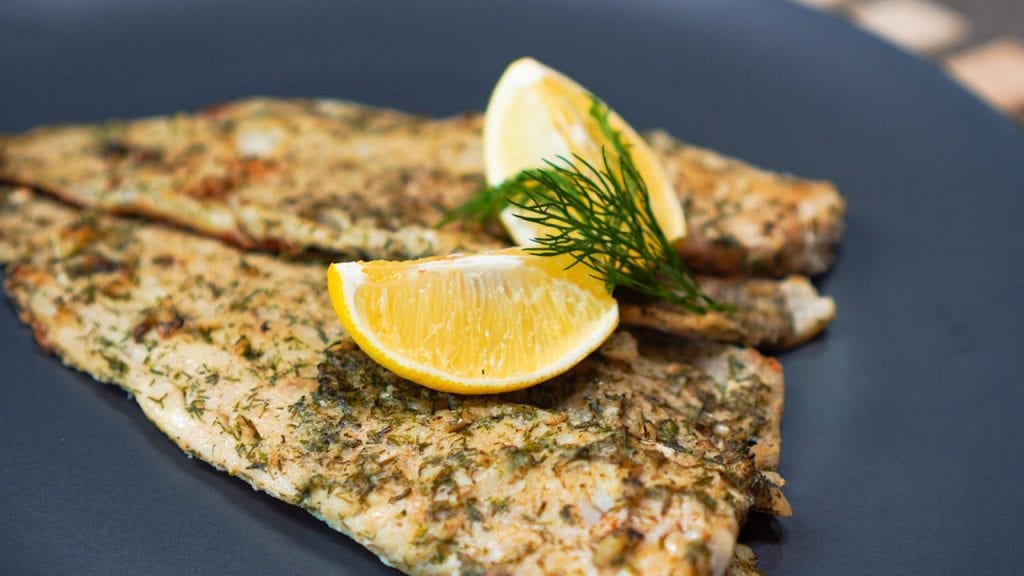 Grilled Lemon Pollock Recipe
How To Make Grilled Lemon Pollock
Make your dinners better with our grilled lemon pollock recipe! These fish filets are doused in a zesty and herb-loaded marinade made with lemon and Dijon mustard. Serve with lemon wedges and fresh dill for a fancy presentation.
Ingredients
20

oz

pollock fillets,

thawed, if necessary

cooking spray

lemon wedges,

for garnish, optional
For the Marinade:
4

tsp

Dijon mustard

¼

tsp

black pepper,

ground

2

tbsp

olive oil

1

garlic clove,

minced

¼

tsp

sea salt

¼

tsp

granulated sugar

⅓

cup

dill,

fresh, minced

¼

cup

lemon juice,

fresh
Instructions
Mix the marinade ingredients in a bowl.

Brush the marinade all over each pollock filet.

Place the pollock filets in a baking dish. Then, seal it with cling film.

Next, transfer the sealed baking dish to a chilled area and allow the fish to marinate for about 20 minutes.

Preheat the grill.

When done marinating, drain the excess marinade.

Then, coat the grill rack with cooking spray.

Place the fish filets on the grill rack and cook each side for 4 minutes or until the fish flakes fall off easily with a fork.

Serve with fresh dill and lemon wedges. Enjoy!
Nutrition
Sugar:

1g

:

Calcium:

37mg

Calories:

189kcal

Carbohydrates:

2g

Cholesterol:

61mg

Fat:

8g

Fiber:

1g

Iron:

1mg

Monounsaturated Fat:

5g

Polyunsaturated Fat:

1g

Potassium:

642mg

Protein:

26g

Saturated Fat:

1g

Sodium:

280mg

Vitamin A:

364IU

Vitamin C:

11mg
Nutrition Disclaimer
Frequently Asked Questions
Is pollock a good fish to eat?
Yes, absolutely! Because of its nutritional value, pollock is a good and healthy fish to eat. Like salmon, tuna, and cod, this fish also carries a high amount of lean protein. Moreover, pollock is rich in vitamins and minerals. It's also one of the fish containing the lowest amount of mercury, alleviating your worries about mercury contamination risk. Eating pollock fish also promotes skin care, hair care, and weight loss.
How do I bake frozen pollock?
First, preheat the oven to 425 degrees F and season the fish with your preferred seasoning blend. Then, place the well-seasoned fish filets on a greased baking sheet. Pop them in the oven and bake for around 13 to 16 minutes. You'll know the baked pollock filets are fully cooked when they reach a temperature of 145 degrees F or higher.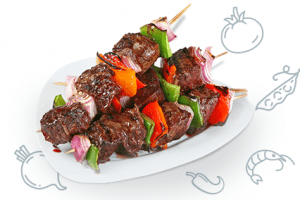 Conclusion
Got the grill all fired up? Try making this grilled pollock recipe! It makes deliciously moist and perfectly seasoned pollock filets. Marinated in a zesty dill and lemon mixture, this grilled fish will brighten up your meal.