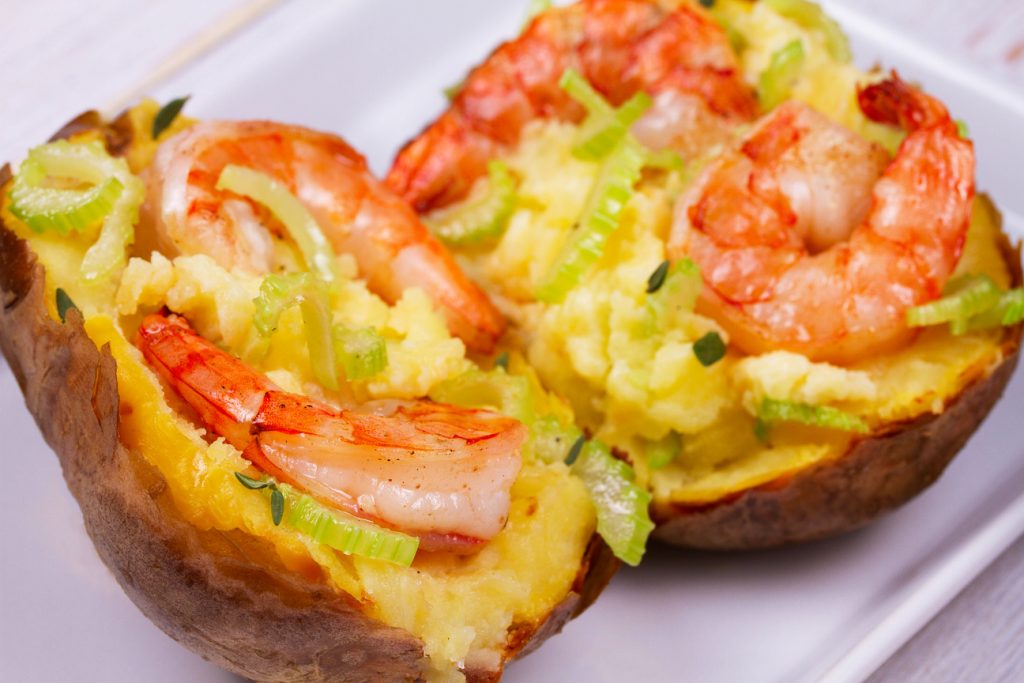 Shrimp-Stuffed Triple-Baked Potatoes Recipe
This shrimp baked potato is both delicious and fun to prepare, making it one of the best dinner ideas EVER. Truth be told, I have a serious love affair with stuffed potatoes. I just love baking potatoes and topping them with various toppings. And my latest favorite is this version: loaded baked potato with shrimp cooked in crème fraîche.
The next time you want to transform a humble baked potato into an impressive dinner, take a page from my recipe. Your guests won't be able to resist such a delightful dish! This loaded shrimp baked potato is perfectly creamy, fluffy, and delicious because of the butter and heavy cream filling. For a cheesier result, you can also stuff your baked potatoes with a mash-up of sour cream and cheddar cheese. If you want to add some veggies, then by all means add broccoli and corn to your stuffed baked potatoes. As if that wasn't delicious enough, I also decided to make crème fraîche shrimp for the topping. Yummy. But you can also make your seafood baked potato spicy by cooking the shrimp with cajun sauce instead.
This stuffed baked potato recipe is made by baking the whole potatoes and removing the flesh. I then baked the potato skins, and while waiting, made a potato mixture with seasoned cream. The mixture is then piled onto the crispy baked potato skins, then baked again until golden. While baking the potato jacket, I cooked the shrimp with crème fraîche sauce. I can tell you — these stuffed potatoes being baked thrice, then topped with creamy shrimp makes basic potatoes a GIGANTIC HIT every time.
For a complete meal, I just love serving these shrimp stuffed potatoes with a green salad. They also make excellent game-day food! Just serve these delightful shrimp baked potato boats with grilled BBQ chicken for a savory treat.
How To Make Shrimp-Stuffed Triple-Baked Potatoes
These creamy triple-baked potatoes are served with flavorful shrimp cooked in crème fraîche for a delicious side dish or main.
Ingredients
6 white potatoes,

(about 5 ounces each), medium

1 cup Crème fraiche

2 garlic cloves

salt and freshly ground white pepper

3½ tbsp unsalted butter

1 cup heavy cream

12 medium shrimp
Instructions
Preheat the oven to 400 degrees F. Prick the potatoes a few times with a fork.

Bake the potatoes on a rack in the oven for about 40 minutes, or until tender.

Meanwhile, in a small bowl, blend the crème fraîche with the garlic, then season with salt and white pepper. Let stand for at least 15 minutes.

Increase the oven temperature to 450 degrees F.

When the roasted potatoes are cool enough to handle, cut them in half lengthwise and scoop the flesh into a medium bowl, leaving a thin wall around the skins.

Reserve 8 of the potato skin halves, then set aside the rest for another use or discard.

Mash the flesh well with a potato masher, then gently mash in 2½ tablespoons of the butter and the warm cream. Season with salt and white pepper.

Rub the remaining 1 tablespoon of butter all over the outsides of the 8 reserved potato skins and season with salt and pepper.

Arrange the potato skins, cut sides up, on a baking sheet. Bake in the upper third of the oven for about 3 minutes, or until the skins are lightly crisp.

Spoon the filling into the potato skins and continue baking for about 10 minutes, or until heated through and glazed on top.

In a medium saucepan, heat the crème fraîche. Add the shrimp and cook over moderate heat for about 3 minutes, stirring occasionally, until pink and starting to curl.

Using a slotted spoon, transfer the shrimp to a plate.

Increase the heat to moderately high and simmer the crème fraîche for about 2 minutes until slightly reduced. Return the shrimp to the sauce.

Set 2 baked potato halves on each plate.

Spoon the shrimp and crème fraîche sauce over the stuffed potatoes and serve immediately. Enjoy!
Nutrition
Calories: 

1505.70kcal

Fat: 

44.91g

Saturated Fat: 

26.99g

Trans Fat: 

0.41g

Monounsaturated Fat: 

11.87g

Polyunsaturated Fat: 

2.40g

Carbohydrates: 

251.71g

Fiber: 

37.88g

Sugar: 

21.43g

Protein: 

31.53g

Cholesterol: 

160.03mg

Sodium: 

4010.50mg

Calcium: 

259.87mg

Potassium: 

6572.73mg

Iron: 

8.41mg

Vitamin A: 

437.81µg

Vitamin C: 

144.85mg