Mashed potatoes with gravy is a Thanksgiving dinner staple. The smooth and creamy texture of the mashed potatoes topped with flavorful gravy sure makes the gastronomic experience better.
Of course, not all mashed potatoes with gravy is cooked well. That's why we're here. We'll guide you through the process of making the perfect mashed potatoes and gravy dish that will go well with any main course.
Serve this on Thanksgiving or dinner parties and we guarantee that this will be a hit! It goes well with steak, turkey, or the main course of your choice. The creaminess of the potatoes will surely make you ask for seconds!
Homemade Mashed Potatoes and Gravy Recipe
Ingredients
6

cups

Russets Potatoes

cubed

6

tbsp.

garlic cloves

peeled

3/4

cup

1% low-fat milk

1

tbsp.

butter or stick margarine

1/2

tsp.

salt

1/4

tsp.

ground black pepper
Instructions
Potatoes:

Place potatoes and garlic in a Dutch oven filled with water. Cover the pot and pace the stove on LOW heat.

Bring the pot to a boil. Add in your potatoes and cook for 20 minutes or until very tender. You can use a fork to check if your potatoes are soft enough to be mashed.

Drain well with a strainer and return to the pot. Adjust to MEDIUM heat.

Stir in 3/4 cup milk, 1 tablespoon butter, 1/2 teaspoon salt, and 1/4 teaspoon pepper.

Mash the potato mixture with a potato masher until you get a thick and creamy consistency.

Cook for 5 minutes or until thoroughly heated.

Keep warm.

Gravy:

Melt 1 tablespoon butter in a saucepan over medium heat.

Add flour, and cook for 1 minute, stirring constantly.

Gradually add 1 cup milk, 1/2 teaspoon pepper, and 1/4 teaspoon salt; stir with a whisk.

Bring to a boil; stir constantly.

Reduce heat to a LOW, and cook 5 minutes, stirring occasionally.

Serve gravy with potatoes; sprinkle with chives.
Commonly Asked Questions
How do you make mashed potatoes from scratch without milk?
Out of milk? Well, a nice alternative to milk would be chicken broth. We suggest cooking with low-sodium kinds since you don't want your mashed potatoes to come out too salty. Plus, chicken broth is a great alternative for those who are lactose intolerant. 
Can you overcook potatoes for mashing?
Undercooking or overcooking your potatoes can have varying results compared to if you cook them just right. If your potatoes are undercooked, you won't be able to achieve that fluffy consistency you'd be looking for in a mashed potato dish. Also, if you've overcooked them, you'll get a consistency that only works for soups. Therefore, cook your potatoes just right for that favored fluffy and creamy texture.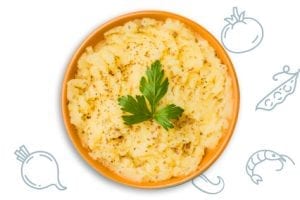 Conclusion
Since mashed potatoes make a great side dish, they're the perfect pairing to your roast beef, meat loaf, fried chicken, and even piping hot stews. You can even eat it as it is if you're a fan of the dish.
There are other ingredients and methods you can add to your mashed potatoes if you want a more earthy flavor or just bored with the usual recipe. Up to you how you want to transform this basic homemade recipe - though nothing does beat the classic. Just by mashed potatoes alone, you can come up with a variety of dishes from casseroles and salads.