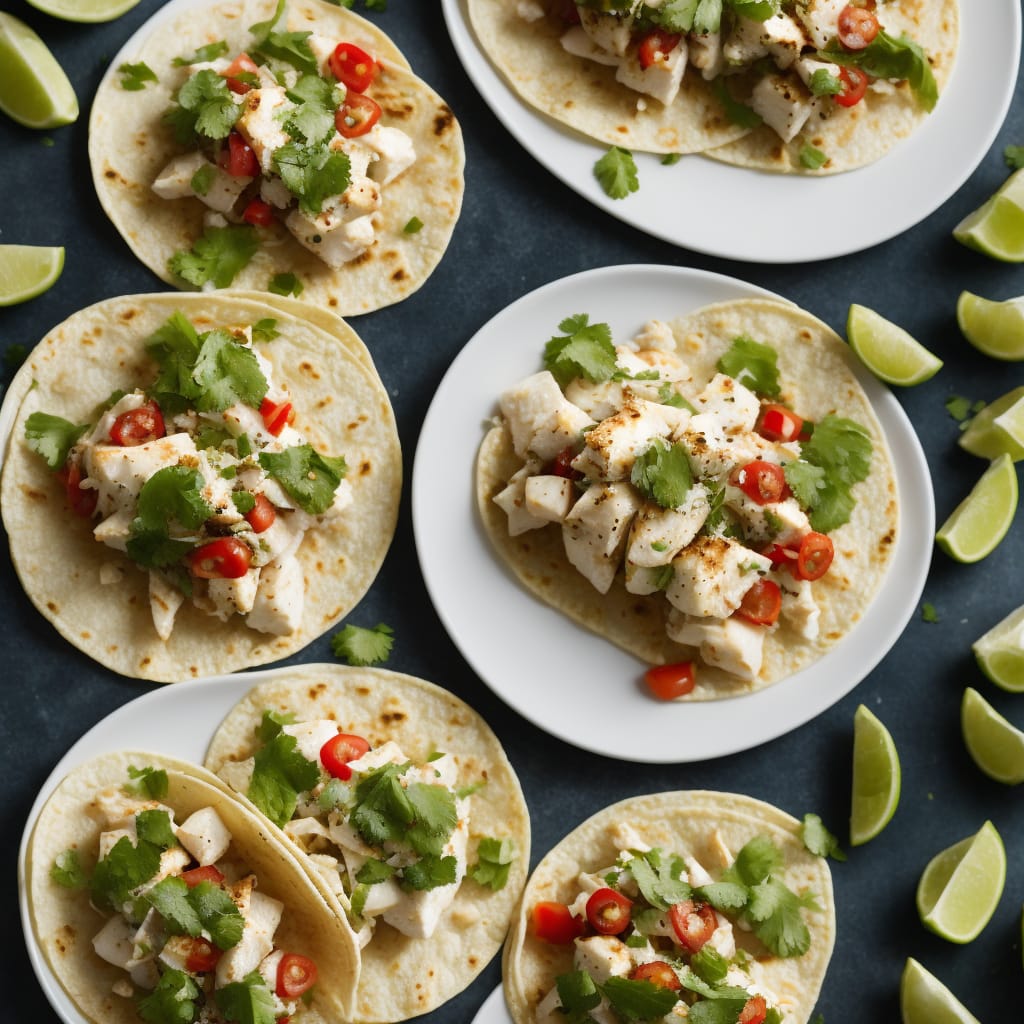 Halibut Fish Tacos Recipe
How To Make Halibut Fish Tacos
Have yourself some authentic taco goodness with the added crunch. Ground meat, topped with oniones, tomatoes, and salsa will bring out the Mexican flavors you've been craving for. Follow these taco recipes to get those crunchy and tasty bites.
Ingredients
1 lb halibut fillets
1 cup all-purpose flour
1 tsp cumin
1 tsp chili powder
1/2 tsp salt
1/4 tsp black pepper
1 cup panko breadcrumbs
2 eggs, beaten
Vegetable oil, for frying
8 small flour tortillas
1 cup shredded lettuce
1/2 cup diced tomatoes
1/4 cup diced red onion
1/4 cup chopped cilantro
1/4 cup sour cream
Lime wedges, for serving
Instructions
In a shallow dish, combine flour, cumin, chili powder, salt, and black pepper. In another dish, place panko breadcrumbs.

Cut halibut fillets into small, taco-sized pieces. Dip each piece in the flour mixture, then in the beaten eggs, and finally coat with panko breadcrumbs.

Heat vegetable oil in a large skillet over medium heat. Fry the breaded halibut pieces for 3-4 minutes on each side, until golden brown and cooked through. Transfer to a paper towel-lined plate to drain excess oil.

Warm the flour tortillas according to package instructions or on a preheated griddle or skillet.

To assemble the tacos, place a few pieces of fried halibut on each tortilla. Top with shredded lettuce, diced tomatoes, diced red onion, chopped cilantro, and a dollop of sour cream. Squeeze fresh lime juice over the tacos.

Serve immediately and enjoy!
Nutrition
Calories :

420kcal

Total Fat :

14g

Saturated Fat :

2g

Cholesterol :

186mg

Sodium :

1513mg

Total Carbohydrates :

49g

Dietary Fiber :

5g

Sugar :

6g

Protein :

24g