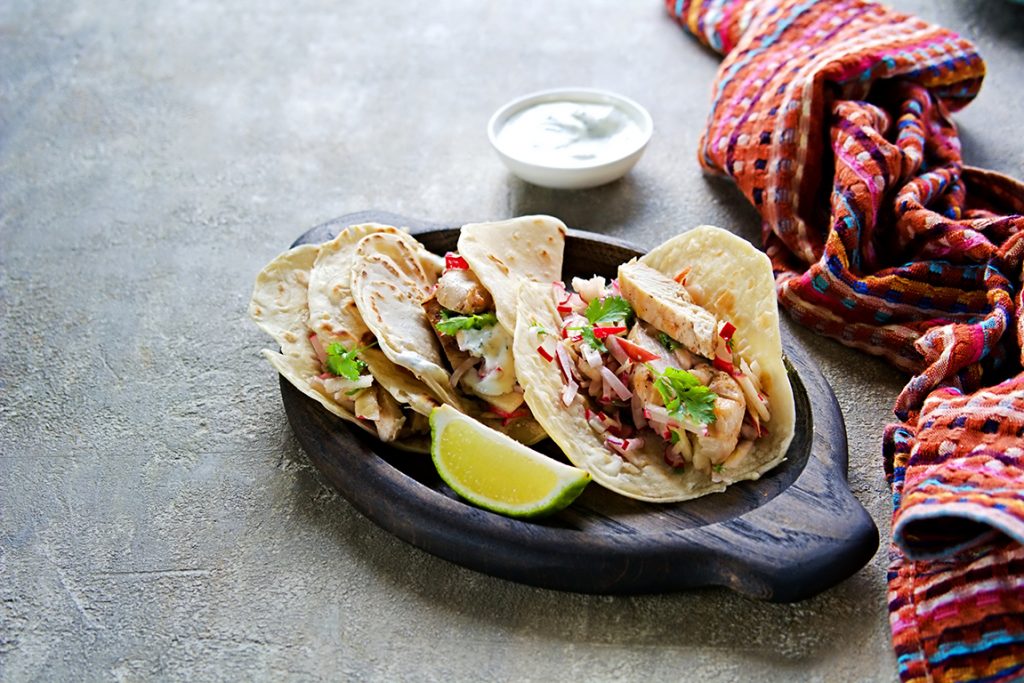 Chicken Street Tacos Recipe
Ever seen one of those ready-made Costco street tacos kits? Well, I'm here to tell you that a homemade version of it is a thousand times better. The best chicken tacos are enjoyed when they're still warm and fresh from the grill, skillet, or even instant pot! That's why I suggest making your own Mexican chicken tacos at home by following this easy chicken street tacos recipe. It has all the delicious components of a street taco starting from the warm and soft corn tortillas and ending with the savory grilled marinated chicken and taco toppings.
So, what are street tacos? If you've never had Mexican street tacos before, these are simple soft tacos that are smaller in size and typically served on grilled corn tortillas. They're considered authentic, real tacos, just slightly different from the crunchy tacos served in a Mexican restaurant. These street tacos are supposed to be a quick meal for "street travelers" who want a simple yet satisfying meal.
This dish is also known as pollo asado tacos or pollo tacos in Spanish which means roasted or grilled chicken tacos. There's not much difference in recipe. However, sometimes, other people would include more powdered seasonings for the chicken taco marinade such as smoked paprika, garlic powder, or even chopped chipotle chiles.
There is also a shredded chicken tacos recipe variation that I also tried making before. Instead of chopped chicken, I used a hand mixer to shred the chicken faster and more consistently. Another variation is called carne asada tacos which uses grilled meat like flank steak instead of chicken. I've yet to make this dish, but I'm definitely adding it to my list of taco ideas to try. That's why I love making this Mexican chicken taco recipe at home because I can always customize it, especially with the toppings.
With my homemade street taco recipe, I didn't make the marinated grilled chicken too spicy. My version is a combination of citrusy and savory with just the right amount of heat. I prefer a bit of tang on my tacos to match the fresh salsa topping that I always add. Lastly, for the taco shells, I recommend using corn tortillas since they're lighter in flavor and heat up nicely!
How To Make How To Make Chicken Street Tacos
Satisfy your taco cravings with these grilled chicken street tacos made with flavorful marinated chicken and toppings tucked into one decadent soft corn tortilla.
Ingredients
1

lb

chicken thighs,

boneless, skinless

1

tsp

ground cumin

1

tsp

oregano

2

tbsp

fresh lime juice

¼

cup

orange juice

2

garlic cloves,

minced

salt,

to taste

freshly ground black pepper,

to taste

3

tbsp

olive oil

1½

tsp

ancho chili powder,

optional
For Serving:
corn tortillas

fresh cilantro,

chopped

pico de gallo

sour cream

hot sauce
Instructions
Combine chicken, cumin, oregano, lime juice, orange juice, garlic, salt, pepper, and olive oil in a bowl. If desired, add ancho chili powder for heat.

Marinate at least 1 hour or up to 4 hours.

Grill chicken over medium heat until no pink remains for about 4 minutes per side.

Once cooked, remove the chicken and let it rest for 3 minutes. Chop into ½ cubes.

Meanwhile, warm tortillas in the microwave or on a skillet. Top tortillas with chicken and toppings as desired.
Nutrition
Calories: 

238.81kcal

Protein: 

12.87g

Cholesterol: 

74.09mg