Who doesn't love a copycat Taco Bell recipe? Mexican tacos loaded with ground beef, cheese, and crisp veggies make the best dish for dinner or game night. You also get to make your own Doritos flavored taco shell to go with your scrumptious beef filling. Who knows, you might just make a better version than the original with this easy tacos recipe. Make it with healthy cilantro lime rice for an invigoratingly delicious pair perfect for hot Mexican nights.
Taco Bell's Doritos Locos Tacos
Just like the famous fast-food chain itself, Taco Bell's Doritos Locos Taco or DLT is an icon. The popular beef taco first hit the famous Mexican-inspired fast-food chain's menu in 2012 and people eventually went "loco" for it. 
Who knew that the combination of ground beef, refreshing lettuce, and creamy cheese in a Dorito made taco shell could create such noise? Of course, Taco Bell wasted no time and released two more flavors to accompany their creation. Aside from the Nacho Cheese Doritos Locos Taco, the Cool Ranch and Fiery Doritos Locos Tacos made their way to the fast-food gem's menu.
The crispy tacos reign supreme among fast-food inventions and remain one of the best sellers from the Taco Bell menu. But the two DLT variants didn't cut and were removed from the shelves. So if you've been missing both cool ranch and fiery Doritos locos tacos you're in for a treat!
With the help of this beef taco recipe, you can turn the original cheese-flavored shell into one. Continue reading on to discover how you can make your next favorite Mexican dish.
Tips In Making Crunchy Tortillas For Our Taco Recipe
Aside from the filling, one taco ingredient that also deserves recognition is tortillas. Mexican food won't be the same without them. That's why in this copycat taco bell recipe, we're shedding light on how you make them and how their ingredients can make a huge difference.
The DLTs are popular because of their crunchy hard shell nacho cheese tacos. Yes, it's not the beef or the veggies, it's all about the tortillas. If you've been scrolling through the ingredient list you might be wondering what masa harina de maiz is. It is dried corn dough soaked and cooked in lime water mainly used for making tortillas and tamales.
Making our own tortilla means more taco shells. And more taco shells means more tacos to dig in. Hence, you don't have to limit yourself to just a few servings. But there are a couple of things to take note of if it's your first time making your own corn tortilla: 
Add a few more masa flours (or masa harina de maiz)

to dry

the dough

out

and prevent it from sticking to your hands

. But if your dough keeps falling apart, gradually add water until they come together.

If you don't have a tortilla press, make use of any flat-bottomed dish like

a

skillet or baking dish to

simply

even out

your dough

.

Put plastic on either side of your dough so it won't stick on your skillet and to remove it easier.
Make sure that your oil for frying is hot. This will make your taco shells cook faster, help them take shape, and prevent them from getting soggy. 
Sprinkle your powder into the taco shell immediately while it is still warm. The heat helps the powder to stick which makes your tacos more flavorful.
Frying your tortilla can be a bit tricky. But practice makes it easy and results in a perfectly crunchy hard taco shell. So if you're ready to fill your tacos with your scrumptious fixings, let's dive right to it.
What's In Our Taco Bell Inspired Tacos?
To replicate the scrumptious nacho tortilla, we're mixing a cup of cheddar cheese powder with a couple of spices to coat our crunchy shell. Aside from that, we're also filling in the tacos with juicy ground beef, crisp lettuce, and sharp cheddar cheese. To top things off, drizzle tangy sour cream and sprinkle Taco Bell's famous taco seasoning for an added burst of flavors.
But you can always add your own twist to your tacos recipe. If you've been longing for the cool ranch variant, instead of using powdered cheddar, add ranch seasoning to your spices. You can also mix in chili powder, smoked paprika, and lime hot sauce if you're looking to make Fiery Doritos Locos Tacos.
If you're searching for salsa recipes to pair with your tacos recipe, we have a couple of salsa suggestions for you to try. For a fresh and zesty mix, serving it with a Watermelon Salsa adds a cooling zing to your dish. But for more crunch and tang, pairing it with Corn And Cherry Tomato Salsa will surely keep your tastebuds going. Now, ready to make your own Doritos locos tacos? 
How To Make Copycat Taco Bell Doritos Locos Tacos
Make your own Taco Bell Doritos Locos Tacos at the comfort of your home. Enjoy a burst of different flavors with these crunchy nacho cheese-flavored taco shells filled with delicious beef and veggies.
Ingredients
For Taco Shells:
1

cup

cheddar cheese powder,

dehydrated

½

cup

tomato powder

3

tsp

turmeric powder

⅛

tsp

red bell pepper powder

1

tbsp

green pepper,

granulated or powder

⅛

tsp

garlic powder

⅛

cup

onion powder

2

tsp

nacho chili powder

2

tsp

popcorn seasoning,

preferably from Kernel Season, nacho cheddar flavored

1

cup

masa harina de maiz

⅔

cup

hot water
For Taco Fixings:
1

lb

ground beef

1

cup

tomato,

diced

1

cup

cheddar cheese,

shredded

2

cups

lettuce,

shredded

1

cup

sour cream

taco bell seasoning,

to taste
Instructions
Taco Shells:
Use a food processor to grind up all the spices and cheese powder. Mix them thoroughly.

Boil water into a pot and measure out ⅔ cup to mix with masa harina de maiz.

Roll into a ball and wrap it tightly for 30 minutes then divide into four sections.

Roll one section into a ball and using a tortilla press, roll out into a thin round pancake in between 2 pieces of plastic wrap. Repeat with the 3 other dough pieces.

Pour oil into a deep pan and set to medium-high. Once the oil is hot, carefully drop the tortilla dough in. Let it cook for 1 to 2 seconds.

When the tortilla begins to bubble up, immediately use a fork and spatula or tong to fold one side over before it hardens to shape the taco. Use the spatula to hold up one side, then the fork to separate the other.

Once the shell is hardened in shape, turn it over to cook the other side. Drain on a cookie rack with paper towels underneath then sprinkle the powder over each side.
Taco Fixings:
While the oil for your taco shell heats up, place the ground beef into a skillet or pan and cook it on medium-high heat and stir until it's brown.

Drain and discard excess grease then add the taco seasoning with ¾ cup of water. Set to low and stir occasionally. Let it absorb all the moisture.

Fill the taco shell with beef, sour cream, lettuce, cheese and tomato then serve.
Nutrition
Calcium:

211mg

Calories:

378kcal

Carbohydrates:

7g

Cholesterol:

93mg

Fat:

30g

Fiber:

2g

Iron:

3mg

Potassium:

462mg

Protein:

20g

Saturated Fat:

14g

Sodium:

217mg

Sugar:

3g

Vitamin A:

1056IU

Vitamin C:

8mg
Nutrition Disclaimer
Commonly Asked Questions
How do I store tacos?
To store your hard taco shells, keep them in an airtight container to prevent them from turning soggy. Your taco shells can last for a week if stored properly. Meanwhile, store your cooked ground beef in an airtight container and keep it in your fridge. This will help it last for 3 to 4 days. If you want to keep it longer, put it in the freezer and it'll last for 2 months.
How do I reheat tacos?
The best way to keep your hard taco shells from turning soft is to reheat them in the oven. Bake your taco shells at 300 degrees F for 3 minutes or until heated through. For your beef filling, if your cooked ground beef is frozen, thaw it in the fridge overnight then reheat it in the pan for 3 minutes or until fully warm enough over medium heat. You can also add a teaspoon of water or oil to prevent it from drying out when you reheat it. Finish it off with the rest of the fixings and serve.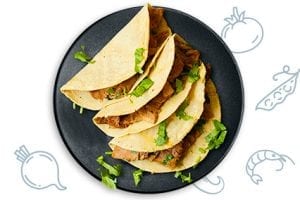 Conclusion
No need to call Taco Bell delivery to order your favorite Doritos Locos Tacos. This recipe lets you make your own hard taco shells, which means more beef tacos to devour. These sharp cheesy hard taco shells are filled with scrumptious ground beef and refreshing veggies for a flavorful bite.