Taco Bell's Doritos Locos tacos are without a doubt, everyone's guilty pleasure. In our version, we're filling our cheesy crunchy nacho shell with juicy ground beef, crispy lettuce, and cheddar cheese, and topping it off with sour cream and Taco Bell's famous taco seasoning. Moreover, we recommend serving it with cherry tomato salsa and a guacamole taco dip on the side.
Tips for Making Doritos Locos Tacos
Making your taco filling can be really easy and most often, the challenge is making your flavored taco shells from scratch. But worry not, because we made it easy for you in this recipe. Meanwhile, here are a couple of things to take note of if it's your first time making this famous taco: 
If the dough for the tortillas is falling apart

, gradually add a dash of water until it comes together. Meanwhile, if it's sticking to your hands, add a bit of masa harina de maiz. Keep adjusting until you reach the right dough consistency.

If you don't have a tortilla press

, make use of any flat-bottomed dish like a skillet or baking dish to evenly flatten out your dough.

Immediately sprinkle the powder onto the taco shell

while it is still warm. The heat helps the powder stick which makes tacos more flavorful.

The best thing about tacos is that you can

add as many fillings you want inside or on top

of them. If you're not a fan of beef, you can use shredded chicken. You can also enjoy it better with diced avocado, sliced red onion, jalapeno, and olives mixed in.

If you prefer the

Cool Ranch Doritos variant, you can use ranch seasoning instead of cheddar cheese powder. You can also opt for chili powder, smoked paprika, and lime hot sauce if you're looking to replicate the Fiery Doritos Locos tacos

.
There's really no exact answer to the question of "how to make tacos". Ultimately, it's just a matter of incorporating your preferred elements into this amazing Mexican snack. Now, ready to make homemade Doritos Locos tacos?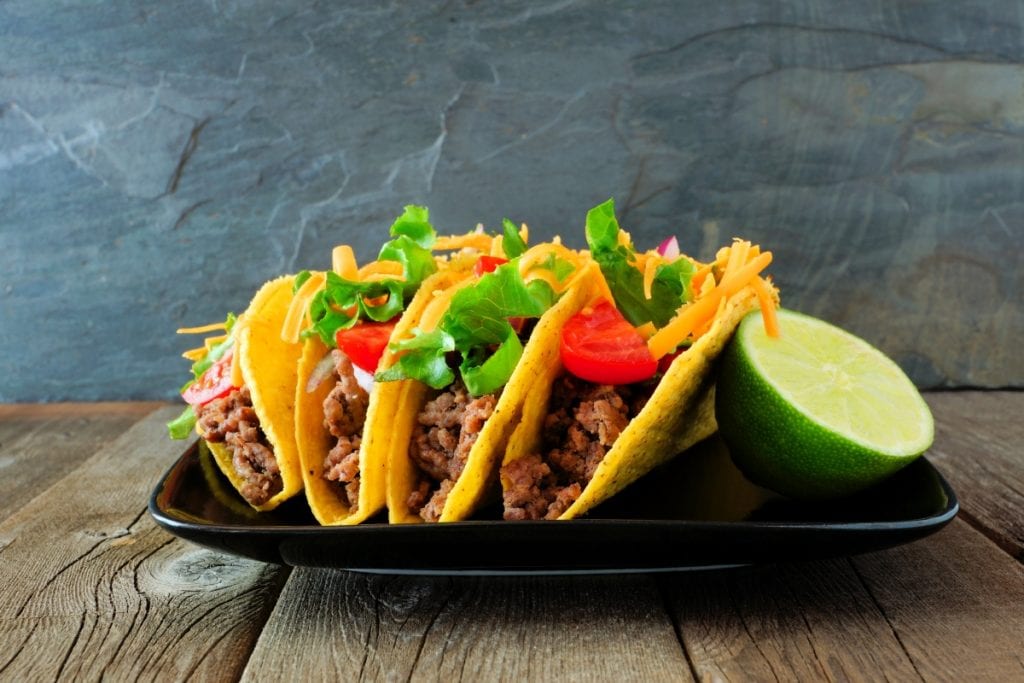 Doritos Locos Tacos Recipe (Tacobell Copycat)
How To Make Doritos Locos Tacos (Taco Bell Copycat)
Make your own Taco Bell Doritos Locos Tacos in the comfort of your home. Enjoy the burst of flavors with every bite of these crunchy Nacho Cheese Doritos taco shells filled with delicious ground beef and fresh veggies.
Ingredients
For Nacho Cheese Taco Shells:
1

cup

cheddar cheese powder,

dehydrated

½

cup

tomato powder

3

tsp

turmeric powder

⅙

tsp

red bell pepper powder

1

tbsp

green pepper,

granulated or powder

⅛

tsp

garlic powder

⅛

cup

onion powder

2

tsp

nacho chili powder

2

tsp

popcorn seasoning,

preferably from Kernel Season, nacho cheddar flavored

1

cup

masa harina de maiz

⅔

cup

hot water
For Taco Fixings:
1

lb

ground beef

1

cup

tomato,

diced

1

cup

cheddar cheese,

shredded

2

cups

lettuce,

shredded

1

cup

sour cream

Taco Bell seasoning,

to taste
Instructions
Nacho Cheese Taco Shells:
Use a food processor to grind up all the spices and cheese powder. Mix them thoroughly.

Boil water in a pot and measure out ⅔ cup to mix with the masa harina de maiz.

Roll into a ball and wrap it tightly for 30 minutes, then divide the results into four sections.

Roll one section into a ball and put plastic wrap on both sides. Place it on a tortilla press and make thin round pancakes. Repeat with the other dough pieces.

Pour oil into a deep pan and set to heat to medium-high. Once the oil is hot, carefully drop the tortilla dough in and let it cook for a few seconds.

When the tortilla begins to bubble up, immediately use a fork and tong to fold one side over before it hardens to get the shape of the taco. Use the tong to hold up one side, then the fork to separate the other.

Once the shell has hardened in shape, turn it over to cook the other side. Drain on a cookie rack lined with paper towels, then sprinkle the powder on each side.
Taco Fixings:
Place the ground beef in a skillet or pan and cook it on medium-high heat and stir until it's brown.

Drain and discard excess grease, then add the taco seasoning with ¾ cup of water. Set to low and stir occasionally. Let the meat absorb the seasoning.

Once cooked, fill the taco shell with beef, sour cream, lettuce, shredded cheese and diced tomatoes. Now, your tacos are ready to serve!
Nutrition
Sugar:

3g

:

Calcium:

214mg

Calories:

396kcal

Carbohydrates:

11g

Cholesterol:

93mg

Fat:

30g

Fiber:

2g

Iron:

3mg

Potassium:

466mg

Protein:

21g

Saturated Fat:

14g

Sodium:

217mg

Trans Fat:

1g

Vitamin A:

1066IU

Vitamin C:

8mg
Nutrition Disclaimer
Frequently Asked Questions
What kind of ground beef is best used for Doritos Locos tacos?
For best results, use 90% lean ground beef for your tacos. Your taco meat will be more robust and not overly greasy. You can also use 80% lean ground beef if that's what's available to you, but you'll have a lot more fat to drain off after cooking.
What can I use if I don't have masa harina de maiz?
Cornmeal is a great substitute for masa de harina de maiz because they're both made from corn. But since cornmeal is coarser, you can mix it with all purpose flour to create a similar texture to that of masa harina de maiz. You can also add a bit of lime juice to your corn tortilla dough for a more authentic flavor.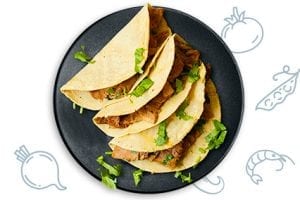 Conclusion
There's no need to call Taco Bell delivery to order your favorite Doritos Locos tacos. This recipe lets you make and customize your own cheesy and crunchy ground beef taco at home.