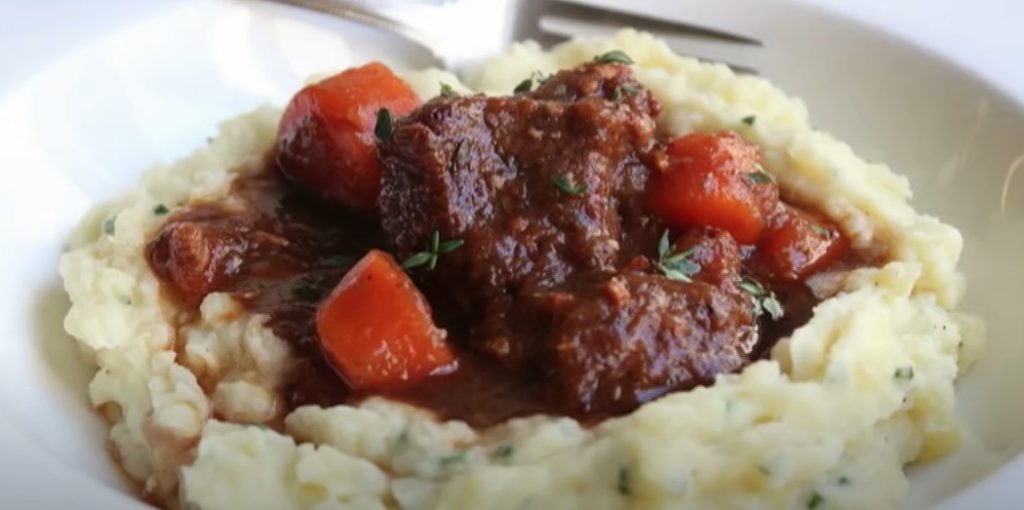 Slow Cooker Guinness Beef Stew Recipe
How To Make Slow Cooker Guinness Beef Stew
Chuck roast and vegetables are slow cooked in a rich beer mix to yield this perfectly delicious and juicy slow cooker Guinness beef stew!
Total:
8 hours 20 minutes
Instructions
Preheat an aluminum slow cooker insert or cast iron skillet on high heat. Cook the bacon until crisp, then remove.
Season the beef with half the salt and the pepper. Add to the skillet and brown on each side for 4 to 6 minutes or until deeply browned on each side.
Into the slow cooker, add the pearl onions, potatoes, carrots, celery, half the bacon, broth, garlic, beer, second half of the salt, tomato paste, thyme, and sugar.
Cut the beef into 2-inch chunks and add it to the slow cooker.
Stir until well mixed and cook on Low for 7 hours.
In a small bowl, mix the butter and flour and add it to the slow cooker and stir.
Cook for an additional 1 hour or until thickened.
Add in the remaining bacon, stir, then serve. Enjoy!
Nutrition
Monounsaturated Fat: 

10.27g
Polyunsaturated Fat: 

3.08g