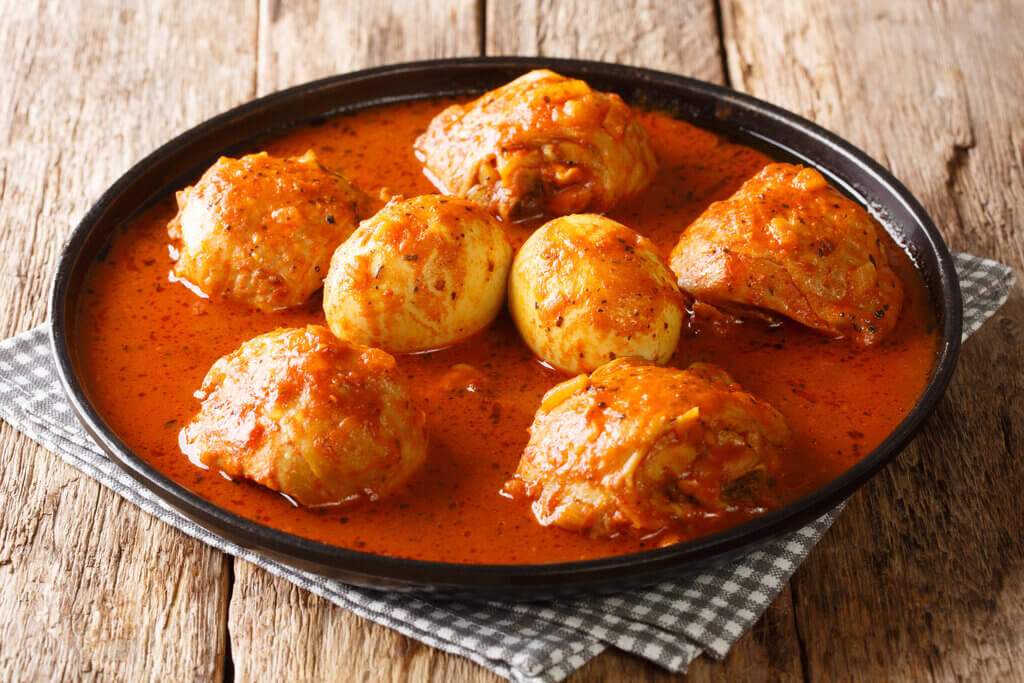 Doro Wat (Ethiopian Chicken Stew) Recipe
I first tried doro wat when I was in my African cuisine phase years ago. It's a filling chicken stew that screams Ethiopia with its burst of flavors. Being an adventurous eater who's always on the prowl for new flavors, its robust palate instantly captured my heart. Trust me, it's the kind of dish that will satisfy your spicy cravings, all while being the perfect comfort food when the nights get chillier.
This traditional Ethiopian food features fall-off-the-bone chicken meat slowly simmered in caramelized red onions, chicken stock, and a concoction of Ethiopian seasoning. And as with most Ethiopian recipes, the overall flavor profile of doro wat is distinctly pungent. In my book, it's the perfect dish to try if you're just starting your foray into the world of Ethiopian cuisine.
My take on the Ethiopian chicken stew recipe, I must say, captures the authentic taste of doro wat. Frankly speaking, it took me some time before I got the hang of making this beloved stew. But then, I've found that it's all about the ingredients (especially the berbere spice mix and spiced or clarified butter) and the cooking process.
Hot. Fiery. Spicy. That's how I would describe berbere, a popular spice blend commonly used in Ethiopian dishes. It's basically a combination of whole spices and ground spices. If you're serious about exploring Ethiopian cooking, I suggest that you stock up on berbere spice. Or better yet, learn how to make your own. Its base consists of ground cardamom, ground ginger with the addition of fenugreek seeds, whole allspice, and coriander seeds. But if you don't have this particular seasoning blend, a dash of mild chili powder can also work.
Apart from the berbere, making an Ethiopian doro wat is impossible without the butter. It might be best to use clarified butter (or ghee) or niter kibbeh (an Ethiopian spiced clarified butter) as that's what the original recipe requires. Sadly though, I don't usually keep such ingredients in my pantry, so I tried using unsalted butter instead. Thankfully, it worked! It also delivered a depth of flavor to my homemade spicy chicken stew.
We all know that low and slow cooking brings out the delicious flavors of any meat. So, I simply combined the ingredients in a large pot and cooked them really slooow over low heat. I'm telling you, I was rewarded with tender chicken thighs and a very appetizing aroma. You also have the option to make your own Ethiopian-inspired stew in a Dutch oven and your ever-reliable slow cooker or instant pot. Either way, you'll be having a comforting bowl of chicken stew topped with hard-boiled eggs in no time.
Of course, such a filling cold-weather hero wouldn't be complete without a sidekick. For me, cauliflower rice would be a nice accompaniment for doro wat. But the idea of scooping up every bit of saucy goodness of this mouthwatering chicken stew with a slice of bread sounds equally tempting. To make it even more traditional, you can serve it with injera bread, which is an Ethiopian flatbread.
How To Make Doro Wat (Ethiopian Chicken Stew)
Bring a touch of Ethiopian flavor to your weeknight dinner with this delicious doro wat recipe — chicken meat and hard-boiled eggs slowly simmered with berbere spice and red onions in flavorful chicken stock.
Cooking:
1 hour 15 minutes
Ingredients
2 red onions

salt

4 tbsp unsalted butter

¼ tsp ground cardamom

¼ tsp freshly ground black pepper

3 cloves

2 garlic clove

1 ginger

1 tbsp berbere, or mild chili powder

1 ½ cups chicken stock

1 chicken thigh

¼ cup dry red wine

2 hard-boiled eggs

lime juice, optional
Instructions
Add the red onions, a pinch of salt, and butter to a large pot. Saute the onions over low heat for 15 minutes or until soft and golden, stirring occasionally.

Then, stir in the remaining butter, cloves, garlic, black pepper, ginger, cardamom, and berbere. Simmer for about 10 minutes until the onions caramelize, and their color turns to that of the spices.

Add one cup of chicken stock and the chicken legs and thighs to the pot and bring to a boil. Simmer for 15 minutes.

Add the remaining ½ cup of chicken stock and the dry red wine. Continue cooking for another 10 minutes.

Add the chicken thighs and simmer for 20 minutes or until they're cooked through.

Next, add the lime juice and hard-boiled eggs and cook for five minutes until you achieve the desired consistency. Adjust the seasoning with salt.

Remove from heat and serve warm with rice or injera. Enjoy!
Recipe Notes
You can also marinate the chicken with lemon juice and salt while sauteing the onions.

Adding a bit of tomato paste to your chicken stew intensifies the flavor and tones down the heat.

You can replace the chicken thighs with boneless chicken breasts. Just cut them into small 2-inch pieces.
Nutrition
Calories: 

578.68kcal

Fat: 

40.10g

Saturated Fat: 

14.16g

Trans Fat: 

0.50g

Monounsaturated Fat: 

15.39g

Polyunsaturated Fat: 

7.10g

Carbohydrates: 

9.87g

Fiber: 

1.32g

Sugar: 

3.30g

Protein: 

41.28g

Cholesterol: 

221.89mg

Sodium: 

829.47mg

Calcium: 

51.78mg

Potassium: 

593.34mg

Iron: 

2.40mg

Vitamin A: 

167.47µg

Vitamin C: 

10.48mg