This homemade beef stew recipe transforms a regular canned beef stew into a belly-filling dish that will keep you warm on the coldest of days. The result is tender beef chunks, roasted potatoes, and carrots in a savory sauce made with beef broth, Worcestershire sauce, and beer. It's pure comfort food in a bowl! Though it's usually served with a crunchy companion, this stew tastes just as heavenly with a side of mashed potatoes, ham, and gravy. 
What's in Our Stew?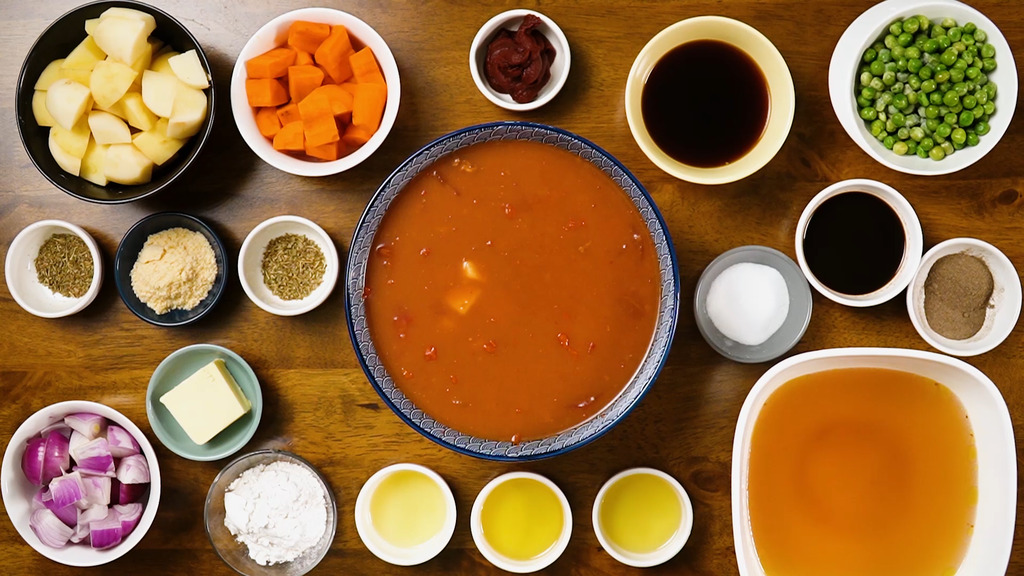 Out of all the delicious comfort meals, we always turn to any beef stew recipe to combat the cold. It often requires hours of slow cooking, though. So, stocking up on jars of ready-to-eat canned beef stew is a great idea and a clever shortcut to a tasty, comforting dish. 
Wondering how to make canned beef stew taste better? Simply add a few more flavorful elements, and it might just be the best beef stew recipe you will ever try! Here are the humble beef stew ingredients you need:
Canned beef stew

– To make the

best stew

, use the

best canned beef stew

brand that boasts a fantastic taste and texture. 

Roux

– We used a blend of unsalted butter, all-purpose flour, and olive oil. I

t'll help thicken the beef stew.

Tomato paste

– It's added to thicken and provide a rich tomato flavor to the dish. 

Beer

– Dark lager, stout, and porter are the best beers for this

easy beef stew recipe

. But you can just add something you enjoy drinking. 

Beef broth

–  It intensifies the beef flavor. 

Worcestershire sauce

– It adds a hint of umami taste to the stew. 

Vegetables

– We used red onion, potatoes, carrots, and frozen peas for this

simple beef stew recipe

. 

Seasonings

– Our

beef stew seasoning

includes salt, pepper, and a dash of

Italian seasoning that lends a woodsy, herbal flavor to the roasted veggies. 

Parmesan cheese

– Adding cheese will enhance the flavor of your

homemade beef stew.

 
How To Make Canned Beef Stew
Beef stew is classic comfort food that never ceases to keep us feeling comforted and satisfied. The traditional beef stew recipe is usually slowly simmered in a slow cooker, whereas other recipes use an Instant Pot.
This recipe for beef stew, in particular, is made on the stove top for only one hour or so. Still, it has an irresistible richness you'd think it's simmered all day long! Here's how to make a beef stew:
1. Make a roux. Begin by heating the unsalted butter in olive oil. Then, add the all-purpose flour. Stir until the mixture turns brown and reaches a paste-like consistency.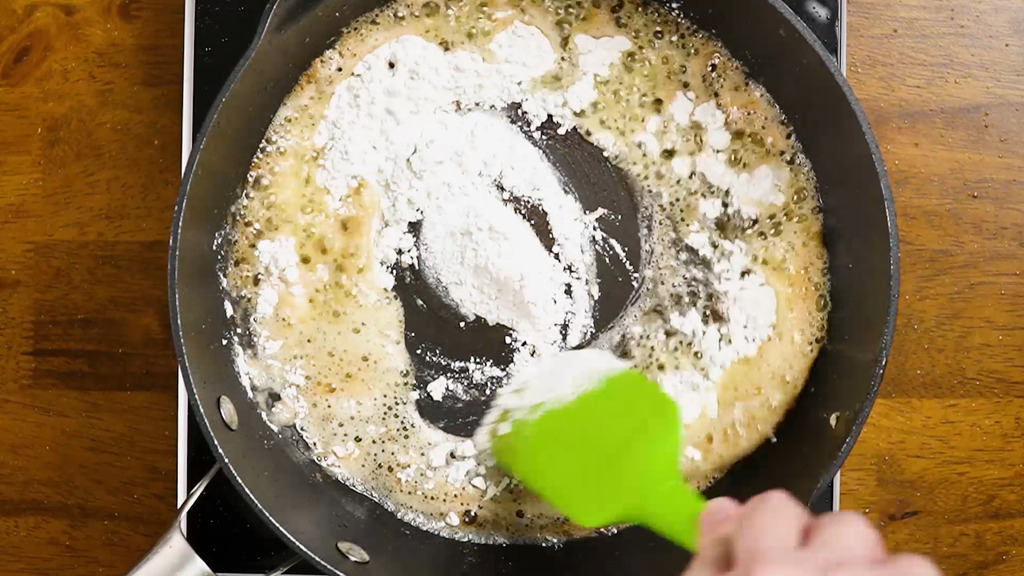 2. Then, add the tomato paste. Together with the roux, tomato paste acts as a thickener in this quick beef stew recipe. It also lends rich tomato flavor and color.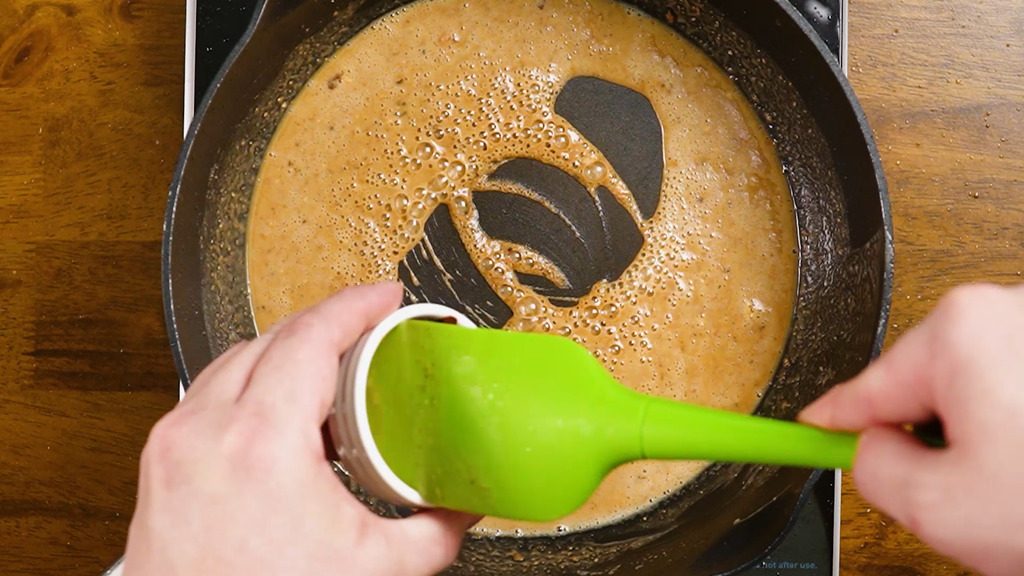 3. Time for that alcohol trick! We like incorporating alcohol to stew meat recipes to infuse the dish with a rich, deep taste.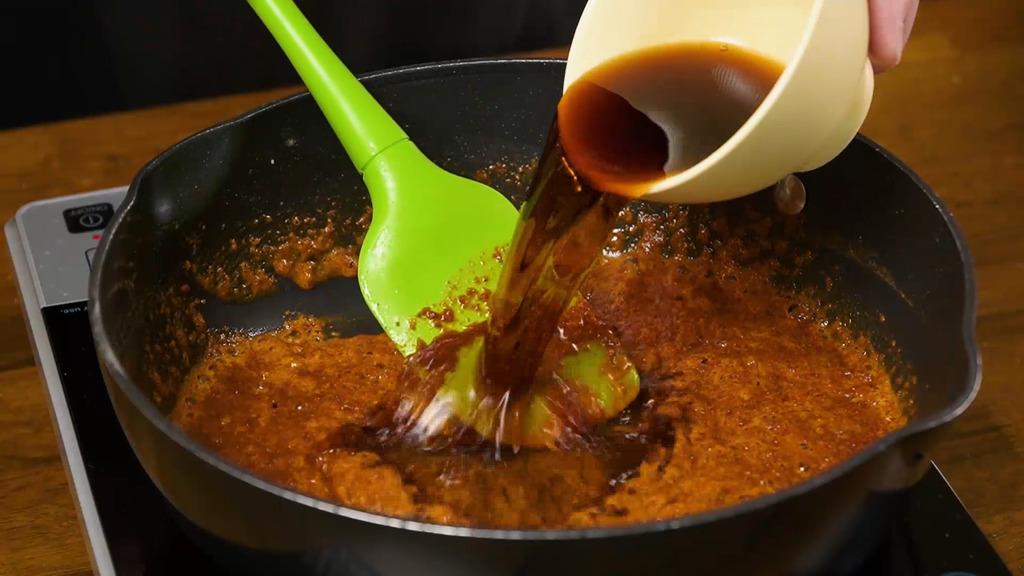 In this recipe, we opted for beer, but feel free to use dry red wine instead. Or, you can completely skip the beer. Don't worry! A beef stew without wine, beer, or alcohol is still delicious.
4. Next, add the other liquid ingredients. Stir in the beef broth and Worcestershire sauce. Reduce the sauce by half by simmering it for 40 minutes.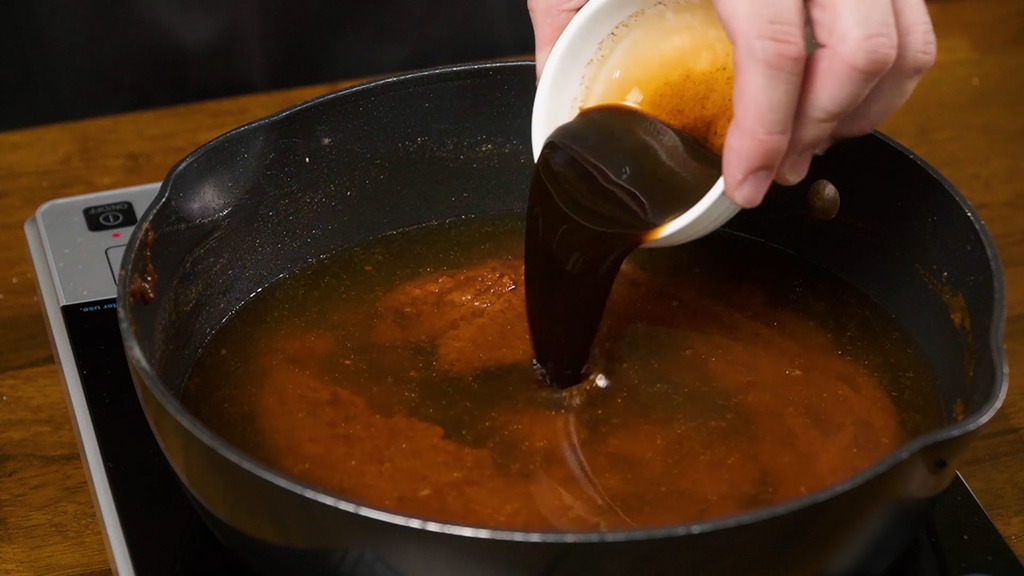 5. Preheat the oven to 360 degrees F and prepare the veggies. Combine the chunks of potatoes and carrots in a bowl. Then, season them with Italian seasoning, olive oil, and salt. 
After that, transfer the well-seasoned veggies to a greased roasting tray.
6. Ready the onion for roasting! Drizzle the onion chunks with the remaining olive oil, Italian seasoning, and a pinch of salt. Then, spread evenly on another roasting tray.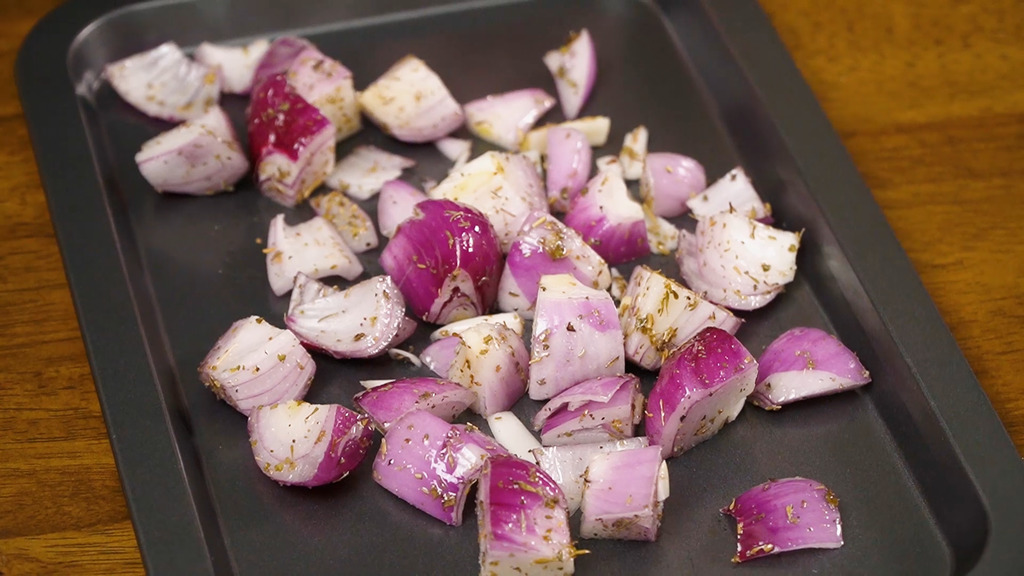 7. Roast the veggies until tender. Keep in mind, though, that the onions cook a bit faster. To cook them more evenly, don't overcrowd the roasting tray.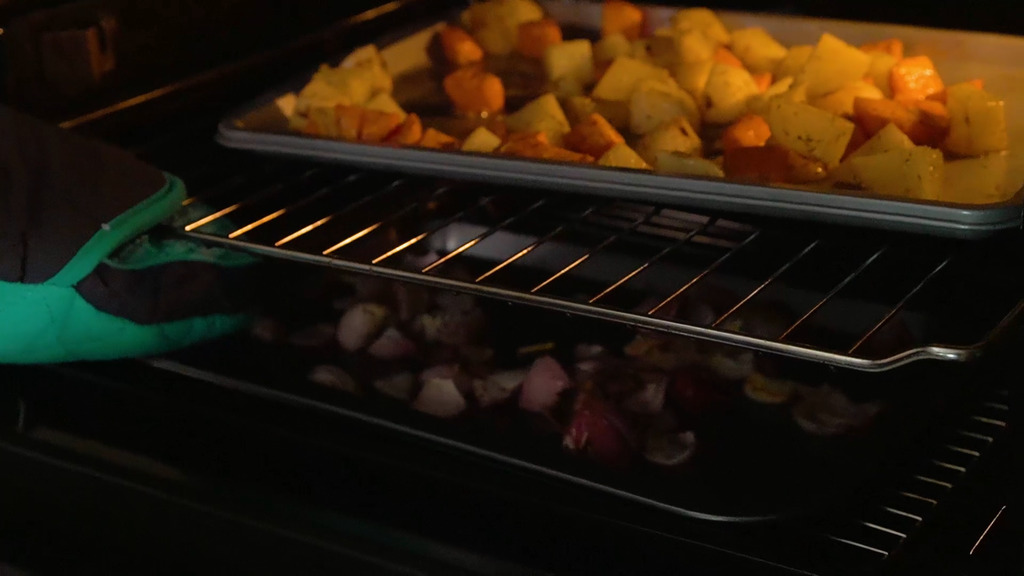 8. Pour the canned stew, frozen peas, and parmesan cheese into the simmering sauce. Then, continue to simmer until the stew thickens. But if this beef stew with canned beef is too thick, simply add a splash of beef broth!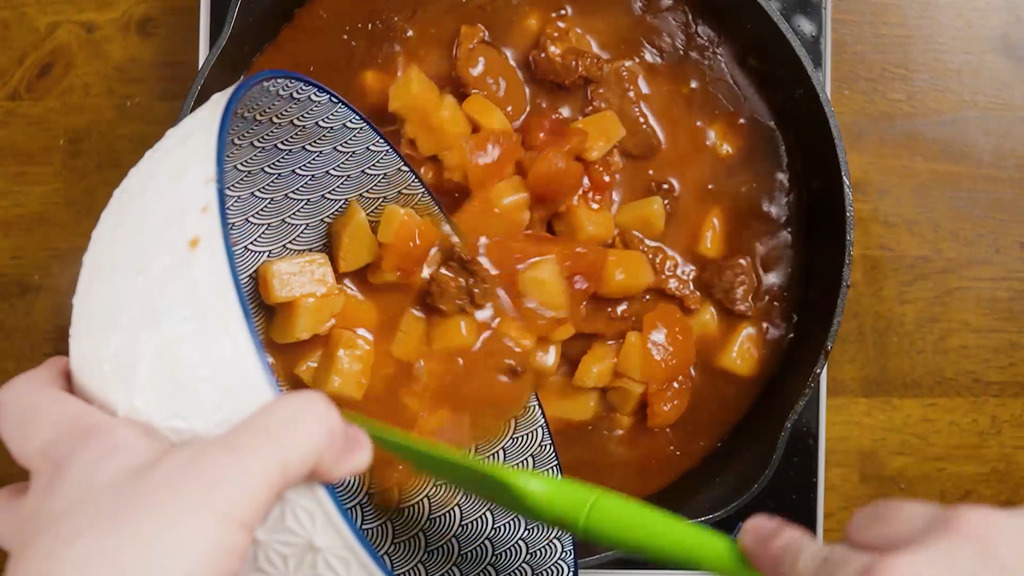 9. Then, add the roasted veggies to the stew. Stir until the ingredients are well-combined.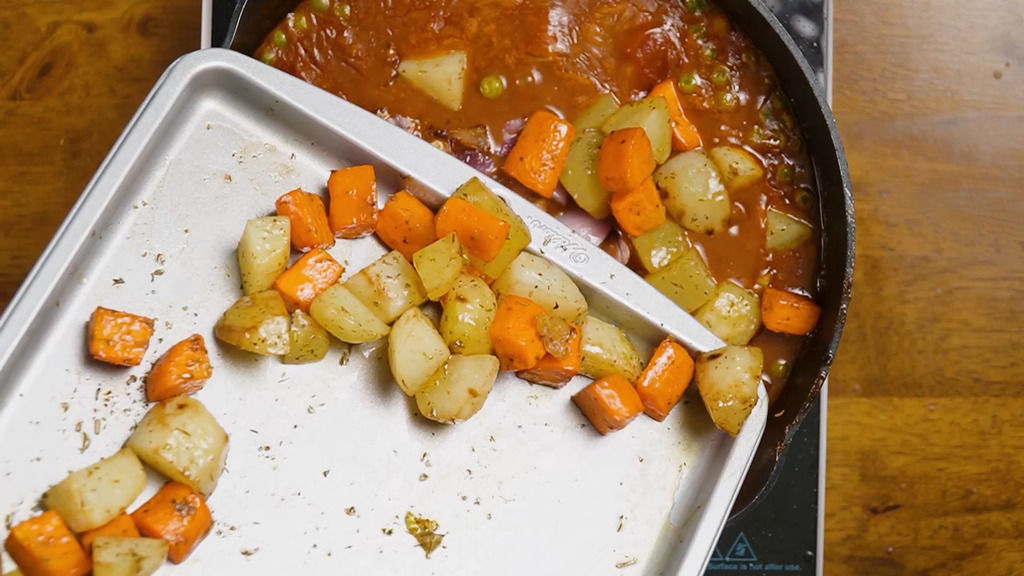 10. Season with salt and pepper.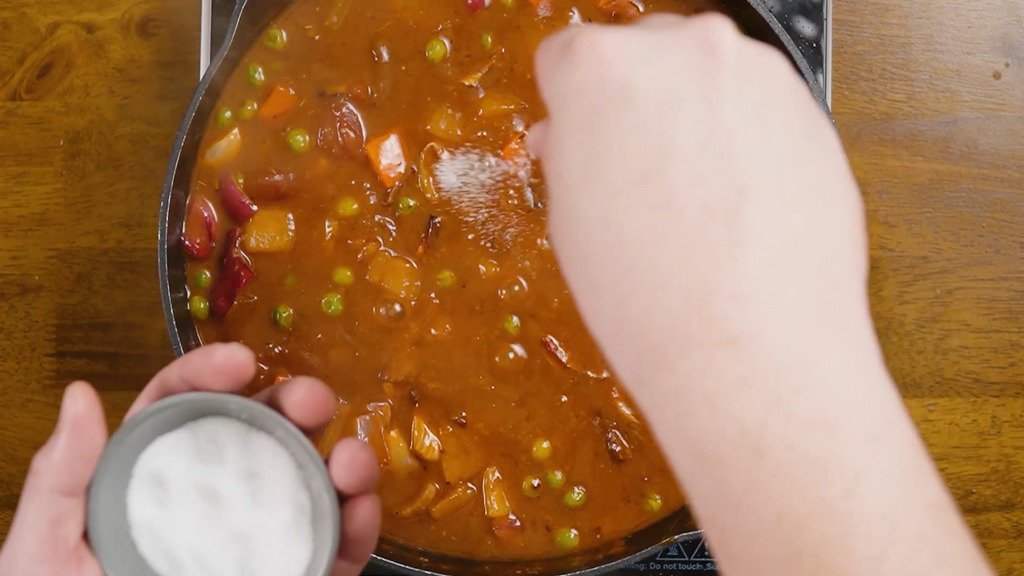 11. Serve your homemade beef stew, and enjoy! For a complete comfort meal, pair it with a loaf of crusty bread or mashed potatoes on the side.
Frequently Asked Questions
How do you thicken beef stew?
You can thicken your beef stew by adding a slurry or a roux as it cooks. To make a slurry, simply combine equal parts flour and cold water. The roux, on the other hand, is made by cooking equal parts butter and flour. Or, you can just reduce your watery beef stew by simmering it for a few more minutes until it's thick enough.
What vegetables can you add to beef stew?
You can add many vegetables to your beef stew to balance out the meatiness of the dish. On top of the list, of course, are potatoes, carrots, and onions. But you can also toss mushrooms, winter squash, and cauliflower into stew recipes. Hearty greens, such as kale and mustard, are welcome additions to this comfort food, too!
What are the best potatoes for beef stew?
Red and white potatoes, having a firm texture, are great for beef stew recipes. Waxy potatoes, including new potatoes and fingerlings, can also be used in this beef stew recipe. These potatoes, which generally have high moisture and low starch contents, can keep their shape and texture even when cooked. But you can also use starchy potatoes, such as Russet potatoes, for stew recipes. However, note that they don't hold together when cooked and might result in a gluey-textured stew.
What do you serve with beef stew?
Beef stew is best served with crusty bread and roasted vegetables. If you want to balance its richness, pair it with green bean salad, pea salad with bacon, or tomato salad. An equally hearty dish, like risotto, cream of mushroom rice, and mashed potatoes, is also a superb accompaniment for beef stew.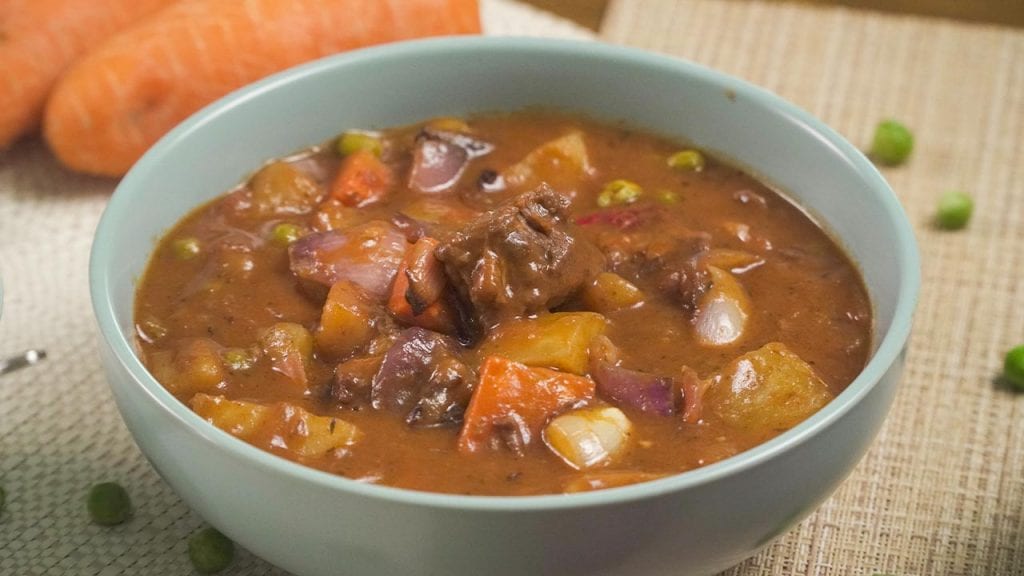 Better Canned Beef Stew Recipe
How To Make Better Canned Beef Stew
Grab a regular can of beef stew, and take it to another level with extra vegetables and seasonings. This beef stew recipe is perfect for cold nights!
Ingredients
6

tbsp

olive oil,

divided

3

tbsp

unsalted butter

¼

cup

all-purpose flour

3

tbsp

tomato paste

½

cup

beer,

of your choice, preferably dark lager

4

cups

beef broth

¼

cup

Worcestershire sauce

8

oz

potatoes,

preferably red potatoes, cut into chunks

6

oz

carrots,

cut into chunks

1

tbsp

Italian seasoning,

divided

salt,

to taste

6

oz

red onions,

cut into chunks

20

oz

beef stew,

(2 cans)

¾

cup

frozen peas

2

tbsp

parmesan cheese

ground black pepper,

to taste
To Serve:
mashed potatoes,

(or crusty bread)
Instructions
Heat 2 tablespoons of olive oil under moderate heat. Melt the butter. Then, add the flour to form a roux, and roast for roughly 5 minutes until it turns brown.

Add the tomato paste and roast briefly.

Deglaze with beer and briefly reduce until it turns into a paste.

Add the beef broth and Worcestershire sauce. Continue simmering for roughly 40 minutes until reduced by half and the flavors intensify.

Preheat the oven to 360 degrees F.

Combine the potatoes and carrots in a bowl. Add ½ tablespoon of Italian seasoning, 3 tablespoons of olive oil, and a pinch of salt. Toss to combine and place on a greased roasting tray. Set aside.

In a separate bowl, toss the onion, the remaining 1 tablespoon of olive oil, and ½ tablespoon of Italian seasoning, then season with salt. Transfer to another greased roasting tray.

Roast for roughly 25 minutes until the vegetables are tender. Note that the onions will roast faster than the other vegetables. Drain any excess oil and set it aside.

Add the canned beef stew, frozen peas, and parmesan cheese into the simmering pot of broth. Continue simmering until slightly thickened.

Add the roasted vegetables to the pot. Mix until combined.

Season to taste with salt and pepper. Adjust accordingly.

Serve the hearty stew with either crusty bread or mashed potatoes. Enjoy!
Nutrition
Sugar:

8g

:

Calcium:

149mg

Calories:

633kcal

Carbohydrates:

32g

Cholesterol:

112mg

Fat:

38g

Fiber:

4g

Iron:

6mg

Potassium:

1346mg

Protein:

39g

Saturated Fat:

12g

Sodium:

1313mg

Trans Fat:

1g

Vitamin A:

7610IU

Vitamin C:

22mg
Nutrition Disclaimer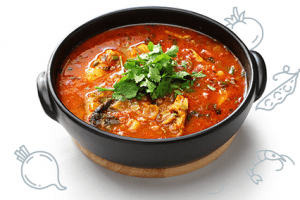 Conclusion
This beef stew recipe made with canned beef stew is just as comforting as the traditional version. We added roasted vegetables to the stew, perking up its flavor and texture. Serve with crusty bread or mashed potatoes for a complete meal.