Grab regular canned beef stew and take it to another level with extra spices and ingredients. Use red pepper flakes to season the soup and top with Parmesan before serving.
How To Make Better Canned Beef Stew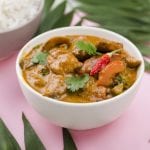 Better Canned Beef Stew Recipe Video
How To Make Better Canned Beef Stew
Advertisement
Continue Reading Below
Ingredients
20

oz

beef stew,

(2 cans)

¼

cup

all-purpose flour

3

tbsp

unsalted butter

6

tbsp

olive oil,

divided

salt and ground black pepper,

to taste

8

oz

potatoes,

preferably red potatoes, cut into chunks

6

oz

carrots,

cut into chunks

½

cup

beer,

of your choice, preferably dark lager

6

oz

red onions,

cut into chunks

1

tbsp

Italian seasoning,

divided

¾

cup

frozen peas

¼

cup

Worcestershire sauce

4

cups

beef broth

3

tbsp

tomato paste

2

tbsp

parmesan cheese

cooking spray
To Serve:
mashed potatoes,

or crusty bread
Instructions
Heat up a pot with 2 tablespoons of olive oil under moderate heat. Melt the butter. Add the flour to form a roux, and roast for roughly 5 minutes until it turns brown.

Add the tomato paste and roast briefly.

Deglaze with beer and reduce briefly until it turns into a paste.

Add the beef broth and Worcestershire sauce. Continue simmering for roughly 40 minutes, until reduced by half and the flavors intensify.

Preheat the oven to 360 degrees F.

Combine the potatoes and carrots in a bowl. Add ½ tablespoons of Italian seasoning, 3 tablespoons of olive oil, and a pinch of salt. Toss to combine and place on a greased roasting tray. Set aside.

On a separate bowl, toss together the onion, remaining 1 tablespoon of oil, ½ tablespoons of Italian seasoning, then season with salt. Transfer to another greased roasting tray.

Roast for roughly 25 minutes, until the vegetables are tender. Note that the onions will roast faster than the other vegetables. Drain any excess oil and set aside.

Add the canned beef stew, frozen peas, and parmesan cheese into the simmering pot of broth. Continue simmering until slightly thickened.

Add the roasted vegetables into the pot. Mix until combined.

Season to taste with salt and pepper. Adjust accordingly.

Serve the hearty stew with either crusty bread or mashed potatoes.
Advertisement
Continue Reading Below
Advertisement
Continue Reading Below
Advertisement
Continue Reading Below
Topics:
Advertisement
Continue Reading Below
Advertisement
Continue Reading Below