As I live in Texas, Mexican recipes are a big part of who I am as a cook. I love the festive flavors. Combining two of my favorite Mexican dishes, posole (hominy stew) and chicken mole (chicken in sauce), this stew will bring a warm spirit of Cinco de Mayo to dispel the winter doldrums! Serve with fresh made quesadillas filled with spinach and cheese and good Mexican beers or sangria.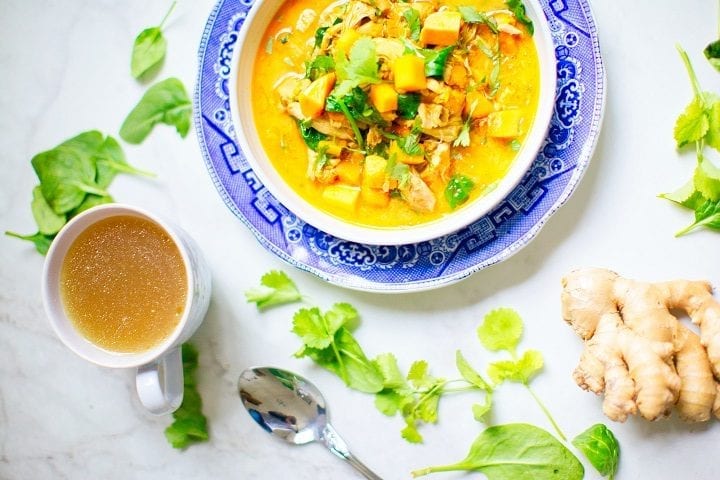 Holy Molé Chicken-Squash Posolé Recipe
How To Make Holy Molé Chicken-Squash Posolé
Ingredients
2

tbsp

extra virgin olive oil

1 1/2

lbs. boneless, skinless chicken breasts and/or chicken thighs,

cut into 1-inch pieces

1

large white onion,

chopped

2

cloves garlic,

minced

3

medium carrots,

peeled and cut into 1/2-inch dice

1

red bell pepper,

seeded and cut into 1/2-inch dice

2

cup

1/2-inch diced pumpkin, seeded and peeled (if pumpkin not in season, butternut or acorn squash may be substituted)

1

14.5-oz. can hominy (white or gold),

drained and rinsed

1

14.5-oz. can diced tomatoes ,

do not drain

1

15.5-oz. can kidney beans,

do not drain

1/2

4-oz. can diced green chilies,

or to taste

2

tbsp

tomato paste

4

tbsp

smooth peanut butter

1/2

8.25-oz jarred prepared mole (this can be found in the Latin section of the grocery store)

1

tsp

ground cumin

1

tsp

dried oregano

1/2

tsp

chili powder

1/2

tsp

ground cinnamon

3

14.5-oz. cans chicken broth
Optional:
Sour cream, garnish

cilantro, garnish,

fresh chopped

Warmed corn or flour tortillas, garnish
Instructions
In a large skillet, heat olive oil over medium high heat. Add chicken, onion, garlic, carrots, red pepper and pumpkin. 

Cook, stirring occasionally, for about 5-10 minutes, or until chicken is almost opaque. Remove from heat and cool for about 10 minutes.

Spray 5-qt. crock pot with non-stick cooking spray. Place chicken-vegetable mixture into crock pot. Add next 5 ingredients; stir to combine.

In a medium mixing bowl, whisk together tomato paste, peanut butter, mole, cumin, oregano, chili powder, cinnamon, and 1 can chicken broth. 

Whisk until mixed thoroughly. If mixture is too thick, add about 1/2 cup of chicken stock or water. Pour mixture, along with other 2 cans of chicken broth over crock pot contents.

Place cover on crock pot and cook over low heat for 5-6 hours, or over high heat for 2-3 hours. If soup gets too thick, add chicken stock or water by 1/2-cup increments.

This soup should be the consistency of a stew. If it gets too thin, add additional tomato paste in 1-tablespoon increments, stirring well to blend into broth.

Ladle into bowls and garnish with sour cream and cilantro. Serve warmed tortillas alongside soup.