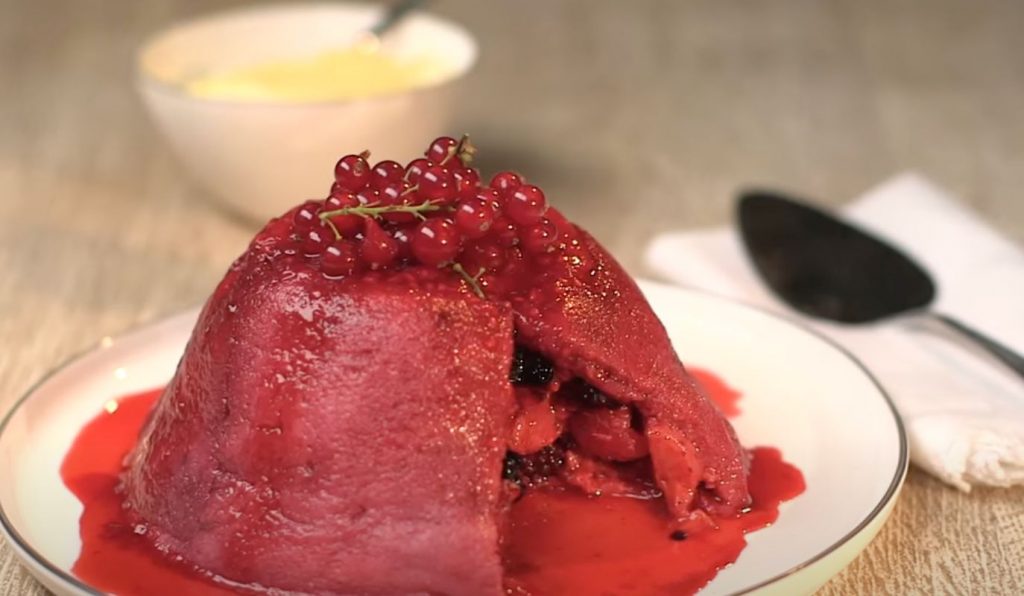 Summer Berry Pudding Recipe
How To Make Summer Berry Pudding
This summer berry pudding is a fresh, tasty, and vibrant concoction of assorted fresh berries and soft and light spongy bread.
Ingredients
3

cups

raspberries

½

cup

sugar

1½

cups

blackberries, blueberries,

or black currants or any combination of the three

1

loaf firm white bread

sprig mint

whipped cream
Instructions
Place raspberries in a stainless steel saucepan; add 4 tablespoons sugar. Toss gently to combine. Bring to a boil. Taste (carefully— they're hot), and add more sugar if necessary.

Cook 3 to 4 minutes, or until berries begin to burst and yield more of their juice. In a separate saucepan, combine blackberries, blueberries, and/or black currants; add 4 tablespoons sugar.

Toss gently and bring mixture briefly to a boil, as instructed above. Taste, and add more sugar if necessary. Remove crusts from bread slices.

Using a downturned cup as a template, cut one slice in a circle and place it at the bottom of a three-quart ceramic or glass bowl.

Line bottom and sides of bowl with remaining bread slices, cutting some in half or into shapes as needed to cover any gaps where fruit could run out. Do not overlap.

Put a layer of raspberry mixture in, then a layer of blackberry mixture, alternating until both are gone, reserving 1 cup raspberry juice. The bowl should be filled with fruit almost to the rim.

Cover top with remaining bread slices and press down until they absorb the juices. Cover with a saucer or plate that has a diameter just smaller than the diameter of the bowl, so that the plate fits just inside the bowl.

Weight the plate with a heavy can. Alternatively, place pudding in refrigerator and wedge an object snugly between the refrigerator rack and the top of the plate so that it pushes down on the pudding, achieving the same result as the weight.

Refrigerate overnight. About 15 minutes before serving, remove pudding from refrigerator. Remove can and plate. Using a flexible, dull-edged knife or spatula, loosen bread around edges of bowl.

Cover bowl with a serving plate and, holding the plate in place, turn the pudding upside down. The bread should have turned a deep ruby red.

If there are any light patches, pour reserved raspberry juice over them. Garnish with fresh berries and mint sprigs, if desired. Serve with whipped cream, crème fraîche, or clotted cream on the side.
Nutrition
Calories: 

221.35kcal

Fat: 

2.03g

Saturated Fat: 

0.41g

Trans Fat: 

0.01g

Monounsaturated Fat: 

0.34g

Polyunsaturated Fat: 

0.98g

Carbohydrates: 

46.35g

Fiber: 

6.36g

Sugar: 

20.11g

Protein: 

6.28g

Sodium: 

248.12mg

Calcium: 

99.85mg

Potassium: 

228.44mg

Iron: 

3.43mg

Vitamin A: 

24.90µg

Vitamin C: 

16.39mg