Transform your leftover bread into a soft, creamy, and delicious dessert with an alcoholic twist. This custard bread pudding recipe makes use of day-old bread to make a dish that's oozing with sweet and mushy goodness.
Our Irish cream custard bread pudding is a delectable dessert that combines the classic taste of a regular sweet and savory bread pudding with an Irish cream liqueur blend. The exquisite taste of the liqueur adds a layer of richness to the cream bread pudding. Add this to the custard and sauce mixture for drizzling on top to achieve a dessert that's worth every bite. Then, we complete the dish with a scoop of vanilla ice cream on top. 
Pair this wonderful dessert with a bottle of crisp champagne on the side, and a satisfying steak meal like an oven grilled sirloin steak or a herb-infused rosemary ribeye steak.
What is a Custard Bread Pudding?
Bread puddings are popular for being a dessert that's both sweet and savory. It's a convenient dessert recipe since it uses stale bread of leftover day-old bread to create a delicious and comforting treat. The bread is cut into pieces and layered on top of each other, filling the whole baking pan. Subsequently, a custard mixture containing egg and milk (or cream) is poured all over the bread-filled pan. It's important that the bread pieces absorb the custard well.

Tip: Allow the bread to soak in the custard mixture for at least 30 minutes for proper absorption.
Bread pudding recipes use stale bread since it absorbs the custard mixture better. Furthermore, unlike fresh bread, a day-old bread breaks or falls apart less. The main flavor of this dish comes from the absorption process and therefore needs proper handling. Afterward, a variety of toppings are added, depending on the flavor of your bread pudding. 
Some bread pudding recipes have chocolate chips, caramel sauce, or even Bourbon sauce drizzled on top. It's really a recipe that can be cooked in a lot of different ways since you can also use other bread substitutes like a baguette. As a result, you'll still get that slightly mushy and solid, creamy, and moist bread pudding texture. 
For this homemade Irish cream bread pudding recipe, we mixed it up with some raisins and Irish cream liqueur sauce.
Custard Bread Pudding with Irish Cream Liqueur
Not only does the whiskey cream liqueur give extra flavoring and depth to our bread pudding recipe, it also gives moisture to the dish. Since this ingredient has also been added to the topping sauce, you can adjust the amount drizzled on your Irish cream bread pudding so that it retains its soft and slightly mushy texture. 

Tip:
Soak the raisins in a bowl of Irish cream liqueur for about 1 to 2 hours, or overnight before starting the recipe for a richer flavor.
Irish Cream Custard Bread Pudding Recipe Video
How To Make Irish Cream Custard Bread Pudding
Try our simple and delicious Irish cream custard bread pudding that's bursting with soft and creamy goodness. Top it off with our smooth and sweet sauce and vanilla ice cream.
Advertisement
Continue Reading Below
Ingredients
Pudding
3

large eggs

1⅓

cups

brown sugar

4½

cups

milk

1

cup

Irish cream liqueur

1

tsp

vanilla extract

1

lb

stale bread,

preferably baguettes, crust removed and cubed

1⅓

cups

raisins

1

tsp

salt
Sauce:
2

cups

water

½

cup

brown sugar

1½

tsp

cornstarch

⅓

cup

Irish cream liqueur

2

oz

unsalted butter,

chilled
Instructions
Grease your baking tin and preheat your oven at 350 degrees F.

In a mixing bowl, combine the eggs, sugar, salt, milk, lrish cream liqueur, & vanilla extract.

Beat until evenly incorporated and sugar has completely dissolved.

Add your stale bread and raisins. Mix to combine and set aside. You may also do this in batches.

Allow the custard to be absorbed into the bread, roughly 30 minutes.

Transfer the mixture into your prepared baking tin & shake slightly. Avoid too much bread breaking the surface to avoid burning its edges

Bake the pudding for 45 minutes, or until a cake tester comes out clean.

While the pudding is baking, prepare the sauce.

Combine water and sugar in a saucepot. Dissolve and bring it to a boil.

In a mixing bowl, dissolve cornstarch into your liqueur.

Add this mixture into the sugar and water mixture. Sauce should thicken slightly.

Bring heat down to a simmer, and continue simmering for roughly 8 to 10 minutes, until starchy taste has disappeared

When done, remove your saucepot from the stovetop and add your cold butter.

Whisk vigorously until evenly incorporated. Your sauce now should be glossy.

When the pudding has finished baking, poke holes around the pudding.

Immediately pour ¾'s of the sauce onto the bread pudding and return back to the oven.

Bake for another 10 minutes until the pudding has fully absorbed the sauce.

Scoop out a portion based on your preference, drizzle with more sauce before serving.
Recipe Notes
Serve with with a scoop of vanilla ice cream. Use roughly 4 oz. ice cream per scoop and 1 tablespoon sauce per serving of pudding.
Advertisement
Continue Reading Below
Advertisement
Continue Reading Below
Can you freeze bread pudding?
Yes, you can store it inside the refrigerator or freezer so that it remains good for consumption for longer. You can refrigerate plated bread pudding whole by wrapping it with plastic wrap and then kept in the fridge. This will help to keep the bread pudding good for up to 5 days. If inside the freezer, it can last for up to 3 months. When storing individually or in pieces, place inside an airtight container or a freezer bag to keep it from drying out.
How do you reheat bread pudding?
Bread pudding reheats best inside the oven. Preheat the oven to 350 degrees F. Make sure to cover your bread pudding with oven-safe aluminum foil, and then cook for about 10 to 15 minutes. If heating small leftover pieces, it would be better to use a microwave oven at medium to low heat. Reheat for about a minute or until warmed. Note that before reheating, remove bread pudding from the fridge or freezer, ensuring that it is thawed and brought to room temperature.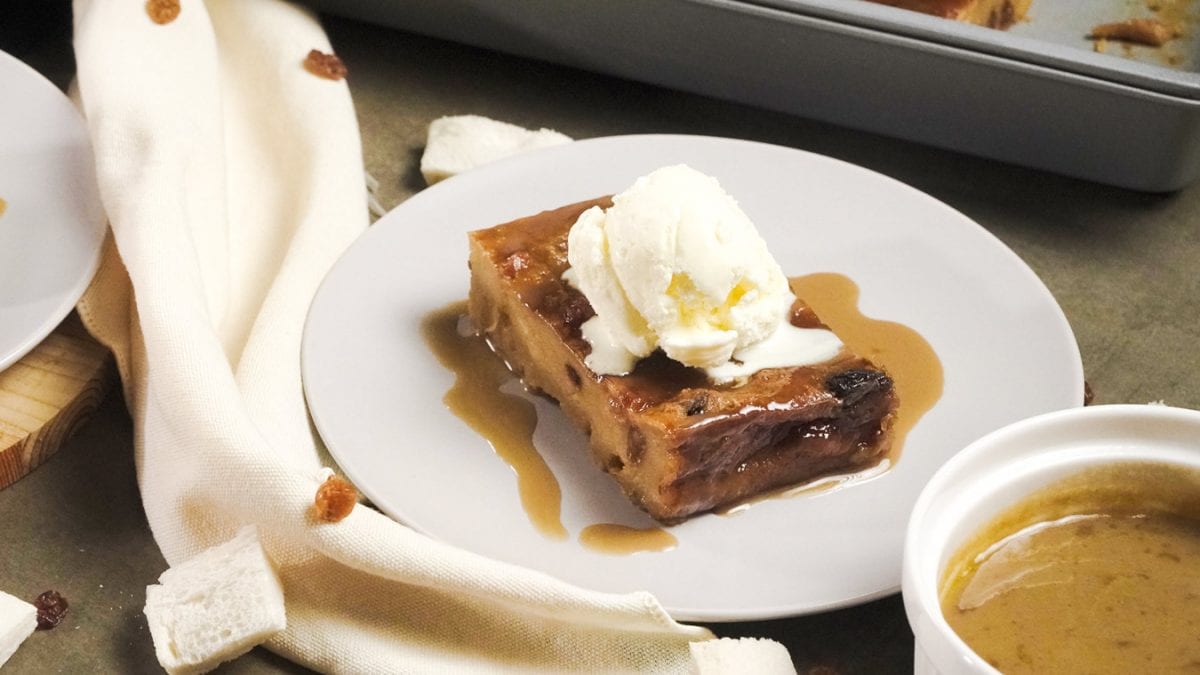 Conclusion
This St. Patrick's Day, make it a little more special with our fun and appetizing Irish cream bread pudding recipe. Enjoy the sweet and savory taste of our custard bread pudding that holds the exquisite taste of Irish cream liqueur. It's a dessert dish that's best served with champagne and delicious steak dishes.
Advertisement
Continue Reading Below
Topics:
Advertisement
Continue Reading Below
Advertisement
Continue Reading Below