Leftover bread doesn't always have to be turned into Thanksgiving stuffing. You can also turn it into a soft and creamy dessert with a twist of alcohol. This custard bread pudding recipe uses day-old bread to make a dish that's oozing with sweet ecstasy. This delectable dessert that combines the classic bread pudding with an Irish cream liqueur as custard bread pudding sauce. The elegant taste of the liqueur adds a layer of desirable flavors to the dish.
Tips on Making Irish Cream Bread Pudding
This easy bread pudding is perfect to follow your meaty entrees such as our oven grilled sirloin steak or an herb-infused rosemary ribeye steak with roasted veggies. Why stop the goodness there? For your last course, this custard bread dessert with Irish cream is worth every bite. Below, we have some tips for you to make the best custard bread pudding recipe with a kick.
Soak the bread in the custard mixture for half an hour

. This allows for proper absorption to get the best flavor. We use

heavy cream

in this recipe, but you can also use milk or half and half.

Some bread pudding recipes have chocolate chips or caramel sauce drizzled on top.

You can add whatever toppings you desire for this recipe. 

Soak the raisins in a bowl of Irish cream liqueur for 2 hours.

This gives a richer flavor.

You can even serve this dessert with a scoop of vanilla ice cream.

This gives extra sweetness and moisture.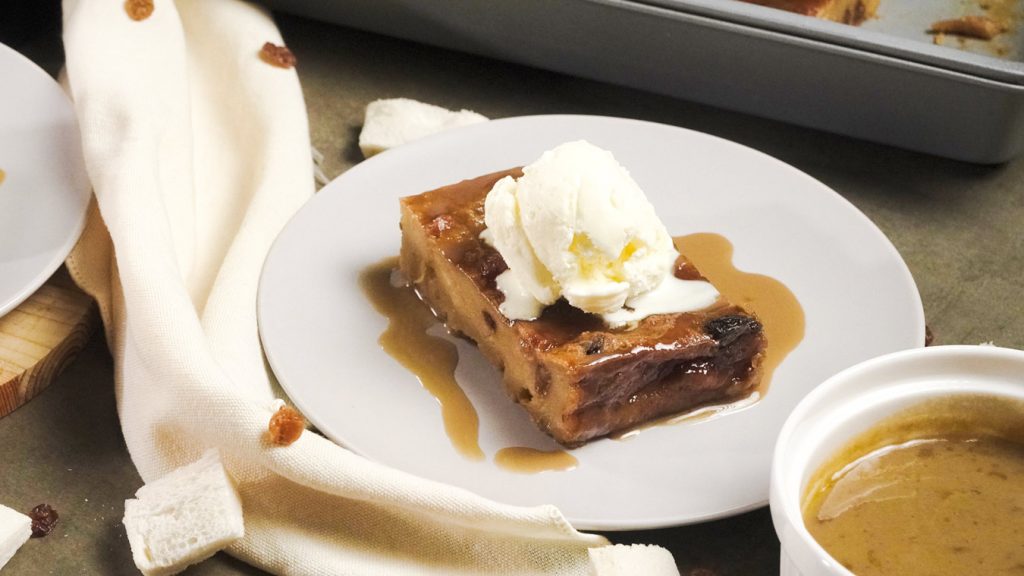 Irish Cream Custard Bread Pudding Recipe
How To Make Irish Cream Custard Bread Pudding
Try our simple and delicious Irish cream custard bread pudding that's bursting with soft and creamy goodness. Top it off with our smooth and sweet sauce and vanilla ice cream.
Ingredients
Pudding
3

eggs,

large

1⅓

cups

brown sugar

4½

cups

milk

1

cup

Irish cream liqueur

1

tsp

vanilla extract

1

lb

stale bread,

preferably baguettes, crust removed & cubed

1⅓

cups

raisins

1

tsp

salt
Sauce:
2

cups

water

½

cup

brown sugar

1½

tsp

cornstarch

⅓

cup

Irish cream liqueur

2

oz

unsalted butters,

chilled
Instructions
Grease your baking tin & preheat your oven at 350 degrees F.

In a mixing bowl, combine the eggs, sugar, salt, milk, lrish cream liqueur, & vanilla extract. Beat until evenly incorporated & sugar has completely dissolved.

Add your stale bread & raisins. Mix to combine & set aside. You may also do this in batches.

Allow the custard to be absorbed into the bread, roughly 30 minutes.

Transfer the mixture into your prepared baking tin & shake slightly.

Bake the pudding for 45 minutes, or until a cake tester comes out clean.

While the pudding is baking, prepare the sauce by combining water & sugar in a saucepot. Dissolve & bring it to a boil.

In a mixing bowl, dissolve cornstarch into your liqueur. Add this mixture into the sugar & water mixture. Sauce should thicken slightly.

Bring heat down to a simmer, & continue simmering for roughly 8 to 10 minutes, until starchy taste has disappeared.

When done, remove your saucepot from the stovetop & add your cold butter. Whisk vigorously until evenly incorporated. Your sauce now should be glossy.

When the pudding has finished baking, poke holes around it.

Immediately pour ¾ of the sauce onto the bread pudding & return back to the oven. Bake for another 10 minutes until the pudding has fully absorbed the sauce.

Scoop out a portion based on your preference, drizzle with more sauce before serving. Best served together with a scoop of vanilla ice cream.
Recipe Notes
Serve with with a scoop of vanilla ice cream. Use roughly 4 oz ice cream per scoop and 1 tbsp sauce per serving of pudding.
Frequently Asked Questions
Why is stale bread better for bread pudding?
The best bread to use is day-old bread, not fresh bread. The former is a lot drier and falls apart less which is important during the absorption process. Other dry breads you can use are brioche bread and Italian bread. It's a recipe that can be made in different ways. You can even use french bread. As a result, you'll still get a creamy but solid and moist bread pudding texture. French bread is more solid than day-old sliced bread, but with the addition of caramel sauce, it'll allow the bread to soften and moisten. For this recipe, we used some raisins and Irish cream liqueur sauce to make the sauce for custard bread pudding.  
Is bread pudding supposed to be soggy?
It should be slightly mushy and semi-solid. It can get soggy if you've put too much custard mixture during the absorption step. When you use too much egg in your custard mixture, the bread pudding will be heavier. You can substitute eggs for milk.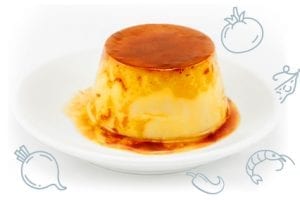 Conclusion
Enjoy the sweet and savory taste of our custard bread pudding that has the superb taste of Irish cream liqueur. It's a dessert dish that's best served with champagne and delicious steak dishes.