A popular staple since the '70s, dirt cake is a dessert known for its imitation of a garden minus the flowers. The layers of oreo crumbs, cream cheese, and gummy worms create a rough and messy look, hence the name. Though it usually comes in a huge glass bowl or flower pot, for this dirt cup recipe, we'll be teaching you a smaller and easier version of the dirt cake.
We introduce the Oreo Dirt Cup, a no-bake dessert consisting of crushed Oreos, a delicious cream cheese mixture, and even more Oreos on top. This recipe is truly a kid-friendly snack whether it's for them to eat or to make. And, with the right decorations, this dirt cup will be a hit during the Halloween season. Pouring melted chocolate chips into a decorative mold adds character.
In fact, cookies and wafers act as perfect tombstones in the dish. You can even use candy corns for a touch of color. Of course, these are just a few ways to make your own unique dirt cup. In fact, we have to admit, it makes a great canvas for a spooky Halloween dessert. 
Dirt cup isn't the most appetizing name in the entire world. But, as the saying goes, don't judge a book by its cover. An oreo dirt cup is the easiest and most delicious dessert to make. You can easily make this in less than an hour. Plus, you can even adjust the recipe for a bigger batch. If you want to try other versions of the Oreo dessert, we also have a No Bake Oreo Cheesecake Recipe for you to enjoy. So, grab your Oreos and whip up a deliciously eerie dessert.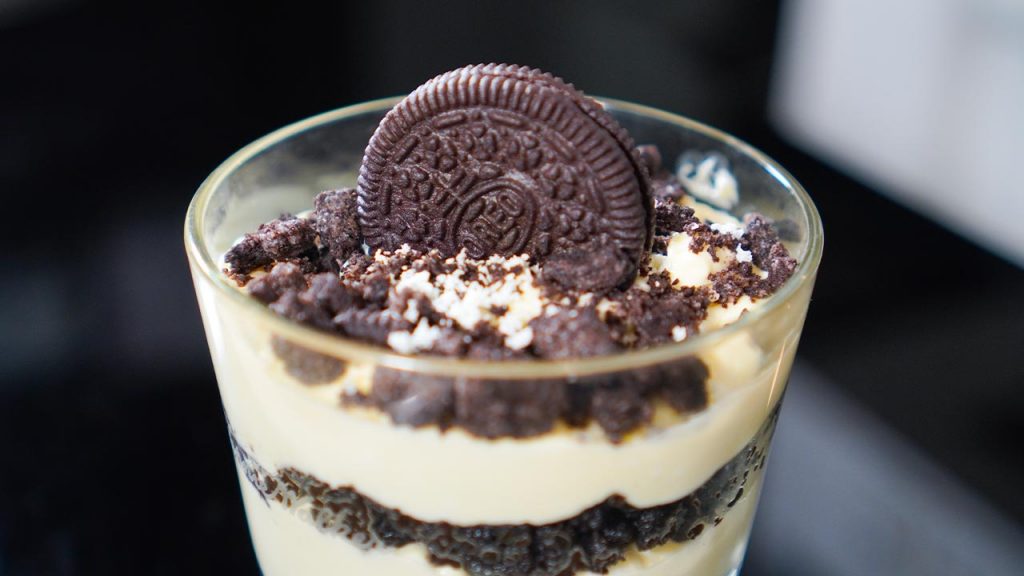 Oreo Dirt Cup Recipe
How to Make Oreo Dirt Cup
An oreo-filled, decadent dessert you'd definitely want to try. This Oreo Dirt Cup recipe is layer upon layer of goodness.
Ingredients
3½

cups

cold milk

½

cup

whipping cream

8

oz

 cream cheese,

softened

¼

cup

butter,

melted

¼

tsp

salt,

iodized

15

pcs

oreo,

crushed

¼

cup

powdered sugar
Instructions
In a large mixing bowl, combine the cold milk, and whipping cream.

Season with salt and whisk the mixture on a double boiler or place a stainless bowl on top of simmering water to melt the mixture.

Remove your mixture and allow it to chill for 20 to 30 minutes or until cool.

To build the Oreo crust, place the crushed Oreo cookies into a mixing bowl with the melted butter and powdered sugar. Mix ingredients until sugar has dissolved completely and you have a damp, sand-like mixture.

Grab the chilled cream cheese mixture and scoop it into a piping bag.

In a small glass cup, scoop a spoonful of the Oreo crumb mixture and place it at the bottom of your serving cups.

Remove the chilled cream cheese mixture from the refrigerator. Using a spatula scoop, cream cheese into a piping bag. Press the mixture close to the bottom tip of the piping bag. Seal the bag by twisting the end, and position your piping bags on both hands to pipe out a generous amount over the Oreo cookie base.

Repeat this process a few times till you reach the rim of the cup. Be generous in distributing your oreo crumb layers.

Finally end with a swirl of cream cheese, top with more crushed Oreo, and a whole Oreo cookie in the middle.

Enjoy your oreo dirt cup with a creamy latte on the side!
Recipe Notes
For best results, chill the Oreo dirt cup before serving. This will help the cream cheese mixture to stay in place.
Nutrition
Sugar:

22g

:

Calcium:

320mg

Calories:

576kcal

Carbohydrates:

24g

Cholesterol:

124mg

Fat:

50g

Fiber:

1g

Iron:

1mg

Potassium:

382mg

Protein:

11g

Saturated Fat:

24g

Sodium:

582mg

Vitamin A:

2052IU
Nutrition Disclaimer
Commonly Asked Questions
What is the difference between whipping cream and whipped cream?
Whipping cream is a thick cream that comes in packaged cartons that you can whip on your own. On the other hand, whipped cream is already whipped and comes in aerosol canisters where you can directly pipe on top of any dessert.
Can dirt cups be made in advance?
If you wish to make the dirt cups in advance, keep the cookie crumbs and cream cheese mixture in separate containers. Place them in the fridge hours before serving to avoid soggy or spoiled ingredients.
Can the dirt cups be made vegan?
You can choose to substitute milk and cream for 4 cups of coconut milk. Also, replace melted butter with ¼ cup of organic coconut oil (This will add a wonderful nutty flavor to your dessert).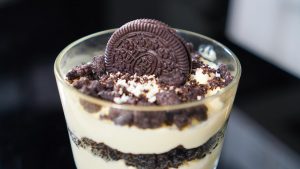 Conclusion
This Oreo dirt cup recipe is a great dessert you can get creative with, particularly with the coming of Halloween. You can use graham crackers, ritz, or other cookie crumbs to your liking. It's the perfect snack to satisfy your sweet tooth and unleash your creativity!
Topics: