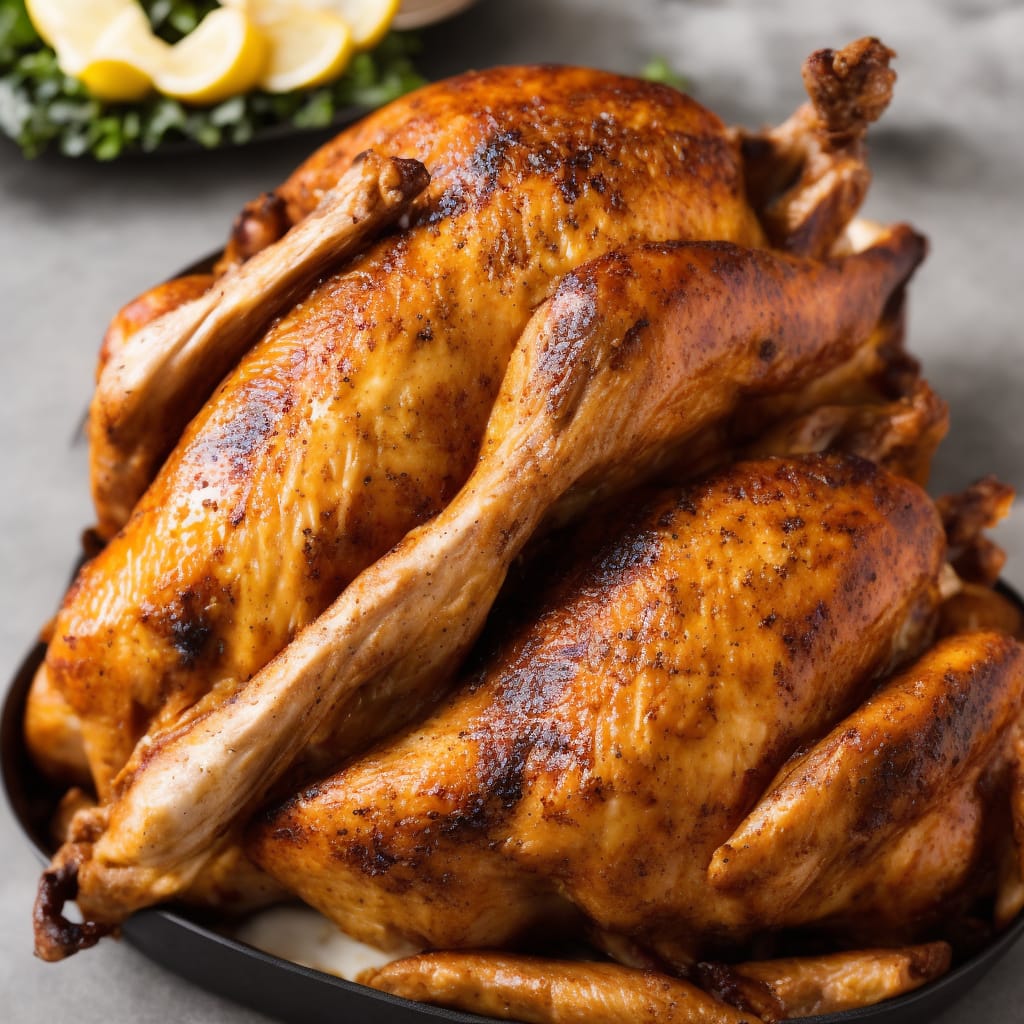 Turkey in a Bag Recipe
How To Make Turkey in a Bag Recipe
You don't have to wait for Thanksgiving to get a taste of our delicious turkey recipes! In these mouth-watering turkey recipes, we cook turkey in plenty of tasty ways. We have turkey sandwiched between lovely bread, baked as pie filling, and cooked in a casserole. Whatever way it's served, turkey meat is a versatile dish you just can't get enough of.
Total:
3 hours and 30 minutes
Ingredients
1 whole turkey (10-12 pounds)
1/4 cup butter, softened
2 teaspoons salt
1 teaspoon black pepper
1 teaspoon paprika
1 teaspoon garlic powder
1 teaspoon onion powder
1 teaspoon dried thyme
1 teaspoon dried rosemary
1 teaspoon dried sage
1 lemon, sliced
1 onion, sliced
4 sprigs of fresh thyme
4 sprigs of fresh rosemary
4 sprigs of fresh sage
1 cup chicken broth
Instructions
Preheat your oven to 325°F (163°C).

Remove the giblets from the turkey cavity and pat the turkey dry with paper towels.

In a small bowl, mix together the softened butter, salt, black pepper, paprika, garlic powder, onion powder, dried thyme, dried rosemary, and dried sage.

Carefully loosen the skin of the turkey by sliding your fingers between the skin and the breast meat. Rub half of the butter mixture under the skin, spreading it evenly.

Stuff the cavity of the turkey with the lemon slices, onion slices, and fresh herbs (thyme, rosemary, and sage).

Rub the remaining butter mixture all over the outside of the turkey.

Place the turkey in a large oven bag, and pour the chicken broth into the bag.

Close the bag securely with the included tie, making sure it is airtight.

Place the bagged turkey on a large baking sheet or roasting pan.

Use a sharp knife to make a few small slits in the top of the bag to allow steam to escape.

Roast the turkey in the preheated oven for about 3 hours, or until the internal temperature reaches 165°F (74°C) when measured with a meat thermometer inserted into the thickest part of the thigh.

Carefully remove the turkey from the bag and let it rest for at least 15 minutes before carving.

Serve the deliciously moist turkey with your favorite sides and enjoy!
Nutrition
Calories :

420kcal

Total Fat :

14g

Saturated Fat :

6g

Cholesterol :

186mg

Sodium :

1040mg

Total Carbohydrates :

2g

Dietary Fiber :

0g

Sugar :

0g

Protein :

64g