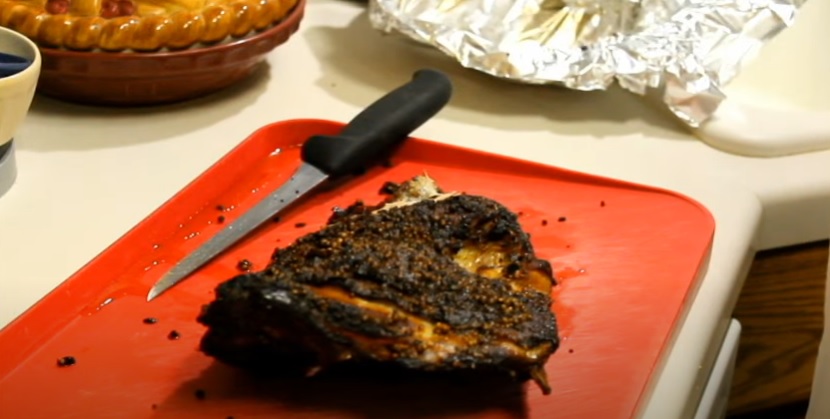 Turkey Pastrami Recipe
How To Make Turkey Pastrami
This turkey pastrami is a low-fat and lighter alternative to beef. This recipe is marinated and smoked to make sure all the flavors are there.
Total:
2 hours 30 minutes
Ingredients
For Brine:
5

lb

turkey breast

3

water

¼

cup

dark brown sugar

¼

cup

kosher salt

2

tbsp

juniper berries,

crushed

2

tbsp

black pepper,

freshly cracked

8

garlics cloves,

smashed

1

pinch

red pepper flakes,

crushed
For Rub:
4

tbsp

juniper berries

2

tbsp

whole black peppercorns

¼

cup

dark brown sugar

1

tsp

red pepper flakes,

crushed
To Cook:
1

cup

hickory wood chips or chunks
Instructions
Start by making the brine, in which the meat will soak for several days. Combine the water, sugar and spices in a saucepan and heat until the sugar and salt have dissolved.

Allow the brine to cool before transferring it into a large resealable zip-top bag. We recommend double-bagging it in case of any leakages and placing it into a pan.

Place the turkey into the bag and seal. Allow to soak for 2 to 3 days.

After brining, remove the turkey from the bag and rinse well. Dry with paper towel and set on a chopping board.

Make the dry rub by pulsing or processing the rub ingredients in a blender or food processor.

Generously coat the turkey with the rub, ensuring all of the breast has been covered. Place the turkey in a large airtight container and place in the fridge for 24 hours.

To cook the turkey, fold a large sheet of heavy duty aluminium foil, approximately 2 feet in length, in half and fold in half once again. Fold the edges up on one of the halves, similar to that of a small pizza box.

Soak the hickory chips in water for about 15 minutes.

In the meantime, position an oven rack about 4 inches below the broiler and pre-heat to high. Drain the chips and place in the folded foil section you created. Broil for about 5 minutes, stir and broil for a further 2 minutes.

Remove from the heat and fold the 'top' part of the foil over and crimp it closed. Use a knife and create several small holes in the foil to release the smoke. Place into the oven and pre-heat for 250 degrees F.

Place the turkey in a roasting, breast side down, and roast for an hour. For a convection oven, increase heat to 325 degrees F, or to 350 degrees F for a standard oven. Turn the turkey and roast until the internal temperatures reaches 160 degrees F.

Transfer to a chopping board and cool. Slice thinly and serve warm or store in an airtight container for sandwiches later.
Nutrition
Calories: 

989.31kcal

Fat: 

40.22g

Saturated Fat: 

11.00g

Monounsaturated Fat: 

15.16g

Polyunsaturated Fat: 

9.53g

Carbohydrates: 

24.85g

Fiber: 

2.29g

Sugar: 

17.77g

Protein: 

125.34g

Cholesterol: 

368.54mg

Sodium: 

1397.08mg

Calcium: 

139.01mg

Potassium: 

1720.17mg

Iron: 

7.90mg

Vitamin A: 

19.64µg

Vitamin C: 

2.49mg