This lemon rosemary chicken breast recipe is unbelievably easy yet full of flavor! It's a tender, moist chicken with the aromatic flavors of rosemary, garlic, and lemon baked to have the tastiest golden brown skin. Making this rosemary chicken just proves that you can still serve a great meal even on a busy night. Pair it with roasted potatoes and our equally easy-to-make blueberry peach cobbler for dessert. 
Tips on Making Rosemary Chicken
There are many ways you can tweak our baked rosemary chicken depending on what you have on hand and how you like it. This section gives you expert tips and everything you need to know about making rosemary lemon chicken be it thighs, breasts, or whole.
Use any cut of chicken

to your preference. Get them the same size so that they all cook evenly. Cut-up 4 to 5-ounce

chicken breasts

,

chicken thighs,

and legs need about 25 minutes, while a whole chicken takes about 2 hours to fully cook. Make sure it reaches an internal temperature of 165 degrees F. An instant-read thermometer would be handy in monitoring this.

Brine the chicken.

Brining is the secret to juicy cooked chicken with no dry stringy breast. Soaking the chicken in a basic brine for at least 30 minutes makes a huge difference. So if you have extra time on your hands, we

highly recommend

you do this extra step.

Sear the chicken first

. While brining improves the texture, searing adds extra flavor. To do this, heat up a pan on high heat with a bit of oil. Cook the chicken for 2 minutes on each side or until brown. But if you're in a hurry, you can of course skip this step and go right to baking.

The earthy taste of rosemary compliments the flavor of the chicken.

Fresh rosemary gives a superior flavor, but you can also use dried rosemary.

Substitute 1 teaspoon

dried rosemary

for every 1 tablespoon fresh.

Add other delicious ingredients

to the

lemon rosemary chicken

. You can add

red pepper

flakes,

red potatoes

, asparagus, zucchini, and other vegetables to roast along with the

rosemary chicken

. You can also top it with ricotta cheese, parmesan cheese,

lemon zest

, and kalamata olives after baking.
Oven-baked Rosemary Chicken Breast Recipe
How To Oven-baked Rosemary Chicken Breast Recipe
A delicious baked rosemary chicken with lemon and garlic. Made with just a few ingredients and ready in under an hour, it's the perfect meal for a busy night.
Ingredients
6

4-oz boneless chicken breasts

salt

pepper

1

tbsp

olive oil

2

tbsp

butter

6

garlic cloves,

minced

3

tbsp

lemon juice

¼

cup

chicken broth

1

tbsp

fresh rosemary leaves,

minced
For Garnish:
1

lemon,

sliced into rounds

rosemary sprigs
Instructions
Preheat the oven to 400 degrees F.

Season the chicken breasts with salt and pepper.

Place it on a baking tray or casserole.

Put in butter, garlic, lemon juice, chicken broth, and rosemary leaves.

Drizzle olive oil.

Bake the chicken for 25 minutes or until an instant-read thermometer inserted to its thickest part reads to 165 degrees F.

Top with lemon slices and rosemary sprigs. Serve and enjoy!
Recipe Notes
To make a simple brining solution for chicken, combine 4 cups of water, 3 tablespoons kosher salt, 3 tablespoons soy sauce, and 2 tablespoons white sugar. Double or triple the recipe as needed. Brine the chicken for 30 minutes or up to overnight before proceeding to the recipe. 
Nutrition
Sugar:

1g

:

Calcium:

19mg

Calories:

243kcal

Carbohydrates:

3g

Cholesterol:

108mg

Fat:

9g

Fiber:

1g

Iron:

1mg

Monounsaturated Fat:

4g

Polyunsaturated Fat:

2g

Potassium:

670mg

Protein:

36g

Saturated Fat:

2g

Sodium:

257mg

Trans Fat:

1g

Vitamin A:

187IU

Vitamin C:

13mg
Nutrition Disclaimer
Commonly Asked Questions
How do you cook with rosemary?
Rosemary is a pretty versatile herb. It goes well with chicken, fish, mushrooms, as well as potatoes, and spinach. Dry or fresh, it is usually used as part of a marinade or dry rub for meat. Rosemary is also good mixed with stews, casseroles, and soups.

How do you keep chicken breast moist when baking?
The secret is brine. Brining the chicken in salty water helps keep the moisture, tenderize the chicken, and improve its overall flavor. Say goodbye to dry and bland chicken breasts when you brine them for at least 30 minutes before cooking.

Is it better to bake rosemary chicken covered or uncovered?
Baking rosemary chicken uncovered is completely fine especially if there's liquid in the pan which will keep it moist. Using a larger oven results in more even cooking as the chicken is less likely to char being farther away from the heat source. However, in cases where the oven is small, and the chicken is placed almost directly to the heat source, loosely covering the chicken with foil will help it not burn quickly. Remove the foil on the last 10 minutes of baking to give it a golden brown top.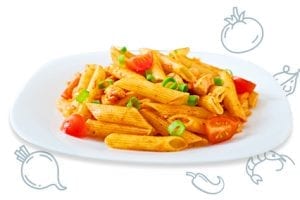 Conclusion
Whether it's for a quick lunch or a special dinner, this delicious lemon rosemary chicken will surely satisfy you. Enjoy the savory herbs and fresh, citrusy lemon in this easy recipe.