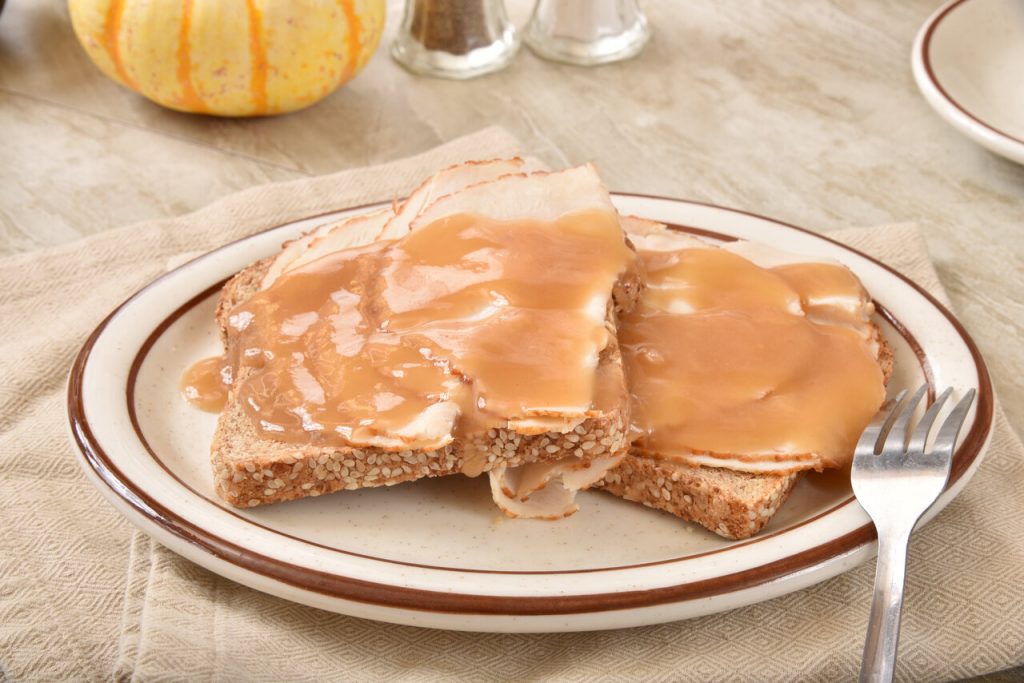 Hot Turkey Sandwich Recipe
You would think that after Thanksgiving Day, everyone would be done with turkey. But, to be honest, what I always look forward to are the holiday leftovers. My hot turkey sandwich recipe is one that my family often looks forward to having me make the day after.
For this hot turkey sandwich recipe with gravy, I used leftover turkey. But you can also grab deli turkey from the grocery store and make it anytime. It comes together with a few slices of bread, mayonnaise, and gravy. All of these you probably already have from your Thanksgiving dinner! And have I got a few tips on how to make the best hot turkey sandwich and keep it moist. After all, "dry" just isn't the best word to describe a sandwich.
For starters, we don't only rely on spreads to add flavor to sandwiches — you can also use them to add and seal in moisture. Mayonnaise is great, but you can also use pestos, BBQ sauces, butter, cream cheese, and mustard. They also double as a barrier to stave off sogginess. Toasting the bread is a clever trick, too.
Do NOT add wet ingredients like pickles, tomatoes, and cucumbers right away! Simply add them to the sandwich when you're ready to eat to prevent sogginess. Lettuce lends moisture, crunch, and a fresh taste to your sandwich. It is, however, prone to wilting when left for extended periods, making your bread soggy. So, you also might want to add it later.
Although the recipe calls for any kind of bread, I would advise against using soft, fluffy bread. As a rule of thumb, the moister the filling, the drier and denser the bread should be, like bagels and sourdoughs. For the final touch and the star ingredients of the sandwich: turkey and gravy. Simply heat the leftover gravy. You can also try melting some butter and sauteing onions before adding the gravy. Add the sliced cooked turkey and heat until the meat is completely coated and heated through.
Hot turkey sandwiches work well as an easy lunch or dinner option. It is traditionally served with mashed potatoes, but you can also try a variety of other side dishes like steamed vegetables or green salads. Add cheese to your sandwich for that satisfying cheese pull, and extra stuffing like bacon and sausage to make it more filling. Really, the possibilities are endless with this classic sandwich! Arrange everything on a plate, and voila! Personally, serving your hot turkey sandwich open-faced is the best way to have this Thanksgiving leftover.
How To Make Hot Turkey Sandwich
Got leftover turkey from the holidays? Turn it into a mouthwatering hot turkey sandwich! You only need 4 ingredients to make this easy recipe.
Ingredients
4

slices

bread,

any kind

4

tbsp

mayonnaise

1⅓

cups

gravy,

leftover, canned, or homemade

10

oz

turkey,

leftover or sliced deli turkey
Instructions
Heat the gravy in a small saucepan until boiling.

Reduce the heat to a simmer and add the turkey slices. Cook for 3 to 5 minutes, until heated through

Toast the bread and spread with mayonnaise.

Top with the turkey slices and extra gravy.
Recipe Notes
If desired, replace the bread with leftover mashed potatoes. Combine 2 cups of leftover mashed potatoes and 2 eggs. Form into 4 patties and fry in butter or olive oil, until crisp on each side.
Nutrition
Calories: 

557.37kcal

Fat: 

32.11g

Saturated Fat: 

5.84g

Trans Fat: 

0.10g

Monounsaturated Fat: 

8.51g

Polyunsaturated Fat: 

16.29g

Carbohydrates: 

28.42g

Fiber: 

2.32g

Sugar: 

3.53g

Protein: 

36.89g

Cholesterol: 

113.32mg

Sodium: 

620.01mg

Calcium: 

92.73mg

Potassium: 

420.17mg

Iron: 

3.24mg

Vitamin A: 

24.10µg

Vitamin C: 

0.12mg
Topics: