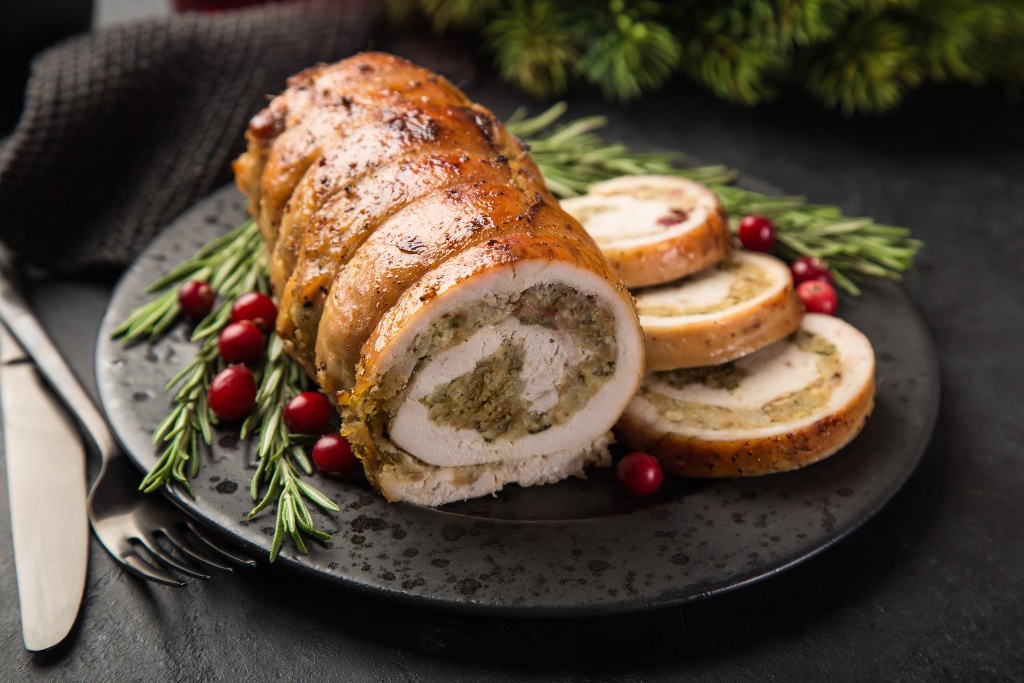 stuffed turkey breast roll for festive dinner, dark background, selective focus
Stuffed turkey breast is one of my all-time favorite Thanksgiving dishes EVER! Sure, I love a traditional Thanksgiving dinner. Yes, I'm talking about succulent roast turkey with golden brown skin. But let's admit it — roasting a WHOLE turkey can sometimes be a chore. So, instead of bothering with a whole bird, I usually cook turkey breasts.
In my book, the best way to cook turkey breast is to bake it in the oven. And so, I'm ecstatic to share with you the best turkey breast recipe that produces perfectly baked meat. It's easy for ordinary weeknight dinners and impressive enough for Thanksgiving parties. Once you taste this stuffed turkey breast, you'll instantly forget the plain ol' roasted turkey. It's THAT delicious!
I used boneless turkey tenderloin for my stuffed turkey breast recipe because it's easy to stuff. The question is: what to stuff a turkey with? Well, you have LOTS of options. The classic stuffing usually includes bread and a blend of herbs. But feel free to stuff turkey breasts with bacon, sausage, or cream cheese. Much better if you just go with your favorite stuffing recipe.
For my version, I went for a combination of butternut squash, figs, and baby spinach. To make one of the best stuffed turkey breast recipes, saute the vegetable stuffing first with seasonings as I did. Using a sharp knife, I then made a pocket in each breast and filled them with the stuffing. Then, I tied each piece with cooking twine to secure the filling.
So, how long does it take to cook a stuffed turkey in the oven? Well, the cooking time might vary actually. Usually, cooking per pound of turkey breast for about 16 to 20 minutes at 350 degrees Fahrenheit can suffice. Cooking at 375 degrees Fahrenheit, as in my recipe, is fine. Just cover the baking dish with foil to keep the stuffed turkey breast from drying out. Then, I cooked the turkey breast until its internal temp reached 165 degrees Fahrenheit.
I just can't imagine a Thanksgiving dinner without mashed potatoes, cranberry sauce, AND this yummy stuffed turkey breast. It's also perfect with glazed vegetables and side salads during ordinary weeknight dinners.
How To Make Stuffed Turkey Breasts
Stuff turkey breasts with butternut squash, figs, and spinach for a flavor-packed Thanksgiving meal. Serve with your favorite holiday side dish and enjoy!
Ingredients
1 tbsp light olive oil

⅓ cup white onion, small, chopped

6 oz butternut squash, ½-inch dice

2 tbsp water

5 black mission figs, chopped

2 cloves garlic, finely-chopped

1 cup baby spinach

1 tsp kosher salt, preferably Diamond Crystal

3 sage leaves, chopped

¼ tsp black pepper, crushed

1 lb turkey tenderloins, boneless

8 pcs cooking twine

cooking spray
Instructions
Heat olive oil in a large cast-iron skillet over medium-high heat.

Add onions and sauté for two minutes or until golden.

Next, add butternut squash and water to the skillet. Cover and cook on low heat for 10 minutes.

Remove the lid and add figs, garlic, spinach, salt, sage, and pepper. Cook for another 3 to 4 minutes. Then, set aside to cool.

After that, cut a pocket into the sides of the tenderloins, careful not to cut all the way through at the ends.

Next, season the inside and outside of the turkey breast with salt.

Stuff each turkey breast with about ¾ cup of squash mixture.

Then, cut 3 to 4 pieces of cooking twine long enough to tie each breast. Set aside the extra twine.

Preheat the oven to 375 degrees F.

Lightly spray the skillet with cooking spray and heat over medium-high heat.

Next, sear the turkey breasts on each side.

If using an oven-safe skillet, cover with foil and place in the center of the oven. If not, transfer to a baking dish and cover with foil. Place directly into the oven and cook for 30 to 35 minutes.

Let the stuffed turkey breasts sit for 5 minutes before cutting off the twine.

Slice each turkey breast into four slices, serve, and enjoy!
Nutrition
Calories: 

365.96kcal

Fat: 

15.55g

Saturated Fat: 

3.03g

Monounsaturated Fat: 

7.92g

Polyunsaturated Fat: 

3.45g

Carbohydrates: 

30.67g

Fiber: 

5.19g

Sugar: 

16.53g

Protein: 

27.33g

Cholesterol: 

73.71mg

Sodium: 

549.62mg

Calcium: 

104.00mg

Potassium: 

816.64mg

Iron: 

2.49mg

Vitamin A: 

246.99µg

Vitamin C: 

20.51mg