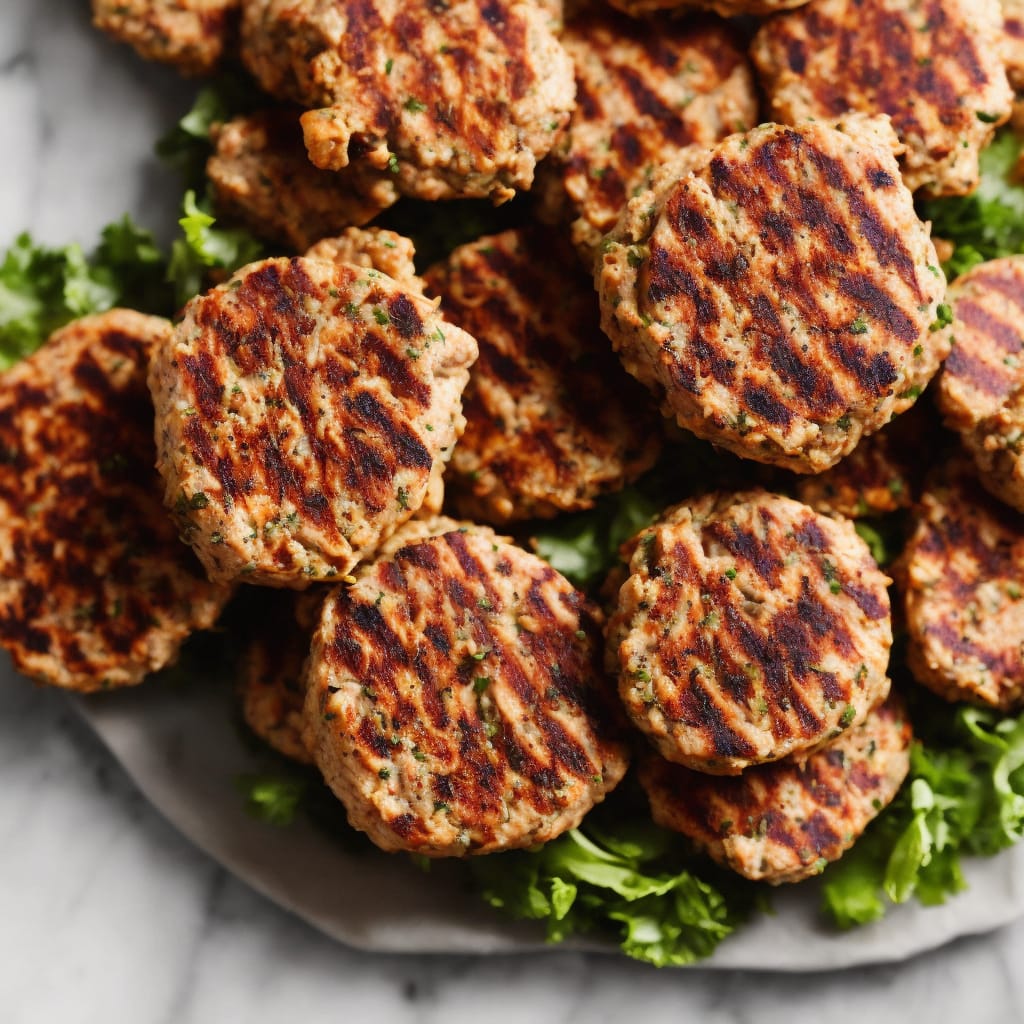 Seasoned Turkey Burgers Recipe
How To Make Seasoned Turkey Burgers
You don't have to wait for Thanksgiving to get a taste of our delicious turkey recipes! In these mouth-watering turkey recipes, we cook turkey in plenty of tasty ways. We have turkey sandwiched between lovely bread, baked as pie filling, and cooked in a casserole. Whatever way it's served, turkey meat is a versatile dish you just can't get enough of.
Ingredients
1 lb ground turkey
1/4 cup bread crumbs
1/4 cup grated Parmesan cheese
1/4 cup chopped fresh parsley
1/4 cup chopped red onion
2 cloves garlic, minced
1 tsp dried oregano
1/2 tsp salt
1/4 tsp black pepper
4 hamburger buns
lettuce, tomato, and any other desired toppings
Instructions
In a large mixing bowl, combine ground turkey, bread crumbs, Parmesan cheese, parsley, red onion, garlic, oregano, salt, and black pepper. Mix until well combined.

Shape the mixture into 4 equal-sized patties.

Preheat a grill or skillet over medium heat. Place the turkey patties on the grill or skillet and cook for about 4-5 minutes per side, or until cooked through and no longer pink in the center.

Toast the hamburger buns on the grill or in a toaster.

Assemble the burgers by placing a turkey patty on the bottom half of each bun. Add lettuce, tomato, and any other desired toppings. Cover with the top half of the bun.

Serve the seasoned turkey burgers with your favorite sides.
Nutrition
Calories :

280kcal

Total Fat :

9g

Saturated Fat :

3g

Cholesterol :

90mg

Sodium :

400mg

Total Carbohydrates :

27g

Dietary Fiber :

2g

Sugars :

4g

Protein :

22g