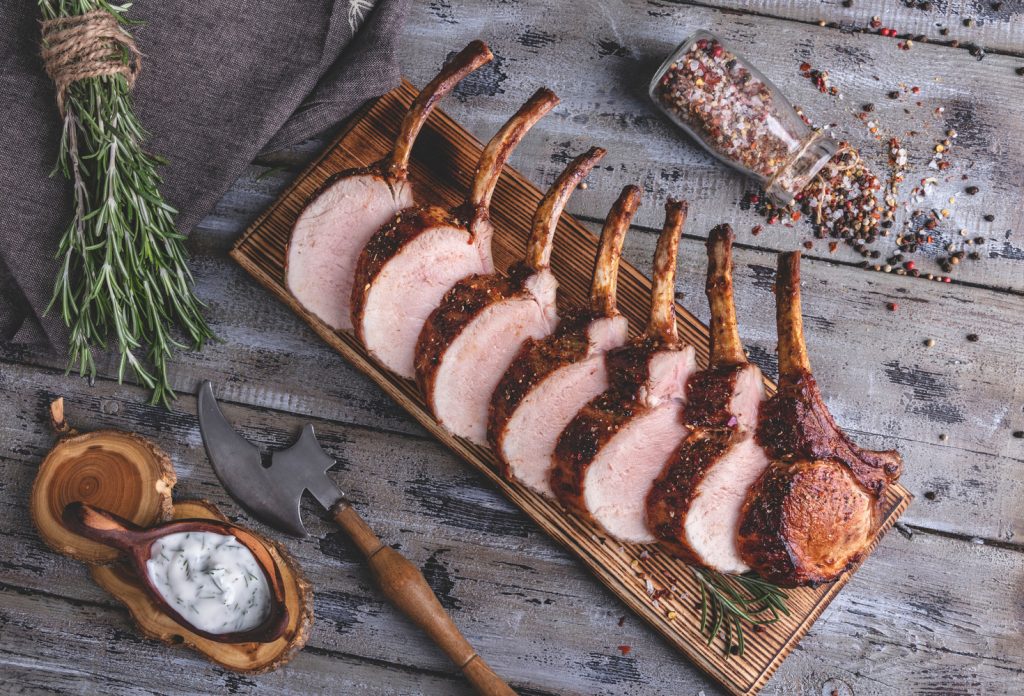 Herb-Crusted Pork Rib Roast Recipe
This pork rib roast, with its juicy and tender inside, makes an elegant centerpiece during holiday dinners. It's slathered with various seasonings and covered with a flavorful herb crust. Serve this on its own, or surround the rack of pork with roasted potatoes and apples for a truly stunning meal.
Between planning the menu that'd impress the guests and adorning the house, hosting holiday dinner parties can really be such a chore. Thankfully, I had chanced upon this pork rib roast recipe. And it was indeed a crowd-pleaser! At a glance, it might come off as an intimidating fancy meal. The truth is, it's easier than you think, and it only requires a few ingredients.
If you plan on serving a succulent pork roast on a special dinner, look for the best bone-in pork loin rib roast. This pork cut, also known as rack of pork or center-cut pork loin, has a good amount of fat, making it deliciously moist and flavorful when roasted. Even better? Pork rib roasts are inexpensive and one pork rack is enough to feed a hungry horde. For a gorgeous finished roast, ask the butcher to remove the chine bone. But you can also opt for a completely boneless pork rib roast. It'd be just as tasty!
A flavor rub, I must say, truly elevated my recipe for pork roast. Beyond the usual salt and pepper seasoning, I slathered a bit of dijon mustard all over the pork roast. The meat would surely take on the pungent taste of the mustard. But if you want an even more intense flavor, you can use spicy brown mustard instead. I also prepared an herb paste made of extra-virgin olive oil, minced garlic, fresh thyme, fresh rosemary, and breadcrumbs. Once roasted, the pork loin rib roast came off tasting oh-so-succulent with a crusty herb coating.
The good news is you can also use a dried herb blend in place of the fresh herbs if you prefer the distinct flavor they deliver. Some pork roast recipes rely on an Italian herb blend and Herbes de Provence. Paprika, cumin, and red pepper flakes would be a great addition should you fancy a spicy rack of pork. A pork roast marinated with brown sugar or molasses, cayenne pepper, and butter would be just as impressive.
Fancy as it looks, cooking pork rib roast is insanely easy! Before popping the pork roast in the oven, all you need to do is just rub it with some great seasoning. The real key to making the tastiest pork rib roast ever though, are two elements: temperature and cooking time. I roasted the rack of pork on high heat (around 500 degrees F) for 15 minutes or until the herb crust became slightly crispy. Then, I lowered the oven temp to 350 degrees F and cooked the pork rack for another 45 minutes. Easy-peasy, right?
To make sure it was fully cooked, I stuck a meat thermometer into the thickest part of the roast and checked the internal temperature. If you didn't know, the internal temp should reach 145 degrees F to ensure you'd be enjoying a fully-cooked pork roast. If you're willing to go the extra mile just to impress your guests, try surrounding the pork rack with diced carrots, onions, and celery when you roast it.
How To Make Herb Crusted Pork Rib Roast
Make your family dinner extra special with this juicy and tender herb-crusted pork rib roast. It's rubbed with dijon mustard and coated with a mixture made of garlic, fresh herbs, breadcrumbs, and olive oil.
Ingredients
4 lb pork rib roast, chine bone removed

1 tsp kosher salt

1 tsp coarse ground black pepper

2 tbsp dijon mustard

2 tbsp extra-virgin olive oil

3 cloves garlic, minced

1 tbsp fresh thyme, chopped

1 tbsp fresh rosemary, chopped

1 cup breadcrumbs
Instructions
Preheat the oven to 500 degrees F and place the pork roast in a large roasting pan.

Rub the pork roast with kosher salt and ground black pepper. Then, rub the top with dijon mustard.

In a medium bowl, mix the oil, garlic, thyme, rosemary, and breadcrumbs and pat it onto the top of the pork roast.

Roast the pork for about 15 minutes.

Lower the temperature to 350 degrees F and cook for about 45 minutes or until a meat thermometer in the thickest part of the roast reads 145 degrees F.

Remove from the oven and let rest (loosely covered) the pork on a cutting board and let stand for 15 minutes.
Recipe Notes
You can even combine your favorite barbecue sauce with honey or maple syrup and glaze this flavorful concoction all over the pork rack.

Add powdered ginger to your

pork roast seasoning

for added flavor.

Serve with mashed potatoes for a more filling weeknight dinner.
Nutrition
Calories: 

819.92kcal

Fat: 

67.61g

Saturated Fat: 

26.76g

Trans Fat: 

0.00g

Monounsaturated Fat: 

29.95g

Polyunsaturated Fat: 

2.97g

Carbohydrates: 

10.91g

Fiber: 

1.05g

Sugar: 

0.89g

Protein: 

39.18g

Cholesterol: 

161.03mg

Sodium: 

499.91mg

Calcium: 

54.99mg

Potassium: 

655.72mg

Iron: 

4.79mg

Vitamin A: 

1.42µg

Vitamin C: 

0.89mg