Recreate the deliciousness of the Boston Market rotisserie chicken without a hitch with this quick copycat recipe! Sure, it's easier to just swing by the popular fast-casual restaurant on the way home from work and grab this ready-made chicken dish. But you can actually make a better-flavored Boston chicken right at home!
Learn how to make this copycat Boston Market rotisserie chicken recipe and have a filling home-cooked dinner tonight. Don't worry! You don't need a rotisserie oven to create a mouthwatering rotisserie chicken with juicy meat and crackly skin. Simply marinate your fresh whole chicken with apple cider vinegar, vegetable oil, brown sugar, and minced garlic, then pop the seasoned chicken in the oven. It's that easy! Serve this rotisserie-style chicken on your dinner table with homemade mashed potatoes and gravy on the side for a more memorable eating experience.
Trussing Chicken to make Boston Market Rotisserie Chicken
Trussing is a culinary technique that involves tying up the wings and legs of poultry, such as chicken, turkey, and capon. This method, for one, guarantees the roasted chicken cooks evenly and oh-so deliciously. And once you master how to truss a chicken, you'll have a dinner-worthy rotisserie chicken that's just as tasty as the one from Boston Market! 
When trussing a chicken for your Boston Market chicken recipe, you need a high-quality unbleached kitchen twine (also called butcher's twine) to hold the poultry together. It shouldn't burn and melt easily when exposed to high temperatures. We suggest that you use kitchen twine that's made from a food-safe and oven-safe material, like cotton or linen twine. If you don't have a kitchen twine at your disposal, plain and unwaxed dental floss will be a great alternative. 
To

truss the chicken

, start by positioning the fowl on a cutting board with its breast side-up and legs pointing at you. 

Then, run a piece of twine underneath the legs and tailbone of the chicken. Cross one leg over the other and tie them together with a firm knot. 

Bring the strings over the wings and around the body of the chicken. Criss-cross the twine. 

Flip the chicken upside down so the back is directed up and the neck is pointed at you. 

Lastly, tie the kitchen twine securely under the neckbone. Snip off the excess string, and the chicken is ready to roast!
How to Cut a Rotisserie Chicken
Say you bought a pre-cooked Boston Market rotisserie chicken or made one yourself and want to carve it for dinner. No worries! Cutting rotisserie chicken is just like cutting up a whole chicken. 
It begins by cutting the twine that's holding the drumsticks together. It's best to use a sturdy meat fork to keep the roasted chicken steady as you saw through it. 

Next, gently draw one leg away from the breast. Using your carving or boning knife, cut through the joint connecting the leg to the body. Repeat for the other leg.

For the wings, simply hold the wingtip and slice through the wing joint. 

Finally when carving the breast, you just cut horizontally above each wing and make thin slices of the chicken breast.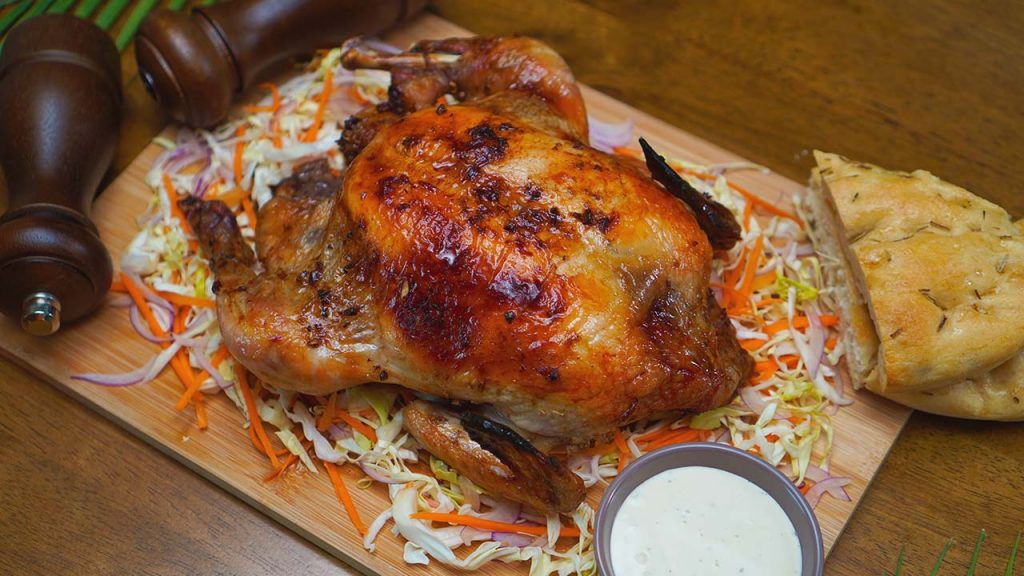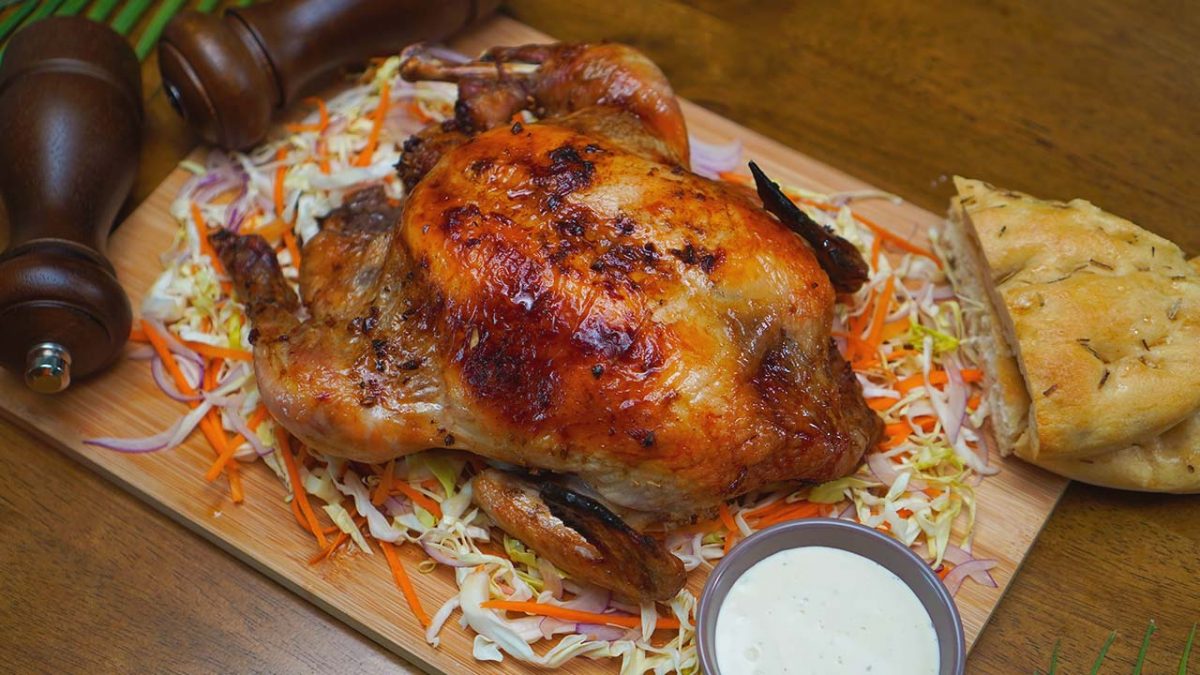 Copycat Boston Market Rotisserie Chicken Recipe
How To Make Copycat Boston Market Rotisserie Chicken
This copycat Boston Market rotisserie chicken is marinated in apple cider vinegar, brown sugar, and garlic. It's utterly delicious and easy to prepare!
Total:
1

days
1

hr
30

mins
Ingredients
¼

cup

apple cider vinegar

⅓

cup

vegetable oil

2

tbsp

brown sugar

4

garlic cloves,

minced

1

whole chicken,

trussed
Instructions
Combine apple cider vinegar, oil, brown sugar, and minced garlic in a small bowl.

Whisk until well-combined.

Then, pour the mixture over the chicken in a large glass bowl. Make sure to coat all sides of the chicken.

Cover the bowl with cling film and let it marinate in the refrigerator overnight.

The next day, flip the chicken over to marinate the other side. Let it marinate in the refrigerator for another 4 hours or more.

Remove from the refrigerator and let it rest at room temperature for 20 minutes before cooking.

Preheat the oven to 350 degrees F for 10 to 15 minutes.

Then, set the chicken in a roasting pan. Cook for 45 minutes to 1 ½ hour or until the chicken's internal temperature reaches 160 degrees.

Remove from the oven and let rest for about five minutes before carving and serving.

Place your homemade Boston Market rotisserie chicken on a serving plate and add coleslaw. Serve with focaccia bread and ranch dressing on the side. Enjoy!
Recipe Notes
If checking the chicken temperature with a meat thermometer, it's best to insert it in the thickest part of the chicken, such as thigh or breast. If you don't have a thermometer, simply poke the chicken with a fork. If the chicken juice is still red or pinkish, the chicken is still not fully cooked.

Always use a sharp knife when carving the rotisserie chicken.
Nutrition
Sugar:

6g

:

Calcium:

31mg

Calories:

596kcal

Carbohydrates:

7g

Cholesterol:

143mg

Fat:

47g

Fiber:

1g

Iron:

2mg

Potassium:

383mg

Protein:

36g

Saturated Fat:

23g

Sodium:

136mg

Vitamin A:

267IU

Vitamin C:

4mg
Nutrition Disclaimer
Frequently Asked Questions
Is Boston Market rotisserie chicken healthy?
Boston Market rotisserie chickens are always served fresh and never frozen. Plus, the popular restaurant also claims they only use US farm-raised chickens that are 100 percent antibiotic-free. To put it simply, the Boston Market rotisserie chicken, apart from being delicious, is absolutely healthy!
How to truss a rotisserie chicken without using twine or string?
You can truss a rotisserie chicken without a kitchen twine. First, locate two skin flaps on both sides of the cavity, near the legs. Using your knife, carefully slit the center of each flap. Try to widen the hole a little with your finger and make sure that the chicken leg will fit. Next, gently tuck the end of each drumstick into the slit on the opposite side. The legs should be crisscrossing together. Then, simply fold the tips of the wings and tuck them behind the back of the chicken.
What to do with leftover rotisserie chicken?
If you have any leftovers, you can whip up your own version of the savory Boston Market chicken pot pie. Shredding the leftover rotisserie chicken is also a great idea. Then, you can use the shredded rotisserie chicken to make enchiladas and casseroles. Or, you can take this as an opportunity to whip up delicious rotisserie chicken recipes, just like this rotisserie chicken noodle soup.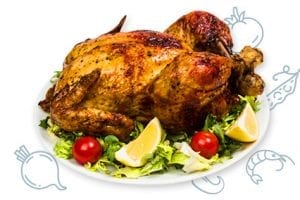 Conclusion
The Boston Market rotisserie chicken is brimming with mouthwatering flavors. Thankfully, you don't need a rotisserie to whip up such a delicious roasted chicken. All you need is an oven and some seasonings to amplify the taste of your chicken!