Italians typically serve classic Porchetta over bread. The meat packs more flavor than it looks and juices out a taste to die for. Above all, porchetta roast is definitely one of our favorite meat dishes, being flavorful enough to enjoy on its own.
With the perfect meat, herbs, and spices, as well as the best roasting pan, you can never go wrong with this porchetta recipe made easy.
What Is Porchetta?
Porchetta (pronounced as porketta) in Italian means "little pig". It refers to slow-roasted pork belly roll, pork loin, or whole pig, with the rind always included. Moreover, a classic porchetta recipe requires butterflying the pork, stuffing it with herbs, rolling and tightly securing it with butcher twine, and slow-roasting it to perfection.
Serving this Italian pork roast over a panino or panini bread, ciabatta buns, or filone rolls makes the iconic porchetta sandwich. In addition, you will also enjoy it with no other fillings or side dishes, simply because the roasted pork is savory enough.
How to Cook Porchetta in the Oven
In this boneless pork roast recipe, we're roasting boneless pork belly skin-on for an herby aromatic juicy pork with crispy mahogany skin. Aside from making fennel tea, you can also use fennel seeds to make an authentic Italian porketta roast. However, since it can be expensive and hard to find, we're using a simple porketta seasoning made of garlic, fresh rosemary, and pepper along with other aromatic herbs and spices. In addition, feel free to use your preferred spices for this recipe for the perfect blend of flavors that suits your liking. 

Tip:
For a variation on taste, using white wine for basting creates a delicate sauce for this dish, whereas red wine provides a gamier flavor.
When cooking porchetta, it's also important to control the pork roast temperature properly. Firstly, we're slow-roasting it at a low temperature to make sure the meat stays tender. Then, we raise the temperature to get that crispy and salty crackling skin. Lastly, we let the meat rest before carving, so that the skin won't sweat.
Check out our CAQ section down below for must-try dish pairings!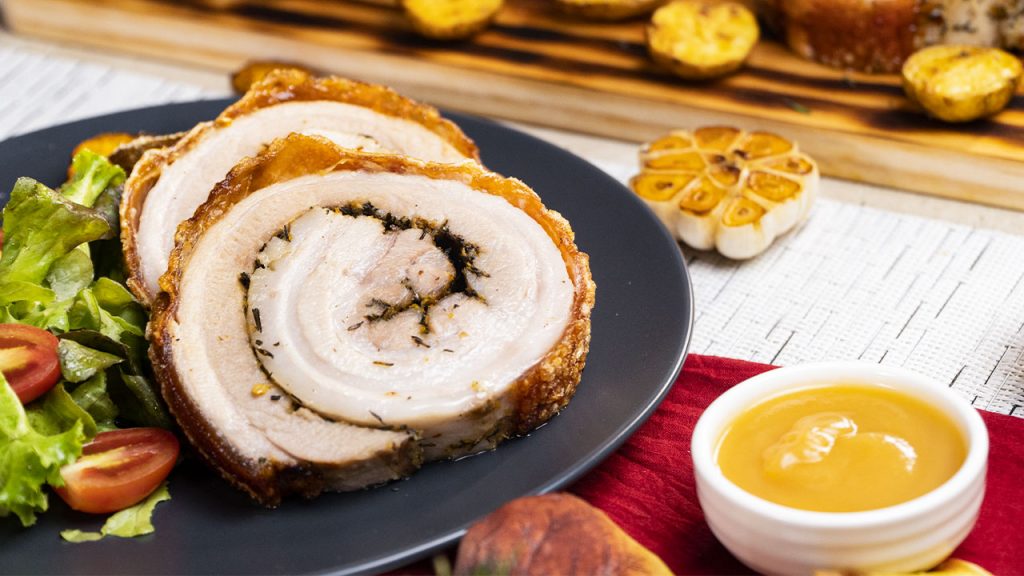 Porchetta Recipe
Try making the Italian classic tender herb-filled porchetta with crispy crackling skin with this easy to follow recipe. It's basted with flavor and aroma before being slow-roasted to perfection.
Ingredients
12

lb

pork belly,

(1 slab), boneless, skin on and not tied

zests,

of 2 oranges

⅓

cup

fresh thyme,

rosemary, parsley, dill leaves, or a combination of all, chopped

4

cloves

garlic,

peeled and roughly chopped

4

tbsp

olive oil,

if using, for basting

1

tbsp

salt,

coarse

½

tsp

chili flakes

½

tsp

ground nutmeg

6

cups

vegetable oil

butcher's twine
To Serve:
¼

oz

side salad,

of your choice, we used lettuce, tomatoes, & Italian dressing

¼

cup

sauce,

of your choice, we used applesauce

3

oz

potatoes,

cooked to your preference, we used crispy marble potatoes

1

lemon wedge,

per serving
Instructions
Layout your pork belly, flesh side up. Roll your pork belly, stopping at the point where a part of the skin will be rolled into the flesh. Mark this as a guide, then turn the skin side up.

Trim off the excess skin and fat using a sharp knife. This will prevent the porchetta from having a gummy texture once consumed.

Flip to its underside and make 1-inch deep cuts, 2 inches apart.

In a small bowl, combine your orange zest, fresh herbs, garlic, salt, chili flakes, and nutmeg. Set aside.

Sprinkle the prepared mixture all over the scored flesh of the pork belly.

Roll tightly and tie pork with kitchen twine, then keep chilled for at least 6 hours (best if overnight) to marinate the flesh, while drying out the skin as much as possible.

When ready to roast the porchetta, preheat oven to 250 degrees F and line a roasting pan with aluminum foil.

Set pork in a roasting pan, fat-side up. Roast for 3 to 4 hours or until the internal temperature reads 160 degrees F.

Baste your porchetta skin with the olive oil occasionally.

Once your pork internal temperature reads 160 degrees F, increase the oven temperature to its highest setting until skin turns mahogany and crispy, roughly 20 to 25 minutes.

Remove from the oven. Let meat rest for 30 minutes before slicing and serving.

Remove and discard the twine. Heat up your vegetable oil until smoking.

For an even crispier skin or crackling, pour your very hot oil around the porchetta just before serving. The skin should blister up as you drizzle the hot oil.

Serve with side salad, lemon wedges, sauce, and potatoes of your choice.
Nutrition
Sugar:

1g

:

Calcium:

64mg

Calories:

6681kcal

Carbohydrates:

4g

Cholesterol:

653mg

Fat:

708g

Fiber:

1g

Iron:

5mg

Monounsaturated Fat:

256g

Polyunsaturated Fat:

56g

Potassium:

1786mg

Protein:

85g

Saturated Fat:

354g

Sodium:

1722mg

Vitamin A:

290IU

Vitamin C:

19mg
Nutrition Disclaimer
Commonly Asked Questions
What to serve with porchetta?
The best sides for this flavor-packed dish would be those with starch, grain, or greens. A classic side for it would be broccoli rabe. But we also suggest pairing it with a green bean salad, roasted fennel, or grilled cauliflower steak for an even more enjoyable meal. You can also serve it with lemon sauce, fennel apple sauce, or other sauces that work well with roast pork.
Is porchetta served hot or cold?
Pork porchetta can be served either way. Traditional porchetta is sliced thinly and served cold on a sandwich. But we think that porchetta meat is best enjoyed hot with delicious pan juices, divine fat and flavors, and crunchy skin.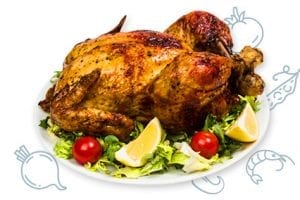 Conclusion
With the right cut of meat, aromatic herbs, and perfect cooking, we achieve the succulent meat and crunchy skin of this porchetta. Enjoy this juicy Italian pork roast on its own, on a sandwich, or with palatable sides.
Comments
Thonon-les-Bains sur Annuaire mairie

Comment is awaiting moderation.