When celebrating a special occasion, I always make sure to cook an extra appetizing meal. This time around, I chose from my list of tasty beef recipes and made a delicious oven-baked boneless ribeye roast. It's a simple yet flavorful ribeye roast recipe that you can easily make at home since the ingredients are kitchen-friendly. All you really need is to buy a perfectly marbled boneless beef ribeye roast at your local grocery store. This meat part is located at the beef's forequarter which is one of the most tender and flavorful sections of a cow. 
Don't confuse rib eye roast with a prime rib. Both meat parts do come from the same section of the cow, but a prime rib roast or a "standing rib" roast has bones included. The bones allow it to stand upright, and also add flavor and texture to the meat. What I used was a boneless ribeye roast which primarily focuses on the tender and marbled meat area of the ribeye. 
I personally prefer cooking this part of the beef. It's basically a boneless prime ribeye roast that's meatier and richer in taste, especially when it's cooked roast oven baked style. If you're unfamiliar with how to cook a ribeye roast, don't worry about pre-marinating it. Roasting this slab of meat is the best way to cook a ribeye. It's the ideal method to get its savory and meaty flavors. 
What I do is season the outside of the meat with salt and pepper. Then, I lightly brown the roast on a skillet for a few minutes before baking it in the oven. Doing this method will give your rib eye roast that perfect rare to medium-rare result. Or, feel free to adjust the cooking time to match your preferred doneness.
After it's done baking, let the meat rest for about 15 to 30 minutes before serving and slicing into ribeye steaks. I had some time left before the celebration so I made some homemade mashed potatoes and simple roasted garlic to really complete this appetizing meal. You can also pair this with vegetable side dishes like roasted brussels sprouts which taste amazing with the ribeye roast.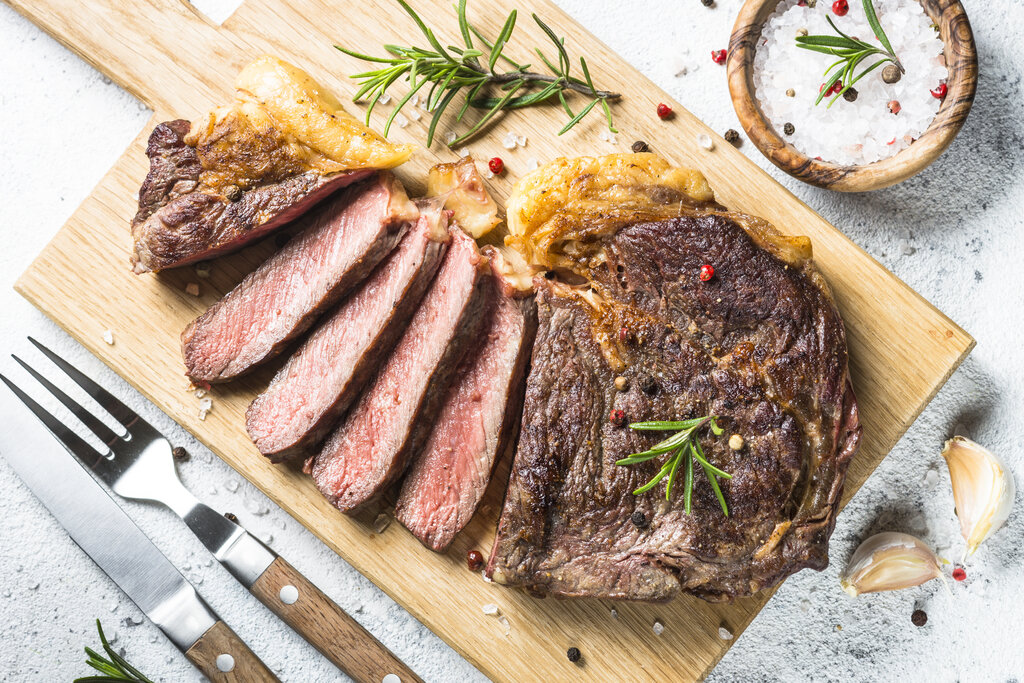 Ribeye Roast Recipe
How To Make Ribeye Roast Recipe
Enjoy a fancy lunch or dinner meal with this juicy and tender boneless ribeye roast recipe that's deliciously seasoned with salt and pepper.
Ingredients
6

lbs

ribeye roast

1

tbsp

kosher salt

½

tsp

fresh cracked pepper

3

tbsp

vegetable oil,

or truffle oil
Instructions
Preheat oven to 350 degrees F.

Drizzle a little vegetable oil over the roast. Coat roast liberally with salt and pepper. Heat a skillet to medium-high, and add the remaining oil to the skillet. Brown the roast on all sides by sauteeing it for 2 to 3 minutes on each side. Place the roast on a wire rack on top of a baking sheet.

Bake for approximately 20 minutes for each pound of meat. Use a meat thermometer to check for doneness. The cooking time is dependent upon the size of the meat that is used.

Let rest before serving, and enjoy!