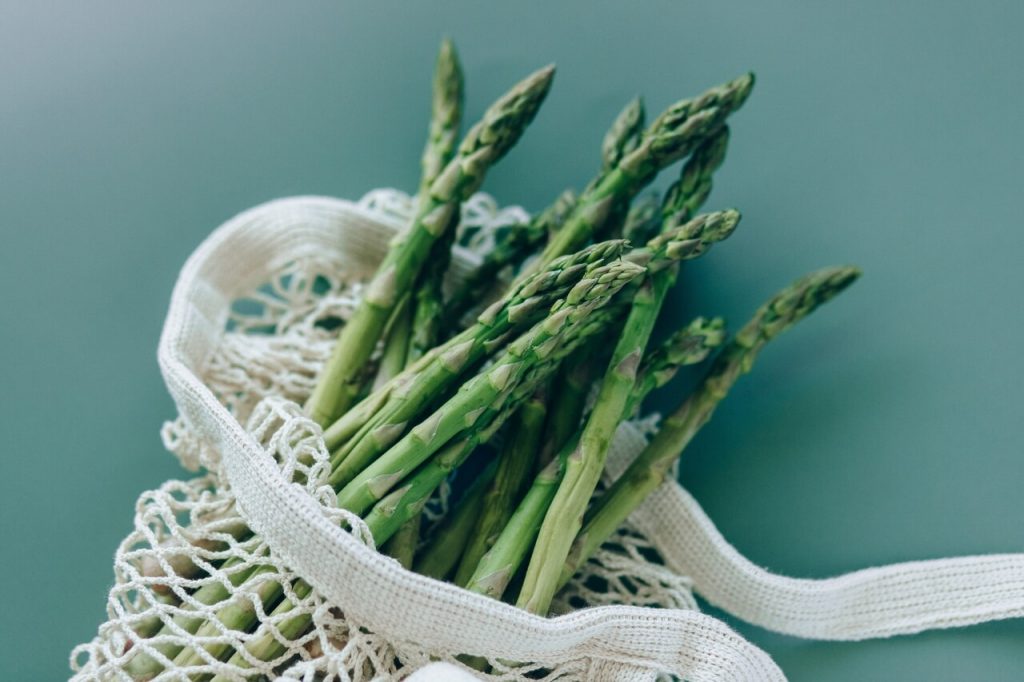 Can You Freeze Asparagus? Yes, Here's How
Asparagus has an unbelievably short shelf life of just three to five days. Even in the fridge, they don't last very long. In fact, they've probably gone bad before you could even add them to your list of salad toppings. Now you're thinking, what else can you do to extend their shelf life aside from storing them directly in the fridge? Can you freeze asparagus stalks instead? Yes, of course! This step-by-step guide on how to freeze asparagus should come in handy. 
How to Freeze Asparagus
Learning how to freeze asparagus stalks is easy as pie. Before we start though, remember that this freezing method works best for asparagus with thicker stalks. That is because the thicker the stalk, the better they hold up to low temperatures. But even if you only have pencil-thin ones, you can still follow this method. They will just have a higher chance of losing their crispness.
Now, how do you freeze asparagus properly? Here's what you have to do:
Step 1: Rinse the Asparagus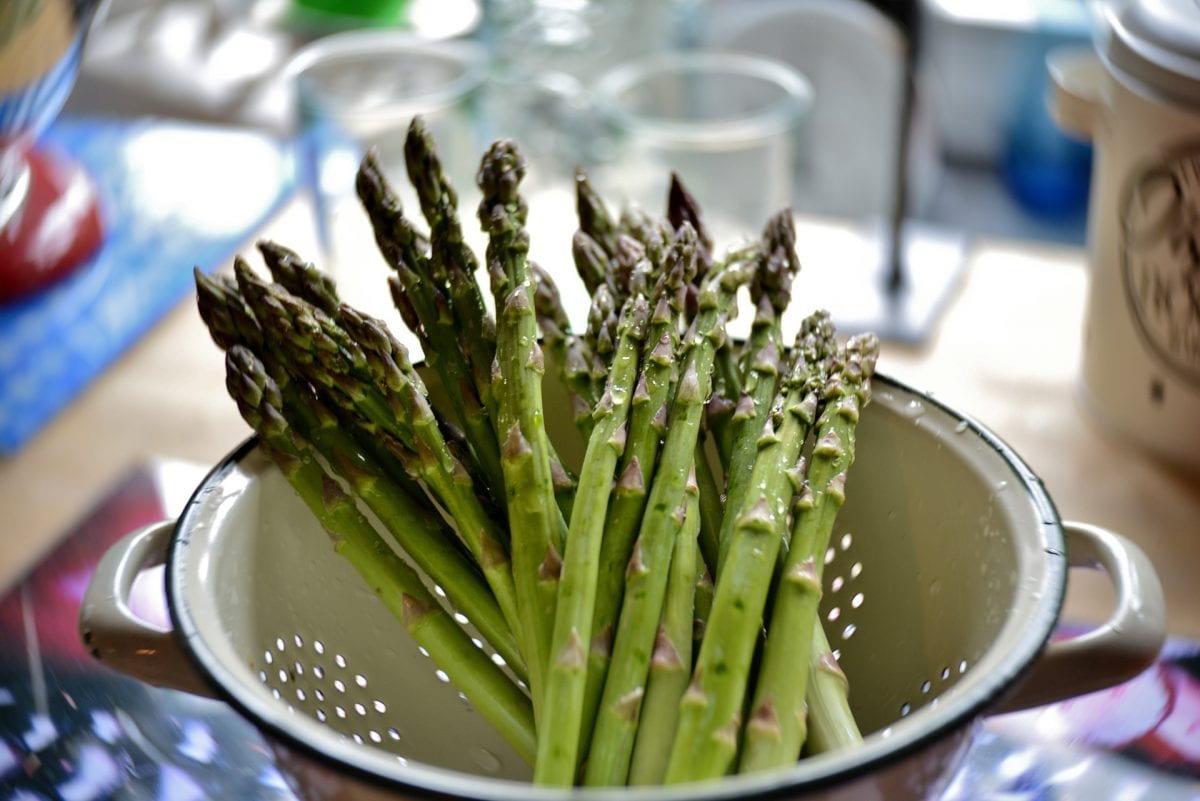 The first thing you have to do is wash the asparagus thoroughly under cold running water. Now, it's also the perfect time to comb the bunch for spoiled stalks. You're looking for stalks that are soggy, soft, and shriveled.
Appearance and smell are great indicators of spoilage. So you have to watch out for them when you check the stalks. First, the skin will start to turn dark green. Then, mold and a pungent smell would also appear as decay sets in. If your stalks display these signs, toss them in the bin. 
Fresh asparagus, on the other hand, will have a bright, rich green color with fading white stems. The tips should have a slightly darker color than the stalks. It should also have light purple highlights on the tips. 
Step 2: Trim the Asparagus Stalks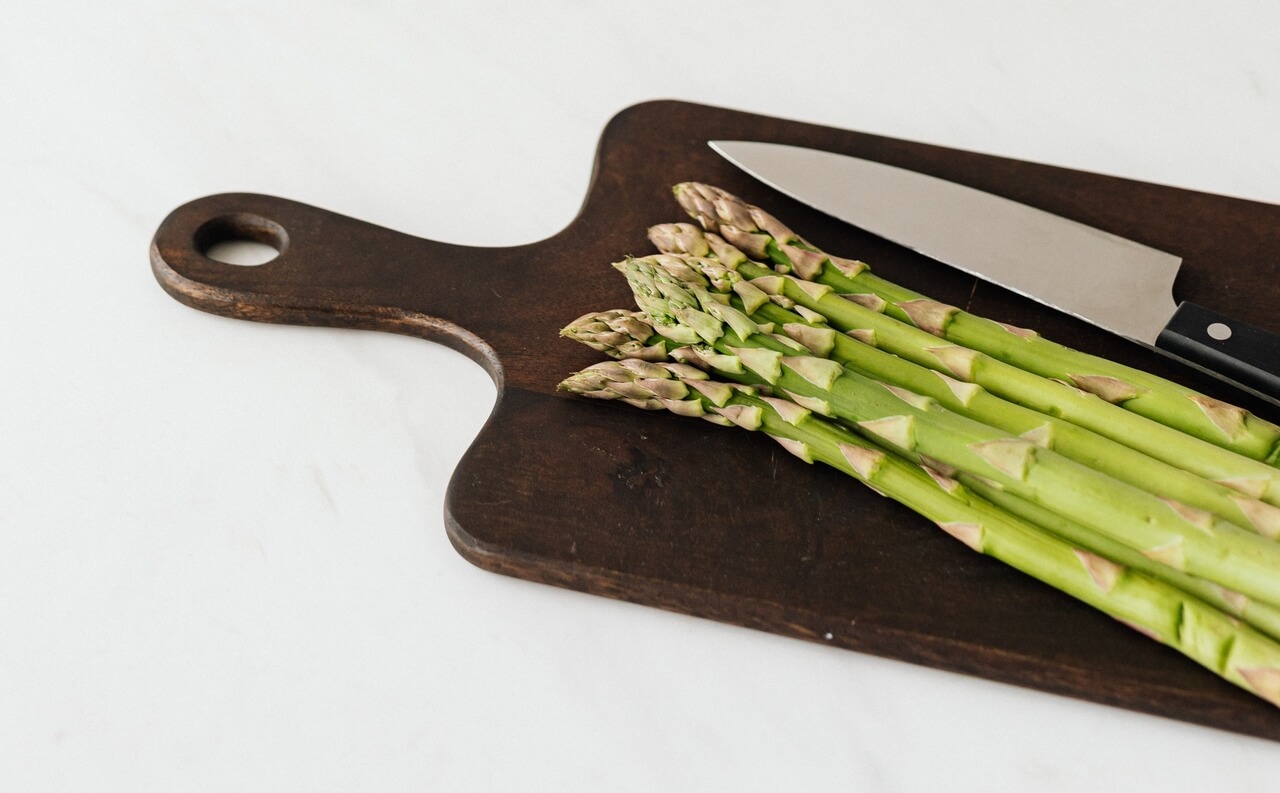 Before all else, there are three edible parts in asparagus: the stem (the fading white part at the end of the stalk), the spears (the vibrant green part in the middle), and the tips or immature shoots (the tips with darker color with light purple highlights). The inedible parts are the roots and the bottom ends because they become tough when cooked.
Now that you have gotten rid of spoiled stalks and learned the edible parts, it's time to trim your asparagus.
There are 2 ways you can do this:
The first is to

bend and snap them using your hands

.

The best (and fastest) way is by

using a chef's knife and cutting board

. Trim one or two inches off the woody stem or the bottom ends.
You can also use a vegetable peeler to get rid of any fibrous parts. 
For some, this is an unnecessary step. However, blanching will not only make your asparagus taste so much better, but it will also help retain its bright green color. Asparagus easily loses its color which makes this an actual necessary step if you want to avoid this.
Here's how to blanch asparagus: 
First, fill a

stock pot

with water and bring it to a boil. 

Meanwhile, prepare your ice water. Make sure it's placed next to the stock pot. 

Once the water is boiling, submerge asparagus stalks and blanch for 3 minutes depending on the size of the stalks. Or until crispy-tender but not mushy. See a more detailed guide on how long to blanch asparagus below. 

Transfer the asparagus to the ice water using a slotted spoon or a pair of tongs. Then wait until they cool down. 

Lastly, pat them dry using a paper towel or kitchen towel. 
Strictly speaking, the larger and thicker the asparagus stalks, the longer you need to blanch them. So remember, if you have different size stalks, blanch the thicker ones first before cooking the thinner ones.
Here's how long you need to blanch asparagus stalks according to thickness:
Small stalks – 2 minutes 

Medium stalks – 3 minutes

Large and thick stalks – 4 minutes

 
Step 4: Freeze Asparagus
After blanching asparagus, you're now ready to freeze them.
Transfer them into airtight freezer containers or zip lock bags complete with labels and the date you froze them. This is so you can easily keep track of their freshness.
Be careful not to overcrowd them though. Keep stalks on a single layer so they freeze quickly. 
Can You Freeze Raw Asparagus?
Can you freeze asparagus raw without blanching? You can. But many still prefer to blanch them to prevent the spears and stalks from going dull. It also retains the crispy texture and avoid them from going soggy and mushy.
Additionally, blanching them is the best way to keep asparagus fresh, green, and crispy even though you kept them in the freezer for months. 
READ ALSO: How to Freeze Broccoli: A Step-by-Step Guide
How Long Does Asparagus Last in the Fridge?
Raw, unblanched asparagus only lasts for about three to four days in the fridge. Meanwhile, if you blanch and store them in the freezer, they will stay good for eight to twelve months max if stored properly. Not only is freezing asparagus a great way to avoid food waste, but it also keeps your veggies fresh for when you need them.
Now, when you do freeze your stalks, you have to watch out for freezer burns. If you spot any dry parts or discoloration on your frozen asparagus, freezer burn has probably started. Using airtight containers, ziplock bags, or vacuum sealing helps avoid this. Otherwise, the low temperature will affect the texture and taste of the vegetables. 
How to Cook Frozen Asparagus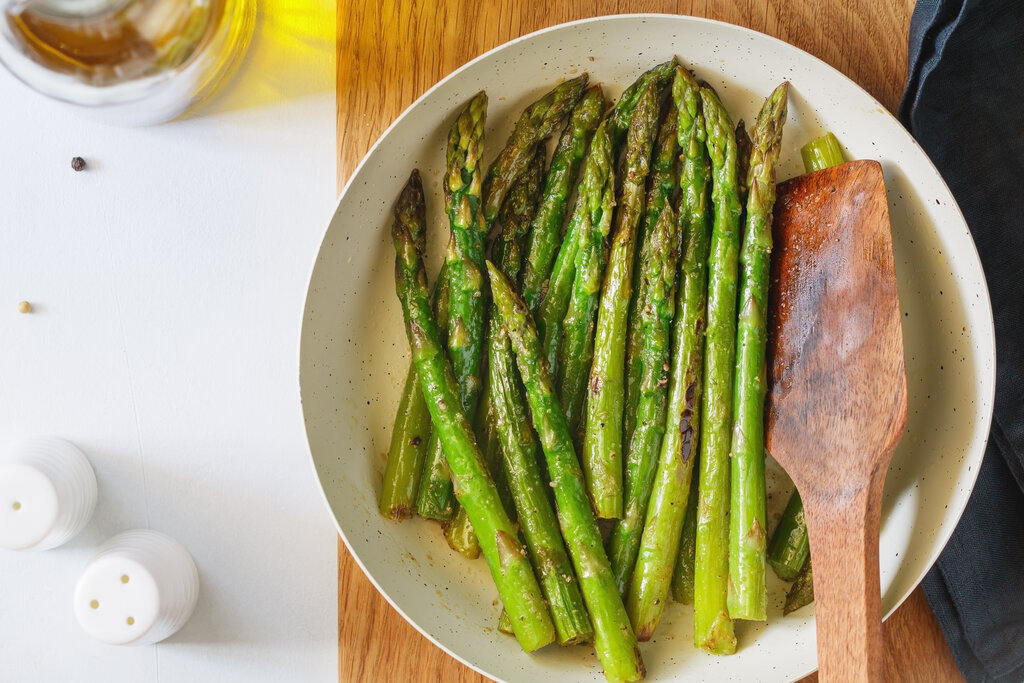 Just like all vegetables when frozen, the low temperature will certainly change the texture of the asparagus. Don't worry, it will just lose some of the crispness compared to when it's fresh. But technically, the flavor should still be there.
That said, how you can use them and what recipes they're good for will change. Adding them to fresh salad is definitely not an option because you need the freshest asparagus for these kinds of dishes. 
The best way to cook and use frozen asparagus is by pan-frying or roasting them to avoid them from going mushy. To do this, you can directly fry them after you take them out of the freezer. There's no need for thawing. Just throw them in some butter and fry for a minute or just until they warm. 
Another way is by adding them to stews, soups, and risottos. Just remember to add them last to avoid mushy veggies. Aside from this, you can also use them in a baked ham, asparagus, and potato casserole where the texture of the asparagus is not that important. This is also one good way to use up your frozen, blanched veggies. 
Yummy Asparagus Recipes to Try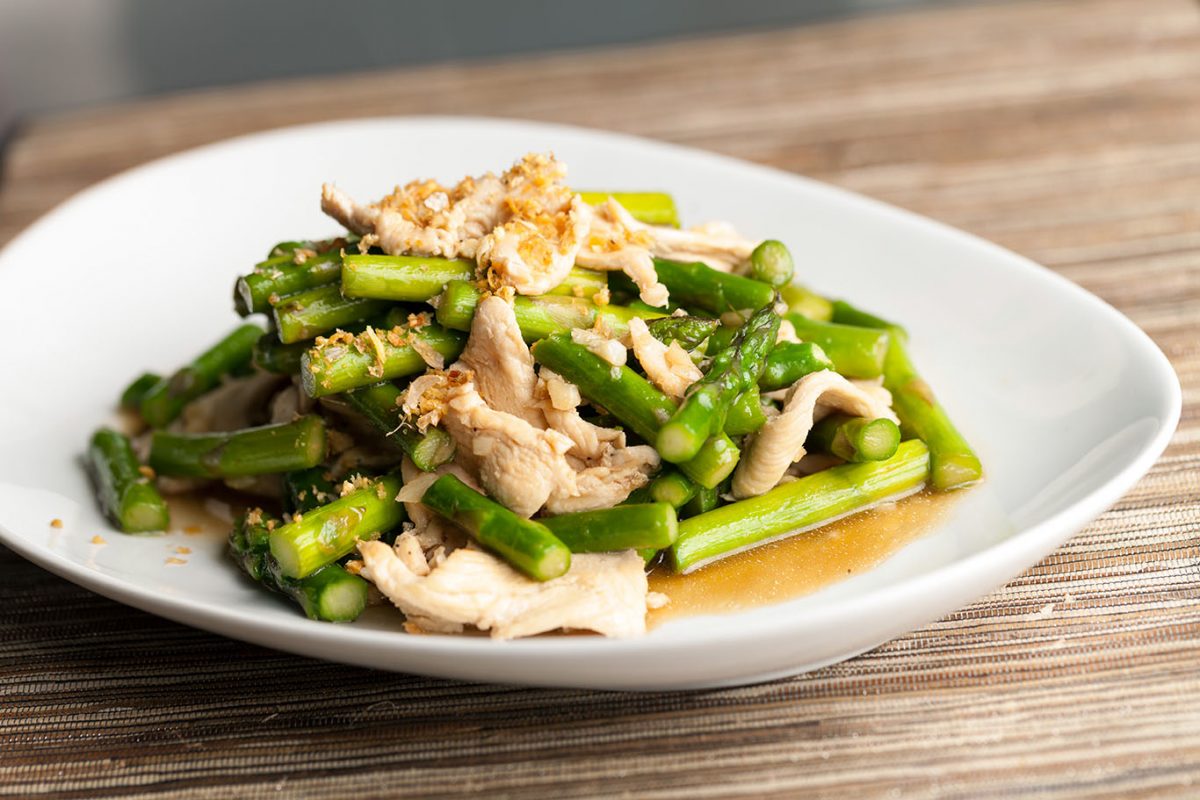 This beloved spring vegetable requires minimal effort to prep and cook. In fact, it cooks in just a few minutes!
Asparagus is usually used as a salad topping or as a side dish for steaks alongside mashed potatoes. But if you have too much in your pantry, it will go bad sooner rather than later, even with all those uses. Good thing you now know how to freeze asparagus!
Here are a few recipes you can try at home: