Tuck that generic can of apple pie filling back in that shelf because we've got a treat for you! Our gooey, deliciously bright homemade recipe is also perfect for more than pies. You're going to wish you had come upon this sooner. It has indulgent flavors of cinnamon and apple that taste and smells like fall. Impress your Thanksgiving crowd with this apple pie filling recipe. We guarantee it's going to make everyone come back for seconds.
Before the apple pie made it big in America, they were already common delicacies in England. The English adored their apple pies, and who wouldn't? They're sweet, the fruit in itself nutritious, and it's a delightful piece of dessert to end their meals. When people say, "An apple a day keeps the doctor away.", they weren't kidding! As it is, this fruit you'll be adding to your pie filling is full of healthy vitamins. It's good for your heart and has prebiotics that feeds your body good bacteria, protecting you from obesity and diabetes. Their antioxidant effects also help to prevent diseases like cancer and asthma. We call that a win.
Your palate will thank you for creating this easy-to-make filling! It's a quick recipe that won't take too much time and too many ingredients. Trust us, you will never want to go back to using canned filling anytime soon. Try this simple apple pie filling in place of the one for our unique Deep-Dish Apple Pie with Cheddar Crust recipe. If you're feeling adventurous, you can also use it as a filling for our Copycat McDonald's Fried Apple Pies. Learn how to make this gooey goodness in just ten minutes below!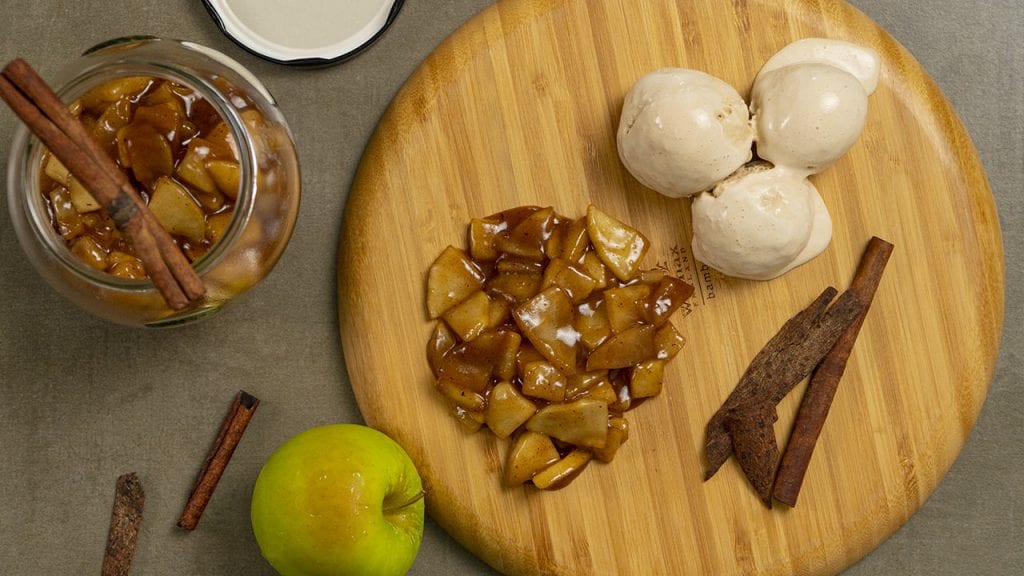 Gooey Homemade Apple Pie Filling Recipe
How To Make Gooey Homemade Apple Pie Filling
Indulge in a gooey, delightful apple pie filling that will change the pie game. Make your apple pies better without the fuss!
Ingredients
4

apples,

(7½ oz each), preferably Granny Smith's, peeled, cored, and sliced

5

tbsp

apple juice,

or water, divided

2

tbsp

unsalted butter

1

tsp

ground cinnamon

⅓

cup

brown sugar

1

tbsp

cornstarch
Instructions
In a saucepan, melt the butter, mix it with cinnamon, and stir.

Add in the apples, sugar, and 3 tablespoons of apple juice or water to the mixture.

Cook and stir the mixture for 5 to 7 minutes until the apples become tender.

In a small bowl, whisk together the cornstarch and the remaining apple juice.

Add the whisked cornstarch and water to the apple mixture.

Stir the overall formation until the filling thickens.

Set aside the mixture to cool or you may place it in a covered bowl and refrigerate overnight, or until ready for use.
Nutrition
Sugar:

77g

:

Calcium:

69mg

Calories:

464kcal

Carbohydrates:

95g

Cholesterol:

30mg

Fat:

12g

Fiber:

9g

Iron:

1mg

Monounsaturated Fat:

3g

Polyunsaturated Fat:

1g

Potassium:

484mg

Protein:

1g

Saturated Fat:

7g

Sodium:

17mg

Trans Fat:

1g

Vitamin A:

550IU

Vitamin C:

17mg
Nutrition Disclaimer
Frequently Asked Questions
Can I freeze my apple pie filling?
You can! Extend the lives of your apple pie filling by freezing them in an airtight container. Make sure to first cool these pie fillings to room temperature to avoid spoiling. Take note to leave ½ inch between the cover and the filling to give them some room to breathe. Store these for up to 4 months to retain their best quality.
How do I thicken my apple pie filling?
The cornstarch should help with the thickening of the filling. But if you want a thicker consistency, you can adjust the addition of cornstarch or flour. Don't add too much, though! You'll want them gooey, not gloopy, after all.
What kind of apples is the best to use for filling?
Granny smith apples are commonly used for apple pie fillings as they provide sour notes to balance out the sweetness of the sugar. They are also known for their firm texture, which helps retain their shape even in baking. But you can also try red apples such as Jonagolds, which are a great blend of sweet and tart flavor, with a firm texture. For a sweeter red apple, try using a Honeycrisp; though not as firm as the Granny Smiths and Jonagolds, they will still taste just as delicious with your filling!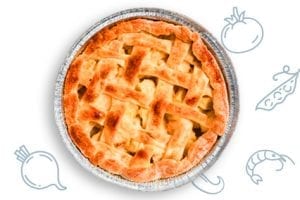 Conclusion
Skip the canned fillings and enjoy our rich and gooey take on apple pie filling! Your guests will be pleased that you made the extra effort. Not to mention how great it will be on just more than pies.
Topics: