When you're baking for a long time, you will know that practically almost all types of dessert require eggs. From cakes to cookies, eggs are such an important ingredient. But what if we tell you that you can make a chocolate recipe without eggs?
Yes, you have read that right. In this recipe, we are going to guide you through the process of making eggless chocolate chip cookies. As a result, the chocolate chip cookies will be lighter and still be moist. Discover how you can make this absolutely delicious treat by following these simple steps.
In addition to no eggs, find out what you can use to substitute for eggs. Don't worry, it may sound complicated at first but we assure you that it is going to be an easy task. Lastly, there are a lot of ingredients that can be used as a substitute for eggs. For instance, mashed bananas, ground flaxseed, and buttermilk are among the popular substitutes. Despite it being eggless, we have no doubt this is going to be an unforgettable treat for you. If you want to learn more eggless recipes, try our Eggless Pecan Pie.
Stunning Eggless Chocolate Chip Cookies Recipe
Ingredients
6

tbsp

butter

unsalted

1

tbsp

cream cheese

softened

3

tbsp

sugar

granulated

¼

cup

sugar

dark brown

¾

tsp

vanilla extract

⅛

tsp

salt

fine

¼

tsp

baking soda

¼

tsp

baking powder

⅓

cup

chocolate chips

½

cup

all-purpose flour
Instructions
Preheat your oven to 375 degrees F.

Using a medium-sized bowl, beat the butter and cream cheese on medium speed until it gets fluffy.

Continue mixing while adding both sugars. Add the vanilla extract.

In a separate bowl, whisk together the dry ingredients.

Sprinkle the dry ingredients on top of the butter mixture. Continue beating until well-combined.

Stir in the chocolate chips.

Chill the dough in the refrigerator for 30 minutes.

Scoop the dough into balls and place them on the baking sheet.

Bake for 8 to 10 minutes. Remove the cookies when edges are starting to brown.

Let the cookies rest for 1 minute. Serve and enjoy.
Commonly Asked Questions
How can I make my eggless chocolate chip cookies chewier?
The secret to a perfectly chewy eggless chocolate chip cookie is in the amount of cornstarch. Cornstarch can soften the proteins of flour and, in turn, can make your cookies chewier.
Is it okay to use oil instead as a substitute for eggs?
Yes, you can definitely use oil. However, make sure that you are using vegetable oil. The ratio for the substitution would be: for every 1 egg, use 1/4 cup of vegetable oil. A word of caution, though: if the recipe requires more than one egg, you may have to look for other substitutes such as applesauce or silken tofu instead of vegetable oil.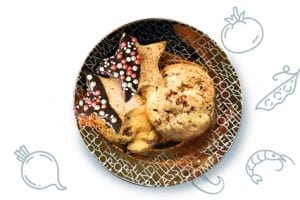 Conclusion
If you want chocolate chip cookies that are lighter and smoother in texture, this stunning eggless chocolate chip cookies will be the best choice. This is good for people who are monitoring their cholesterol intake.