This easy copycat recipe for Bob Evans biscuits will bring delight on any day. It's perfect for when you want good biscuits but there are no Bob Evans restaurants near you. In just 20 minutes, you can make light, soft, and lusciously buttery biscuits freshly baked right at your own kitchen. No fancy equipment is needed — just your hands, a work surface, and some love. Serve your homemade Bob Evans biscuits with butter and syrup or with scrambled eggs, sausage, and lettuce for a yummy breakfast sandwich.
Tips on Making Bob Evans Biscuits
What could be better than waking up to warm freshly baked pastries in the morning? Baking biscuits is easy, fun, and quick at the same time. Here are the best tips about making them.
Use good quality butter.

It'll be the overall flavor of your biscuits, so the better quality they are, the yummier your biscuits will be. You can use butter-flavored margarine, but real butter gives a way more superior flavor.
Keep the milk and flour cold

until ready to use. It'll help give the biscuits a better texture later on.
Don't overwork the dough.

You want to mix them just until the dough is smooth and all the ingredients are evenly incorporated. Otherwise, too much gluten will form, giving you dense and tough cookies.
Customize your biscuits!

You can toss in some chives and paprika to make savory biscuits. You can also add shredded cheddar cheese. For sweet biscuits, try rolling them into some cinnamon sugar before baking. It'll form a sweet crackly crust on the outside after baking.
Make the biscuits ahead.

You can shape the dough, lay them on a parchment paper-lined baking sheet, cover them with plastic wrap, freeze them, and bake them from frozen whenever you're ready to serve them! They will stay good in the freezer for 3 months. You can double or triple the recipe so that you'll have ready-to-bake biscuit dough anytime.
While these biscuits taste great on their own or simply topped with honey or jam, make it extra indulgent by pairing it with sausage gravy. After all, it's everyone's favorite way of eating Bob Evans biscuits! Check out this homemade version of Bob Evans sausage gravy and biscuits to uncover the secret to making a savory sausage gravy for your biscuits.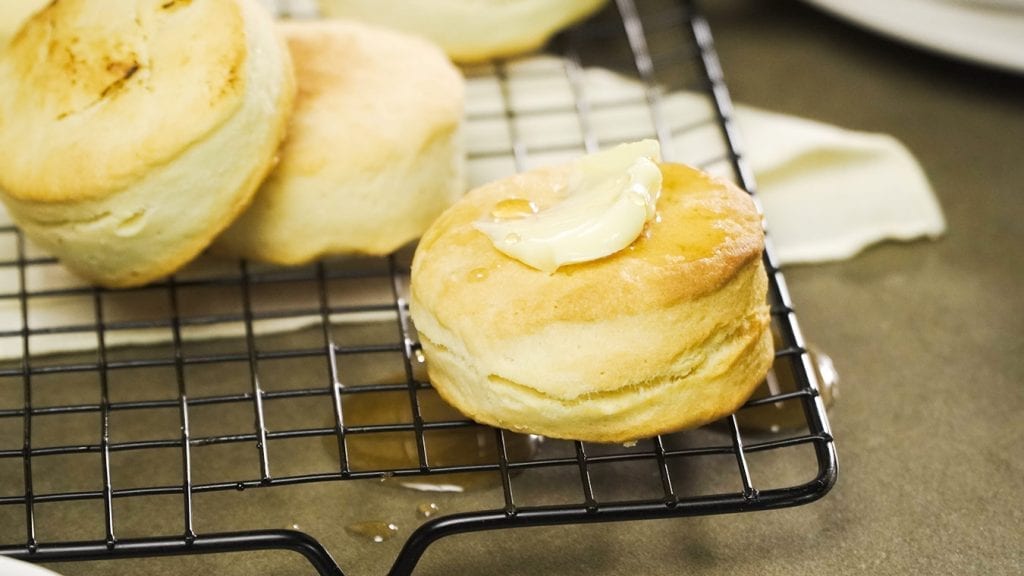 Bob Evans Homemade Butter Biscuits Recipe
How To Make Bob Evans Homemade Butter Biscuits
This Bob Evans biscuits recipe makes the best light, fluffy, and buttery biscuits using only 5 common pantry ingredients. Pair them with honey, maple syrup, or your favorite jam for a sweet breakfast.
Ingredients
2

cups

all-purpose flour,

plus more for dusting

½

cup

unsalted butter,

softened

⅔

cup

milk

1

tbsp

baking powder

½

tsp

salt

cooking spray
Instructions
Preheat your oven to 440 degrees F and grease a baking sheet with cooking spray.

Sift together the flour, baking powder and salt into a mixing bowl.

Add in the butter and milk. Mix well until the mixture holds together.

Dust your working area with flour, dump out the dough, and knead for roughly 10 minutes until it forms a smooth dough.

Flatten and cut the dough with a biscuit cutter or the top of a glass, into about 12 biscuits.

Place the biscuits on a baking sheet about two inches apart.

Bake for roughly 15 minutes or until golden on all sides.

Remove from the oven and allow to cool briefly.

Serve with spreadable butter, jam, or sauce of your choice. Enjoy!
Nutrition
Sugar:

1g

:

Calcium:

80mg

Calories:

152kcal

Carbohydrates:

17g

Cholesterol:

22mg

Fat:

8g

Fiber:

1g

Iron:

1mg

Monounsaturated Fat:

2g

Polyunsaturated Fat:

1g

Potassium:

43mg

Protein:

3g

Saturated Fat:

5g

Sodium:

210mg

Trans Fat:

1g

Vitamin A:

258IU
Nutrition Disclaimer
Frequently Asked Questions
What can I use instead of baking powder in biscuits?
Baking powder is actually made up of just baking soda and an acidic ingredient, usually cream of tartar, combined into one even mixture. You can easily make it at home! Just mix one part of baking soda with two parts of baking powder. Another way is to use ½ tablespoon of baking soda and 1 tablespoon of lemon juice or vinegar for this biscuit recipe. If you use buttermilk instead of regular milk, which is an acidic ingredient, then you can just use ½ tablespoon of baking soda instead.

Why are my homemade biscuits hard?
Your homemade biscuits will turn out hard if they are overcooked or cooked at a temperature higher than what the recipe calls for. It could also be because of using too much flour, so make sure to dust your work surface only lightly.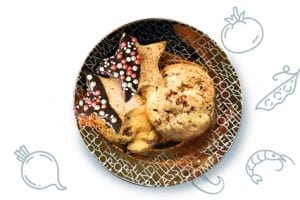 Conclusion
Enjoy a bunch of freshly baked biscuits by making this Bob Evans biscuits recipe at home! Melt-in-your-mouth light and buttery, they might just be your new favorite.