Calling all Oreo-lovers! This Oreo Caramel Delight recipe is made especially for you. A decadent dessert with an Oreo-crust topped with a smooth, caramel filling will undoubtedly make your day. Oreo is an all-time classic you wouldn't pass up in eating but we can definitely kick it up a notch. Our recipe wouldn't be complete without that sweet, decadent addition of caramel. As much as we want an Oreo dessert from top to bottom, the caramel introduces buttery notes that complement the chocolate biscuit. 
This caramel recipe is a dessert full of texture and flavor. As the oreo crust gives you a subtle crunch, you get acquainted with the salty flavor of smooth caramel and cream cheese. In addition, a layer of whole Oreos top the mousse for an exciting finish. It's a simple caramel recipe that lets you enjoy a creamy and delicious dessert after just two hours of chilling. A dessert is always best served chilled and this is one of those dishes that are worth the wait. You can always make this ahead of time. For some, it would last a few days. But with a dessert this good, it wouldn't last a second on the table! This caramel delight is perfect for any occasion. We recommend just having it in your fridge for a sweet pick-me-up in the middle of the day.  
To make this more fun, you can add in more layers as you wish. You don't have to stick with Oreos. You can even throw in chocolate chips or gummy worms but we have a different recipe for that. Our Oreo Dirt Cup is a savory glass of Oreos and gummy's. It's a recipe that the kids would definitely love so go ahead and try it out after making your Oreo Caramel Delight!
Oreo Caramel Delight Recipe
How To Make Oreo Caramel Delight
The best oreo-filled dessert you'll ever make, this Oreo Caramel Delight is a burst of flavors from the oreo crust to the mouth-watering caramel filling.
Ingredients
32

pcs

Oreo cookies,

Chocolate Cream

14

oz

caramel

½

cup

butter or margarine

1

can

evaporated milk,

5 oz

1

cup

confectioners' sugar

1

tsp

vanilla

8

oz

cream cheese,

1 pack, softened

16

oz

whipped topping,

1 tub, divided
Instructions
Finely crush the Oreos and spread 3 quarters of the crumbs at the bottom of a 9x13 rectangular pan.

In a saucepan, melt the milk, butter, and caramel together and pour them over the cookies.

Using a hand mixer, beat the confectioners' sugar, vanilla, and cream cheese together. Add in 2 cups of whipped topping and continue mixing.

Spread the mixture over the caramelized cookies.

Place the remaining whipped topping on top of the mixture and sprinkle on the remaining Oreo's.

Decorate the mousse with Oreos and refrigerate for at least 2 hours.

Divide it into 10 pieces and serve. Enjoy your decadent Oreo Caramel dessert and share it with everyone!
Nutrition
Sugar:

49g

:

Calcium:

189mg

Calories:

472kcal

Carbohydrates:

55g

Cholesterol:

38mg

Fat:

26g

Fiber:

1g

Iron:

1mg

Potassium:

258mg

Protein:

7g

Saturated Fat:

12g

Sodium:

346mg

Vitamin A:

829IU

Vitamin C:

1mg
Nutrition Disclaimer
Frequently Asked Questions
Can I make my own caramel?
Definitely! Caramel is easy to make and all you'll need is a cup of granulated sugar, half a cup of heavy cream, 4 tablespoons of butter, and a pinch of salt to taste. Combine them in a saucepan under medium heat, stirring occasionally until it has thickened. Voila! You've got yourself some homemade caramel.
 I don't have Oreo Chocolate Cream. Can I use a different flavor instead?
Yes, you can. Any flavor works with our recipe, especially if you're not a big fan of chocolate. The taste will definitely change depending on the flavor you'll use but it won't affect the texture.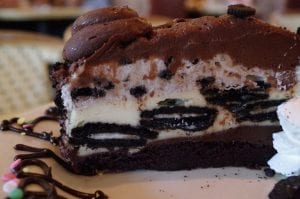 Conclusion
This recipe is perfect for Oreo-lovers out there. You can play with the flavors by switching up the type of Oreo you'd use. It's a simple dessert to get creative with using the this beloved sandwich cookie. This delightful treat has the rich and creamy texture that instantly melts in your mouth, which we're all guilty of loving.