You're sure to have a happy Halloween celebration with cute Halloween treats like our marshmallow recipe! 
In this recipe, we'll show you how to make Halloween candy treats with marshmallows and crispy rice cereal, perfect for serving at spooky parties during the Halloween season. It's mixed with melted butter, vanilla, and Crispy Rice Cereal, then coated with icing and chocolate. If you're making this recipe, our easy homemade Marshmallows Recipe is one you should not miss, especially when Halloween is just around the corner!
What Is Marshmallow: How Are Marshmallows Made, and What Are They Made Of?
No s'more or hot chocolate drink is complete without marshmallows! And in this Halloween treats recipe, our main ingredient will be the iconic, gooey confectionary. Marshmallow (not marshmellow, mind you) is a candy made from mixing and bringing to a boil sugar, corn syrup, and water. 
Aside from these ingredients, they also add gelatin, and sometimes flavoring and coloring. They whip up the mixture to incorporate air, turning it into something sweet and sticky. That mixture is then pushed through long tubes, which shape the marshmallows into the cylindrical candies they're known for today.
This gooey treat used to be special and was only offered to Egyptian gods and royalty. It was only until after the 1950s that the machine making modern marshmallows was invented. Since then, they became a popular dessert and recipe ingredient, used in s'mores, cakes, and even sweet potato casseroles. No wonder this sweet and fluffy treat also makes some of the best Halloween treats that kids love!
Making Easy Halloween Treats Using Marshmallow Candy 
Marshmallows are a popular addition to many well-loved foods like cake desserts as well as yummy cookie snacks, and it's no wonder why. Its sweet flavor and gooey texture is a joy to eat! It may not be good for their teeth, but it'd be a shame to deny kids the joy of eating tasty marshmallows!
And in this marshmallow recipe, we'll be using this sweet and sticky confectionery to make the best Halloween treats for kids! Once October 31 comes around, there's no doubt that the children will start trick or treating. You can give them these Krispie treats instead of the usual store-bought candy. We're sure that they'll love it! 
You can also make these as Halloween desserts if you're ever holding a party at home. So, not only are they great for the kids, even the adults will love a bite of it as well. If you're interested in trying our other marshmallow recipes, you'll love our Marshmallow Mermaid Pie as well as our Chocolate Marshmallow Haystacks.
How To Make Marshmallow Ghosts For Halloween
With our marshmallow recipe, we'll show you how easy it is to make delicious party desserts for Halloween. This recipe has simple and easy to follow that you'll surely pull off really well.
In making this recipe, you can skip making homemade marshmallows because you'll only be needing mini marshmallows which you can buy from any nearby store. The other ingredients are also easily obtainable if you don't already have them lying around in the pantry. And in just about 3 hours, you'll already have your very own cute Halloween treats to serve for a spooky celebration!
But the best part about this marshmallow recipe? You can ask the kids or other family members for help in making the sweet ghost treats! You can ask them to decorate the ghost's faces, and they can get really creative if they want to! Now that's family bonding.
If you're making a full-blown, Halloween-themed party, then you're in luck! We have tons of other Halloween treat ideas and recipes that you can try. 
For a really spooky vibe, we have a Butterfinger Eyeballs Recipe and a Jack-O-Lantern Cakes Recipe. And for drinks, may we suggest trying Wormy Swamp Punch Recipe?
How To Make Halloween Crispy Marshmallow Ghosts
Bite into crispy and gooey marshmallow-shaped ghosts as a treat this Halloween season! Our Halloween Crispy Marshmallow Ghosts are so spooky and delicious, the kids will surely love it.
Ingredients
6

cups

miniature marshmallows

8

cups

crispy rice cereal

⅓

cup

butter

1

tsp

vanilla

2

oz

semisweet chocolate,

semisweet and chopped
For Icing:
1

cup

granulated sugar

3

tbsp

water

1

egg white

1

pinch

cream of tartar

1

pinch

salt

½

tsp

vanilla
Instructions
In a saucepan, melt the butter over medium heat.

Stir in the marshmallows and mix until smooth.

Stir in the vanilla.

Scrape into a large bowl. Add the rice cereal and stir until well-coated.

Set a bowl over a saucepan of boiling water.

Using rubber gloves, shape the cereal mixture into 4-inch long ghost shapes.

Let the shapes stand for about 30 minutes, or until firm.
Icing:
On the top of a double boiler over boiling water, combine the sugar, water, egg white, cream of tartar and salt.

With an electric mixer, beat the mixture at high speed for 7 minutes, or until stiff glossy peaks form.

Fold the vanilla into the mixture.

Cover and refrigerate for 1 hour or until thickened.

After the icing has thickened, spread it over the ghost shapes. Let the ghosts stand for about 30 minutes, or until set.

On the top of a double boiler set over hot water (not boiling), melt the chocolate.

Pipe the melted chocolate into the ghosts to make their faces.

Decorate the ghosts by drawing faces with the chocolate, or use candies and licorice strings.
Recipe Notes
Don't be afraid to experiment with this recipe! You can try using

flavored marshmallows

instead of the regular ones for a more tasty snack. Chocolate-flavored marshmallows will give you that double-choco goodness, while strawberry

-flavored ones

will work to give an extra clash of flavor!

If you need different kinds of marshmallows, no need to look up keto,

vegan, or sugar-free marshmallow recipes

. You can always just inquire if your nearest grocery store has

keto marshmallows

 or other kinds that you prefer. It will help save time, especially if you're busy arranging the kids' Halloween party.
Nutrition
Sugar:

28g

:

Calcium:

5mg

Calories:

229kcal

Carbohydrates:

43g

Cholesterol:

1mg

Fat:

6g

Fiber:

1g

Iron:

1mg

Potassium:

39mg

Protein:

2g

Saturated Fat:

2g

Sodium:

73mg

Vitamin A:

193IU
Nutrition Disclaimer
Commonly Asked Questions
How to store Crispy Marshmallow Ghosts?
If you happen to have some leftovers from the Halloween party, you can easily store these treats for later. Place them in an airtight container, and store in the refrigerator for up to 3 days. No need to reheat, since the icing and chocolate faces may fall off if you warm them up. 
Can I make these treats in advance?
Yes, you can! While you can store them in the refrigerator, you can also freeze these Rice Krispies treats so they'll last longer. Layer the ghosts in between sheets of wax paper and place them in an airtight freezing container. They can last for up to 2 months when done so. Don't forget to thaw them first before serving to guests!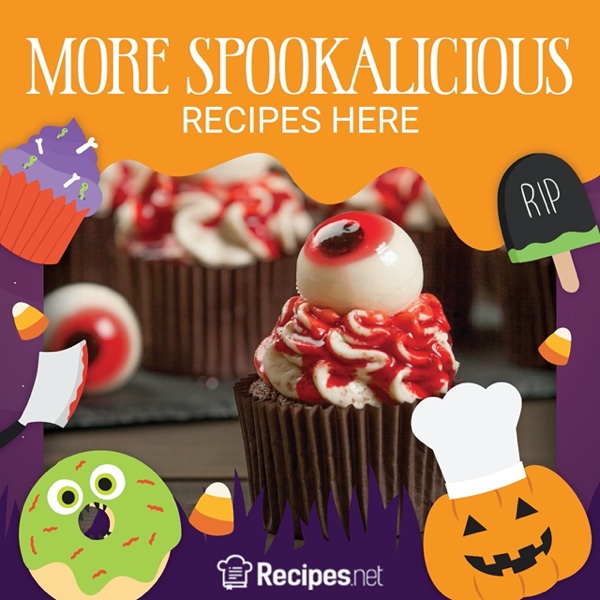 Conclusion
Make your Halloween celebration spooky and memorable with these cute Halloween Crispy Marshmallow Ghosts! It's tasty, crispy, and perfect for kids.
Topics: