Impress a crowd with this colorful recipe for M&M cookies! These chewy M&M cookies are light and sweet, making them the perfect afternoon snack. They taste a lot like Mrs. Fields' Rainbow Chocolate Chip Cookies, but better! We've added our own twist to the cookie favorite to meet all your cookies and M&M cravings.
Mrs. Fields is one of the best gourmet cookie companies known for creating the tastiest and most iconic flavors. From the classic chocolate chip cookies to the big and bold cookie cake, Mrs. Fields has it all. It's no wonder that even their M&M sugar cookies are still a popular favorite to this day.
Why Everyone Loves Mrs. Fields M&M Cookies
In fact, who wouldn't love a good cookie that's dotted with the colors of the rainbow? It's a fun-looking snack that kids and adults alike are sure to enjoy. Their chocolate M&M cookies are a new twist to the chocolate chip classic. Each cookie has bits of M&M chocolate candies after each chewy and soft bite. The best part is, these candies keep their shape in baking, so you get a bit of crunchy bite per cookie! These cookies make for the best little treats to have especially for the little ones.
Mrs. Fields was inspired by the original M&M sugar butter cookies and recreated their own. They bake each rainbow cookie to golden brown perfection, then individually wrap them. This method helps to keep their products fresh and taste as if they've just come out of the oven. And this is true for the rest of their yummy cookies. While you can find these in several groceries, nothing beats baking homemade cookies!
That's why we've come up with the best M&M cookies recipe that'll taste just as good as Mrs. Fields. Stick around as we show you how to make M&M cookies that you can enjoy making at home.
A Better M&M Cookies Recipe
Every recipe has its own "secret ingredient" that makes it more unique than others. In our case, the secret ingredient is coconut oil. Many will find it odd to use coconut oil in cookies, of all things. But incorporating this ingredient helps to make your sugar cookies with M&Ms soft and chewy. They also add the tiniest hint of coconut flavor for extra richness. But you can check out our CAQ below to determine what kind of coconut oil to use for this recipe. Also, don't forget to check our Recipe Notes for instructions on how to melt the coconut oil so you can measure it properly. Coconut oil is a wonderful and tastier alternative for butter, one you can also use for other baked goods.
Another ingredient that helps us create that soft and chewy texture is the use of raw sugar. But why not just use plain white sugar or even brown sugar? Raw sugar's less refined texture will help to build the texture for your M&M cookies. They also retain their natural molasses, which will give the cookies a faint, caramel-like flavor. It's a great in-between from the more brown and light cookies. This helps the M&M chocolate candies shine on the cookie.
You will never find a more remarkable M&M sugar cookies recipe like this! Make these at your next bake sale, give them as little gifts for Christmas, or simply make them because you want to. For more fun M&M recipes, check out our M&M's Brownie Trifle Recipe and M&M's Crunchy Snowballs Recipe!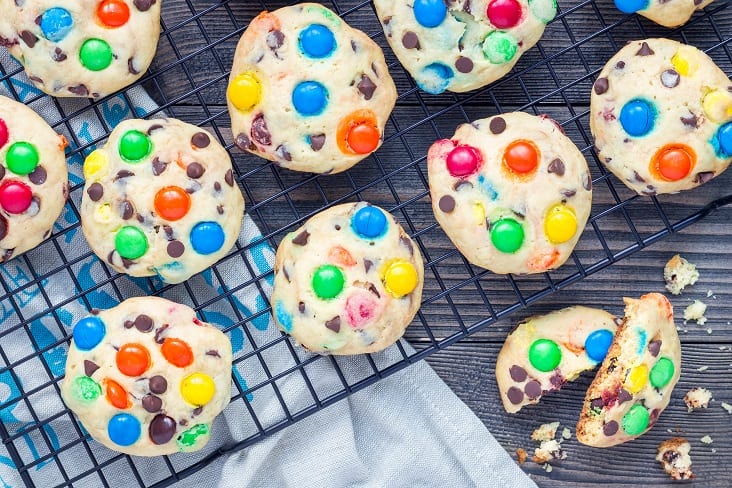 Better-Than-Mrs. Fields M&M Cookies Recipe
How To Make Better-Than-Mrs. Fields M&M Cookies
A batch of super soft and chewy Chocolate M&M cookies is just the right afternoon snack. They have a tasteful, crunchy bite from the whole M&M chocolate candies to match the chewiness of the cookie.
Ingredients
1½

cup

whole wheat flour

2

tsp

cornstarch

1

tsp

baking soda

1

tsp

baking powder

½

tsp

salt

¾

cup

coconut oil,

melted

1

cup

raw sugar

2

large

eggs

1

tbsp

vanilla extract

⅔

cup

M&M's Chocolate Mini Baking Bits
Instructions
Preheat the oven to 375 degrees F.

In a bowl, whisk the whole wheat flour, cornstarch, baking soda, baking powder, and salt together. Set aside.

In a large bowl, pour in the melted coconut oil.

Add in the eggs, vanilla, and sugar into the melted coconut oil, and whisk well.

Add the combined dry ingredients slowly to the wet mixture.

Whisk or stir until just combined. Then stir in the M&Ms.

Line the cookie sheets with parchment paper.

Form dough into balls about 2 tablespoons in size.

Flatten the dough balls onto the cookie sheet, leaving about 2 inches of space between each cookie.

Bake for 9 to 12 minutes until the cookies' center is set. Then transfer the cookies onto a wire rack to cool.

Serve warm with a glass of milk, and enjoy!
Recipe Notes
To get that classic cookie look, press at least four or five M&Ms on top of the cookie after it's taken out of the oven.

Make sure you're using melted coconut oil for this recipe! To melt the oil, scoop a cup of solid coconut oil onto a microwave-safe measuring cup. Place it in the microwave to heat for 30 to 40 seconds until melted. Gently stir the coconut oil and check

if

the measurement

is

as required by the recipe.
Nutrition
Sugar:

14g

:

Calcium:

29mg

Calories:

186kcal

Carbohydrates:

22g

Cholesterol:

20mg

Fat:

10g

Fiber:

1g

Iron:

1mg

Potassium:

42mg

Protein:

2g

Saturated Fat:

8g

Sodium:

158mg

Vitamin A:

43IU

Vitamin C:

1mg
Nutrition Disclaimer
Frequently Asked Questions
What kind of coconut oil should I use for M&M cookies?
If you wish to have that distinctive coconut flavor to your cookies, we recommend using unrefined coconut oil or also known as pure or virgin coconut oil. These are made from fresh coconuts and undergo minimal processing. But if you wish to opt out of that coconut taste to your cookies, using refined coconut oil will work just fine. They have a more neutral scent and flavor, and are made from dried coconuts.
What kind of M&M candies should I use?
We highly recommend using classic M&M milk chocolate. But you can definitely add up your own twist to this by using your favorite flavors. Some flavors that would work include peanut, caramel, pretzel, crispy, or almond M&M's.
Can I freeze M&M cookie doughs for later?
You definitely can! Simply roll your M&M cookies into dough balls and place them on a baking sheet. Let that freeze for about an hour before taking them out to transfer onto an airtight container. This dough should last for up to 2 to 3 months. To bake, preheat your oven to 325 degrees F and let them bake for 12 to 15 minutes.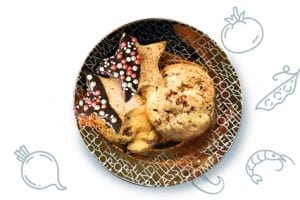 Conclusion
Afternoon snacks just got more interesting with a batch of chewy M&M cookies! These cookies are inspired by Mrs. Fields, but they taste even better with our recipe. You can make these in batches to share or sell or simply munch on for yourself. Enjoy them with a warm glass of
Almond Dream Milk
for the perfect snack serving.