It's trick-or-treat time! Haunted by the sugary Halloween desserts? You're in for a treat! We're offering you this easy healthy sugar-free gummy worms recipe. Oh, yes, you read that right. We're going sugarless for these deliciously chewy treats. So you can chomp on these yummy candies, with zero-guilt. It's just as delicious! And you'll surely enjoy your low-carb Halloween celebration!
For other sugarless treats that you can serve for your diet-friendly spooky party, try our Sugar Free Dark Chocolate Nut Fudge. Your guests will love this healthy chocolatey dessert. Have a healthy Halloween!
Gummy Worms for Kids and Adults
Gummy worms, cousin to the original gummy candy, gummy bears, have been making every child squirm with delight since 1981. This gummy candy has always been loved by kids all over the world. Well, it is not surprising that gummy worms are one of the most well-loved candies ever. In fact, they're so popular that there's even a national day in America—July 15—dedicated to celebrate their awesome deliciousness.
And who says only kids can enjoy these chewy, flavorful, gelatinous snacks? Gummy worms soaked in vodka is a popular adult treat. The gummies absorb the alcohol and pack a little extra punch, giving your favorite treats a little kick. Not into alcoholic gummy worms? No worries. You can just have fun with a worm-filled drink with our  Wormy Swamp Punch Recipe instead.
How To Make Sugar free Low Carb Gummy Worms
We all grew up with gummy bears and gummy worms. If you love these ooey-gooey treats (because who wouldn't?) as a kid or even as an adult, you'll be surprised. These wriggly snacks are easy to make at home! Not only are homemade gummy worms easy to prepare, they are more flavorful and have a better texture than the off-the-rack gummy worms. So, skip the store-bought version and we'll teach you how to make gummy worms at home.
If you are on a low-carb diet, we've got tricks so you can still enjoy these wriggly candy worms—without the sugar. And just because they're sugarless, it doesn't mean they are flavorless. In this gummy worms recipe, we'll be needing just a handful of ingredients: Jell-O,  Kool-Aid powder and gelatin powder.
What's good about this recipe is you can customize your gummy worms by picking your own flavors of Kool-Aid. You just have to make sure they're unsweetened. Another fun way to experiment with these homemade gummy candies is by mixing different flavors or colors of Jell-O. As long as they're sugar-free, you're good to go. But red and orange will make realistic gummy worms if you are aiming for a spooky vibe. These sugar free gummies are perfect for your low-carb Halloween party!
Now, to complete the creepy vibe for your Halloween Party, you might want to include Oreo dirt cake with gummy worms on your food list.
How To Make Sugar-Free, Low-Carb Gummy Worms
If you're on a low-carb diet and are craving the wriggly fun of gummy worms, try this gummy worms recipe. You'll enjoy these deliciously chewy treats—without the sugar. It's also great for a low-carb Halloween celebration!
Ingredients
1

pkg

Jell-O® ,

sugar-free, large, 2 small pkg is also viable

1

pkg

Kool-Aid® powder ,

unsweetened, any flavor

3

envelopes

gelatin powder,

unflavored

1

cup

boiling hot water
Instructions
Stir together all ingredients until they dissolve. This may require a bit of time to do.

Pour the mixture onto a dinner plate and allow it to set for at least 20 minutes.

Chill the mixture for around 2 hours in the refrigerator until it is completely set.

Peel the gelatin disk from the plate and roll it up like a jelly roll and slice it into thin shears.

Lastly, serve your healthy gummy worms. Enjoy!
Recipe Notes
You can make use of different candy molds and shapes if you like. If you don't have any candy molds, you can replace them with a few alternatives you probably have around the house. Regular ice cube trays or mini muffin tins will also work well.
Nutrition
Calcium:

1mg

Calories:

49kcal

Carbohydrates:

10g

Fat:

1g

Iron:

1mg

Protein:

3g

Saturated Fat:

1g

Sodium:

56mg

Sugar:

9g
Nutrition Disclaimer
Commonly Asked Questions
How long do homemade gummy worms last?
The shelf life of gummy worms fully defends on the storage conditions. If properly stored in an airtight container or heavy-duty plastic bag, gummy worms will last for up to 5 days at normal room temperature and for about a week in the fridge.
Can I freeze gummy worms?
Yes, you can freeze gummy worms. Make sure to keep them in a tightly-sealed container or heavy-duty freezer bag. If properly stored, your gummy worms will still be good for about 12 months.
How to make multi-colored gummy worms?
If you want to get extra creative with your gummy worms, you can try to mix and match different colors or flavors of Jell-o. Hold two filled droppers at once, and gently squeeze the droppers into each end of the worm mold at the same time. Try to be experimental and make use of other varieties of colors and flavors. Your guests will surely enjoy your multi-colored sugar free gummy worms!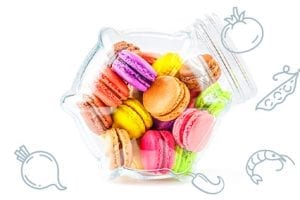 Conclusion
What's Halloween without crawly worms to freak out your guests with, right? But you no longer have to go out of the house to buy these wiggly treats for this coming Halloween. This gummy worms recipe is easy and inexpensive. And you don't have to worry if you're on a low-carb diet because they're sugarless. Enjoy and have a healthy Halloween!
Topics: