Reminisce your trips to the carnival by making this DIY cotton candy recipe in the comfort of your own home! Best of all, we're making this homemade cotton candy at home without a cotton candy machine.
Also known as candy floss or fairy floss, cotton candy is a melt-in-your-mouth sugar confection that has a sweet scent lingering on each bite. They sometimes stick to your fingers and have that slight crunch from crystal sugars. Cotton candy comes in varieties of flavors and colors (like red and blue), making them a true carnival and amusement park staple alongside baked corn dogs and onion rings. 
What's In Our Homemade Cotton Candy?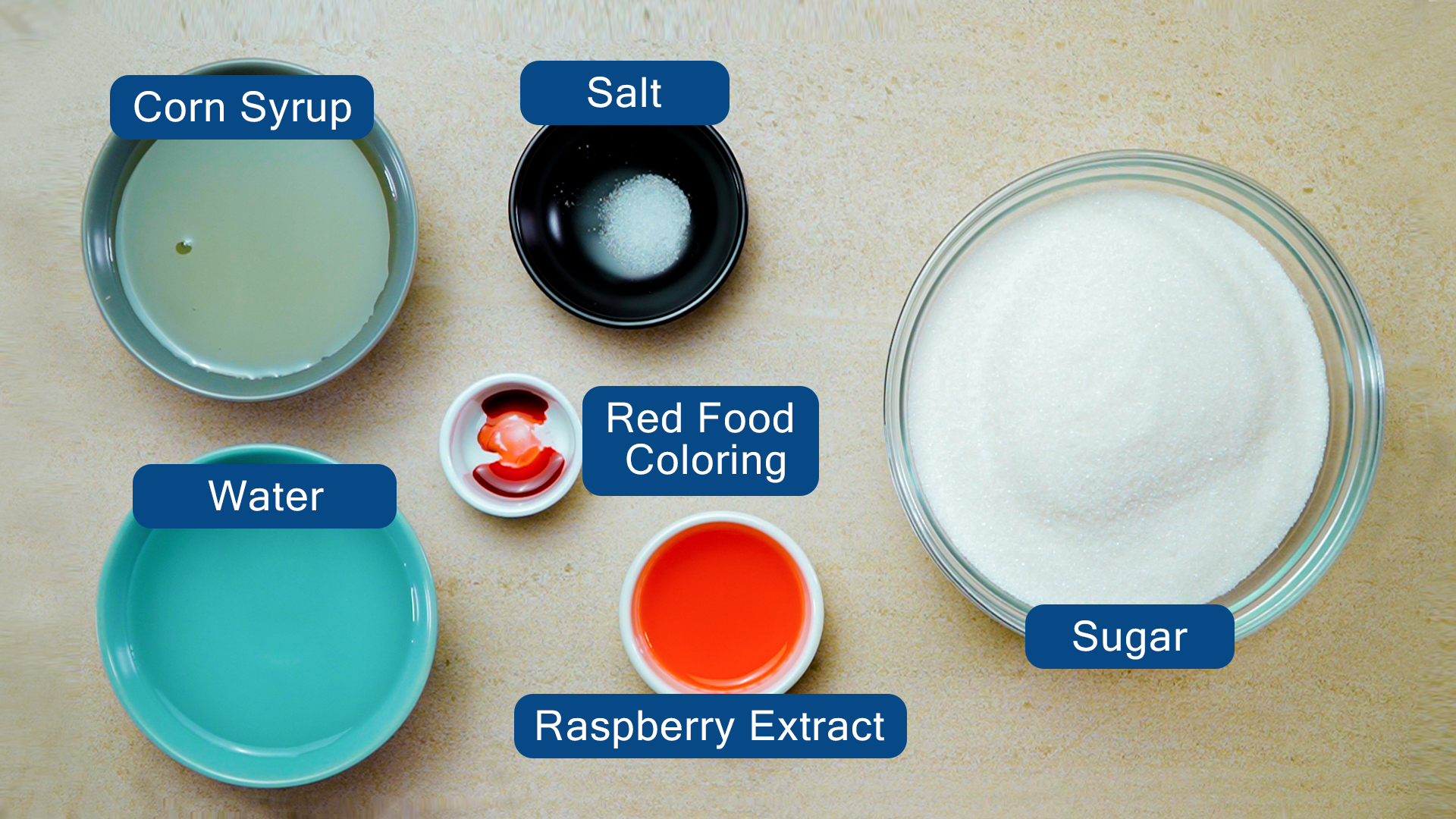 Unlike other candies in the market, cotton candies are not as easily accessible to everyone. While there may be a few packed versions on your favorite grocery aisle, its nostalgic scent and flavors are just not the same as the freshly made ones from the carnival. But don't worry because we've got you all covered! 
In this homemade cotton candy recipe, know what type of sugar is best used to experiment with your cotton candy flavors!
To give you a rundown, here are the ingredients what you will need for this cotton candy recipe: 
Sugar

– instead of using the pre-mixed floss sugar, we used granulated sugar for this

cotton candy recipe.

 

Raspberry extract

– the most common

cotton candy flavor

is blue raspberry, but as raspberry extract is more readily available in local grocers, we recommend using this ingredient instead. Although, you may also use other flavors of your choice to make this

cotton candy recipe

uniquely your own.

Water

– this homemade version uses boiling water to help the corn syrup, sugar, and salt melt into a syrup.

Corn syrup

– this will help prevent your sugar mixture from crystallizing and will keep them pliant during the cotton candy-making process.

Salt

– adding salt helps enhance and balance out the sweet flavor of your cotton candy.

Red food coloring

– typical cotton candy color is red, but feel free to experiment with colors and try to mix and match it with your flavorings!
How To Make Homemade Cotton Candy
Now, how to make cotton candy, you may ask? These light and airy spun sugary treats are generally made using a specialized machine. Luckily, we have some tips and tricks up our sleeves in so you can try this homemade cotton candy recipe easily without a cotton candy machine. 
So get your cotton candy ingredients ready! We're about to show you how to make DIY cotton candy a whole lot of fun with our easy recipe. 
1. Combine the ingredients except the extract and coloring into a saucepan.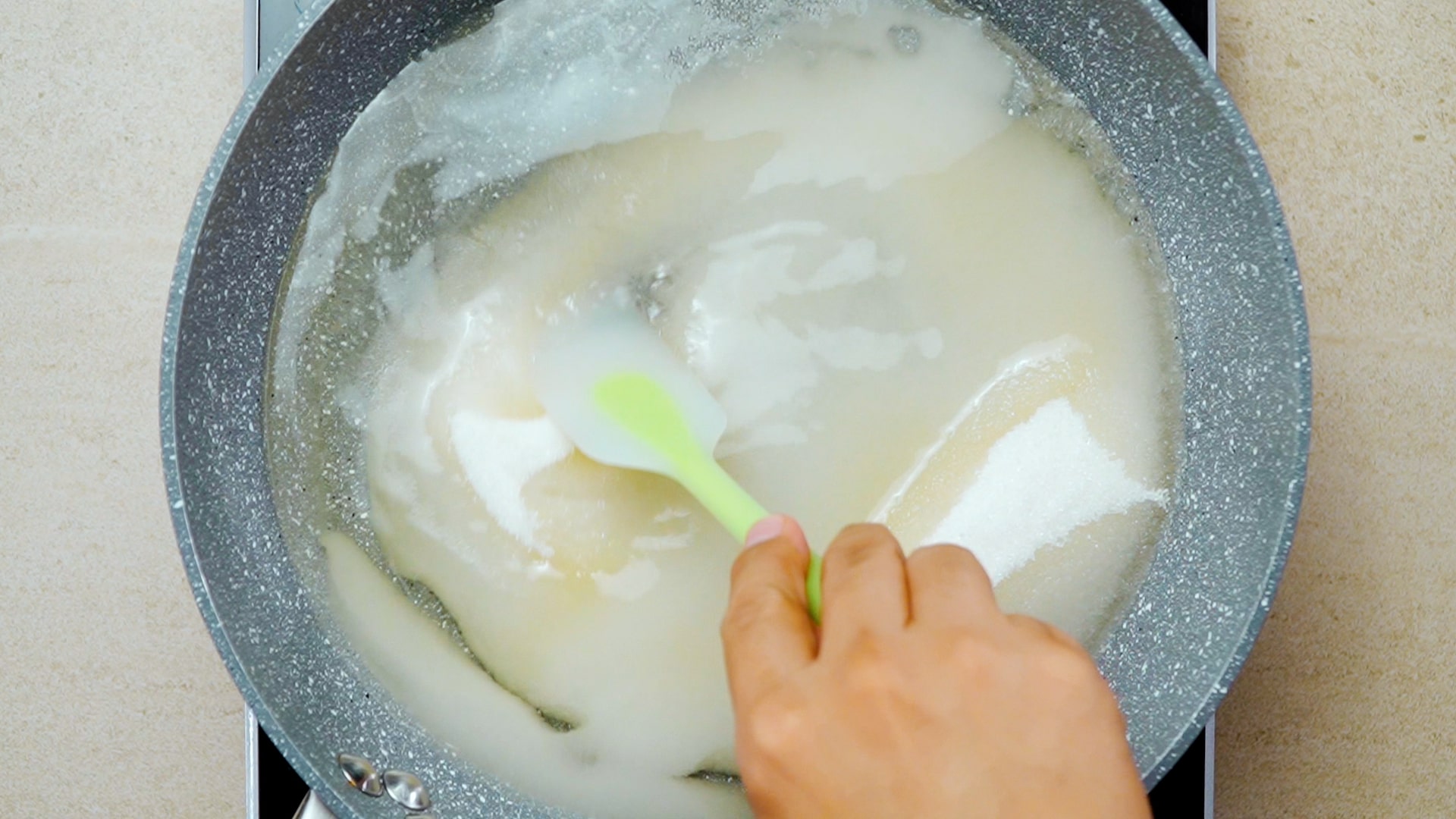 2. Heat the mixture to 320 degrees F.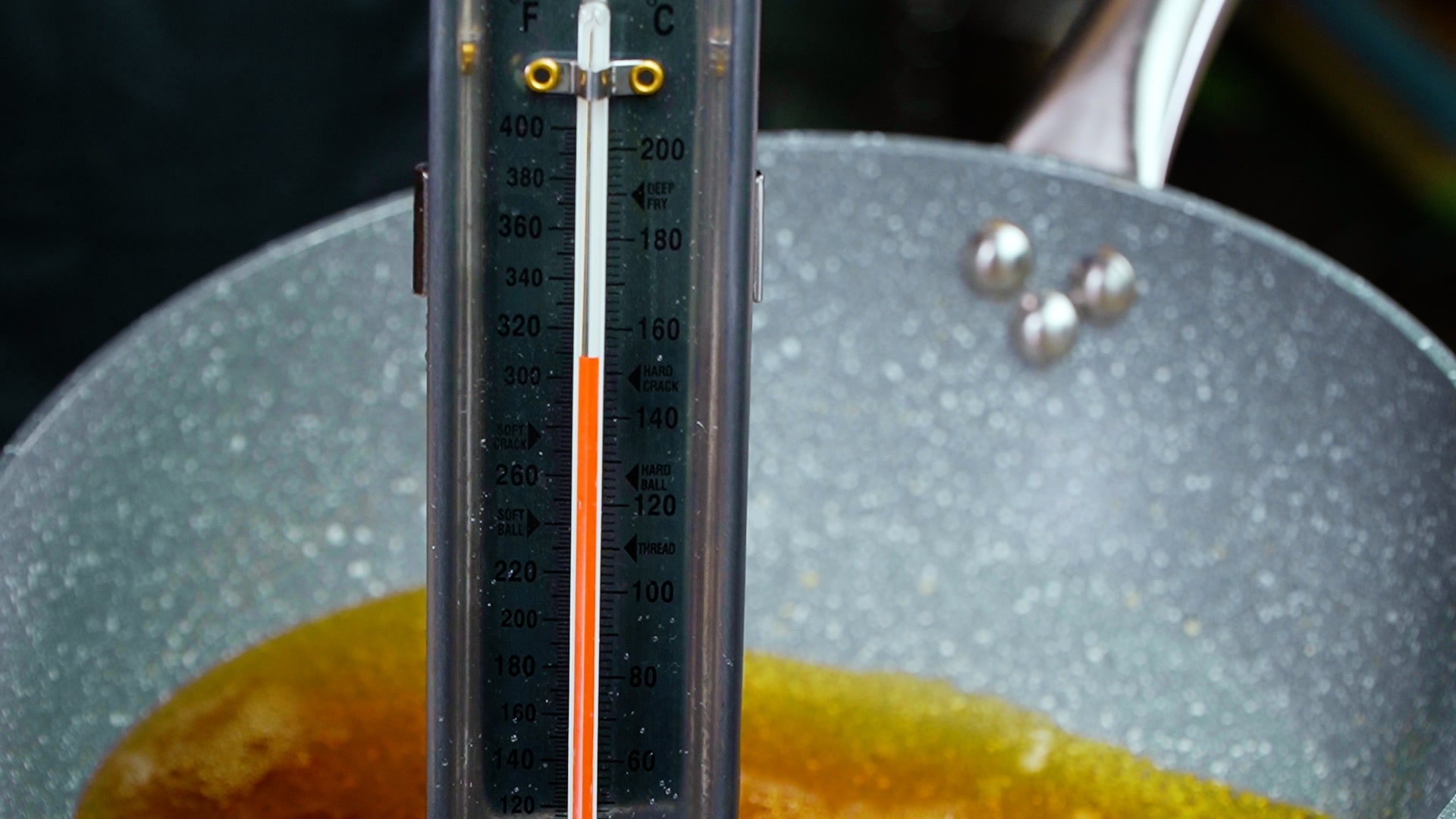 Using a candy thermometer and achieving the suggested temperature prevents the sugar mixture from burning.
3. Transfer the sugar mixture into a heatproof container with a shallow volume.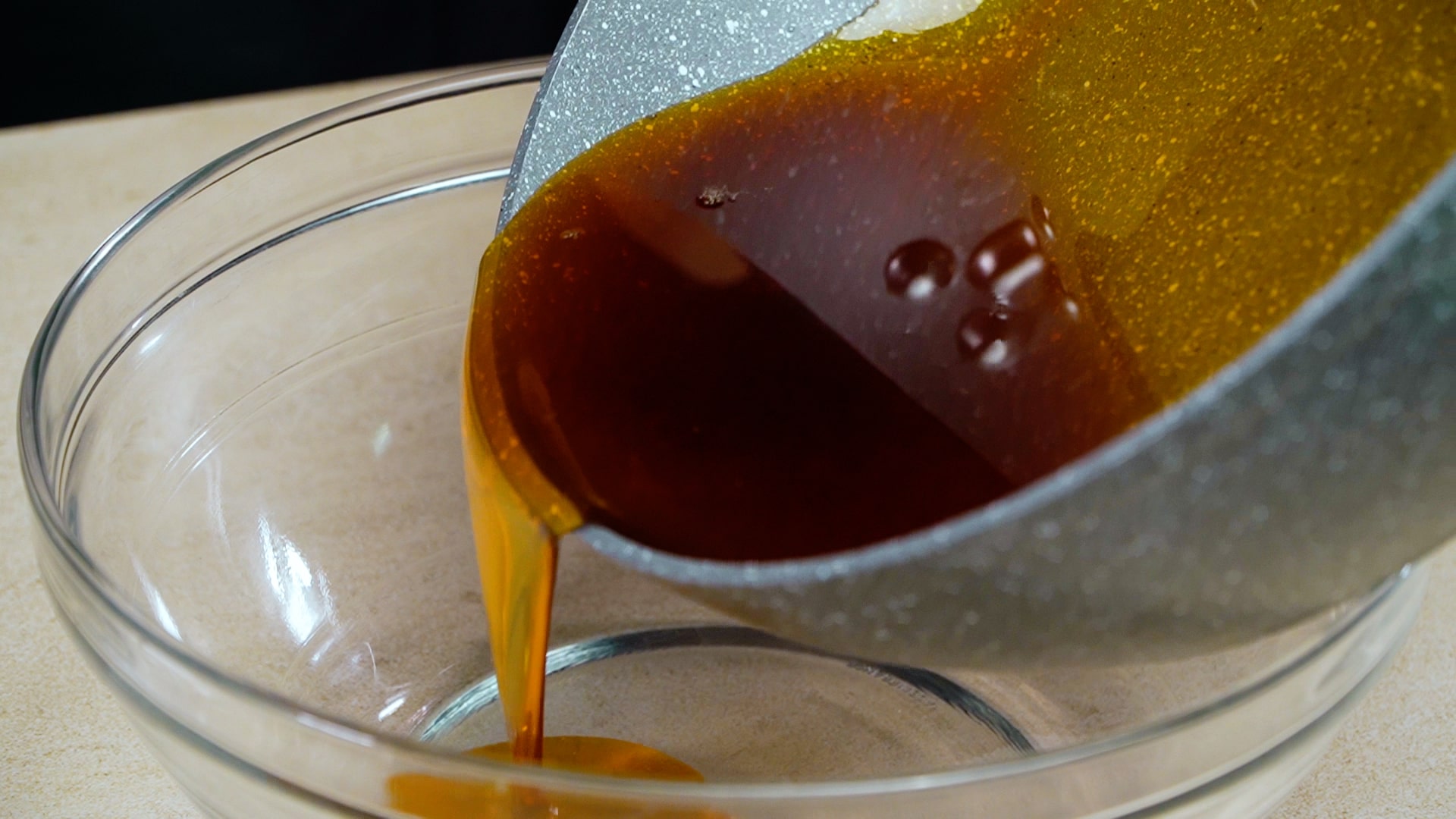 4. Pour the raspberry extract and red food coloring then stir.
Feel free to experiment with this step. You can switch any extract into a different flavor and the coloring into any color that you like. You can also separate the sugar mixture into two to create two different colors, like red or blue cotton candy.  
5. Place parchment paper on a table or counter.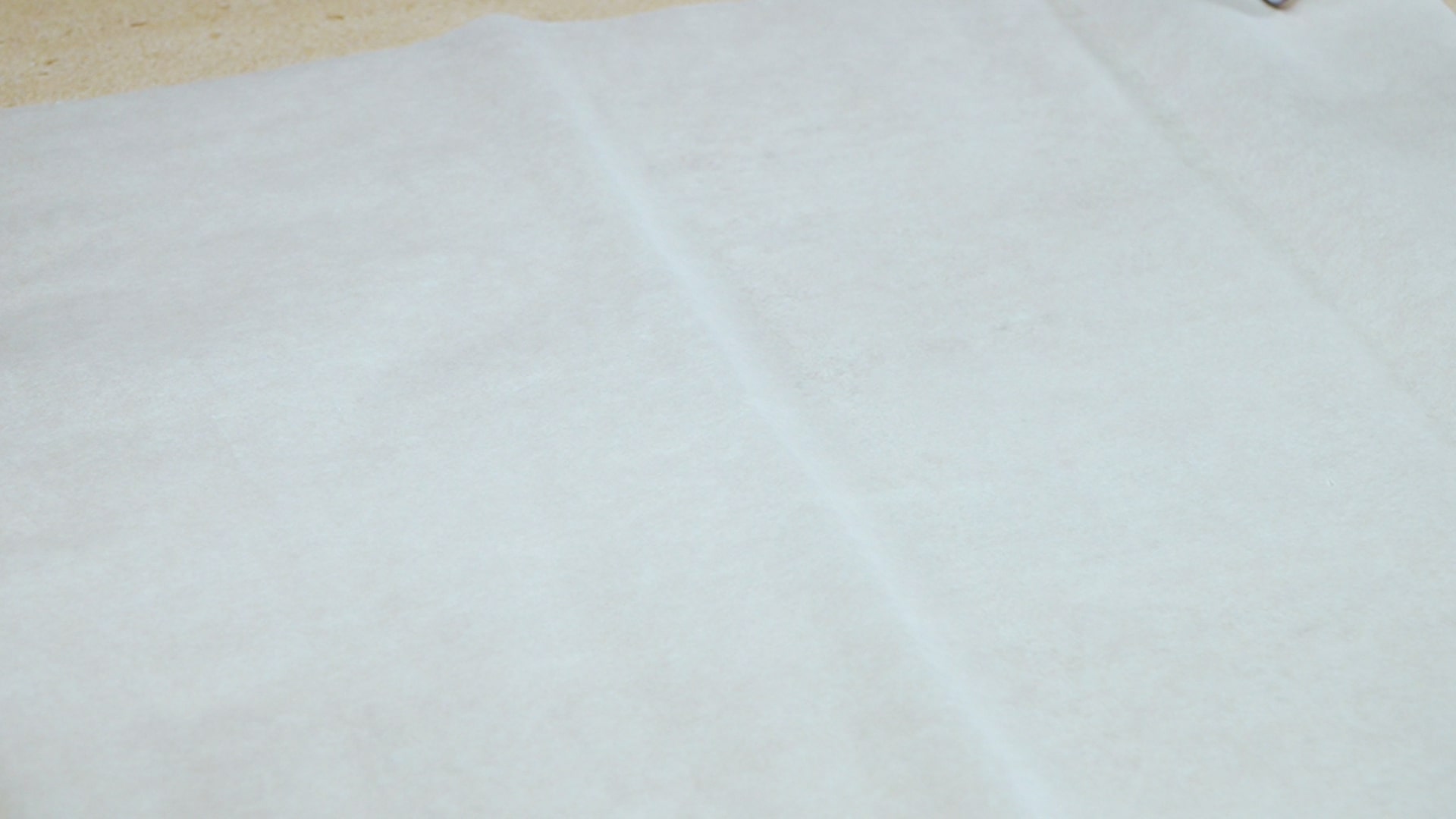 6. Dip a sturdy whisk into the sugar syrup and aim it onto the prepared parchment paper.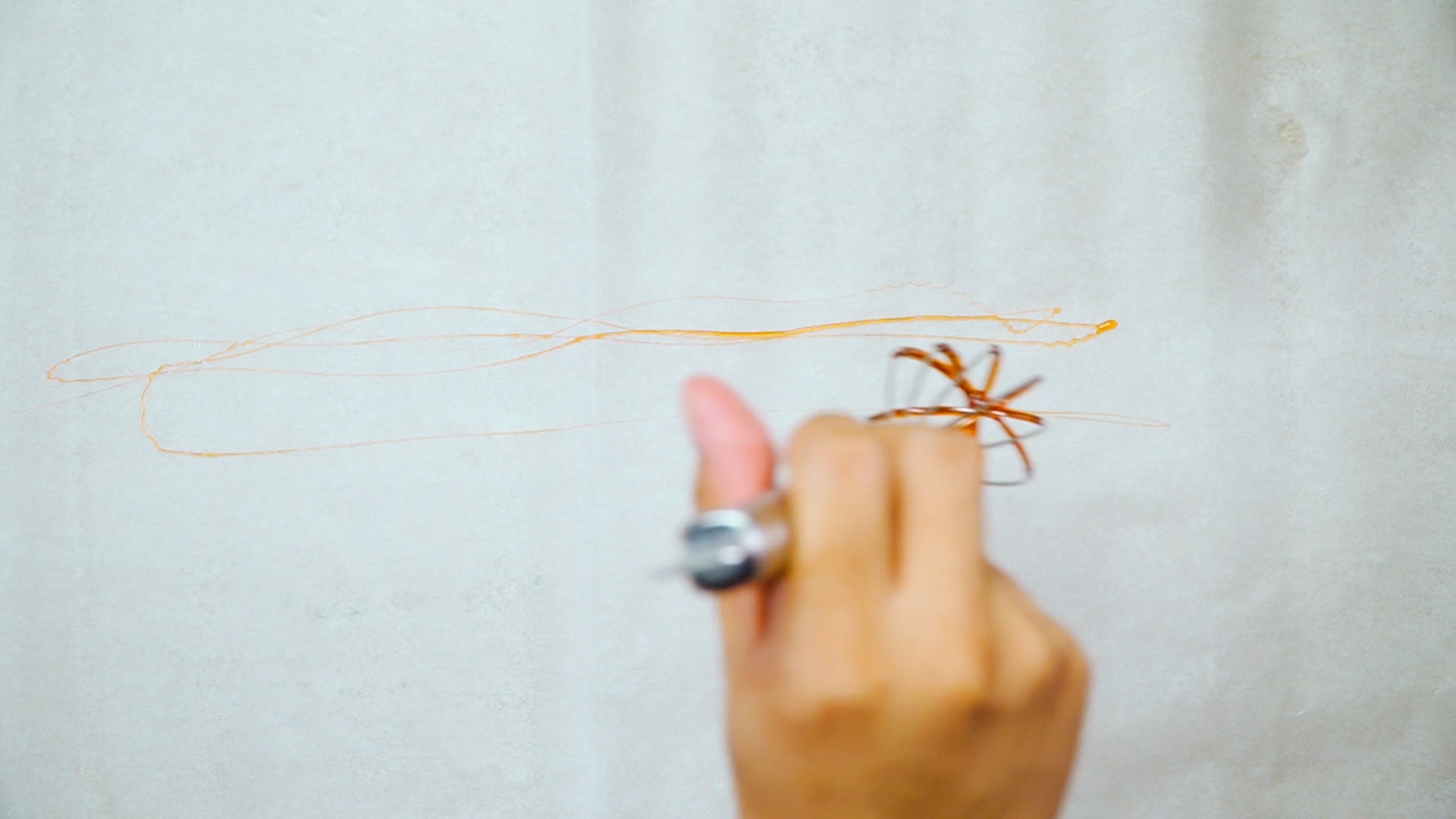 The whisk will help you make the "nests" or very thin strands of sugar that make up the cotton candy. 
7. Swing the whisk back and forth. 
Dip and swing the sugar mixture and let thin strands fall onto the parchment paper. Continue the same method until a nest of spun sugar is formed.
8. Use a lollipop stick to roll the "nests" and shape your homemade cotton candy.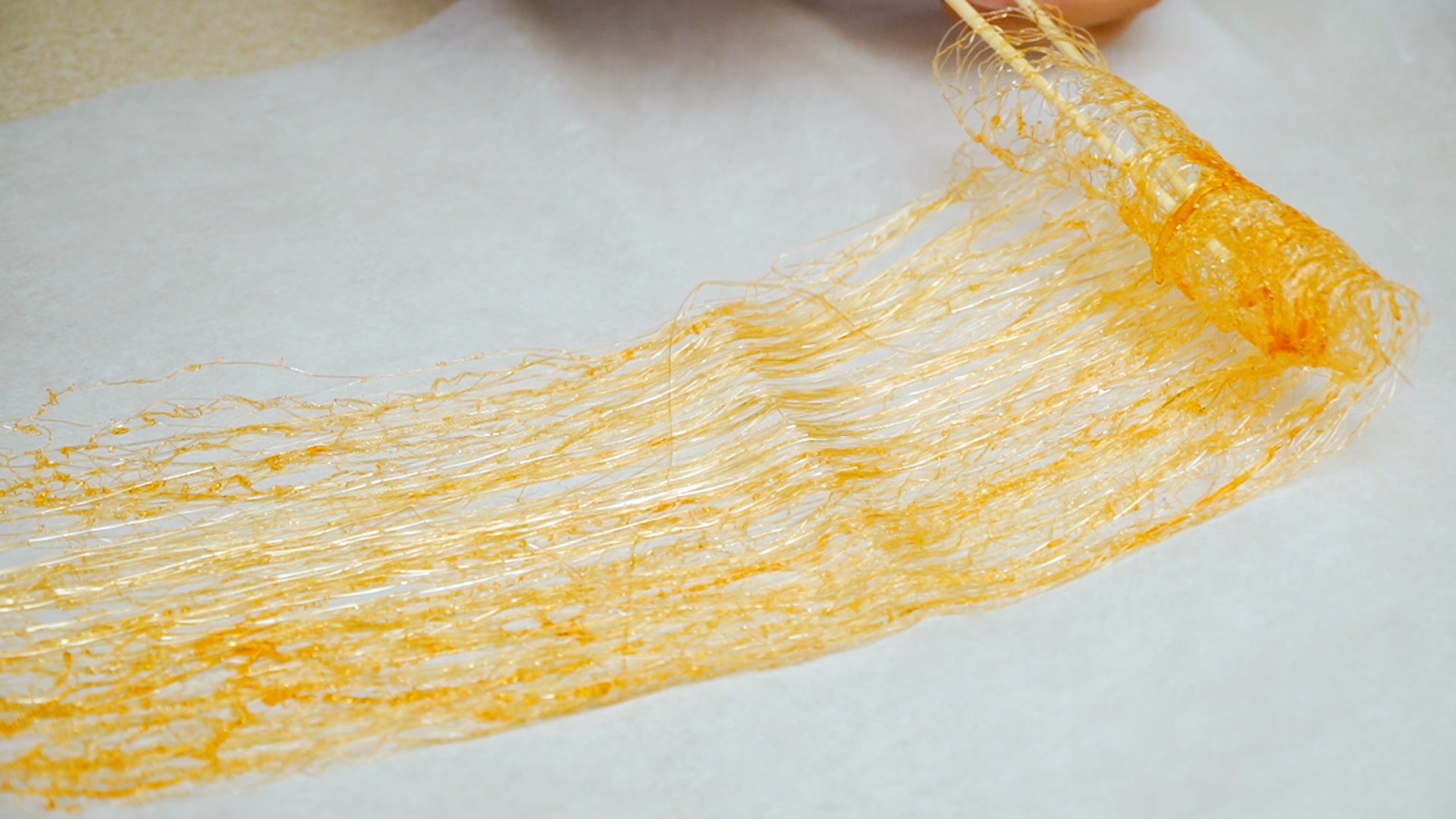 Tips For Making Homemade Cotton Candy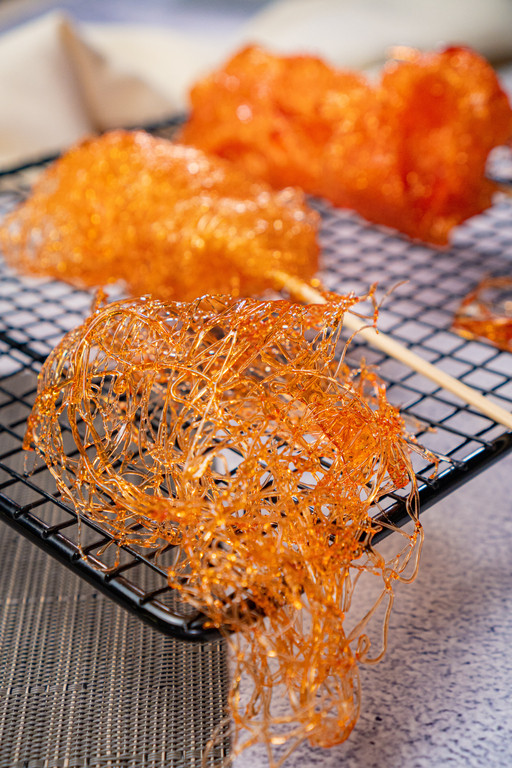 Cotton candy is typically done with a cotton candy-making machine, a stick, and a candy cone. Here are some easy tips to help you make our homemade cotton candy recipe: 
Use a candy thermometer to make sure the mixture heats up to 320 degrees F.

In candy making, using a candy thermometer will help keep your sugar mixture from burning. The desirable temperature for this

homemade cotton candy

is 320 degrees F 一not too hot, not too cold. So you don't end up second-guessing, just use your handy candy thermometer! 

Prepare the parchment paper beforehand.

Provide a clean surface on your kitchen counter and lay out your parchment paper beforehand. Since you will be dipping the whisk in the sugar mixture and letting it drip onto the parchment paper, make sure you have a heavy object to support the ends of your parchment paper. 

Try using two spatulas instead of parchment paper to catch the nest.

If you ran out of parchment paper, simply set up two spatulas on a table. Put some weights on each spatula

to hold them in place. Any heavy object will do! Then using your whisk with the cotton candy sugar mixture, run it over the two spatulas to make the nest. Slide the nests of cotton candy onto a stick or a container to catch the cotton candy. 

Work fast as the sugar mixture thickens and hardens quite rapidly.

The trick here is to work quickly, but efficiently. Working fast will prevent the mixture from hardening and thickening. If it does, then it gets difficult to create the nests. 

Reheat your sugar mixture if it's starting to get thick and hard to dip into.

If you feel like your cotton candy sugar mixture is getting thick and hard for the whisk to dip, then you can simply put it in the microwave to reheat for 2 minutes and 30 seconds with 15-second intervals (so as to not burn your sugar mixture). Make sure to place them in a heat-proof bowl!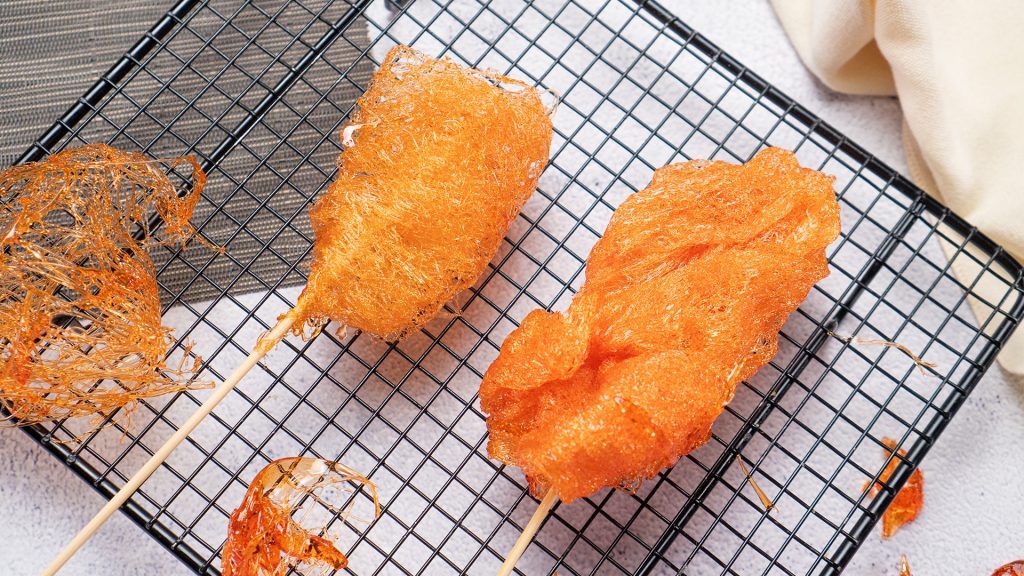 Homemade Cotton Candy Recipe
How To Make Homemade Cotton Candy
This melt-in-your-mouth cotton candy is a sugary treat bursting with sweet-tart bites of raspberry. Make your favorite carnival treat at home and try this no-machine homemade cotton candy recipe!
Ingredients
3

cups

sugar

1

cup

corn syrup

1

cup

water

¼

tsp

salt

1

tbsp

raspberry extract

2

drops

red food coloring
Instructions
Add the corn syrup, sugar, water, and salt to a saucepan over medium-high heat.

Stir the pan until the sugar is melted. Make sure you don't allow the sugar to crystalize on the sides of the pan.

Heat the mixture to 320 degrees F and then pour it into a heatproof container that has a shallow volume.

Add the raspberry extract and food color and stir the mixture.

Cover your table or counter with parchment paper to prepare. Then, dip your whisk into the sugar syrup and hold it around a foot from the parchment paper.

Swing the whisk back and forth so thin strands of sugar fall onto the parchment paper.

Continue to swing back and forth until there is a nest of spun sugar.

Put the cotton candy on a lollipop stick and repeat with the remaining ingredients. Enjoy!
Nutrition
Sugar:

108g

:

Calcium:

7mg

Calories:

409kcal

Carbohydrates:

107g

Fat:

1g

Iron:

1mg

Potassium:

2mg

Sodium:

101mg
Nutrition Disclaimer
Frequently Asked Questions
How long does cotton candy last?
Cotton candies can last for years without turning bad because of the high sugar content. However, leaving your homemade cotton candy out at room temperature will shrink and harden them in 10 to 20 minutes. So it's best to munch on these treats immediately! While it does not technically expire, the shrinking will affect the texture of the cotton candy. Store your homemade cotton candy in air-tight plastic containers to keep their shape. You may also invest in 3-mil standard plastic bags or Mylar bags to help with longer shelf life. These treats will be best consumed within 5 to 10 weeks of storage at room temperature.
Can you make cotton candy out of regular sugar?
Yes, you can. Granulated sugar works fine, especially for homemade cotton candies. However, these table sugars may create lumps in your end product. To avoid that, choose a medium-coarse sugar and avoid using too fine sugars. If you want to make the best cotton candy, go for pure cane or beet sugar. Although both sugars don't look completely different from granulated sugar, a pure cane or beet sugar is free from additional blends of dextrose, cornstarch, or corn syrup.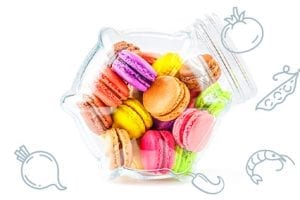 Conclusion
If you miss your favorite carnival treat but don't feel like going out, then this homemade cotton candy recipe is for you! Make your own cotton candy sugar mix by mixing and matching colors. Cook over heat, then spin it while warm with a whisk to create those perfectly sweet thin strands!