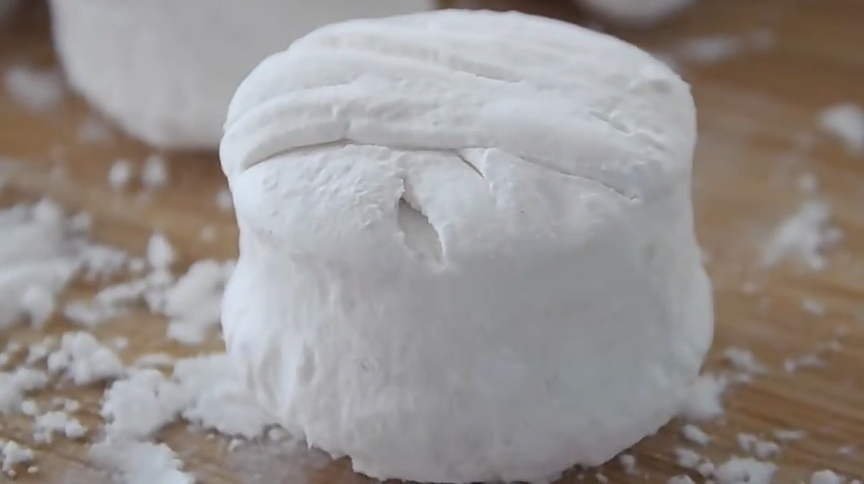 Homemade Vanilla Bean Marshmallows Recipe
How To Make Homemade Vanilla Bean Marshmallows
Top this hearty homemade vanilla bean marshmallows with a hot cup of cocoa to warm you on cold days. You can cut it out in different designs too.
Ingredients
3

unflavored gelatin

1

cup

cold water

1½

cups

granulated sugar

1

cup

light agave syrup

¼

tsp

kosher salt

1

tbsp

vanilla extract

1

vanilla bean,

seeds scraped

2

tbsp

confectioners sugar,

for dusting
Instructions
Combine the gelatin and ½ cup of cold water in a small bowl; let it sit while you make the syrup.

Meanwhile, combine the sugar, agave, salt, and ½ cup of water in a medium-sized saucepan and cook over medium heat until the sugar dissolves.

Raise the heat to high and using caution not to boil over, cook until the syrup reaches 240 degrees F on a candy thermometer.

Remove from the heat.

Add the gelatin mixture and scraped vanilla bean into the bowl of your stand mixer.

With the mixer on low speed, slowly pour the hot sugar syrup into the dissolved gelatin.

Set the mixer to high speed and whip until the mixture expands and is very thick for about 17 minutes.

Add the vanilla extract towards the end of the mixing.

With a sieve, generously dust the bottom of a 12×17 jelly roll pan or large glass baking dish with confectioners' sugar.

Pour the marshmallow mixture into the pan, smooth, and dust with more confectioners' sugar.

Let the marshmallows sit uncovered overnight until they dry out.

Use a cookie cutter to make pretty marshmallow shapes or turn the marshmallows onto a board sprinkled with confectioners' sugar and cut them into squares.

Dust with more confectioners' sugar to prevent sticking.
Nutrition
Calories: 

52.21kcal

Fat: 

0.00g

Saturated Fat: 

0.00g

Monounsaturated Fat: 

0.00g

Polyunsaturated Fat: 

0.00g

Carbohydrates: 

12.98g

Fiber: 

0.38g

Sugar: 

12.58g

Protein: 

0.41g

Sodium: 

11.95mg

Calcium: 

0.55mg

Potassium: 

0.83mg

Iron: 

0.01mg