Ready to take on the honeycomb candy challenge from the popular Netflix series Squid Game? See if you'll be able to advance to the next round by making dalgona candy at home! Easily make it using only 2 ingredients in under 10 minutes. Snack on it with some cheddar popcorn as you watch Squid Game, or simply have a fun candy game with your friends.
What is Dalgona Candy?
From the name itself dalgona, meaning "it's sweet," dalgona is a Korean sugar candy that has the taste of toffee and the texture of honeycomb. A common Korean street food, it looks like a round cookie with different shapes outlined on it. But the most iconic of them all, made popular by Squid Game, are these four shapes: triangle, circle, star, and umbrella. 
It's also called by the name ppopgi meaning "to pick," which is a cookie game it is associated with. If a kid can eat the outer part of the honeycomb toffee candy and retain the shape, the vendor gives him another piece as a reward. In Squid Game though, there are no rewards for retaining the shape. There are only deadly consequences if you fail to do so. And now this sponge candy has become famous around the world, with many taking on the dalgona candy challenge on Tiktok.
Tips on Making Dalgona Candy
The ingredients for making this popular sponge candy are just baking soda and sugar. You will also need cookie cutters. We're improvising our candy making by using a ladle as our candy melting pot. Making the candy is actually quite a challenge on its own, but you don't have to worry because we got the best tips you need on how to make dalgona candy perfect every time. 
Cook it on low heat.

It's tempting to set the heat to high to make it melt quicker, but we don't recommend doing so because

melted sugar

burns fast. 
If you're making a bunch of dalgona game cookies,

keep a pot of water nearby

. After each time you make one, soak the ladle to remove any sugar residue. It also helps to have two ladles that you can use alternately.
Prevent the dalgona from sticking

by oiling the press that you will use. If you don't have a hotteok press, use a burger press or any

flat surface

pan or bottle. Also, make sure to let it cool for about 10 seconds before pressing it.
Make a big batch of this homemade honeycomb recipe!

It is also called mega or king-sized dalgona. You can let it set on a baking sheet then break it and use the

crunchy candy

as topping for an

iced latte

. That makes it a delectable dalgona latte.
More Dalgona Recipes to Try
If you enjoyed the taste of this sugar candy, here are other dalgona-inspired recipes that you can try making at home:
Dalgona Coffee

— Enjoy your caffeine boost in the form of whipped coffee! This dalgona coffee recipe makes a refreshing creamy cup of coffee that's both fun to make and fun to drink.
No Bake Dalgona Cheesecake

— This cheesecake proves that coffee and cheese go amazingly well together. It has a graham cracker crust, sour cream and cream cheese filling, and a luscious whipped coffee topping.
Dalgona Coffee Martini

— We love our cocktail and we love coffee too so we tried combining them in one drink! Enjoy double the kick with these two favorites in one by making this recipe.
Dalgona Matcha White Russian

— This dalgona flavored alcoholic drink is made by whipping canned chickpea liquid. It has flavors of matcha, cream, kahlua, and vodka.
Dalgona Strawberry Milk — This is a caffeine-free dalgona flavored drink perfect for kids made with canned chickpea liquid, freeze-dried strawberries, and milk.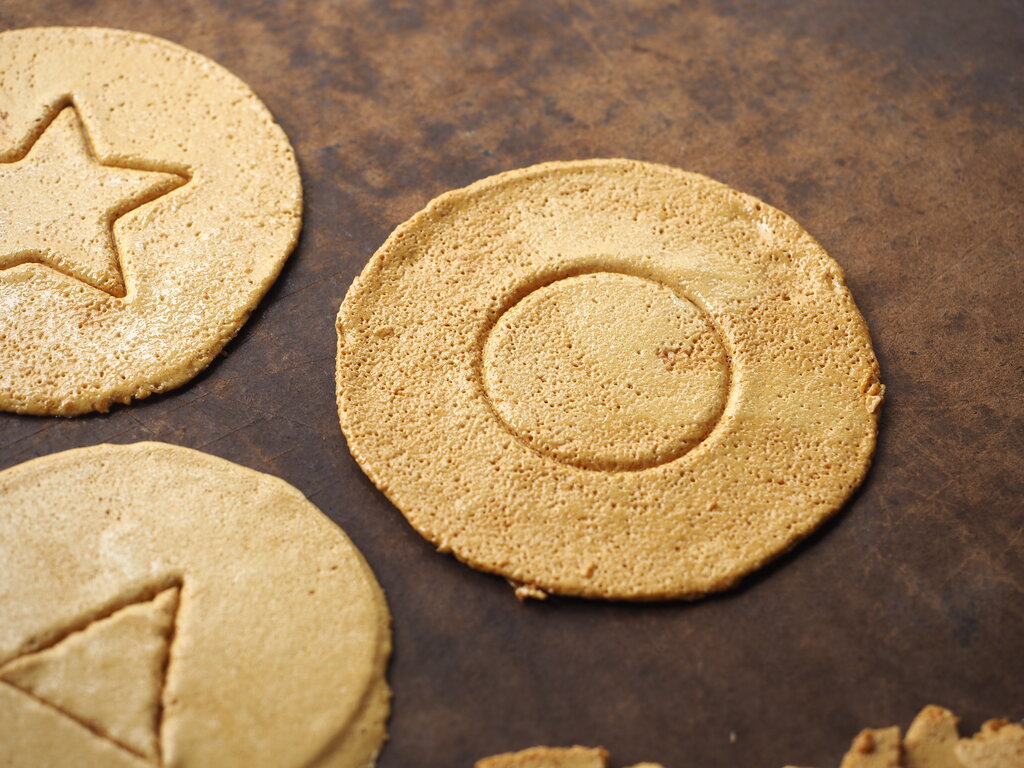 Dalgona Candy Honeycomb Recipe (Squid Game Candy)
How To Make Dalgona Candy Honeycomb (Squid Game Candy)
This 2-ingredient Korean candy made with just baking soda and sugar is like honeycomb and toffee combined. Bring the Squid Game honeycomb challenge at home by making dalgona candy.
Ingredients
2

tbsp

granulated white sugar

pinch

baking soda
Instructions
Prepare a baking sheet lined with parchment paper. Set aside.

In a long-handled ladle, melt the sugar over low heat. Stir and move it around it using chopsticks to prevent crystallization.

Once the sugar reaches a light amber color, add the baking soda.

Take it off the heat and stir it quickly until it becomes frothy.

Pour the dalgona onto the prepared baking sheet.

Wait for 10 seconds, then quickly press it down using a greased burger press or flat-bottomed bottle.

Press down your choice of cookie cutter into the candy.

Serve and enjoy!
Nutrition
Sugar:

24g

:

Calcium:

1mg

Calories:

93kcal

Carbohydrates:

24g

Iron:

1mg

Potassium:

1mg

Sodium:

1mg
Nutrition Disclaimer
Frequently Asked Questions
Why is my dalgona candy not setting up?
This honeycomb candy recipe won't work using powdered sugar in place of granulated sugar, and baking powder in place of baking soda. If you used baking soda and carefully followed all the instructions on how to make honeycomb and it still didn't fluff up, then the baking soda might have expired.

Can you use baking powder instead of baking soda for dalgona candy?
No, baking powder will not work as a substitute for baking soda in making dalgona candy.

Can I use erythritol to make dalgona candy?
We do not recommend substituting the sugar with erythritol or any other sugar substitute. Artificial sweeteners are sugar alcohols and not really sugar. They will make candies that taste like toffee, but won't be able to give the same spongy texture that the traditional dalgona is known and loved for. Brown sugar is another option that can be used. However, white sugar is still the best to use because it melts better.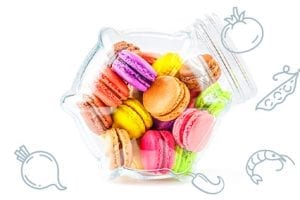 Conclusion
Enjoy the toffee taste and crunchy spongy texture of this Korean candy. Have fun recreating the dalgona candy challenge at home with this honeycomb recipe!